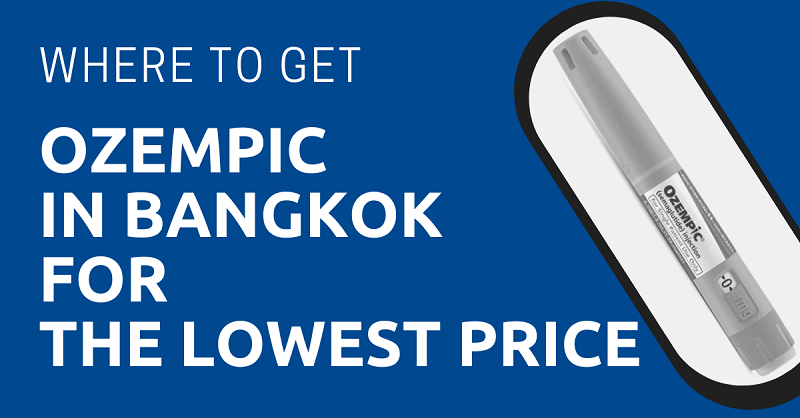 Ozempic (semaglutide) is a breakthrough medication in the field of diabetes management, offering hope and improved quality of life to millions of individuals living with this chronic condition.
This self-injectable prescription drug is renowned for its effectiveness in controlling blood sugar levels and promoting weight loss in people with type 2 diabetes.
Ozempic has also been approved for the treatment of obesity. Because of its effective weight loss effects, the drug has boomed in popularity and is being touted by doctors and celebrities alike as a miracle medication.
We are not medical professionals or here to help you decide if you need Ozempic. But this writer is currently on this medication and getting it in Bangkok has been quite a confusing journey. So I thought I would share that information with you in case you are also in need of this medication and struggling to understand the costs in Bangkok.
The problem in Bangkok is the lack of clarity of information. Different dosages, different pens, how they work, how long you can use one pen, and other important details are included in the small print in Thai on the instructions once you buy the product. But finding the details in English before you proceed is the difficult bit. Even after a doctor's consultation, I was so confused.
In Thailand, the drug is approved for treatment of diabetes and weight management. You do need to do a doctor's consultation and get a prescription.
Fake Ozempic in Thailand
Be aware that this exists. There are counterfeit products. This is a very expensive and hard-to-get medication in high demand and short supply. At this point in time, people are using that to make profits in unethical ways.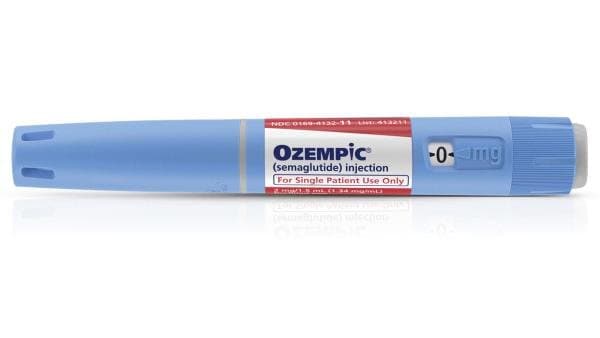 Do not buy Ozempic from Facebook marketplace or via other shady means. Only go to reputable hospitals, clinics, and pharmacies.
How Much Ozempic You Need
As this is just my personal experience, I am not a doctor, please ask a professional for advice before thinking about Ozempic seriously. Your doctor will inform you about the correct dose for you. But the typical Ozempic dosage schedule can be found online here.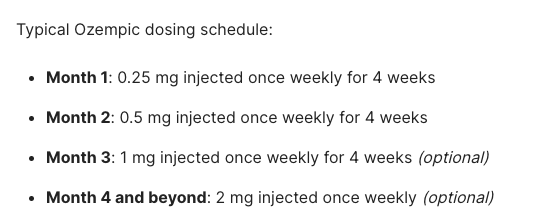 From my personal experience, I followed the standard directions. When I started, I was on the .25 mg dose for four weeks while my body adjusted. Personally, I had no weight loss in the first month.
Then I went up to .5gm per week. In the second month, I noticed a 2kg weight loss. I am about to start my 1mg dose in a couple of weeks. So far, my side effects have been minimal.
Some people stay on the .5mg dose, and some go up to 1mg per week. Some people with serious diabetes complications need to take a 2mg per week dose.
You can watch this Youtube video on how to use the Ozempic pen.
Ozempic Pen Number One
I started with a pen that includes 2mg of medication that squirts out .25mg at a time and comes with 4 disposable needle heads. I injected myself once a week.
After I did the math, I realized this left me with 1mg of medication in my first pen. But I already ran out of needles. This really confused me and the reason for this is unclear.
You actually need to buy more needles to use the remaining 1mg to start your higher dose of .5mg per week for two weeks. I have no idea why they would not sell the first pen with six needles. I thought I was doing something wrong. But reading confirms this.
Ozempic Pen Number Two
After using up my first pen after a month and two weeks, I bought the .5mg dose pen which also comes with 2mg of meditation. So this will last four weeks and comes with four needles.
Ozempic Pen Number Three
If you need to go up to the 1mg dose, then you have to buy the 1mg dose pen which contains 4mg of medication and lasts four weeks with 4 needles. It is usually more expensive in Bangkok than the 2mg dose pen. See below.
How Long to Take Ozempic
Ozempic is known as a forever medication. Some people stop taking it because they don't like the side effects. Some people take it for life. Once you stop taking it, the effects stop and you can aggravate your diabetes or put on all the weight you lost.

Do not start Ozempic for weight loss if you cannot afford to keep taking it (unless your health insurance covers it). Understand the costs below and really consider whether or not you can sacrifice that much money every month.
Ozempic in Bangkok Price Comparison
Here are the costs as of September 2023 from the places around Bangkok or Thailand which come up in Google searches for the product or have become known through word-of-mouth.
Source
Price for 0.25 mg or 0.5mg dose pen
(you will need for 2 months)
Price for 1mg dose pen
(you will need every month for as long as you choose to take it)
Additional Costs
Total cost for first 3 months of medication
Chula MD. Pharmacy
9,000 THB
9,000 THB

Out of stock at the time of writing
None (but you must have a prescription)
27,000 THB
Plus cost of prescription
Fascino Pharmacy
10,640 THB
11,229 THB
None (but you must have a prescription)
32,509 THB
Plus cost of prescription
Pulse Clinic
13,900 THB
14,900 THB
1000 THB starting price for a consultation + Lab tests (FBS, Lipids, Liver, Thyroid, Kidney) 4670 THB
48,370 THB
VitaLife Wellness Center (Bumrungrad Hospital)
14,182 THB
14,182 THB
Consultation up to 2000 THB plus facility fee of up to 1000 THB
45,546 THB
Blez Pharmacy
11,300 THB
11,800 THB
1000 THB for consultation the first time.
35,400 THB
Bangkok Hospital
10,619 THB
11,392 THB
Endocrinologist appointment up to 2,500 THB
35,130 THB
Now, on to You
Please note that these prices and the availability of Ozemic in Bangkok and Thailand will change.
The medication is hitting peak popularity and millions of people around the world are trying to get ahold of some. It is even causing problems for diabetic people who have suddenly found their necessary medication is being bought up by people trying to drop a few pounds. 
If you need this medication because of weight implications or diabetes, I hope that we have helped you understand how and where to get it at the best price possible.
Please consult with your doctor before considering taking any medication.
Please note: The information provided by ExpatDen is not intended to replace or serve as a substitute for medical or healthcare advice. It is strongly recommended that you seek guidance and consultation from a licensed medical practitioner or qualified healthcare professional pertaining to your specific circumstances and healthcare needs.