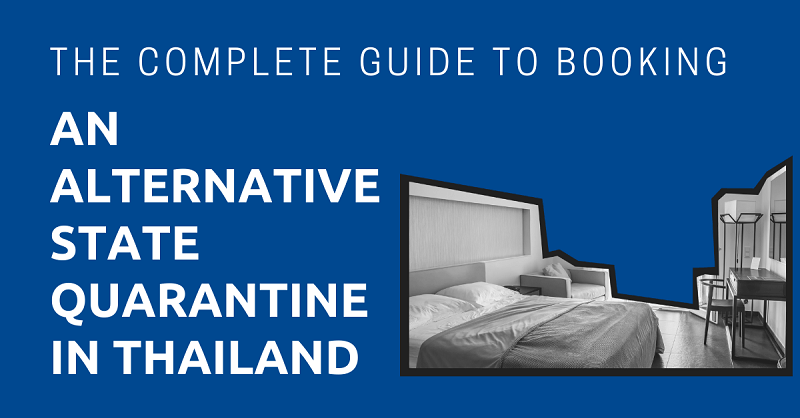 COVID-19 has brought a new normal to everyone in the world.
One of these is staying in quarantine after travel.
If you come to Thailand, you need to stay in an alternative state quarantine (ASQ) hotel for a certain amount of time before you are able to live in the country.
In this article, we are going to guide you through everything you need to know about alternative state quarantine in Thailand, including what is it, how to book an ASQ hotel, what you need to do before booking, and how to find a good place to stay.
Update: As of June 2022, you don't need to book an alternative state quarantine anymore.
"*" indicates required fields
What Is It?
An alternative state quarantine is a place chosen by the Thai Government to quarantine foreigners who have just arrived in Thailand for a specific amount of time in order to prevent the spread of Covid-19 in Thailand.
They are generally hotels with Covid-19 preventative measures. ASQ hotels are mainly located in Bangkok, Chon Buri (Pattaya), and Phuket.
You will be sent directly from the airport to your chosen alternative state quarantine upon your arrival to Thailand.
When Do You Need to Book an ASQ Hotel?
You need to book an alternative state quarantine at least a week or two weeks before arriving in Thailand. It can also be the same time when you take a look at getting COVID-19 insurance.
A booking confirmation is required to get a certificate of entry to Thailand. And you need the certificate to come to Thailand during the Covid-19 pandemic.
How Many Days Do You Need to Quarantine?
It is subject to change depending on three main factors:
The Covid-19 situation in Thailand
The Covid-19 situation in your current country
Your vaccination status
In the beginning of April 2021, Thailand decreased the duration that people had to stay in alternative state quarantine from 15 nights to 10 nights for all nationalities and 7 nights for vaccinated people.
It was quickly reversed back to the full 15 nights because of the third wave of Covid-19 in Thailand.
It is highly possible that you will only need to stay 10 nights or 7 nights in an ASQ once the situation gets better.
You can see the latest Covid-19 related regulations from the PR Thai Government Facebook page or from your local Thai embassy or consulate website.
How Much Does It Cost?
It varies based on your chosen alternative state quarantine.
It ranges from 2,000 baht to over 5,000 baht per night.
Please note that the price is per person not per room.
The price includes 3 meals per day, two Covid tests, and internet.
What to Consider Before Booking?
In addition to price, there are a few things you might want to consider before booking an alternative state quarantine:
Is the food good?
How clean is the place?
Can you choose a non-smoking room?
Are the beds comfortable?
Is the internet good?
Truthfully speaking, it might be difficult to find reviews on each alternative state quarantine, since there might only be a handful of people staying in the same alternative state quarantine as you and not everyone leaves a review.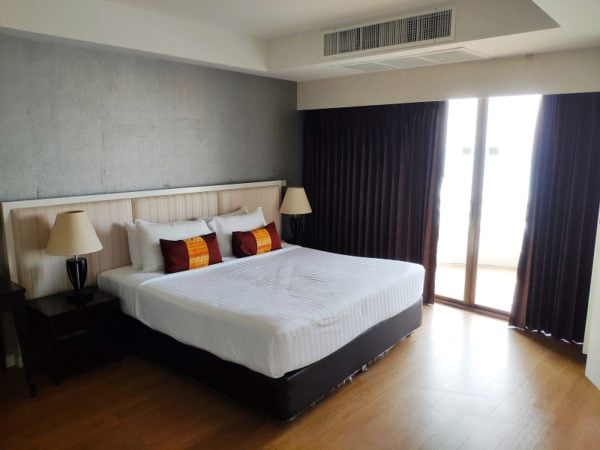 You can ask for a recommendation from Facebook groups such as Farang Stranded Abroad Due to Lockdown in Thailand. You can also check reviews from ASQ Thailand, Thailand ASQ Hotels & Thailand Expats. 
Please note that there are many salespeople who want to promote their hotels on these groups.
Alternatively, you can read older reviews of the hotel you are planning to book. If it was good before Covid-19 hit, it's more likely that it will be a good alternative state quaratantine.
You can read reviews and book an ASQ from Agoda. 
What Can You Do Inside the Alternative State Quarantine?
You will spend the whole time inside your room. You cannot go outside of your room except to get a Covid test.
Many people use this opportunity to learn Thai.
Some ASQ hotels may have workout equipment, such as dumbbells and yoga mats, for rent to keep fit during quarantine.
What Should You Bring?
Since you cannot leave your room at all, it's best to bring things to help you kill time during your stay in the alternative state quarantine, such as books, game consoles, a laptop with a Netflix subscription, cards, or yoga mats.
If you are a coffee lover, you may also want to bring ground coffee and your own French press.
You should also bring Thai cash with you. You might want to buy additional food, items, and services during your stay.
Although it's possible to exchange money at the hotel, the exchange rate might not be good. You also might not have enough time to withdraw money at the airport.
How to Book It?
There are hundreds of alternative state quarantine hotels available. You can get a list from your local Thai embassy or consulate website.
Many hotels in Thailand use LINE messenger as one of the primary ways to contact them. So if you want to book a hotel directly through them, you can send a message via LINE rather not email.
Alternatively, you can use Agoda. This popular hotel booking website now has a specific page for booking an alternative state quarantine in Thailand. 
It works similarly to booking a normal hotel. You can enter your date, find an ASQ you want, and book it.
You can find hotels with a free cancellation policy up to a certain date, which is good if you are not certain about your arrival date to Thailand.
Then you can contact a hotel to print out the booking confirmation to get a certificate of entry (COE) to Thailand.
When to Pay for the ASQ?
In order to get the booking confirmation, you need to pay for the ASQ upfront.
If you book by contacting the hotel directly, you can pay by international bank transfer.
If you book through Agoda, you can pay by using your credit card.
Please read carefully about the cancellation policy, which is different between each ASQ hotel. In general, you can expect a full refund if you cancel 15 days before your arrival date. You will usually get a 50% refund if you cancel within 7 days of your arrival date.
If you forget to cancel, you might not be able to get your money back at all.
COVID-19 Test
All alternative state quarantines have nurses from the nearest hospitals to take care of you. They will do Covid-19 nose swab tests twice during your stay in the alternative state quarantine.
The first test is done on your fifth day and the second test on your twelvth day.
In addition, you need to check your temperature twice a day via a thermometer they provide, and send the results to them via the COSTE application. 
However, since the application has lots of problems, like not working at all on some phones, you might also be able to send the results through LINE to the nurses instead.
If you are Covid-19 positive, you will immediately be sent to a hospital in that area. If you don't test positive for the entire stay, they will give you proof of your negative COVID tests during checkout.
Can You Order Food Online?
It is often possible to order food from 7-Eleven or other online shopping providers and have it sent to your room.
You might be able to order it directly or you may need to ask the hotel staff to do it for you.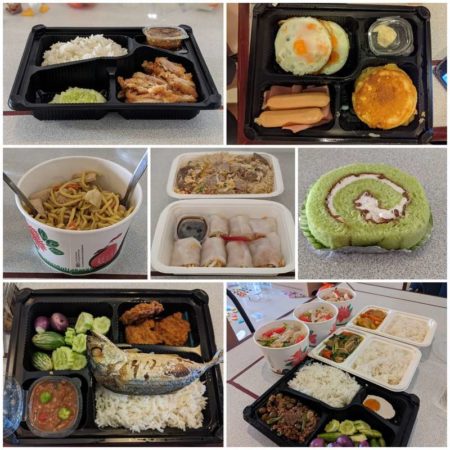 Please note that the hotel may charge you an additional 20% on top of the regular price if they get it for you.
Each alternative state quarantine hotel has different ways on how they handle it. It's best to check with them directly.
Can Your Friends or Family Visit You?
No, you cannot have any visits during your stay in the alternative state quarantine.
The closest thing they can do is to drop off food for you at the receptionist.
Can I Stay with My Thai Family?
If you come to Thailand with your Thai family, they can stay with you in the alternative state quarantine. The ASQ price for Thai citizens is similar to expats.
If they want to quarantine for free, they need to stay in state quarantine, which is only available to Thai people. They would also need to come to Thailand on a repatriation flight rather than a semi-commercial flight in order to stay in a state quarantine hotel.
Although the state quarantine is provided for free to Thai people, many of them prefer to stay in an alternative state quarantine hotel since it's more comfortable, convenient, and comes with better food.
Now, on to You
We hope that this article answers everything you need about the alternative state quarantine situation in Thailand.
Please note that regulations are subject to change without prior notice. We recommend you check the current policy with your local Thai embassy or consulate before booking an ASQ.
An ASQ booking isn't the only thing you need to enter Thailand. You can read this personal experience article on going to Thailand during the COVID-19 pandemic to find out the complete steps and a rough timeline of how long it takes to get all the required documents.
If you have any information or want to share your ASQ experience with us, please leave a comment below.