Physiotherapy is great for a number of ailments including muscle pain, office syndrome, sports injuries or after surgery. The good health of our body is essential, so no one should hesitate to consult with a qualified physiotherapist at the first sign of pain; luckily in Bangkok, you are covered.
Bangkok offers plenty of choices for physiotherapy centers, but it can be challenging to know who is best. Asking friends for recommendations is a good idea and checking their reputation online is important, here is some more advice for you to start your healing journey.
Are Physiotherapists in Thailand Medical Doctors?
Not all physiotherapists you will meet are doctors with an MD. Physiotherapist training is different to an MD and can take between 2 and 4 years.
In Thailand many physical therapists might have either a B.PT. which is a 4-year bachelor's in physical therapy. They might also have studied a BSc – bachelor of science – with a physical therapy specialty. More advanced physiotherapists might have the equivalent of an MD in something more specific for their speciality like neurology, pediatrics, musculoskeletal, or cadaveric studies. Feel free to ask about your therapist's qualifications.
Physiotherapists are classified as 'first contact practitioners' in some countries, not 'doctors'. A physiotherapist with an MD or other Master's is not necessary, but it might be a bonus depending on your situation as they will have deeper medical knowledge.
You can find a list of Physical Medicine specialists who are also MDs and which hospitals they work at on the Thailand Medical Doctor List.
Getting Started with Physiotherapy in Bangkok
While the quality of treatment will differ between therapists, the quality of care is generally good in Bangkok. Therapists will often use massage, ultrasound therapy, and focus on muscle strengthening through exercises which you should do at home between sessions. It is important to find a physio who works best for you personally.
Prices vary depending on the duration of treatment, tools used, and therapist's experience. Private hospitals will be more expensive, followed by private clinics, and then public hospitals. Some private clinics offer discounts for a set of sessions.
Getting an appointment is usually a smooth process. You can call them, however there might be misunderstandings depending on the English level of the receptionist. Another option is an online booking system or email. As with most businesses in Thailand, Line or Facebook Messenger are the most popular choices for communication, and have the benefit of avoiding language misunderstandings.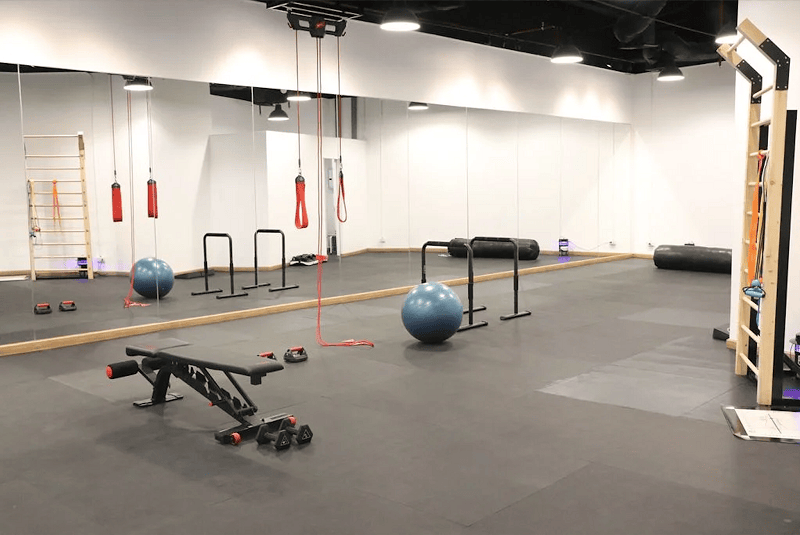 You might also go directly to the clinic/hospital where you can book a future session. This gives you a chance to check the environment first and a slot might even be available there and then. In that case, you will be put with the therapist who is available at the time.
Before starting physiotherapy, be clear on your insurance policy and coverage. Be careful when choosing your health insurance in Thailand, as some companies will only cover a few sessions. You can use this comparative in case of any questions about insurance. To be able to get fully refunded, insurance might require you to send documents beforehand, like quotations and medical certificates.
Prices are usually provided with transparency. A medical certificate might be required depending on your reason for seeking physio treatment. In hospitals, you will have to pay for a consultation with a doctor (approximately 1,000 THB in a private hospital), who might require additional tests (X-Ray, MRI, or CT Scan) before proceeding to physical therapy.
This again depends on your condition. If you are visiting a private clinic, you can take your own imaging or doctor's certificate from past treatments.
Getting Physiotherapy in a Private Hospital
Private hospitals in Bangkok advertise international standards and are favored by many expats. They offer beautiful large facilities where doctors are polite and attentive, and the staff friendly and helpful. Translation services are also available, and it might be a comfort to be able to explain yourself in your own language. 
If you need a wheelchair, an orderly will meet you at the car and push you around. Everything is easily accessible, with elevators, signs, and dedicated assistance.
Prices will be significantly higher at private or international hospitals than at public hospitals or small private clinics.
Samitivej Hospital Sukhumvit – The Popular Option
The rehabilitation center is located on the 4th floor of the main building. You will pass by the Sports & Orthopedic Center, where you will be directed if you don't have a medical certificate.
The place is well organized, however, if you wish to book one specific therapist, you will need to plan one week in advance, as some of them get pretty busy. The rooms are clean and spacious. The vast majority of treatment rooms are private, but a few of them are only separated by curtains. Therapists will provide loose clothing for the session.
The therapists are friendly and helpful, but some of them are not fully fluent in English. Ultrasound and massage can sometimes be their quick answer to everything, and they might have issues adapting to particular conditions.
Prices may vary, but will usually be around 2,000 and 2,500 THB per hour.
Medpark Hospital – The New Kid on The Block
Medpark is a brand new hospital that opened in 2020. It is a pretty glamorous private hospital aimed at both Thais and foreigners with slightly better prices than some internationally focused hospitals in the city. It is MASSIVE, with impressive facilities. Medpark waiting times are shorter than in other hospitals just because, at the time of writing, fewer people are aware of the place.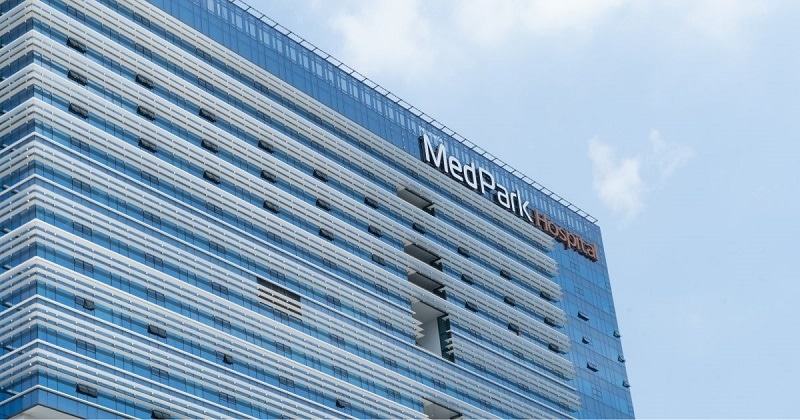 Medpark is well organized, with high-end and modern technologies, including hydrotherapy pools and a rehabilitation garden to work on sensory perception and balance, used to improve patients' conditions. The staff is highly trained and often with international training and experience. They will adopt a multidisciplinary approach to ensure your full recovery.
Prices vary depending on the services and programs decided by the doctors, but will most likely be no less than 2,000 THB per hour. To get an exact price, you will have to schedule an appointment with a doctor and discuss the therapy program with them.
Bangkok Hospital – The Athlete's Choice
Bangkok Hospital Orthopedic Center and Rehabilitation Center provide a full range of care and specialize in sports injuries. Doctors are certified by FIFA, so it's a good match for those who practice sports and thus experience sports injuries and fractures. The doctors are able to provide surgical and non-surgical options. They will bring your strength back and give helpful advice for avoiding getting injured again.
The equipment is modern and well maintained, the rooms are spacious and the area to practice balance or muscle strengthening is nice. Interpreters are available, but most staff speak excellent English.
Prices will be around the same as in the other private hospitals : around 2,000 THB per hour, and you need to pay for additional fees such as a doctor consultation.
BNH Hospital – The Fancy Pants Option
As in many private hospitals in Bangkok, entering BNH hospital feels like setting foot into a 5-star hotel. The space is bright and clean, with grand pianos and crystal chandeliers. Be warned, you are paying for this privilege.
The doctors and therapists speak excellent English and will take the time to provide a detailed explanation of the situation and outcomes. Depending on your treatment plan, they will use ultrasound therapy, stationary bicycle, weight training, electrical stimulation, and/or acupuncture.
BNH hospital is slightly more expensive than other private hospitals in Bangkok. The price will depend on the treatment plan, but you can expect no less than 2,200 THB per hour and a doctors consultation fee of around 2,500 THB. You can send an email or contact them through Line to get a quotation.
Other Private Choices
The most famous, largest, priciest, and well-known hospital in Bangkok is certainly Bumrungrad. It is a popular choice for expats with very good health insurance, for medical tourists, and for wealthy locals. A solid choice if you are in one of those groups.
Bumrungrad International Hospital
Through the Thailand Medical Doctor List, you will find some Thai hospital names which might be worth checking out. While they are private facilities, they are often less pricey than the most famous ones that we mentioned above. Doctors who work at famous hospitals like Bumrungrad also work at local hospitals for a much lower fee.
Nonthavej Hospital
Thainakarin Hospital
Getting Physiotherapy in a Public Hospital
Thai public hospitals are operated under the Ministry of Public Health and are divided into different categories. 
Community hospitals located on the district level are the smallest ones. They provide primary care and most likely won't have any physical therapy specialists. They redirect patients to general hospitals. General hospitals are located in province capitals and give secondary care.
Staff at these facilities are less likely to speak English, and these places will be overcrowded with several hours of waiting time.
Regional hospitals are located in provincial centers and have a capacity of at least 500 beds, with a large range of specialists and trained practitioners. They will have more staff who speak English, and more specialists for your needs.
The most reliable public hospital in Bangkok is the one linked to Chulalongkorn University. The other ones are either dedicated to teaching, are focusing on different specialties, or are located very far away from the Bangkok center.
Chulalongkorn University Clinic
As this hospital is a learning facility and part of Chulalongkorn University, you will receive a teamwork approach, with researchers and students accompanying your doctors. This comes with pros and cons, you might not get the same team every time, and you might find the experience too impersonal.
However, there are definite perks, although it's a public hospital, the staff all speak English and are very well trained. The prestigious university accepts Thailand's best students, many of whom will be hired in a private hospital after graduating. The equipment is just as good as in a private hospital, and the prices are half as much.
The physio department has shorter working hours than some hospitals, they are open Monday to Friday, 9am to 7pm, and Saturday 9am to 4pm.
The price varies depending on the treatment but is usually around 800 THB per hour.
King Chulalongkorn Memorial Hospital
Inpatient ward, Bhumisirimangalanusorn Building
1873, Rama 4 Road, Pathumwan Sub-district, Pathumwan District, Bangkok 10330.
Tel: 02 256 4433
You might easily confuse the above with the Red Cross operated King Chulalongkorn Memorial Hospital's Department of Rehabilitation Medicine which is located very close to the original Chula University Clinic. Wikipedia even says they are the same place. But some departments are separate.
The service level, price, and style will be similar to the Chula University Clinic physiotherapy clinic, though as this hospital is larger, they can deal with more serious problems, inpatient, pediatric, cardio-pulmonary rehabilitation and much more.
Check the website for their limited opening hours for the specific department you need.
Getting Physiotherapy in a Private Clinic
These private clinics specialize physical therapy. They might seem less fancy than private hospitals, but the quality of treatment is sometimes even better and for a lower price. They are also much more transparent on their pricing with everything published on their websites.
The facilities are good, although smaller than in hospitals. They tend not to be so business-oriented, and will try to help you while letting you visit at your leisure, whereas in hospitals, you might end up with three sessions a week for months because they have dedicated sales staff skilled in the upsell.
Therapists might not have international training but can speak medical English. Their assessment is usually accurate in our experience. You will find plenty of these clinics around Bangkok, and we can recommend a few that have been tested personally.
J-Clinic
J-Clinic has three locations around Bangkok:
283/1 B04, Basement Floor, Home Place Office Building, Soi Sukhumvit 55 (Thonglor 13) Klongton-Nua, Wattana,
Tel: +66 84 424 1299
571 Rsu. tower, Room 404, 4th Floor, Soi 31 Sukhumvit Rd., Klongton Nua, Wattana
Tel: +66 97 257 3577
2/66 Soi Sukhumvit 42, Phra Khanong Subdistrict, Khlong Toei District
Tel: +66 97 245 7863
The three places are pleasant and welcoming, with warm wooden interiors. The staff is helpful, knowledgeable, and can speak English and Japanese. The rooms are pretty small, separated by curtains, but fine for the treatments.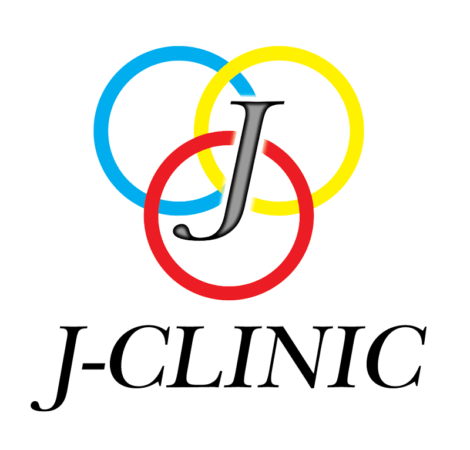 The therapist or a senior staff doctor will first assess your situation, then they will proceed to do massage or any other manipulative therapy that they think will be useful. They will conduct physiotherapy ultrasound and sometimes muscle stimulation electrotherapy which contracts your core muscles. J Clinic is allowed to prescribe medication in case of a high pain. Acupuncture treatment is also available.
J Clinic is kid-friendly. A private room is dedicated to children, with toys and everything needed for them to play around and stay busy while their parents have therapy sessions. A trained staff member will watch over your children.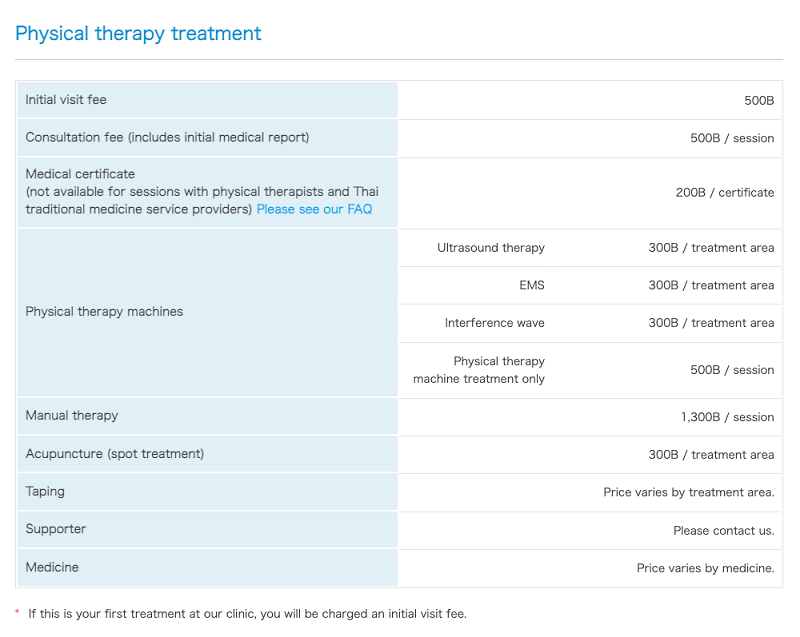 J Clinic can provide medical certificates for 200 THB, and the consultation fee is 500 THB. Regular sessions usually cost 1,600 THB and they do not strictly time them. Sometimes you will be there for nearly two hours.
Direct billing is not available. The coupons for 5, 12, or 24 sessions are very advantageous and significantly reduce the cost per session. If you can't use them all, you can share them with family and friends.
Pain Away Clinic
B1 Floor, Interchange 21 Tower, Sukhumvit 21, Asoke
Tel: +66 02 258 1361
The place is relatively small, with small treatment rooms that can be quickly packed. The space for muscle strengthening is bigger and looks like a fun playground, with wide mirrors that help us be conscious of our movements.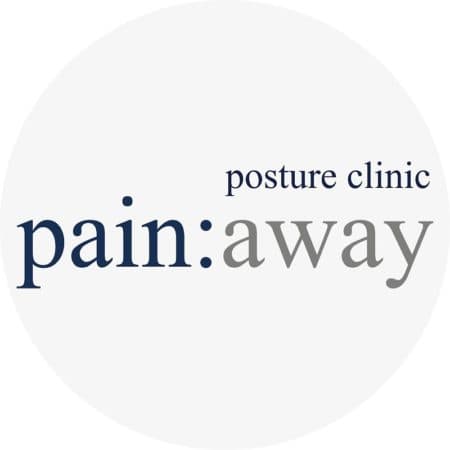 The staff is welcoming, knowledgeable, and prompt to adapt the treatment depending on your requirements and their assessments. They will use various techniques, from ultrasound to manual therapy and muscle or balance strengthening. They also have acupuncture and dry needling.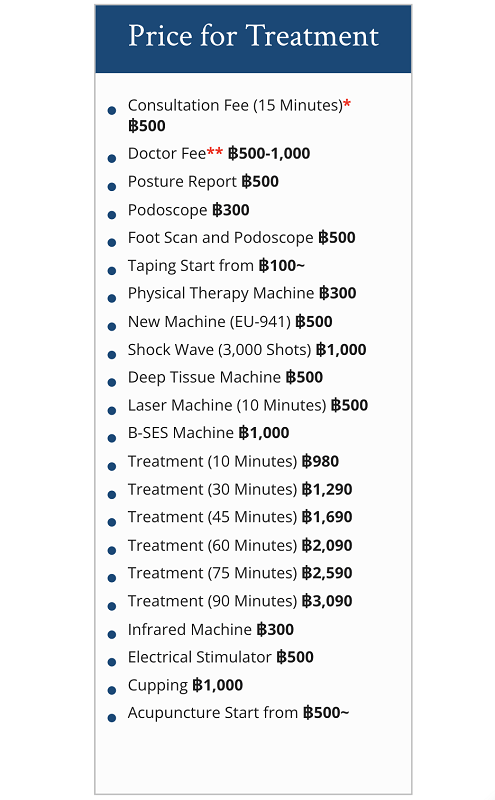 The staff don't push you to buy many sessions and try to get you back to good health as quickly as possible. The list of prices is available on the website, and you can also get coupons that decrease the cost per session. Pain Away is a little pricier than J Clinic with various treatments adding up depending on exactly what you need.
Form Recovery and Wellness 
Form Recovery and Wellness has two locations in Bangkok: 
18 Sukhumvit Soi 20, Asok
Tel: +66 095 083 4315
3 Soi Prasoet Sit Alley, Lane 1,
Soi Sukhumvit 49/14, Thonglor
Tel: +66 095 569 3298
Both places are well equipped, but the Thonglor space is brighter, with larger spaces and a swimming pool. This area is really comfortable and well decorated. The gym is sizable, with high-end machines and equipment.
The staff is used to working with highly trained sports professionals, and thus used to big requirements. Therapists' are available for screening on the website, and you can book according to your preference. All the therapists are trained to cure Postpartum back pain, neck/shoulder pain, back pain, etc.
They will use various approaches depending on their assessment. Besides manual therapy and ultrasound, aquatherapy, acupuncture, dry needling and cupping therapy are also available. You can book a free discovery visit first. They have direct billing with selected insurance partners.
You can directly inquire about the exact cost of your treatment on the website. On average, a 30 minutes physical therapy session will cost from 1000 THB to 1200 THB, and 60 minutes will cost around 1400 THB – 1600 THB.
Bangkok Physiotherapy Center (BPC Physio)
39 Boulevard Executive Residence
2nd Floor 39-41 Soi Phromchit,
Khlong Tan Nuea, Watthana, Bangkok
Tel: 02 160 0333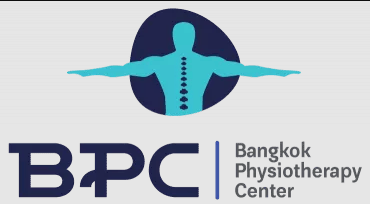 With a calm, relaxing zen oasis set-up, you feel at ease the minute you enter BPC. The facility has a full in-house gym with wall-to-wall mirrors so you can be conscious of all of your careful strengthening movements.
Staff speak very good English. The therapists at BPC have experience with professional athletes and are very familiar with injuries and recovery processes.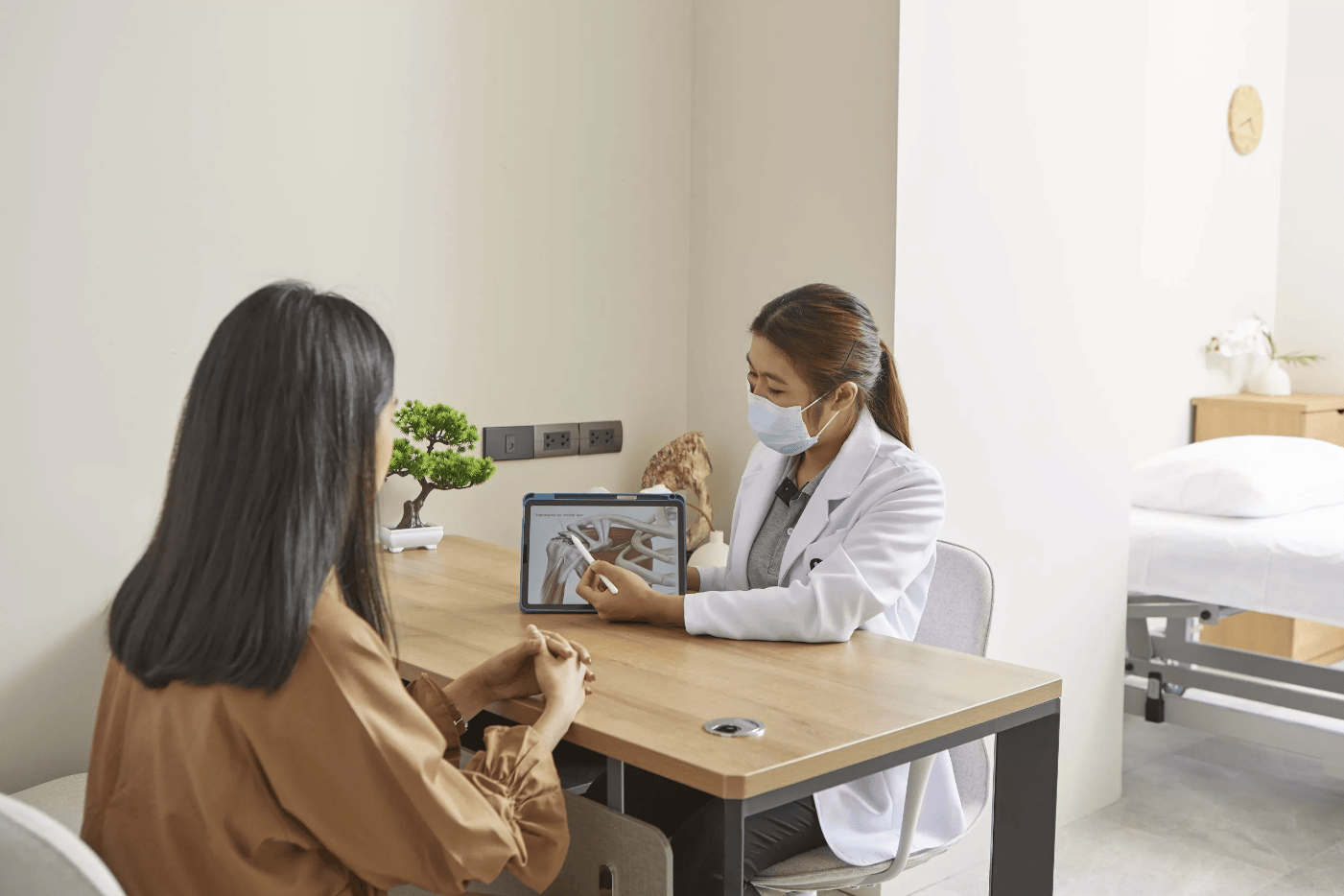 BPC has a very personalised approach to treating their patients with a detailed follow up message that provides a diagnosis and detailed treatment plan, exercise plan, and things to know about your injury.
They accept direct billing with many insurance companies which is great since you don't have to pay out of pocket. A session ranges between 1,700 baht and 1,900 baht depending on how many you buy in the package, and they have an initial first session priced at 1,999 Baht which includes a full 15-20 minute full medical diagnosis to get to the root of your pain.
Now, on to You
We have tried to be as comprehensive as possible in reviewing physical therapy places in Bangkok. However, in reality the experience might differ from one therapist to the other. The overall experience also depends on your condition.
You might have to attend sessions for extended periods of time. However, if you feel no improvement after several sessions, do not hesitate to see a different person or try out another place. The most important thing is that you feel good with your physiotherapist and that they are doing the right things for your wellbeing. A lot of variables are involved, so shop around!