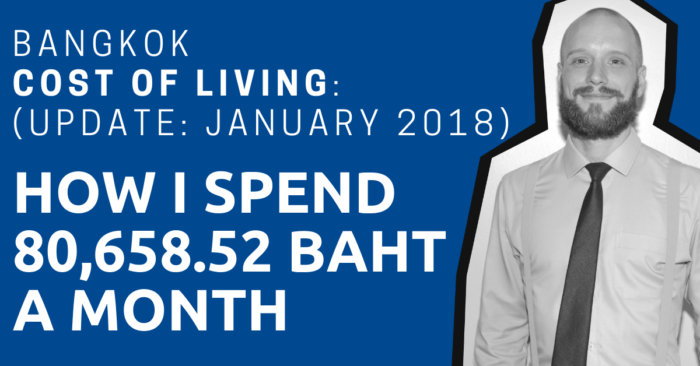 So, you're thinking about making Thailand your home. It happens to all of us. We come here on vacation. We fall in love with the food and the people and the country. And then we spend the rest of the year counting down the days until our next trip–or, if you're on the more extreme end, figuring out how to move to Thailand.
But whether you're coming here as a retiree, a potential business owner, a family, or a professional looking for work, you'll need to know how much you'll spend while living in Bangkok, especially when you're just getting started in the city.
Knowing these costs ahead of time (and reading through the accompanying links) will save you a lot of money and time and put you ahead of most expats who make Thailand their home.
For this cost of living guide, I documented every single baht I spent over six months with Expense manager – Money tracker. Then I compiled the expenses into a Google spreadsheet. What you see below is a breakdown of that spreadsheet. This should give you a practical, informative, and realistic overview of the cost of living–specifically in Bangkok.
Limitations
As with all budgets, especially those which require an estimated calculation of exchange rates, nothing is ever exact. There might've been days where I forgot to list a minor expense. Or maybe I estimated a cost instead of listing the exact price. Either way, the total sum of my expenses should give you a good idea on my cost of living in Bangkok.
Here's Me
I'm a 35-year-old German entrepreneur living in Bangkok, Thailand. I love working, traveling, drinking coffee, and hanging out in board game cafes. If you've read my Bangkok cost of living breakdown from 2015, then you know I used to be a vegetarian. But recently I started eating fish and meat again–the reasons of which would fill another blog post. And I got into keeping myself healthy. I also got married this year but I still don't have kids. And I still don't own a car. I'd also rather pay for experiences over things. But I did buy myself a nice German coffee grinder–I'll talk about that a bit later.
My Expectations
As with the previous year, I expected to spend in 2017 a lot less than I actually did. I thought I'd spend 10% less than the actual amount. But what I've come to learn is that lifestyle inflation is a very real thing. As time passes I spend more because I get used to the things I have. And I enjoy the comforts of convenience.
The Big Picture
In all, I spent 483,951.12 baht in the first half of 2017. That comes out to 80,658.52 baht per month. Compared to last year, my monthly expenses rose 6,626.69 baht per month. This sounds like a lot of money to spend every month in Bangkok. And I know people who spend a lot less and others who spend a lot more. So let's look at a detailed breakdown of each of my expenses to see just where the money goes.
| Expense | Thai Baht | US Dollars | British Pounds | Euros |
| --- | --- | --- | --- | --- |
| Rent and Utilities | 14,500.03 | 439.40 | 328.18 | 372.01 |
| Gifts and Donations | 5,159.85 | 156.36 | 116.78 | 132.38 |
| Health | 7,444.00 | 225.58 | 168.48 | 190.98 |
| Maid | 4,465.83 | 135.33 | 101.08 | 114.56 |
| Groceries | 4,844.96 | 146.82 | 109.66 | 124.28 |
| Dining | 4,864.90 | 147.42 | 110.11 | 124.79 |
| Transportation | 2,464.09 | 74.67 | 55.77 | 63.21 |
| Fitness | 3,760.87 | 113.97 | 85.12 | 96.47 |
| Entertainment | 2,089.89 | 63.33 | 47.30 | 53.61 |
| Alcohol | 2,068.42 | 62.68 | 46.81 | 53.06 |
| Household | 886.83 | 26.87 | 20.07 | 22.75 |
| Coffee | 721.13 | 21.85 | 16.32 | 18.50 |
| Beauty | 123.33 | 3.74 | 2.79 | 3.16 |
| Vacation | 19,338.40 | 586.01 | 437.67 | 496.07 |
| Clothes | 4,326.33 | 131.10 | 97.91 | 110.99 |
| Insurance | 1,873.80 | 56.78 | 42.41 | 48.07 |
| Other | 1,725.86 | 52.30 | 39.06 | 44.27 |
Rent and Utilities
Each month, I pay 10,000 baht for rent and 2,000 baht for condo association fees. The 2,500 baht balance goes to electric and water bills. In Thailand, property managers usually increase the rates for electricity and water–however, my current building administration just passes on the actual bills and rates. If you want to know more about the rental market in Bangkok, check out our guide on renting. If you want to buy a condo in Bangkok, we also have a guide for that too.
Gifts and Donations
My average monthly expense for gifts and donations comes out to 5,159.85 baht. I consider a gift anything I buy for someone else, including dinner or drinks. Donations cover everything else, whether big or small. Aside from the minor donations I make, the most notable is to a Thai-Indian inmate in Bang Kwang Central Prison. I used to visit him every once in while and give him some money. But the prison has been 'cracking down' on visitors. So I now send him money orders to help him buy soap and other toiletries. It also means he can afford coffee (which I basically consider a human right–just like you shouldn't have to sleep with 17 other people in a place the size of a Bangkok studio, but that's another topic…). I learned about the program through Luna Rose Prisoner Support.
Healthcare
I spend roughly 7,444 baht each month on health insurance and any medications I need. I use ACS for my health insurance, which you can learn more about in this handy guide to buying health insurance in Thailand. They're based out of France but they provide coverage for expats and their families around Southeast Asia. I've been really happy with them since I took out health coverage. And getting reimbursed is really easy. I send them my claims every six months and they reimburse me.
Maid
In Thailand, maids are inexpensive compared to back home. You'll notice that a lot of middle-class families have maids. A lot condos in Bangkok also offer weekly or biweekly maid service. I hired a maid who lives in our condo. She comes by twice a week. She's reliable. She's trustworthy. And she takes care of many units in our condo. Around the condo, she helps with the dishes and laundry. She picks up and drops off packages for me. And she even buys her own cleaning supplies. She does all this for just 4,465.83 baht a month.
Groceries
I spend 4,844.96 baht each month on groceries. As with most Westerners living in Bangkok, my food expenses are tallied up from the cheaper costs of local foods and the more expensive costs of imported products. I still buy most of my groceries online – some from Tesco Lotus, a lot of other items from their online only equivalents HappyFresh and HonestBee. I also shop in 7–11, but mostly for water or snacks when I'm on the way somewhere.
Dining
When it comes to dining out, at 4,864.90 baht per month I don't spend as much as I've seen other expats spend. Although I consider my dinning out expense fairly high. This expense also includes fifty percent of my dining out cost. My wife pays half the time as well. Even though Thailand has a variety of foods and restaurants, dining out for me consists mostly of food courts. My wife and I occasionally get Italian food. But I restrict myself to a lean, non-oily, and unprocessed foods diet.
Transportation
For transportation around Bangkok, I have a Rabbit Card and MRT Card. I also pay as a I use the BTS. For trips off the main transportation lines, I use Uber and Grab Taxi. No matter how cheap they may be, I don't like using motorcycle taxis because of the dangers involved. I'd rather pay for a taxi. Although, traffic gets so bad in Bangkok in some cases you could walk to your destination quicker than taking a taxi. I'm not one for biking around the city as well even, though Grab Bike is becoming more popular in Bangkok. My total transportation cost comes out to 2,464.09 baht a month.
Fitness
My monthly expense for working out is roughly 3,760.87 baht. This covers my gym membership at We Fitness Esplanade, supplements, and any exercise equipment or gear I need. My favorite supplement is their Gold Standard Double Rich Chocolate Whey Protein. I also try to exercise for free, when possible. This includes runs in the park, weightlifting at home with my existing equipment, or going through a YouTube work-out course while traveling.
Entertainment
As you might know, I'm an ex-pro gamer. So gaming makes up a big portion of my entertainment costs. This expense covers my Playstation 4 subscription, on which I love playing Horizon Zero Dawn. Offline, I love board games. Catan is my favorite. Whenever I go to board game shops in Bangkok—usually Turn the Tables, I pay by the hour. A small portion of my entertainment expense goes to Kindle books, watching movies, visiting museums, or taking art classes with my wife. We like the occasional water painting class to break up the monotony of life in Bangkok. Keeping myself entertained in Bangkok runs me 2,089.89 baht every month.
Alcohol
I've always said that beer prices in Bangkok are similar to Germany. But wine is definitely more expensive in Bangkok. Your average bottle of wine can range from 400 baht up to 800 baht. These same bottles would cost only $5 in the US. But when it comes to drinking, I don't mix food and alcohol. At 2,068.42 baht per month, this expense is for the few times a month I have some drinks with friends. As you can tell from last year's cost of living guide, I've spent less on alcohol this year.
Household
I spent 886.83 baht per month on household supplies. Aside from the occasional broom and dustpan, I don't buy many gadgets. My biggest household expense this year was a coffee grinder. I just couldn't seem to find a decent quality coffee grinder on Lazada or in the department stores. So during my last trip to Germany, I picked up the Rommelsbacher EKM 300 coffee grinder. I bought it for 89.99 Euros off of Amazon.de. And when I left Germany to return to Thailand, I was able to get a refund on the VAT, which saved me 14.37 Euros. So the grinder only costed me about 76 Euros.
Coffee
I love coffee. I used to drink a lot of Starbucks and other "specialty" coffee. But since my wife introduced me to Pacamara coffee shop on the grounds of Chulalongkorn Hospital, they've been my go-to place for coffee beans. For a 250g bag of Robusta I pay 100 baht. It's okay for cold brew coffee but it's not something I could drink everyday. For a 250g bag of blend I pay 375 baht. And once in a while I get a 250g bag of single origin coffee for about 700 baht. Nowadays I'd rather brew my own than have someone else brew it for me. But that doesn't mean I still don't buy coffee when I'm out and about. I do buy the occasional cup of coffee when I'm on the road. Altogether, coffee runs me about 721.13 baht each month.
Beauty
This category is one of the least expensive in my budget. I imagine for some it could be more. But the only thing I spend money on that I would consider beauty are haircuts. And I might buy an occasional tube of cream. I get my haircuts at Art Barber. Haircuts cost me 80 baht each. That averages out to 123.33 baht a month. And I usually get haircuts on a whim, when I'm walking by the shop. If it's empty, I pop in. If it's busy, I try again another time.
Vacations
I spent about 19,338.40 baht on vacations in 2017. Although I've listed this as a monthly expense, I don't actually go on vacations every month. What I've done was average out the cost of my vacations over six months. The first trip in 2017 was to Japan with my wife and her family. The second was a trip to Germany with my wife. For that vacation we booked a direct flight from Bangkok to Frankfurt for 22,415 baht through Thai Airways. Then we took a hiking trip to China during Songkran. Because of the holiday, only business-class seats were available. We spent 12,472.27 each on the tickets.

Clothes
When I launched my first startup, I wore my shirts until they had holes in them. It was a very fitting look for the owner of a company who also had a lot of holes in its budget. As the company managed to pluck those over the years, so I managed to actually pay a bit more attention to what I'm wearing. So nowadays, instead of buying 200 baht fake polo shirts at the market, I started shopping at Uniqlo. Not surprisingly, these clothes last a lot longer. And my wife is happier. To keep up my appearance it runs me 4,326.33 baht a month.
Insurance
You might've noticed I have two insurance plans. The one I mentioned under my healthcare expense is for my general health care needs. This second insurance, which I hope I'll never need, will cover me in case I am disabled and can no longer work. I find it to be a German thing. It's called Berufsunfähigkeitsversicherung. And it costs me 1,873.80 baht a month.
Other
My final expense is a total for all the non-classifiable things I spend money on: ATM card renewals and fees, legal documents, ID cards, and stuff like that. These little things add up to about 1,725.86 baht each month.
2015 Comparison
If you'd like to see what I spent in 2015 compared to 2018, check out my 2015 Bangkok cost of living guide. I wouldn't say the prices in Bangkok changed much, but my standards have definitely increased.
All-in-all I'm very happy with the way I spend money. As I mentioned earlier, I'd rather pay for experiences instead of things. And since traveling is about experience, a big portion of my budget has gone to vacations. The longer I stay in Bangkok the more I enjoy traveling to places outside the region. Maybe my immediate surroundings have lost part of the "exotic" appeal they once had.
When considering budget, I also think age plays an important role. The older I get the less I want to put up with discomfort. In the times of Uber, Airbnb, and FoodPanda, I pick convenient options more frequently than I would've done in the past. It doesn't make a huge difference, but it does exemplify that it's always easier to up your spending than to decrease it.
Getting married also changed my budget. It's a challenge for my wife and me to find a place we haven't gone to when picking a vacation destination. We also have to pick a place we're both interested in and set convenient travel dates that work for both of our schedules. The restrictions mean there are fewer options available, often leading to us spending more to make that vacation happen after all.
A similar thing applies to comfort. I'll happily slum it when it comes to transportation; whereas my wife will usually have less expectations when it comes to accommodation. The end result is that we tend to pick the nicer option for both.
I hope that by showing you my budget, you're better able to plan for your own stay in Thailand. If you'd like to share some insights about your budget, please do so in the comments section below.
Now, on to You
Thinking about moving to Thailand but not sure how much you'll need? If you want to discover how much money you'll spend on rent, food, transportation, and more each month in Thailand, check out our Thailand Cost of Living Calculator.
Images courtesy of yoppy.