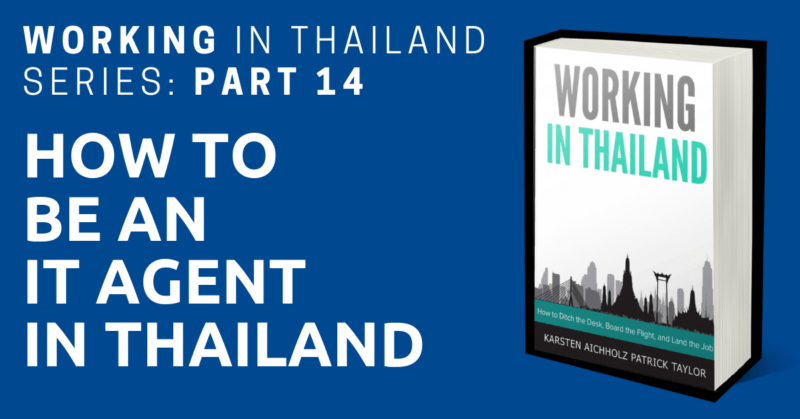 The following post is a chapter from our book, Working in Thailand: How to Ditch the Desk, Board the Flight, and Land the Job, written by Patrick Taylor and Karsten Aichholz.
Buy Working in Thailand on Amazon.
The IT Agents
Unless otherwise noted, all quotes by Daniel and Tokuo (last names withheld for privacy), IT agents.
It's hard to think of a more pleasant work environment than Iglu's Mae Hia headquarters in Chiang Mai.
Housed in an airy, modern, Thai-style building, under the shade of wavering palms, its white-washed walls flank a charmingly rustic koi pond, overseen by an effigy of the Hindu God, Ganesha.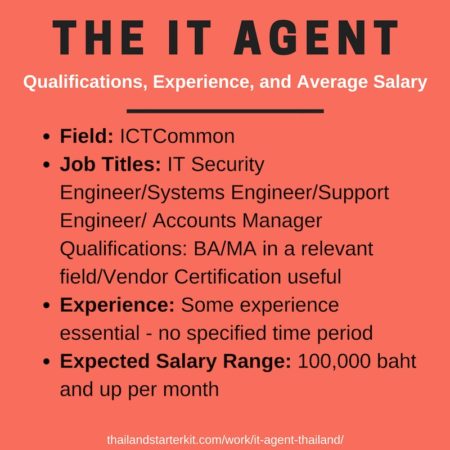 Upon entering you're greeted by a spacious, sun-washed lounge area, whose centerpiece is an immaculately-kept pool table.
Bean bags and Thai-style massage beds dot the teak-wood floors.
When your company's network goes down and you send out a request for help, there's a chance that this is where your request ends up.
From the comfort of their hammocks, techies who work at places like Iglu hear the plaintive cries of office workers from Germany to Georgia and set to work dealing with them.
The philosophy behind companies like Iglu is sound—if a technician's job is entirely online, why does he or she even need to be in the office to do it?
What if they could do the same work at home—or even better, say the techies, from the comfort of a bean-bag in Chiang Mai?
After all, taxes are lower (potentially 25% of your income in the USA, and a minimum of 35% in many parts of Europe).
You, as an employer, save money on feeding and housing your techies.
You don't even have to hear them shoot down your brilliant Game of Thrones fan-theories any more.
Companies like Iglu provide the office space, computers, speedy wifi and so on required to work remotely.
They also handle all the tedious paperwork required, such as work permits, visas, and tax returns.
Your salary is paid directly to Iglu, who takes a cut of 30% to cover tax, health insurance and their own expenses, and hands you 70% (arguably a more generous cut than you'd get in many Western countries).
Two techies who currently work as digital nomads in Thailand via Iglu are Daniel and Tokuo.
Daniel works for a German IT company.
His official job title is IT security consultant, although he describes his actual role as a mix of IT security engineer, support engineer, and technical account manager.
Tokuo is officially an ERP systems manager—although he notes that Thailand's quirky employment regulations mean his official title is a little different.
When I was applying for a work permit here in Thailand, I told them my title was ERP system manager, but the restrictions under the Thai Board of Investment work permit system ruled all manager/supervisor options out."
Tokuo works for:
a wholesaler company which operates in Finland and purchases most of its goods from manufacturers in Finland, other European countries, and Asia."
Daniel is in charge of what he describes as:
2nd or 3rd-level support pre-sales consultancy, specializing in the vendors F5 and Palo Alto."
In essence, what this means is that Daniel is the guy the first line of technical assistants call on if they stumble across a problem that's a little beyond their expertise.
My colleagues who are working there [come from] a technical background, but they're focused on wide-spread knowledge. So they can solve roughly 80% of the service requests or incidents by using knowledge-based articles or other documentation."
If they happen to land a case which requires in-depth technical knowledge—say, in something like F5 or Palo Alto—they contact the second or third level of support.
We're more focused on technology or vendor knowledge."
If the problem is too complicated even for someone like Daniel, it's his job to get in touch with the vendor itself to identify the bug.
In addition to this, Daniel handles requests from customers about new features, implementations, or project-related topics.
Tokuo's day-to-day tasks are many and varied.
My typical day at work ranges from help-desk-like tasks as an ERP software administrator to management reporting, supporting administrative decision making and project management in process development projects. During holiday seasons I also take care of all purchasing for the company. MS Excel is the single most important tool in my work."
Tokuo had been in the IT game for a long time before he decided to up sticks and move to Thailand.
Originally I applied for a position as a project manager back in 2009 when I was still studying my Bachelor's degree. Since then my titles have changed many times over and I've got ever more challenging and responsible tasks. Landing in a situation where I'm able to work remotely in Thailand is a result of long chain of events and successful work history during the years prior to moving here."
Daniel had also been working in the field for a long time, during which time he'd built up contacts and a good reputation in the IT security branch.
He had another advantage—specialized knowledge in a field with few other specialists.
My main field is Application Delivery Controllers, especially F5, and there are not many professionals in Germany, so you know most of them."
Tokuo is adamant that working remotely holds a lot of benefits for both employer and employee.
I strongly believe there are a large number of employers and companies, from small business owners to larger corporations, which would be able to save costs using freelance-type contracts and people like myself for backing their needs, instead of hiring someone directly for a permanent position. This applies also for fields that are not related to IT and software business."
Daniel adds, however, that financial incentives alone are not usually enough to convince employers to go down the outsourcing route.
There are so many obstacles like taxes that you have to keep in mind. You definitely need a really good story to convince your employer to go this way together. In my opinion, you can't convince them with the fact that they save money."
In Daniel's case, he went another route to convince them–he asked them to think of the customers.
I convinced my employer that we could serve customers in Asia better by placing me locally here. Since Iglu provides a company framework and work space for that, they could literally send me over here without having to open an office or company."
Tokuo is quick to add another important factor.
When I think about the factors that have made my current work contract possible. I believe there is one thing above everything else: trust."
Despite all the benefits, it's still a big risk for an employer to dispatch their techie halfway around the planet and hope that they'll be able to keep up with the tickets.
This arrangement would not be possible without the mutual trust we have been able to build between me and my employer during the years prior to me moving abroad."
In short, it appears that there are two main methods of getting yourself sent to work remotely–either putting in years of experience with a company, and developing a solid working relationship as Tokuo did, or possessing a specific and unique skill set like Daniel.
Daniel is quick to point out that in the field of IT, traditional qualifications are less important than your skills and experience.
It's important to show that you have some experience, and a vendor-related certificate is really helpful. I don't think that a bachelor and/ or master's degree is that important for a technical position."
However, he adds that some qualifications do make it a little easier to scale the ladder.
If you're aiming for a team lead or even more responsibility, it's probably easier to get to talk to the 'right' people if you have a master's degree in a related field."
He states that the best advice for landing a job in a field like his is to:
develop a unique skill, knowledge or idea and build a story around that."
As expected, salaries for positions like Daniel and Tokuo's are generally pretty high.
Iglu set their minimum salary at $2,500 per month, around 80,000 baht, and both positions exceed those salaries with plenty of room to spare.
Daniel states that for a specialized position such as his, a salary of between $30 to $40, or 900 baht to 1300 baht, per hour before taxes is to be expected, which pans out to roughly 140,000 baht per month.
Tokuo states that his salary, which is still paid by his Finnish employer, is:
somewhat on the same level with salaries in Finland."
However, he admits that despite the lower cost of living, he has had to take a slight pay-cut to what he could stand to make back home.
I had to accept some salary and benefit cuts when I started to work remotely. I'm certain that in my field as an employee one would have better career opportunities for example in Finland. For these reasons I see my current work arrangement as a temporary solution."
Although, there are no guarantees of a solid career ladder taking the remote-working approach, there are certainly no shortage of benefits—a relaxed working environment, a comparatively low cost of living, and, of course, the chance to work and live in a tropical idyll, far from the howling winters of Europe and North America.
Now, on to You
Looking for more posts on Working in Thailand? You don't have to wait for each post to come out.