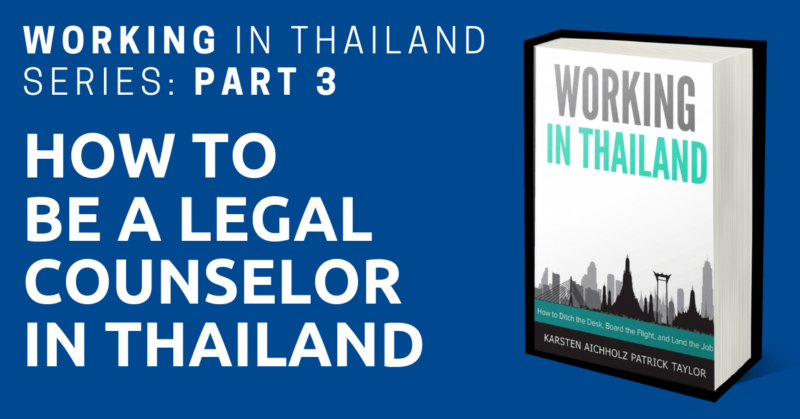 The following post is a chapter from our book, Working in Thailand: How to Ditch the Desk, Board the Flight, and Land the Job, written by Patrick Taylor and Karsten Aichholz.
Buy Working in Thailand on Amazon.
The Legal Counselor
All quotes by Isaac (last name withheld for privacy), legal counselor.
Remember what we said earlier about the legal business being strictly off-limits for foreigners in Thailand? 

Well, it's time to come clean. Like many rules in Thailand, there are always exceptions—and for this particular rule, the exception is a gentleman we'll call Isaac.
Isaac is not a lawyer, per se—that would be, as we've already established, illegal. Rather, he's been hired by a multinational conglomerate as, in his words, an in-house legal counsel.
His daily work includes:
reviewing contracts, investment opportunities and other documentation for various companies."
He also liaises with external legal counsel and manages critical litigation. All fairly typical stuff for a corporate legal counsel.
However, for those familiar with the court system in the West, Thailand may prove something of a culture shock. For starters, the court system can be something of a nightmare to navigate.
The Thai court and judicial system is very different from that of other countries I have dealt with. It is highly inorganic and procedural with the way it deals with issues, which can take a bit of getting used to."
Thai courts can be notoriously slow. A big trial can potentially run for more than five years, and it is far from uncommon for labor trials to run between two and three years before a verdict is reached.
Isaac certainly has his work cut out for him at his company. It is far from a small-time concern.
The group owns [several] publicly listed companies in Thailand, and has a significant presence in at least a dozen countries."
That's a lot of weight for an in-house legal counsel to handle.
So how does a foreigner land such a prestigious position in the first place? Once again—and this is very much going to be a recurring trope throughout this book—the answer in Isaac's case was networking.
[I found out about the position] through family relations with the Group. They needed someone young and reliable for future generations."
In terms of qualifications for the job, Isaac confirmed that a simple law degree was required.
So you've got the qualification, you've successfully made some interested contacts, and you're young and hungry to get your teeth into some tasty contract negotiations. But what about those pesky regulations on foreign lawyers?
Well, it turns out that it's a little more complicated than that. There are exemptions for foreigners like Isaac to practice the law legally in Thailand. Foreigners are indeed restricted from obtaining a full license to practice the law in Thailand—according to the Lawyers Act VE 2528 (1985), Section 35, one of the required qualifications for registering for and obtaining a license allowing you to work as a lawyer is being a Thai national.
However, a foreign national can obtain a limited license entitling them to offer advisory services in foreign and international law (as in a position like Isaac's). In this capacity, foreign lawyers may provide services in some other form of commercial association with local lawyers. They are permitted to establish a commercial presence (such as a law office) to offer advisory services in foreign and international law—however, they are required to enter into commercial association with local lawyers or law firms.
More information on these restrictions can be found at Thailand Starter Kit's Legal Advice page.
Finally, as is typical for the legal profession, the salary for a position like Isaac's can be fairly high.
Depending on the amount of experience the job seeker has, I think a fair range would be 150,000 baht to 200,000 baht [per month]"
Isaac certainly seems content in his position, and with his life in Thailand, despite the occasional difficulties of the legal system.
Having lived here for the past four years, I feel like I would never want to move anywhere else in the world. I think this happens to a lot of people who stay here. It's definitely not for everyone, but those who like it, love it."
Now, on to You
Looking for more posts on Working in Thailand? You don't have to wait for each post to come out.