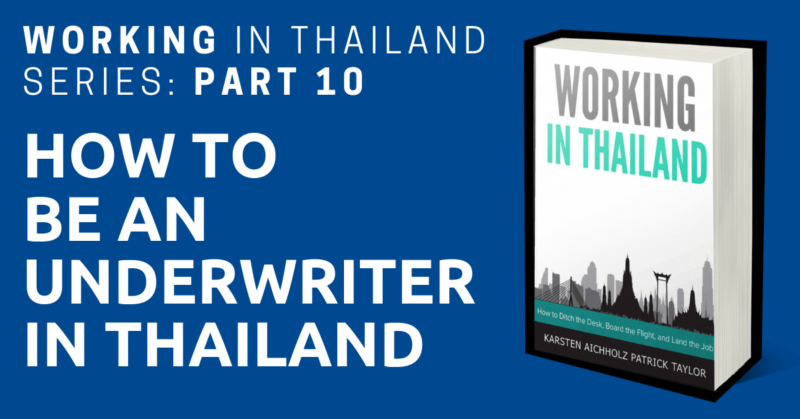 The following post is a chapter from our book, Working in Thailand: How to Ditch the Desk, Board the Flight, and Land the Job, written by Patrick Taylor and Karsten Aichholz.
Buy Working in Thailand on Amazon.
The Underwriters
Unless otherwise noted, all quotes by Wan Shahrezal and Ava (last name withheld for privacy), underwriters.
Earlier in this book we met Isaac, who held the atypical position (for a foreigner) of legal consultant in Thailand at a Thai company. In this chapter, we'll meet two foreigners working in a field that many would assume is also strictly off-limits.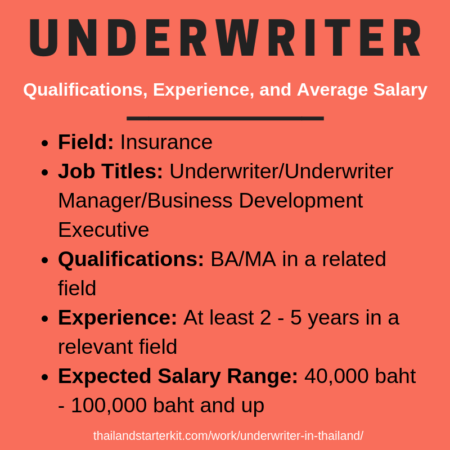 Of course, things are a little different for one of the aforementioned expats, Wan Shahrezal.
As a native Singaporean—and therefore fully paid-up member of the ASEAN economic community (of which Thailand is also a member)—getting a position was a tad easier than it would be for many from a Western background.
Thankfully, Singapore and Thailand being part of ASEAN, there were no difficult requirements."
Wan works as Senior Manager of the Underwriting Department at ThaiSri Insurance, a local home-grown insurance company. For those unfamiliar with the insurance industry, underwriting is the process through which insurance companies decide whether or not an applicant should be granted coverage.
An underwriter will assess applications for risk and decide whether or not it's worth it for the company to grant a policy—so a careful driver with twenty years' experience on the road and a clean license is likely to pass, but that boy racer with a history of alcoholism and a predilection for playing real-life Grand Theft Auto on the streets may find his application refused.
I handle underwriting for the Specialty Class of insurance, such as Financial Lines and Casualty products, which are liability based."
That's a lot of jargon for the uninitiated, but what it means is that Wan's department covers financial loss due to liability (i.e cases in which the client has to pay out a lot of cash due to being caught red-handed getting up to mischief, or gets involved in an accident of their own making).
Insurance underwriters typically analyze risk in insurance proposals, determine policy terms and calculate premiums on the basis of actuarial, statistical and background information. The day revolves around speaking with insurance intermediaries, such as insurance agents or insurance brokers, then providing them with insurance solutions to suit their clients' needs.

Part of the services could include client presentations or training and development for internal or external sources…Insurance underwriters rely heavily on their insurance competency and knowledge, as well as experience, when underwriting a specific risk."
Thankfully experience is not something that Wan is short of.
I have been in the insurance industry since 1999. I have worked in Singapore and Timor-Leste in the same field."
This experience made him a prime target for a big company like ThaiSri.
I was headhunted specifically for the job. This was due to my experience and knowledge in less mature insurance markets."
Having experience in the industry is a major selling point for those who want to find a job in Thailand. Insurance is a comparatively young industry in Thailand, and they need qualified, experienced foreigners to give them an edge.
Insurance is still in a low penetration stage in Thailand, and there are not many very qualified insurance personnel. For example, if I was in a very generic position in an insurance company like clerical or accountancy – I would not be considered for the job as there are locals capable of doing this."
Another thing that worked in Wan's favor was his familiarity with company procedure.
My previous employer had a minority share in my current company, thus I would be familiar with processes and guidelines if dealing with colleagues and stakeholders on a global level."
He's quick to point out that this was no assignment, however—he scored the job independently.
I have to quantify that I was not sent to Thailand by my previous employer. I had left without a job and somehow the opportunity in Thailand came up. It made sense and the timing was really seamless."
Wan describes his decision to take the job as:
a win-win solution for both parties…I came up with a proposition that I think could benefit my current employers with my potential ideas and strategies to move the company forward."
Thai Language skills are also extremely useful.
Business language in Thailand is often in English, but some basic understanding of Thai language goes a long way in our business which relies heavily on client relationships."
In short, it seems that the stars aligned just right for Wan. He had the right passport. He had the knowledge, skills, and experience. He had the familiarity with company procedure.
Most of all, he had a clear vision for what he could bring to the company, and the gift of the gab required to articulate that vision to his potential employers.
Although the insurance industry is indeed mostly a closed shop to foreigners, there are opportunities if you happen to tick many of the same boxes as Wan.
For those who aren't as fortunate, there are other methods to break into the Thai insurance industry.
Ava (not her real name) is a Business Development Executive for a multinational health insurance company, currently working at their South-East Asian Regional Centre in Bangkok.
We are a health insurance provider for internationally mobile employees, individuals, families and expatriates living in South East Asia.
Ava, who holds a master's degree in International Business, landed her job via an internship. Unlike Wan, she does not hold an ASEAN passport—however, her European background worked to her advantage in other ways.
They were looking for someone who speaks English fluently and either French or German to take care of the farang [Western] customers. At that time I had just graduated…and my student job at that time was related to health and insurance. So I believe I matched their requirements well.

Then during my 6-month internship, my employer seemed to be really satisfied with my work and I enjoyed my job, so they finally employed me after my internship ended."
She cites networking in Bangkok as a key factor in successfully landing her internship.
In general—especially when you are a foreigner—networking events are a great chance to get in touch with people and get connected."
Ava herself managed to score her position via a friend.
She knew that I was looking for a job in Bangkok while I was Germany. One day she contacted me and just sent me her supervisor's contact details."
Unlike Wan, Ava's role in the insurance industry is more business-focused.
As a Business Development Executive, my main tasks (include) developing and executing sales strategies to achieve agreed sales targets and business retention, attracting, and recruiting quality producers (e.g. brokers) for our company, developing customized solutions for groups through close coordination with key parties (e.g. Actuarial/Legal department, Sales department, insurance companies) and exploring and developing new business opportunities for all lines of business.

Mainly I deal with our brokers and direct corporate accounts. As I am responsible for the Myanmar and Vietnam market, I often get the opportunities to travel there, to meet corporate clients or our partners based there."
There are plenty of multinational insurance providers to choose from should you prefer to follow Ava's route into the industry, with several multinational companies maintaining branches in Thailand. JobsDB also contains a number of positions within the insurance industry, although many of them appear to be open to Thai employees only.
However, Wan reminds us that applying on your lonesome is an option if the expat package isn't available, and you've got your heart set on working in Thailand (which if you've read this far, you presumably do).
Foreigners with specialized insurance training and skill-sets could apply directly with these companies. (It's an) added bonus if the potential candidate can speak or write Thai, not a shoe-in but improves the stakes. For a foreigner, the easiest way is to get sent here by your current home company to the Thailand branch."
As for applying to a full-blown local company like Wan's, it's a trickier proposition, but not impossible.
The opportunities are fewer, but you never know. [Another] alternative is to engage a professional headhunter, since the roles can be quite senior and specialized. These headhunters would also have access to such potential employers."
Wan adds that having a Thai partner might offer a little extra leverage when it comes to securing a position at a Thai insurance company.
One angle I have noticed is foreigners who have a Thai spouse. This would provide them a genuine reason to relocate. Again, not 100%, but could be used as leverage to hire a trained professional over a Thai, if the skill set is a match and salary is competitive."
One downside to relocating to Thailand is the potential loss in salary.
On a personal level, a big sacrifice on my part was compensation. I could not negotiate an expatriate type of salary. So giving up about 40% of my previous salary was a big sacrifice."
Wan also points out that he had to give up a larger chunk of his salary over to the government.
Also, personal income tax is Thailand is extremely high (at least much higher than Singapore). In Timor-Leste, I was on an expatriate package and my previous employer took care of taxes and accommodation."
So what's a reasonable salary expectation?
This would be a little tricky. I would say choose something one is comfortable with. A lot of it has to do with experience, qualifications and specializations. Demand and supply."
As with other jobs, the bare minimum should be roughly 40,000 baht to 50,000 baht a month at minimum—the de facto minimum wage for foreign workers.
The foreigner should also be realistic with market conditions and expectations. From my experience, anything more than 70,000 baht a month could be very decent living, if you're single of course."
Ava states that salaries are similar for people in her position.
It's hard to say [what salary range would be realistic for jobseekers. It depends on their experience, qualifications and job position, as well as their nationality. But in the lower range I would say 30,000 baht to 50,000 baht per month, for the higher range around 100,000 baht per month."
Ultimately though, money isn't everything for Wan.
I would mention, people work overseas for different motivations. We can develop different skill sets working abroad. We can experience a new culture. It helps us to develop our careers. Sometimes, it's just for a lot of money."
He ends on a somewhat philosophical point, and an apt one for someone in the insurance industry:
We only live once. Best to make the most of it."
Now, on to You
Looking for more posts on Working in Thailand? You don't have to wait for each post to come out.