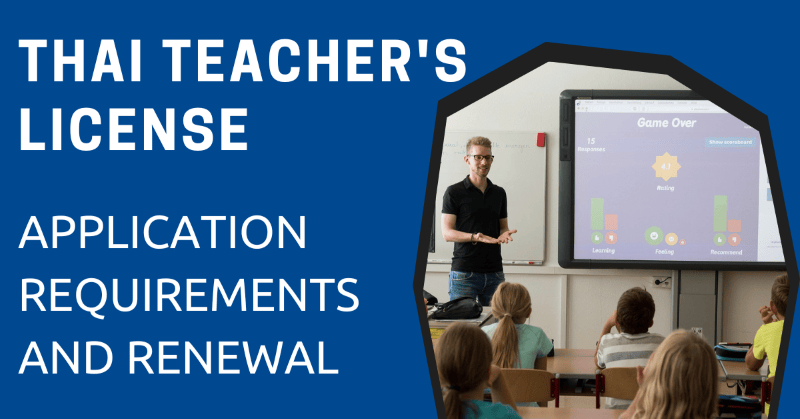 Teaching in Thailand promises an exciting adventure, an opportunity that extends beyond the confines of a regular job. It's a chance to dive deep into a vibrant culture and contribute to shaping young minds.
However, I also understand that the initial requirements and paperwork can appear daunting at first. But fear not, for this guide is your compass, ready to navigate you through the journey of turning your teaching dreams into a reality.
I'll walk you through the essentials for obtaining a temporary teacher's license and guide you on the path towards a permanent one.
"*" indicates required fields
Proper Document Preparation
But before we delve into the specifics of requirements and documentation, I want to emphasize the significance of proper document preparation.
All the documents that will be discussed should bear your signature, with your name written in capital letters just below it.
It's also essential to scan these documents in PDF format (excluding one photo) before they are submitted to the Khurusapha website.
Uploading Documents
The actual process of uploading these documents to the official Khurusapha website will be handled by your school, as they possess the necessary login details. Your school will also provide support and guidance, lightening the burden on your shoulders.
Once your documents are in order, you can expect to receive your license within seven days. Moreover, should any issues arise with your documents, you will be granted an additional seven days to make the necessary corrections and resubmit them, complete with guidance from Khurusapha on what changes are required.
All of these factors help to lessen the stress of the application process.
Temporary Teacher's License
The temporary teacher's license provides an entry point for teaching in Thailand.
The temporary license allows you to be a teacher for two years and can be renewed two times, giving you six years of experiencing and immersing yourself in new cultural experiences.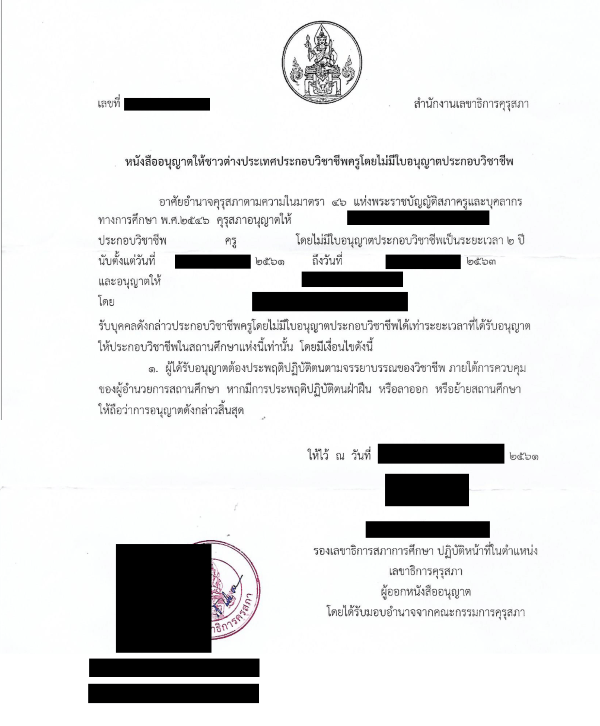 This license is accessible even if you don't have a formal background in education.
Initial Requirements for the First Temporary License
Securing your temporary teacher's license in Thailand is an exciting step towards an enriching career. However, this journey does come with specific qualifications and documentation requirements.
Here's a rundown of the essential elements:
Qualifications
To kickstart your teaching adventure, you'll need a bachelor's degree in any field, accompanied by an official transcript.
However, both your degree and transcript must go through a legalization process. While this may initially seem like a daunting task, there are services available to make it more manageable.
UK citizens can explore options like rapid-legalisations, known for their swift 10-day turnaround.
Legalization Process
Your next mission is to have your documents legalized by your country's government.
For UK citizens, this includes a two-step process.
First, a legitimate UK-registered solicitor must authorize your degree and transcript, and they must provide a signature, date, and a stamp or their contact details.
Next, your degree and transcript should be submitted to the UK Legalization Office (FCO), where an efficient online service simplifies the process. The cost for legalization is £30 per document.
US citizens can follow a similar procedure in their respective state offices.
Thai Embassy Legalization
Once your documents are legalized, they must undergo further legalization at the Thai Embassy in your home country, enabling the degree and transcripts to be valid in Thailand.
In the UK, this can be accomplished at the Thai Embassy in London. This critical step grants an official stamp, which is necessary for applying for a temporary teacher's license in Thailand.
Detailed information on the application form and process can be found on the Thai Embassy website.
Photograph
Alongside your educational documents, prepare a recent 1×1.25-inch photograph of yourself in a dress shirt with a collar, taken against a white or blue background.
It is important to note that this photograph must be in .jpeg format, as it's the only document with this format requirement; all other documents should be uploaded in .pdf format.
Passport Scans
You'll also need to furnish evidence of your eligibility to work in Thailand, which includes photocopies of your passport photo page and your non-B visa.
School Documents
Your future employer, the school or the university you'll be working at, will play a role in this process.
They must provide a copy of your employment contract and a letter addressed to Khurusapha, the governing body of education in Thailand.
Your school administration will provide these documents for you.
Marriage or Divorce Certificates (if applicable)
Depending on your personal circumstances, you might also need to provide marriage or divorce certificates.
These requirements set the stage for obtaining your temporary teacher's license, opening doors to a fulfilling teaching experience in Thailand.
Visa and Work Permit
Before getting a temporary teacher's license in Thailand, make sure you have a non-B immigrant visa.
This visa is crucial because it opens the door to obtaining a work permit, allowing you to legally work in Thailand. Once you've secured this permit, you can apply for your first temporary teacher's license.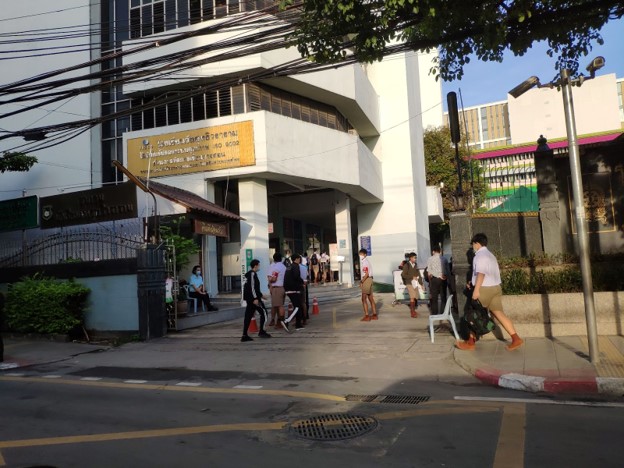 Again, your school will be responsible for this process as the work permits are tied to the school. You can complete this process before arriving in Thailand or while in the country on a tourist visa, with a later transition to a non-B visa.
Keep in mind that working on a tourist visa is illegal. When changing from a tourist visa to a non-B visa, you may need to exit Thailand and apply for the visa in a neighboring country. Malaysia (Penang) and Laos (Savannakhet) are popular options.
Renewals (Second and Third Licenses)
As you continue your teaching adventure in Thailand, the process of renewing your temporary teacher's license can feel like the next big step, as it comes with its own set of requirements.
Here's what you need to know about renewals:
Explanation for Not Completing the 7-Module Course
While renewing your temporary license, the 7-module course is optional, but you will need to provide a reason for not taking it during your current license period.
Demonstrating Professional Growth
To renew your license, you must also demonstrate your commitment and professional growth. To achieve this, you can present certificates and evidence in various forms:
Certificates confirming your participation in school camps or your plans to do so.
Evidence highlighting your improvement or professional development, such as attendance at seminars.
Proof of your involvement in or success in official nationwide school competitions may be required. You might need your school's assistance to prepare students for these competitions.
Repeated Documentation
In addition to the explanations and evidence mentioned, you'll also need to provide all the documents required for your first temporary teacher's license.
Fortunately, the process will be smoother the second or third time around, as your qualifications were already legalized two years prior.
Proof of Leaving Your Previous School
Depending on your personal circumstances, you may need to provide evidence that you are transferring schools. This involves obtaining an official document confirming your departure from the school and evidence of the cancellation of your work permit.
Your school will guide you through this process, contacting your new employer and helping with the necessary documentation for a new work permit that has the updated details needed to apply for a new license.
Open communication with your school is key, as it allows the administration team ample time to support your needs for the additional documentation.
When Do I Need to Renew?
Renewals of licenses can be done up to 90 days before your current license runs out, giving you plenty of time to prepare.
What Happens When I Change Schools?
It's important to note that changing schools midway through your temporary license will immediately cancel the remaining year.
This means you will only be able to stay in Thailand for five years instead of six, as one year from your license is forfeited.
Therefore, careful consideration of your career path is essential to ensure you make the right choices for your teaching journey in Thailand.
Permanent Teacher's License
If you're considering a long-term teaching career in Thailand, a permanent teacher's license is your key to success in the education field.
This license grants you a solid five-year period to teach in Thai schools and offers the option for unlimited renewals.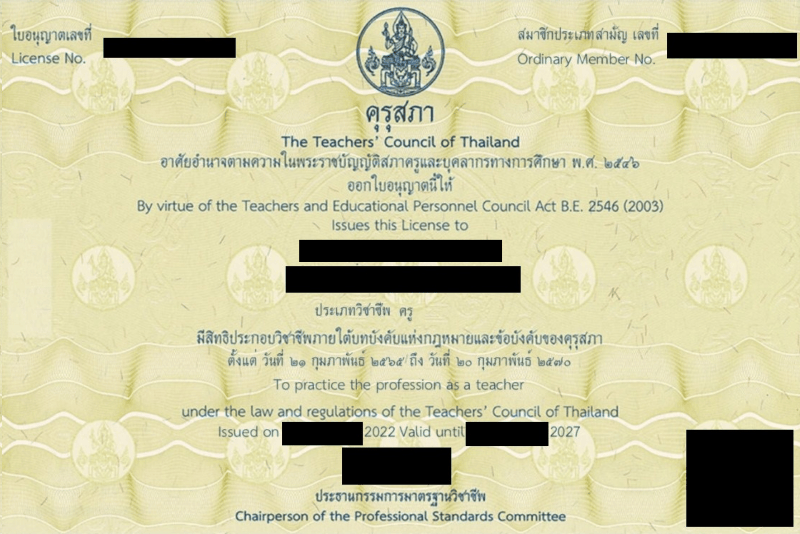 For newcomers to Thailand who are already qualified teachers in their home country, there's an alternative path to obtaining a permanent license.
You can bypass the temporary license if you meet Khurusapha's criteria, as I'll explain.
Transferring from a Temporary License to a Permanent License
If you currently hold a temporary teacher's license and aim to transition to a permanent one, you have two pathways to consider:
Obtain a Recognized Teaching Qualification
To qualify for a permanent license, you must acquire a recognized teaching degree or an equivalent with at least 30 education units, as explained in detail in Part 1 of Section I.
A convenient option is to utilize your existing bachelor's degree in any field and your current temporary teacher's license to enroll in a postgraduate diploma in education with 30 units. These programs typically span one to one and a half years, making them achievable in a shorter time period than a degree.
Please note that online degrees or diplomas won't be accepted for this purpose; physical attendance on a university campus is mandatory.
Complete the 7-Module Course
Another route to gain a recognized qualification is by successfully finishing Khurusapha's new 7-module course.
Extra Document
For a seamless transition to a permanent license, submit the following extra documents to your school for uploading to the Khurusapha website.
Official School Evaluation of Teaching Practice
Your school will provide documentation to Khurusapha assessing your teaching practice. This usually includes a classroom observation, where an assessor will observe your teaching and complete an evaluation form.
It's important to note that this evaluation applies only if you've been teaching at your current school for at least one year.
This is especially relevant for those who've renewed their temporary teacher's license due to transferring to a new school.
Teaching License Application Form
Lastly, you'll need to submit the official, fully completed application form, which you can obtain by contacting Khurusapha.
Applying for a Permanent License if You Are Already a Qualified Teacher
To get a permanent teacher's license from the start, follow these qualifications and steps.
1. Educational Degree or Equivalent
One route to eligibility is having a degree in education; it could be a bachelor's, master's, or even a Ph.D. You'll have to provide the certificate and official transcript. If you don't have an education degree but still want to qualify, a postgraduate diploma with at least 30 units in education can do the trick.
But if your degree is from another country, it needs approval from the Teachers' Council of Thailand to check if it's officially recognized in Thailand. To check whether your degree is recognized, you can send an email to ks[email protected] or reach out on Line ID: @474qqxwe for details.
Please note: As of 2023, online degrees and diplomas are not accepted by Khurusapha. But if you've got an online degree, there's a workaround via the new 7-module initiative.
2. A Different Field with Knowledge Certification
If your degree is in something other than education, that's okay too. You can get into the teaching profession by passing a certification test based on the professional knowledge standards set by the Teachers' Council of Thailand.
3. Another Field Degree and a Foreign Teaching License
Alternatively, if you've got a degree in something entirely unrelated but also happen to carry a teaching license from another country, then you also qualify for a permanent license.
If you qualify, to seal the deal and get your permanent license, you'll need to submit some documents, like your degree certificate and official transcript, both of which must be legalized for use in Thailand.
You can find out more here on the legalization process.
Applicants will also need to include a recent photo, passport scans, school paperwork, and, if it applies, marriage or divorce certificates. You can find details of these documents here.
Renewals
When thinking about renewing a permanent teacher's license, there are important factors to take into account.
Similar to the process of renewing a temporary teacher's license, you'll need to present evidence of your continuous professional development, re-submit certain documents, and, if applicable, confirm your amicable departure from your previous school.
For comprehensive instructions, please refer initial requirements of the temporary license subheading in this article.
7-Module Course
In 2023, a 7-module course was introduced for teachers seeking permanent licenses.
Khurusapha now expects teachers with temporary licenses who aspire to make it permanent to complete this course.
What sets this course apart is that it's conducted entirely online, making it the only online option available for obtaining a permanent license, as Khurusapha no longer accepts online degrees.
This is important to know, as working professionals will find this route the most convenient as it can be done from home.
However, to be eligible for this course, you must first apply for and obtain a temporary teacher's license (which will be explained later).
Modules
Successful participants can choose between two models to qualify for obtaining a teaching license.
Model 1: Participation in the Training Curriculum
The KSP Teacher Professional Knowledge Standards Special Training Curriculum offers an online learning experience that covers both theory and practice. It spans a total of 420 hours, divided into 7 modules that align with standards and the professional code of ethics listed below.
Module 1: The changing global context, society, and the Thai sufficiency economy philosophy.
Module 2: Developmental, educational, and counseling psychology for analyzing and developing learners.
Module 3: Subject content, curriculum, teaching science, and digital technology in learning management.
Module 4: Measurement, assessment of learning outcomes, and research in problem-solving and learners' development.
Module 5: Using the Thai language, English for communication, and digital technology in education.
Module 6: Designing and implementing educational quality assurance.
Module 7: Embracing the true spirit of a teacher and professional code of ethics.
Each module consists of 48 hours of theoretical learning and a 12-hour Zoom seminar. The seminars usually take place on Saturdays and Sundays after the learning period of each module.
Within seven days after the seminar, students will take a test through the online teaching system. To successfully complete each module, you are expected to achieve over 80% of the participation hours and score over 60% in each lesson.
Model 2: Professional Experience Equivalency
If you're thinking, "I've got experience," you can aim for professional experience equivalency, which still covers the same 7 modules. The best part? You won't have to sit through the theoretical learning and seminars. Instead, you can submit necessary documents, evidence, or other actions on the platform as specified within each of the 7 modules.
Specific details of the equivalency requirements become available once you enter the course. You can contact the Secretariat Office of the Teachers' Council of Thailand for more information on professional experience requirements.
Opening Period
The Secretariat Office of the Teachers' Council of Thailand accepted submissions to this 7-module course. In 2023, it's from October 27 to November 27.
If you miss it, you can keep checking online at regular intervals on Khurusapha Facebook to ensure you do not miss the next period of applications, which will most likely be done annually in February to March.
Registration Fee
There's a registration fee for each module, ranging from 3,000 to 4,000 baht for English-language modules. You'll need to pay this fee during the training model selection process, which started in May.
Special Considerations for the Transition Period to the New 7-Module Course System
If you've been teaching in Thailand before the 7-module course in 2023, you have a unique opportunity during the transition period to the new system. You can get a fourth or fifth temporary license.
This means you can extend your teaching adventure as Thailand eases into this new system. To make it happen, here's what you need to do:
Ensure you have all the necessary documents for the first license application and renewals.
Request a letter from your school that highlights your contributions and integral role within the school community.
Provide an explanation for not enrolling in the 7-module course right away, such as being unaware of its initial launch in March 2023.
Present evidence of your professional development.
Commit to completing the 7-module course in the future, which you can include in the letter.
Additional Information
Thailand's unique culture and education sector eagerly await your contributions. As you navigate the path to becoming a certified teacher in this country, you're not just shaping minds but also immersing yourself in a rich and diverse cultural experience as an expat in Thailand.
With the information provided here, you can confidently turn your teaching aspirations into reality.
While this article covers requirements, processes, and considerations at each stage, remember that teaching license regulations in Thailand can change. To stay informed about any new developments, regularly visit the Khurusapha website.
For direct inquiries or assistance, you can contact Khurusapha on Facebook, Line (for foreign degree holders), or by email (for information about the 7-module course).
Remember, staying updated on the latest regulations and contacting the relevant authorities is crucial for a smooth and successful experience.