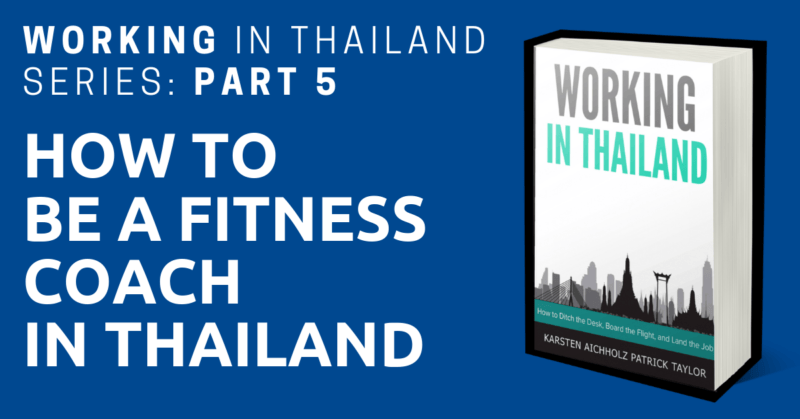 The following post is a chapter from our book, Working in Thailand: How to Ditch the Desk, Board the Flight, and Land the Job, written by Patrick Taylor and Karsten Aichholz.
Buy Working in Thailand on Amazon.
The Coach
Unless otherwise noted, all quotes by Jamal Younis, fitness coach.
High above the urban scramble of Bangkok's Asok junction, on a sun-soaked Saturday morning when many of the city's revelers are nursing hangovers in darkened rooms, the sounds of high-energy techno music and cries of exertion fill the air.
From the vantage point of the Asok BTS station, retail workers commuting to Siam and selfie-stick wielding tourists briefly turn away from their phones to watch the spectacle unfolding on a nearby rooftop.
Sweat-slicked men, ranging from late teens to late forties, swing from bars in a distinctly simian manner. Petite Asian mothers lift heavy medicine balls above their heads and slam them on to crash mats with meteoric force. Other people roll around, squat, and assume painful looking lunges.
Overseeing the chaos is Jamal Younis, a Personal Trainer and Supervisor—or, to give his official title,
Certified Personal Trainer, Certified Strength and Conditioning Specialist and Nutrition Coach Level 1."
Fitness in Bangkok is big business these days. No Bangkok apartment is considered complete without its fitness center attached.
Hordes of Lycra-clad runners swarm the city's parks every day at dusk and fill out the regimented rows of treadmills in the city's mega-gyms.
The multinationals have started moving in—in 2016, Virgin Active announced that it was to spend a whopping 5.2 billion baht opening 20 new fitness centers in the country, and Australian chain Jetts announced its intention to carve out a slice of the organically-sourced, macrobiotic fitness pie around about the same time.
Jamal is one of a handful of foreigners hoping to be a part of the kingdom's sudden lust for lifting.
I work for a Company called FitcorpAsia. The company includes the Aspire Club, CrossFit Bangkok, Bangkok Bootcamp, and more. My daily work is for the Aspire Club, which is Bangkok's first health, fitness, and sports performance company. We help people understand their needs to achieve success and the results they strive for."
The Aspire Club is the gym with which we opened this chapter. Located opposite the futuristic Terminal 21 Mall, its members take their exercise seriously. No light trotting on the treadmill while trying to perfect your best making gains selfie pose for these people.
There's some real exertion visible here—swinging on monkey bars, one-handed press-ups, leaping onto boxes, and lugging heavy tires. Jamal's job is to ensure that all this effort is put to a useful cause.
My main daily work is coaching people. The big part is coaching on the gym floor."
Of course, it's not just telling people how to improve their posture—getting fit is a holistic process.
[My work is] fitness, nutrition, and overall healthy lifestyle related."
Competition for a job like Jamal's can be fierce. As he puts it:
There are a lot of very good local trainers in Bangkok. For a company it is more expensive to hire a foreigner."
Jamal suggests that foreigners interested in becoming professional trainers in Thailand need to have a little extra something to make it worthwhile for their employers.
Things like being able to attract new clients, to help grow the brand and business are very powerful skills which can make you very valuable."
So what are the hard requirements to be a personal trainer? At Aspire, Jamal explains that the key requirement is Personal Trainer Certification and/or a fitness/health related degree. In addition to this, you'll need some language skills, although if you've read this far that shouldn't be a huge problem.
All employees need to be fluent in English. Thai language is not necessary."
In terms of finding work, it turns out that once again networking pays dividends (are you beginning to notice a pattern here?).
Jamal states that he managed to acquire his job after he:
got approached by the company's prior fitness manager [and was informed] that there was a full-time job available which would suit [his] skills and interests."
In terms of personal attributes, Jamal believes that:
the fact that I want to stay long-term in Bangkok and that I am a loyal and honest person made a very good impression."
He's also quick to point out that his training style was a good match for the company.
Networking in Bangkok's fitness community is no doubt a great deal easier than it would be in many other industries. The very nature of the fitness classes and events offered by places like Aspire makes it easy to meet new people.
Sites like Eventbrite and Bangkok Fitness also offer planned events that are a great way to meet like-minded people who can offer you an in.
The salaries offered for personal trainers are generally pretty good. Jamal believes that a reasonable salary would be
50,000 per month and [up]."
There are also plenty of opportunities to top-up your income, depending on your abilities as a salesman.
[Your salary] can vary heavily on how many clients you have, how much other income you can get via sales, referrals, doing consultations and so on. I started conducting fitness and nutrition seminars this year at a university here for exchange students, an Asia-Pacific business seminar and in [events such as] the Asia Fitness Conference."
Ultimately, working as a personal trainer can not only be lucrative, but also deeply rewarding.
I believe I have a lot of valuable information to share which can inspire people to change their life or learn new ideas."
Like teaching in Thailand, the real reward is in watching people use the knowledge you've imparted to improve themselves.
You can find out more about Jamal and his various projects at his website, jamalyounis.com.
Now, on to You
Looking for more posts on Working in Thailand? You don't have to wait for each post to come out.