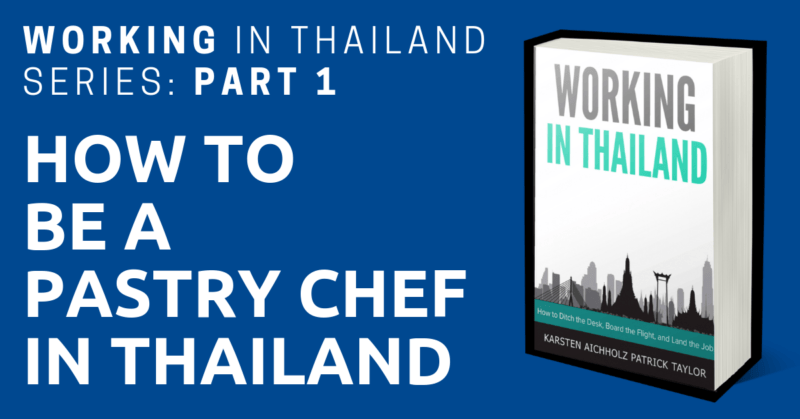 The following post is a chapter from our book, Working in Thailand: How to Ditch the Desk, Board the Flight, and Land the Job, written by Patrick Taylor and Karsten Aichholz.
Buy Working in Thailand on Amazon.
The Pastry Chef
All quotes by Paulo Bairan, chef instructor and product development head.
Desserts are big business in 21st century Thailand.
Dainty, filigree cafes and bakeries have proliferated through the plazas and shopping centers of the kingdom, peddling a dazzlingly sickly range of cakes, ice creams, and cupcakes. Instagram accounts like @afteryoudessertcafe's are littered with tastefully-lit pictures of elaborately constructed honey toasts and rainbow colored macaroons.
It seems as though anyone who is anyone wants to be seen smiling above an artery-hardening, diabetes-inducing confection.
The trend shows little sign of slowing down. In 2016, the phenomenally popular local dessert chain After You became a big enough entity to float on the SET (Stock Exchange of Thailand), and in the space of a decade has expanded from a single branch in Bangkok's Ekkamai neighborhood to over 20 branches across the country, any one of which can be seen swarming with local hipsters and university students at most hours of the day, all jostling for a shot at that coveted honey-toast selfie.
Several renowned international pastry chefs have made Bangkok their home over the years, hoping to use their skills to satiate the country's lust for sweet treats. These include award-winning Belgian chef Yannis Janssens at Bangkok's L'Atelier de Joel Robuchon, Greek chef Illiana Karagkiozi at Islero, and Japanese chef Saki Hoshino at 80/20 on Bangkok's Charoenkrung Road. Thailand is a great place to be right now for anyone who knows their way around a pastry bag.
One of the local companies seeking a piece of the pie, so to speak, is Aorta Food World, a local startup OEM (Original Equipment Manufacturer) company supplying pastry and bakery items to different local and international companies across Thailand, specializing in customized and personalized bakery goods for cake and coffee shops. Paulo Bairan was working as a chef instructor when he first got involved with Aorta.
The owner of the company, Ms Lukmai Anuwatmetee, was a student of mine when I was still a regular chef instructor at Macaron Pastry Training Center by Eric Perez, a French pastry school located in Ekkamai. She took some of the classes I was teaching then. She eventually offered me the job upon hearing of my resignation. At that time, she still had her pastry shop, Tokyo Dessert, and she had just started Aorta Food World, Co., Ltd."
Bairan landed a position as product development head at Aorta, as well as pastry chef at one of Aorta's subsidiaries, a pastry and coffee shop in Puthamonthon Sai 2 called Seen Bangkok.
In his twin positions, his responsibilities are many and varied. As product development head, he is in charge of developing recipes for the company's clients.
This includes working within prescribed costs, flavors, and designs for finished pastries and packaging."
In addition to this, he is responsible for training the production line and ensuring that the implementation of new recipes and items is according to guidelines.
At Seen Bangkok, his work is a lot more hands-on.
I will be managing the kitchen. This entails recipe development, menu planning, costing, training chefs, and daily production."
He describes a typical day as starting with:
recipe analysis, discussion, and delegation, as well as guiding the team through the preparation of these recipes."
Towards the end of the day, the fun stuff begins:
We finish the day with product tasting and photo shooting."
Bairan considers his day-to-day work challenging, especially compared to his previous work.
I was coming from a hotel/restaurant/school producing high-end pastry. The task given to me upon joining this company was to work within certain budgets, simple processes, and even frozen items that should taste and look good."
However, he is quick to point out that he's enjoying the learning curve.
I consider this to be good experience and training."
So how does one get into the pastry game? Bairan states that the first and most important step is having the skills.
I would say extensive experience and knowledge in pastry was the [main] requirement for this job."
As is customary for the restaurant business, hard qualifications are no substitute for experience—typically a minimum of five years is standard for a position at one of the city's major hotels, although some may require as many as seven.
A cursory look at job postings for pastry chefs from some of the bigger hotels such as the Park Hyatt or Waldorf Astoria reveals that an apprenticeship or diploma in a subject such as food production or culinary arts is an advantage, although not as essential as experience.
Having a good mentor is essential when it comes to developing the skills required and making the right connections to land a good job.
For people very new to this industry, finding the right boss/mentor would be best, as opposed to finding the right job or company. Learn the basics well to have the correct foundation moving forward."
Some of Bangkok's most highly-regarded pastry chefs were mentored by some of the biggest names in the culinary world—for example, Davina Pickering, the Finnish-English consulting chef at the WWA Cafe, worked alongside British celebrity chef Gary Rhodes.
In a position like Bairan's, in which you may find yourself having to closely instruct chefs with only rudimentary English, he states that a knowledge of Thai is also a useful asset.
Teaching in English is one thing, but to transmit pastry knowledge/recipes in Thai is another."
Salaries for pastry chefs vary widely depending on experience and skill. Bairan cites $800 (around 25,000 baht) per month as a ballpark figure for an entry-level position, a figure that is backed up by the salaries cited on several job sites.
However, for those with extensive skills and experience, the sky's the limit—an executive pastry chef at a large hotel or resort can command a salary of around 200,000 baht per month.
Ultimately, as in the rest of the catering industry, succeeding as a pastry chef requires skill and perseverance above all else.
For those willing to put the work in, they'll find an extremely receptive crowd for their tasty treats in Thailand.
Now, on to You
Looking for more posts on Working in Thailand? You don't have to wait for each post to come out.