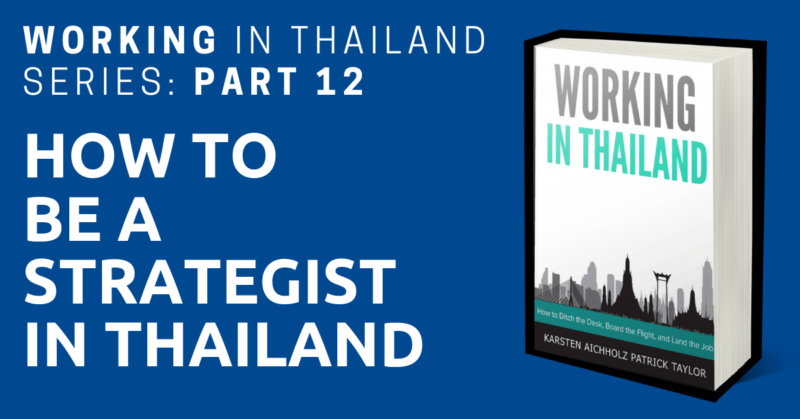 The following post is a chapter from our book, Working in Thailand: How to Ditch the Desk, Board the Flight, and Land the Job, written by Patrick Taylor and Karsten Aichholz.
Buy Working in Thailand on Amazon.
The Strategists
Unless otherwise noted, all quotes by Avik Ashar and Vitaly Podkopaev, strategists.
It's hard to pick just one."
This is what Avik Ashar says when asked what his favorite part of his job is.
Casual clothes (shorts for the win), flexible hours, awesome team and energy, Beer Fridays—alternate Fridays at six we crack open a few beers and relax."
Developing and growing a business may be many things, but few associate the process with cracking open a few beers and relaxing. However, Avik works at a startup—and startups tend to do things a little differently.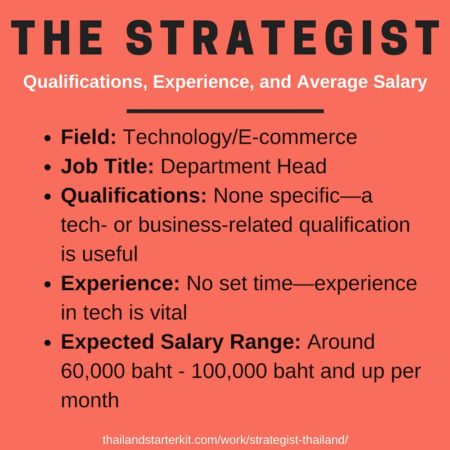 Avik is department head at Zilingo.
It's a venture-funded fashion and lifestyle e-commerce platform operating across Thailand, Singapore and Indonesia. [Zilingo has] English and local language options for each country and a wide selection of branded and unbranded apparel. A convenient place for expats and locals to shop from, through the app or the website."
These are good times for startups like Zilingo in Thailand.
Internet and smartphone use has been growing at breakneck speed over the last few years, with the Thai Ministry of Information and Communications announcing that the number of internet users in the country will hit 52 million (75% of the population) by the end of 2017, with more than 18 million social media users in Bangkok alone.
In response to this, investors and politicians have been falling over themselves to bankroll what could potentially be the next big thing.
In 2016, the Thai government announced that it would launch a $570 million venture fund, with the intent of financing around 2,500 existing startups.
Private groups, ranging from the Thai Venture Capital Association to telecommunications giants like AIS, DTAC and True have also announced plans to offer startup incubation programs for techies with the training, publicity, and capital required.
When asked what advice he had for anyone who wants to form a startup in Thailand, Avik's response is resounding.
Go for it! The Asian startup scene is booming and really worth the experience."
However, he is quick to add.
It might not be the most secure job (so save up while working) but the chance to come and experience Thailand (and more of South East Asia as I travel a lot) is totally worth it."
So what does day-to-day life look like for a startup gunslinger like Avik?
I walk in by around 10:30am to 11am. I get some breakfast (typically fresh juice and fruit, occasionally crispy fried pork) and start replying to emails, then proactively reach out to new clients."
Coworking spaces in Bangkok are plentiful and well-equipped. Places like MaD and The Hive provide dedicated environments in which to hack away at keyboards, and there are no shortage of spacious chain coffee shops and cafes in which to get a few hours of quiet coding in.
Office space in Bangkok is also relatively cheap to rent (certainly in comparison to many places in the West).
The work itself, as Avik states, consists of meetings over the whiteboard, coding for those working on the development side of things, and reaching out to current and potential customers to try and build the company's base.
If this way of life sounds tempting, you're probably wondering at this point how to land a job like Avik's.
Well, for those seeking to work with an already established (or soon to be established) startup, it turns out the best route is to fax over your CV.
Just kidding—once again, it's networking.
Avik admits that he heard about his current job through a friend, and attributes his landing of the job to networking and business development skills.
Thankfully, there are plenty of networking opportunities in Bangkok. Eventbrite and meetup.com both post frequent networking events.
There are a huge number of regular events, including the regular Bangkok Technology Entrepreneur OpenCoffee Meetup.
There are also a large number of events advertised frequently on Facebook, such as Startup Weekend Bangkok and the annual summits hosted by Bangkok Entrepreneurs.
In terms of seeking out jobs directly, Angellist has a list of startup jobs to peruse.
The very nature of startup enterprises means that there are no solid rules on what qualifications or experience are essential to land a job.
However, rest assured that these are not positions that one can casually drift into with some vague certification like a college degree.
As a Forbes article, The Four Skills That Will Get You Hired By A Startup, states—quoting Elli Sharef, co-founder of HireArt:
People really underestimate how important hiring decisions are at startups…If you're a team of two founders and you're hiring your first, second, even tenth employee, the stakes are disproportionately high to find the right person with the right skills."
For a position like Avik's, a knowledge of SEO strategies and/or—even better—an ability to read and manipulate code while doing so (in order to implement said strategies) is also extremely useful.
Most startups obviously value technical expertise first and foremost, particularly in programming languages such as Ruby or Python, or those with experience developing for iOS and/or Android for apps, so any knowledge in these fields is another string in your bow.
Finally, some provable success in sales is a great asset to bring to any startup—if you can prove to your new bosses that you're capable of packaging and selling a concept to the masses, you'll be ahead of most other candidates.
In Thailand, some Thai language skills are also useful for reaching out to new clients and handling local staff, although not essential if you're not dealing with the general public.
I deal with Senior people on the client side, so pretty much everyone understands and speaks English to a decent degree."
Of course, business development and strategy is not solely limited to up-and-coming companies like Zilingo.
Even colossal corporate behemoths require somebody to keep their ship on track, and in the case of globe-spanning travel company Agoda, that somebody is Vitaly Podkopaev.
As senior manager of Business Development, Vitaly describes his role as:
a combination of project management and business development…We steer Agoda's strategic projects and constantly improve the projects to make them scalable and more efficient. At my level, the goal is to let the outcome of the project contribute to Agoda's earnings as much as possible. My performance is measured in accordance with the project's success."
Currently Agoda—which is headquartered in Singapore—has a total of 3,500 employees, spread across over 30 countries, the vast majority of which are in the Asia-Pacific region.
Their Bangkok offices—located in the sprawling Central World retail complex—are among their largest, and the company is one of the biggest corporate employers of expats in the kingdom.
Currently they employ over 1,000 people.
It was the company's preeminent reputation which first led Vitaly to apply for the position.
I knew that Agoda was an established and well positioned company in Bangkok/South-East Asia, as well as one of the top employers in the region. I found my current role on Agoda's website and got in touch with the manager to whom my current job reported."
Landing his position was not easy.
Agoda has a very high entry bar for the talent it seeks. [These include] an MBA degree and minimum years of experience–especially in light of the Thai law requirements for the reduced tax rate according to the BOI."
A quick scan of job ads for Agoda's Bangkok branch backs this up—for example, a HR manager position requires a minimum of eight years experience in HR or equivalent and at least a bachelor's degree in human resources management, business, psychology and/or equivalent (in addition to an impressively long list of other requirements, including the ability to analyze business challenges/data and the standard excellent communication skills).
Similarly, a product owner position requires at least an MBA or advanced math, computer science, or statistics degree.
These are not jobs you can just walk into.
For his part, Vitaly was fully qualified and experienced.
My main qualifiers were my MBA degree, the ranking of my Business School, my Project Management professional certification and my previous experience from the telecommunication industry."
Agoda is also—lest we forget—first and foremost a tech company, so in addition to those with a business background there are plenty of openings for computer whizzes too.
Agoda utilizes the latest technology to keep their site up and running, so those familiar with languages like Scala, or technologies like Kafka and Redis, Cassandra, and Aerospike will fit right in.
Good programmers and techies can generally get by on their skills alone, but those in the business end of the operation will have to be capable in a number of different areas.
Be flexible in terms of functions and companies. If you are not in the TMT / Tech sector or not highly specialized in your field (which goes along with a certain amount of professional years), you will need to have either local professional experience and/or proficiency in local language(s)."
Time to once again crack out the Thai phrasebook, then.
As one would expect, salaries at Agoda are very competitive. Vitaly states that the actual sums vary.
It really depends on your profile, past experience and area where you lived and worked before."
But a quick glance at Glassdoor reveals that managers make around 150,000 baht per month on average, and senior software engineers make around 75,000 baht per month on average.
For a job like Avik's, salaries are much more variable, depending on how successful the startup in question is and just how good of a deal you can negotiate for yourself.
The very nature of startup enterprises dictates that things will start out pretty lean on the financial side of things—however, with any luck it will pay off enormously further down the road.


For someone mid twenties, 50,000 baht to 60,000 baht per month would be ideal to live a comfortable life and save a little on the side. Up that to 80,000 baht to 100,000 baht or more if you've hit 30."
Ultimately, as Avik stated earlier, working in a Thai startup is as much about the experience as it is the money.
Although quick to add that he travels very often and is here for 10, maybe 15 days a month, Avik has some strong views on life in the Thai capital.
Bangkok is awesome! It's got infrastructure comparable to a western city while the prices are still under control. The quality of life here is amazing, from housing to availability of different products and services."
And—of course—there are Beer Fridays.
Now, on to You
Looking for more posts on Working in Thailand? You don't have to wait for each post to come out.