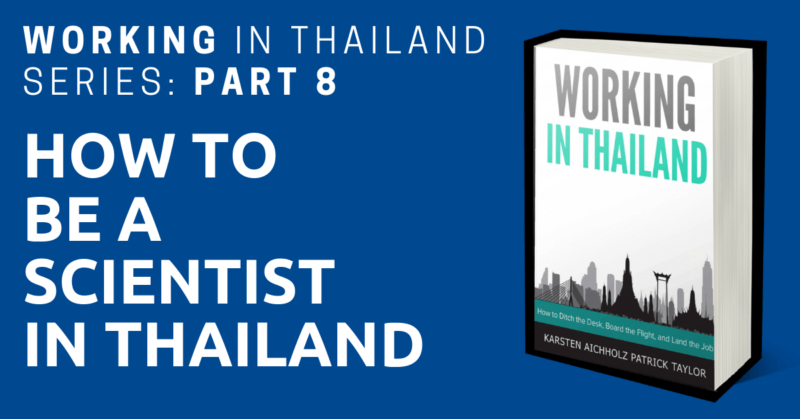 The following post is a chapter from our book, Working in Thailand: How to Ditch the Desk, Board the Flight, and Land the Job, written by Patrick Taylor and Karsten Aichholz.
Buy Working in Thailand on Amazon.
The Scientists
Unless otherwise noted, all quotes by Benno von Bormann and Reshmie Ramautarsing, scientists.
Few but the most optimistic government planners would think of Thailand as a hub for scientific research.
Science education is lamentably weak—despite plowing a huge 20% of the national budget into education, scores in standardized science tests remain woefully low.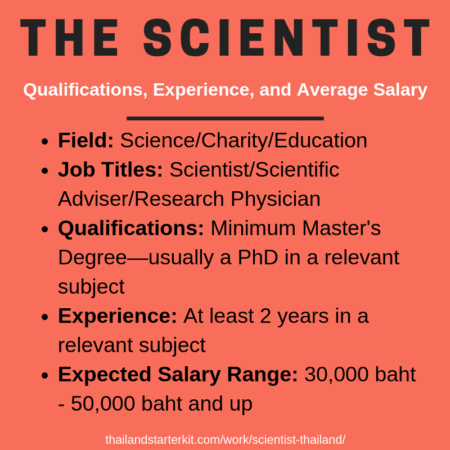 According to the 2015 PISA (Programme for International Student Assessment) tests, Thai students ranked 54th out of 70 countries in the science subject, with an average score of 421 points (well behind the international average of 493 points).
There is a severe lack of researchers and funding for research. According to statistics from the STI (National Science Technology and Innovation Policy Office), there were just 91,473 research and development personnel working in Thailand in 2014 (or around thirteen out of every ten thousand people), of which less than 30% worked in the private sector. Just 0.5% of the country's GDP is devoted to research.
Yet despite all this, Thailand has achieved a surprisingly large amount.
Researchers doubled their output in physical sciences journals between 2012 and 2015. The country continues to be a regional center for research and development—it is the world's second-largest exporter of hard-drives and a major local hub for car production.
Chulalongkorn University's Patchanita Thamyongkit won international acclaim for her work on the chemistry behind solar cells which use organic compounds, including the Abdus Salam International Centre for Theoretical Physics prize in 2013.
At the vanguard of this field are a handful of foreigners, bringing their years of wisdom and experience to help give science in Thailand a leg-up.
One of these foreigners is Benno von Bormann, who left a prestigious career as head of an anesthetic department in Germany before ultimately taking up the role of scientific advisor at Bangkok's Mahidol University Hospital.
My wife contacted university hospitals in Chiang Mai and Bangkok about their potential interest in a foreign specialist. Siriraj Hospital and Mahidol University, Bangkok responded immediately; the rest was getting acquainted and formalities. We met with a group of responsible professors and deans including the medical director of the hospital to talk about my ideas and possible applications and duties."
The hospital was keen to put Benno's experience to good use.
The idea was to help the department in particular and the faculty in general with research and education, something the hospital was increasingly concerned [about] and eager for support. At my instigation, the department created a research board, comprising experienced staff members, the head of department and myself. The board is responsible for all planned and running scientific projects."
In addition to tending to the Research Board, Benno's work also includes:
joining, developing and supporting scientific projects, as well as attending academic activities. I also take care of casual meetings with residents and students, called English Class. The purpose is to talk about various issues in the English language. Working three days a week, I'm in my office at 6:00 AM, having appointments from 7:00 AM to 8:00 AM, attending academic activities, meeting members of the staff, attending meetings including the Research Board and working in my office. Normally I leave at 5:00 PM."
Another foreign researcher currently working in Thailand is Reshmie Ramautarsing.
Reshmie is a research physician, specializing in HIV prevention. She works at the Thai Red Cross AIDS Research Centre, an NGO.
Reshmie originally arrived in Bangkok as a PhD student for the University of Amsterdam, where she was hired by the the HIV Netherlands Australia Thailand Research Collaboration (another branch of the Thai Red Cross AIDS Research Centre).
I did research projects here in Bangkok from 2009 to 2013. After getting my PhD, I worked in the Netherlands for three years, but decided to quit my job in 2016 to shift the focus of my career to public health. I started to ask my network for any job openings and my current boss [at the Thai Red Cross AIDS Research Centre] got back to me to offer me a job in her department."
Reshmie generally splits her days between admin, research, and occasional patient care.
A typical day for me starts around 7:30 AM. I deal with emails, and on most days I have several meetings to discuss budgets, timelines, regulatory issues, data collection, data analyses and/or logistics for the studies that I am working on. Once every two weeks I see HIV-positive patients in our clinic. Between clinics and meetings, I write scientific articles to present the results of our studies, protocols for new studies, or the content for training modules to train community health workers. I usually end my day between 5:00 PM and 5:30 PM, unless there is a deadline for an article, protocol, or presentation."
She is currently working on a project which focuses on community-led healthcare services (or CLHS) for groups of people at an elevated risk of HIV.
CLHS are a set of HIV-related health services, delivered by community-based organizations and run by key populations in partnership with several other health sector entities. An important aspect is that the provided services are key population friendly and based within the community. Flexible service hours further extends the accessibility. CLHS are linked to the formal health sector and helps these marginalized key populations to access much needed health services. This is exciting, because bridging the gap between health services and key populations is an important strategy to help end AIDS in Thailand."
If there's one thing that both Benno and Reshmie have in common, it's that both arrived in Thailand with extensive experience. Benno describes himself as:
a German professor for anesthesiology, with about 200 publications and the history of an experienced leader of a large anesthetic department for more than twenty years."
Reshmie already had years of experience as a researcher in Thailand from her PhD days.
It seems that entry level positions are few and far between when it comes to researcher positions for foreigners. Reshmie states that experience in research is very important when it comes to landing a researcher position in Thailand, whilst Benno adds that his experience and:
expertise in the field of anesthesiology, which includes blood management, pain therapy, intensive care medicine, and organizing operating rooms, played a major part in Mahidol offering [me] the position. They were even prepared to accept somebody from abroad, something that is not natural in Thailand."
As was stated above, funding for research in Thailand is comparatively scarce, and what the field needs mainly from foreign workers is knowledge and experience.
In addition to experience, many research positions require a formal qualification. For her position, Reshmie states that:
a master's degree [is a requirement]. A PhD is preferable, but not required."
In addition to this, she adds that:
work experience in Thailand or Asia would also help, but would probably not be a deal breaker."
Both Benno and Reshmie's positions vary on their language requirements—Reshmie states that for her work:
Thai language skills to see patients in the clinic comes in handy."
Yet for Benno:
good English language skills were compulsory."
Obviously it depends on your position—part of Benno's job is helping the administration get acclimatized to English, but Reshmie's on-the-ground clinic work requires her to learn Thai language enough to help the local population.
What, then, is the most effective way for an experienced, qualified researcher to seek work in Thailand? Once again, networking rears its head. Reshmie states that her relationship with her former boss was a critical part of her getting the job:
I used to work with my current boss on one of the studies for my PhD. We worked quite well together, and I think this, together with my research experience in the field, and research experience in Thailand made me a suitable candidate for the job."
As Benno was starting from scratch in Thailand, it was up to him to make connections. His advice for others hoping to follow his path is:
contact the respective facility/department directly. Phone and try to meet responsible people personally, before sending big files nobody wants to read or cares about initially."
At the interview stage, Benno reckons that clear, concise, and humble is key:
During the interview, don't lecture but simply explain what you have to offer. Try to convince the other side that you are not a competitor but a possible gain for the facility. Don't be a smart-ass!"
Jobs online are few and far between. As was stated in the first section of this book, ReliefWeb contains a smattering of researcher positions for those interested in following Reshmie's path in working for an NGO. For those hoping to find a position similar to Benno's, a good place to start is the Thailand Universities Directory which contains a full list of education institutes or our full list of hospitals in Bangkok.
Alas, the financial rewards for all this work and toil tend to be comparatively lacking (remember what we said about those budgetary shortages back at the start of the chapter?). Benno states that:
as an academic teacher on a 60% job, I get 30,000 baht a month; full-time would have been 50,000 baht. I did, however, not negotiate, therefore these numbers may not be representative."
Reshmie adds that her salary is about the same as she would have made in the Netherlands, however:
it does not include any of the benefits I am used to, such as disability insurance, pension plans, etc. So taking this into account, a comparison would probably result in a 30-40% reduction in salary compared to what I'm used to in the Netherlands."
She is quick to add, though, that:
it would depend on your experience, degree and skills, as well as the type of organization you work for."
Working in the science industry in Thailand, then, seems largely a labor of love, with little financial reward.
However, you do have the privilege of knowing that you are contributing in a very real way to benefiting the wider society—both Benno and Reshmie's work has almost certainly contributed to saving or extending lives.
Even if your scientific research never achieves anything quite so grandiose, it may well provide the innovation needed to help boost the economy or make life a little more comfortable for others.
Now, on to You
Looking for more posts on Working in Thailand? You don't have to wait for each post to come out.