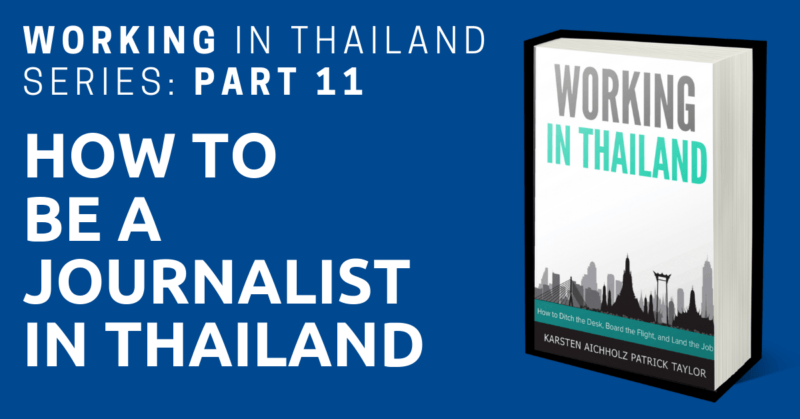 The following post is a chapter from our book, Working in Thailand: How to Ditch the Desk, Board the Flight, and Land the Job, written by Patrick Taylor and Karsten Aichholz.
Buy Working in Thailand on Amazon.
The Journalists
Unless otherwise noted, all quotes by Karl and Jessica (last names withheld for privacy), journalists.
There's something undeniably romantic about the idea of working as a journalist in a far-flung, exotic place like Thailand.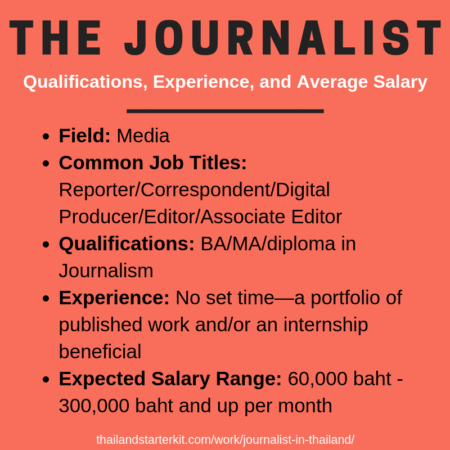 It brings to mind images straight out of a Graham Greene novel—drinks on the veranda at the local Foreign Correspondent's Club, typing away in a dusty room beneath a whirring ceiling fan, getting embroiled in political intrigue and melancholic romantic entanglements with demure local ladies, all while getting to wield the moniker of Our Man In The East.
Journalism is one of the oldest professions for those seeking to make a living in distant lands, and Thailand is no different.
Foreigners have been quietly making a name for themselves as newspaper men here for decades.
Of course, things have changed a lot in the world of journalism. The days of fusty men in sweat-patched shirts, dispatched by London or New York to telegraph a few lines of copy back to the International Desk, are drawing to a close.
Nowadays anyone with a laptop, an internet connection, an insatiable curiosity and a knack for crafting a good sentence can declare themselves a journalist.
Technology has also opened up a huge range of alternative media, such as digital video and social networking, as well as creating the demand for jobs to handle them.
Karl falls into the former category. He's the India and South-East Asia correspondent for a business paper in Germany, currently living in Bangkok, as well as a freelancer for magazines and corporate publishing and PR.
I actually don't report that much about Thailand, but Bangkok is a good hub to reach all cities in South-East Asia and even India."
Karl describes his day-to-day work as:
writing articles, (creating) more and more videos, conducting interviews, doing research on the phone, via mail and in the field."
So far, so typical journalist.
Jessica falls into the latter category.
Describing herself as a digital producer in charge of travel features on behalf of an international media conglomerate, she describes a typical day as:
assigning/editing/writing travel features and news writes, as well as producing digital videos. A typical day involves researching features, corresponding with freelancers, handling budgets and news meetings on top of the usual daily feature edits."
In both jobs, the bare bones are essentially the same—researching, corresponding, interviewing and good old-fashioned scribbling.
However, whereas Karl's job is more traditionally text-based, Jessica's is more focused on the online side of the business and incorporating new technology.
Both Karl and Jessica initially came from journalistic backgrounds before moving to Bangkok. Jessica holds a journalism degree and Karl's education was at a journalism school. He also has a German Diploma/Master in Political Science.
It should be pointed out that while a qualification in journalism is a good start, it is far from the sole entry point into the field.
Some commentators recommend double-majoring in a different subject in order to diversify yourself, or to gain knowledge in a different field such as economics or politics.
Others suggest that getting a qualification in a different subject and/or experience before applying for a postgraduate diploma/master's in journalism is a better route.
More important than qualifications, however, is experience. Karl got his start as a freelancer in BKK after he received his master/diploma in Germany.
While studying for his diploma, he worked as a freelancer and completed a number of internships, which gave him access to lots of contacts at newspapers and other possible clients in Germany.
Jessica, who had experience as a news producer in a mid-sized market TV station in North America, as well as several years of experience writing/editing for news and lifestyle publications in Thailand before she took up her current position, also recommends freelancing as the best way to develop a reputation and gain the contacts needed to land a job.
Many in this field start out by freelancing and come across jobs through word of mouth/recommendations from fellow writers and editors, which means it's important to have a good reputation as a reliable individual."
Being able to hand in quality copy, on time—being reliable—is valued greatly.
It sounds obvious, but you'd be surprised how many freelancers don't submit assignments on time or hand in work filled with errors."
Karl backs this up, stating that one of the reasons that his employers hired him was that they got to know his as reliable.
Jessica says another important part of getting hired is, of course, your skill as a writer.
The key to getting noticed by editors is to differentiate yourself from the masses. Establish your own style and voice. Handle criticism/rejections gracefully and avoid cliches at all cost."
Karl backs up this idea, and insists that persistence is another important factor.
Just keep on proposing your stories. Accept that Asia is not in the main interest for readers in the West and nobody is waiting for you. You will always be something like an exoplanet in the solar system of a newspaper in Europe."
Finally, in addition to persistence, you need to be disciplined.
Since your bosses are far away, you need a high self-discipline. However, that gives you also a lot of freedom to do the stories you like."
The keys to landing a journalism job, then, are to be skilled, creative, reliable and doggedly persistent. But what can a budding journalist expect to make income-wise.
Jessica has modest views.
I will say you don't go into journalism expecting big bucks. The salary range varies dramatically in Bangkok depending on your experience and whether the company is international or local."
Generally speaking, local English-language publications pay lower salaries than international media companies—although there are many more opportunities at local companies.
Admittedly I'm out of touch in this area, but based on conversations with colleagues in the industry I've heard of salaries starting from 60,000 baht to 70,000 baht a month for an entry-level editing position, while those in a managing role with an international media company can make in excess of 300,000 baht per month. The average salary for experienced editors at Thailand-based English magazines appears to fall within the 100,000 baht to 130,000 baht per month range."
Karl states that it's hard to stay what an average salary for a journalist in Thailand is.
I started with about €1,500 (around 60,000 baht) and now get around €6,000 (around 235,000 baht) per month, I think more would be possible, especially if I'd concentrate more on PR and broadcasting."
Not too shabby, then—but Karl is quick to add that there are drawbacks for freelancers such as himself.
Since I'm not formally employed, there is absolutely no social security net or pension scheme."
While the romantic view of the foreign correspondent in Asia may be a little misguided nowadays—your life is more likely to involve browsing Google over a cinnamon latte at a local chain coffee shop.
It's still an exciting and fairly lucrative—if demanding—career, one that allows you to both enjoy the relaxed lifestyle of life in Thailand while simultaneously existing on the cutting-edge of the latest news and trends in your chosen field.
And you don't even have to look good in a Panama hat while doing it.
Now, on to You
Looking for more posts on Working in Thailand? You don't have to wait for each post to come out.