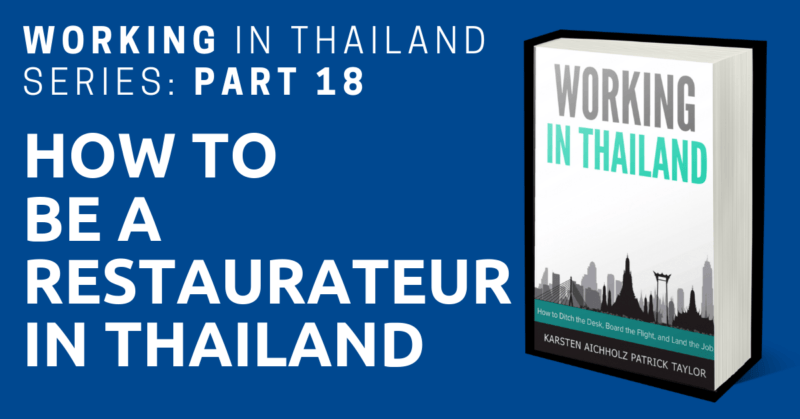 The following post is a chapter from our book, Working in Thailand: How to Ditch the Desk, Board the Flight, and Land the Job, written by Patrick Taylor and Karsten Aichholz.
Buy Working in Thailand on Amazon.
The Restaurateurs
Unless otherwise noted, all quotes by Francesco Lenzi and Gavin Cox, restaurateurs.
Lenzi Tuscan Kitchen is located down a quiet soi in the city's Pathum Wan district.
Its ultra-modern, elegant entrance fronts onto a salmon-pink traditional Thai shophouse, nestled behind a cluster of palm trees.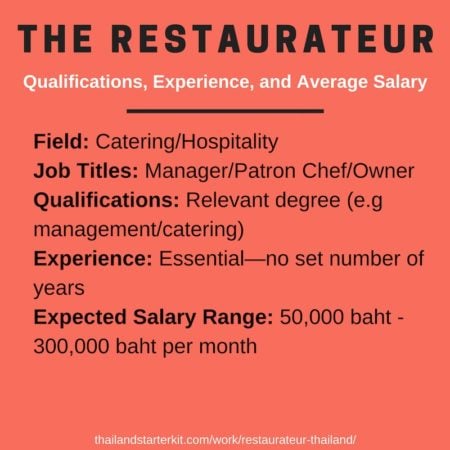 Outside, a branded tuk-tuk painted in the colors of the Italian flag offers a shuttle service to the nearby Ploen Chit BTS station.
Inside the dining room, the smells of grilled meat and fresh bread fan out from a wood-fire oven.
Waiters ferry wooden boards of cold-cuts and steaming pyramids of spaghetti to hungry diners, sipping wine in comfortable leather armchairs.
It's no wonder the eatery earned the Michelin Plate.
Francesco Lenzi, the brains behind the operation, is a natural restaurateur.
Charming, affable, clean-cut, and deeply passionate about food, he can often be found working the floor of his restaurant, waxing lyrical about the quality of his food.
And there is much to wax lyrical about, be it the cold-cuts imported from his uncle's seventy-year old ham-curing business to the artisan, farm-fresh cheeses.
Lenzi was a familiar face on the high-end restaurant circuit in Bangkok before becoming the patron chef at the Tuscan Kitchen, with stints at Opus and Medici under his belt already.
After working seven years in private restaurants and five-star hotels in Bangkok, I finally opened my own restaurant."
It certainly has been a triumph, albeit a fairly quiet one.
Reviews have been almost universally positive, with local dining guide BK Asia City handing Lenzi Tuscan Kitchen a generous 4-stars, and the Bangkok Post stating:
We think Lenzi ranks high in the echelons of Bangkok's Italian dining scene."
As of this book's publication date, the restaurant is currently within TripAdvisor's top 50 restaurants in Bangkok, with an average rating of 4.5 stars out of 5.
Success didn't come easy, however.
At the moment Bangkok is one of the most competitive cities for the food and beverage industry. [To succeed] you must be an executive chef, a general manager, a guest relations, a psychologist, a marketing manager, an artist, the boss and, most importantly, a friend."
You need to be bringing a lot to the table to work at Lenzi's level, then.
Gavin Cox, manager of a busy bar and kitchen in downtown Bangkok backs this up.
Bringing something new to the table, in the way of skills and experience, that can not be found in local candidates always helps. Thailand is a nationalist economy and preference is always given to local candidates above foreigners. Specialist skills and qualifications therefore are necessary, not only for your employer but also to satisfy the conditions of immigration and the labor department who issue the necessary visas/work permits."
So what kind of people are top-tier restaurants looking to hire?
First and foremost, for Lenzi, is that little thing known as character.
I always trust my feelings. Apart from experience, that's the most important thing; I look at the person and what that person can give me. I always look to the heart that people put into my restaurant—the more you care, the more money you will get."
Contrary to the glamorous portrayal in films and movies, the restaurant business can be a tough, punishing, and a scantly-rewarding profession.
Success ultimately depends more on your ability to be skilled, hold your own, and persevere under pressure than qualifications and certificates.
Gavin adds that language skills are also important when it comes to the restaurant business in Thailand, particularly those aimed at the tourist market.
Basic to intermediate English language skills are necessary, the ability to converse in Japanese and Chinese is desired. Learning a little Thai language will impress your employers and also aid communication in the work place, (and) also assist you outside of work."
Lenzi stresses the importance of cultural considerations when it comes to landing a job.
I mentioned before that you need to be a psychologist, a boss and a friend, because you really need to know how to work with Thais. The culture difference is really huge from Western countries, and there are some small things that you might think are not important, but Thais are really strict about. You need to be humble and absolutely cannot be a hot-head to them; and for sure leave the word 'arrogant' behind, because in Thailand you won't be able to work with anyone if you have that kind of attitude."
Gavin adds:
Researching Thai culture, especially in the work place, to help ensure you don't make any cultural faux pas, is invaluable. Sometimes Thai culture can throw up some interesting challenges, especially with work place rules and staff attitude, which can differ greatly from the West. Never lose sight of the fact that you're the immigrant and do not try to implement your own standards on to local people as you will end up being resented. Be wary of how you address Thai staff too, as this can pose challenges, especially when it comes to loss of face."
Gavin adds that it helps to take a little care in how your present yourself, too.
Thai people—and especially employers—place great emphasis on appearance. Looking smart opens doors. Sporting dreadlocks, piercings, tattoos and tie-dye pants probably isn't the greatest career move— even on the islands."
However, despite this Lenzi is quick to point out that some good behaviors are universal.
In every country, respecting the elderly and having a soft temper will help you. Thai people are easy to deal with if you know how they think and how to take care of them, if they love someone they will put all their heart in to it, and at the same time if they despise something they won't talk about it ever again. So to be their boss is not the only thing that will help you work with them successfully. You also need to be their friend, too. If you open your heart to them, they will know and will give their heart back to you in the job, or even in your personal life in one way or another."
In addition to personal skills, having experience is absolutely essential.
Gavin had put in many years in the hospitality industry before arriving at his current position.
I personally posses over 15 years experience in the trade I work in."
Lenzi adds:
"Even if you have talent, at least 5 to 10 years [experience] is still required for this field."
For novice chefs hoping to make the move out to Bangkok, this news may be a little disheartening—after all, fifteen years is a long, long time to put off achieving your dream job.
However, Gavin states there is something of a career path for those looking to work in the hospitality industry here.
It is possible to find roles with training and personal development paths that assist in gaining more senior roles. But these are most likely to be found in foreign-owned and global hotel chains that offer staff programs."
Lenzi adds that there are, however, certain benefits for kitchens to hire staff with little experience.
Some of my best chefs in the kitchen were working as stewards for me before, and when I gave them the chance to try to evolve themselves they didn't lose the opportunity—they worked harder than the others to be where they are now. So while I do look at experience, sometimes some chefs are contaminated with stupid knowledge. What I want at the end is that they cook the way I do. My kitchen is a school, but it's especially a team where everyone should help each other."
Getting the skills, experience and personal characteristics to hack it in the restaurant business is, alas, only the first step.
Next, as Lenzi states, comes the hard part—actually landing a job in Thailand.
I suggest anyone who would like to be a part of this business to send out your CVs everywhere that you can possibly find. If in the end you are not so lucky, you should come to Thailand and walk in to restaurants and ask in person for any possible position that may be available at that time." Ultimately, getting a rung on the career ladder may require making some sacrifices. "I think the key is, do not focus too much about money. It is true that we all need money to survive, but money will come to you when you work hard enough; and you need to show your future boss that you deserve it."
Gavin adds:
Search online for openings and spend time producing a great, not just good, CV. [I landed my job though] word of mouth and networking, via an expat social group I joined soon after relocating to Thailand. Join expat groups, attend functions and be prepared to network. Sometimes who you know is just as—if not more—important than what you know in the expat community."
Lenzi also adds that positions such as his are not the only way to work in the catering and hospitality sectors in Thailand.
Besides Sous Chef, other possible positions might include restaurant manager, food and beverage manager, food and beverage director, guest relations officer, photographer food stylist, etc."
At his own restaurant, Lenzi currently employs:
one Italian Sous Chef and two Italian Restaurant managers, another fifty-four Thais. In the past you would find maybe one or two foreigners in a restaurant, but now some restaurants have more than four foreigners in the kitchen alone. But this is still quite rare, you can only find this in the top restaurants in Bangkok."
Gavin also suggests that prospective job-seekers be wary of what jobs they land.
The biggest challenge (working in Thailand) is your loss of employment rights, especially if you come from one of the more advanced regions, such as the EU, which places great emphasis on rights in the workplace. Expect to work longer hours, have fewer holidays and get less pay than you would in many parts of the developed world."
Some important things Gavin considers including:
[negotiating]
good terms and conditions before signing a contract, because once you've agreed to take on a role, you'll be expected to honor local customs and work practices, which can come as a culture shock. That staff meal and accommodation provided incentive needs to be investigated thoroughly, as do local transport links so you're not isolated."
Gavin also warns of the practices of shady employers, like some of those featured back in the first section of Working in Thailand.
It's unfortunate but sometimes less scrupulous employers use your status as a legal alien against you, knowing that should they terminate your employment, Thai immigration gives the foreigner seven days to leave the country. And with Thailand being notoriously difficult to find legal paid employment, it's not simply a case of quitting your job to find another."
On the plus side, salaries for those working at Lenzi and Gavin's levels do tend to be commensurately high, albeit—as Gavin stated earlier—lower than an equivalent position in a western country.
Lenzi states:
[A chef's salary] can start from 50,000 baht up to 200,000 baht to 300,000 baht per month for a high-level top chef," Lenzi states. However, he is quick to add that "these numbers are quite high; people who earn this kind of money need to at least be famous in this industry, more or less."
And Gavin adds:
Income is aligned to skills and experience, and although Thailand is traditionally a low wage economy and this is especially true in hospitality, it is possible to earn a reasonable salary which can go a lot further here than in the West due to the relatively low cost of living. A restaurant manager can earn anything from 60,000 baht to 95,000 baht per month. A food and beverage manager from 80,000 baht up. A general manager 150,000 baht per month up. Obviously this depends a lot on your employer and the nature and location of the work."
Like many other jobs, Gavin states positions outside Bangkok tend to pay a little less.
[If you're] heading north or east, where the cost of living is far less, expect to see less in the way of salary."
Unfortunately, the more likely your area is to be featured on the cover of a Lonely Planet guide, the less likely it is to pay a decent wage.
South and towards the islands and coastal resorts, where goods tend to be more expensive due to transportation costs and where the infrastructure perhaps isn't as good, people tend to work for less as they're making a lifestyle choice and there isn't actually a great deal to spend your salary on. The south is also maybe a haven for temporary and illegal foreign workers, which drives down salaries and makes opportunities more difficult to find."
The restaurant business is a notoriously tough road to take to achieve success.
However, Lenzi states the pay-off after years spent hunched over flaming pans and boiling pots can certainly be worth it.
The key to [making] money is to make a successful restaurant, and the first thing you need to do is to get in."
Put in the work, make the connections, hold your own on the line, and one day it could be your name over the door.
As the clamor of eager diners at Lenzi Tuscan Kitchen shows, it can be done in Thailand, too.
Now, on to You
Looking for more posts on Working in Thailand? You don't have to wait for each post to come out.