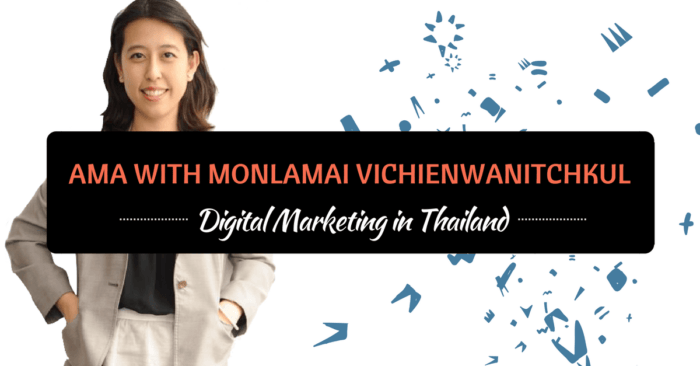 If you missed our Thailand Starter Kit Facebook Community group's ​second AMA—or Ask Me Anything—of 2018​, you can check out all the questions and answers on our new Question and Answer section of ​Thailand Starter Kit.​
If you'd like to join the next AMA, there are a few ways to get in so you don't miss your chance to ask our special guests the questions you've always wanted to know. ​
The first way is to head over to ExpatDen Community group on Facebook and request to join. The second way is to sign up to our email list. ​
Whichever method you choose, we'll inform you about our AMAs a week in advance.In our ​second AMA of 2018, Thai ​digital marketer ​Monlamai Vichienwanitchkul joined us for an open discussion on ​content marketing, data analytics, conversion rate optimization (CRO), search engine optimization (SEO), digital advertising, and email marketing. ​
​Here's a little background info on ​Monlamai Vichienwanitchkul. ​
​​​Monlamai Vichienwanitchkul
​Monlamai has spent over 13 years helping businesses and individuals in the technology and digital marketing industries.
For the past few years, she's lead a team of digital marketing specialist for a digital marketing agency in Asia and a meta-search company.During that time, she's been involved in doing digital marketing for a wide range of industries, including travel, hotel, medical services and products, real estate, banks and Fintech, and E-Commerce.
She's currently leading the Enabler Space project: a community of veteran digital marketers offering digital training, consultancy and implementation for both companies and individuals wanting to advance in this field and to be well prepared for the digital disruption.