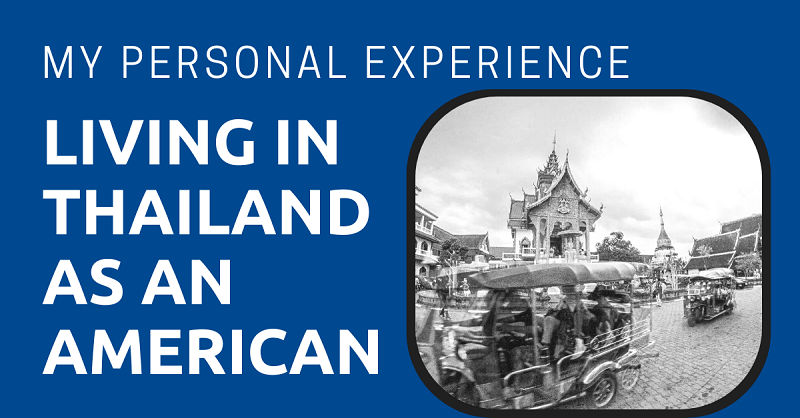 If you come from a Western culture such as America, Thailand can be exciting, daunting, and shocking all at once.
Culturally speaking, there are distinct differences in social norms, conduct, and the rules and laws of society.
Despite these stark differences between America and Thailand, I've had a rewarding experience in the country so far, and I look forward to many more enjoyable years to come.
Having said that, this guide will break down my experiences of living in Thailand as an American, so that hopefully you will be able to make a more informed choice if you're thinking about calling the country your home.
"*" indicates required fields
Cost of Living
The cost of living in Thailand is one of the most enticing aspects of living as an expat in the country. From rent to fresh food, Thailand is very affordable when compared to living in America.
That said, let's look at some of the major costs you'll accrue while living here.
Rent
I emphasize rent in my cost of living, as I believe that an affordable place to stay gives me the freedom to afford and enjoy other aspects of life in Thailand.
For context, in Los Angeles, where I am from, a minimum-wage salary is about US$2,400 per month before taxes.
A typical one-bedroom apartment can range from US$1,500 to US$2,000 per month depending on the location, not including the cost of utilities.
Add basic-need expenses such as food, phone bills, internet bills, car payments, medical insurance, and car insurance, and that leaves little room to enjoy any extras in life.
People in Los Angeles often find themselves on a never-ending wheel of financial frustration and despair.
For comparison, a typical minimum wage salary in Thailand is about US$300 to US$400 a month. But American expats make at least two to three times that amount.
A typical studio or one-bedroom apartment can be as low as US$60 to US$300, depending on the location and creature comforts the apartment offers. Albeit apartments as low as US$60 usually won't come with air conditioning and the creature comforts may be lacking.
Personally, when I'm looking for apartments, I typically look in the US$200 to US$300 range. At this price, I'm usually content with the amount of comfort the accommodation offers.
This also means big savings, especially for a family who needs more space for their kids.
Because there is such a broad spectrum of affordable apartments, even on a minimum-wage salary Thai people can afford a roof over their heads, afford to eat adequately, and still have room in their budget for other essential needs.
Utilities
As I mentioned above, my cost of rent is typically around US$200 per month, not including utilities.
Water is relatively inexpensive, usually costing only around US$3 to US$8 per month depending on how the landlord charges. However, electricity can add up.
The typical cost of electricity is about THB4 per unit. That is approximately US$0.12 per unit. My electric bill ranges from US$30 to US$100 a month. This wide fluctuation usually depends on the amount of air conditioning I use, which can add up in the hotter times of the year.
Food
A typical Thai meal costs anywhere from US$1 to US$3. If you eat three times a day, that is an average of approximately US$4.50 per day.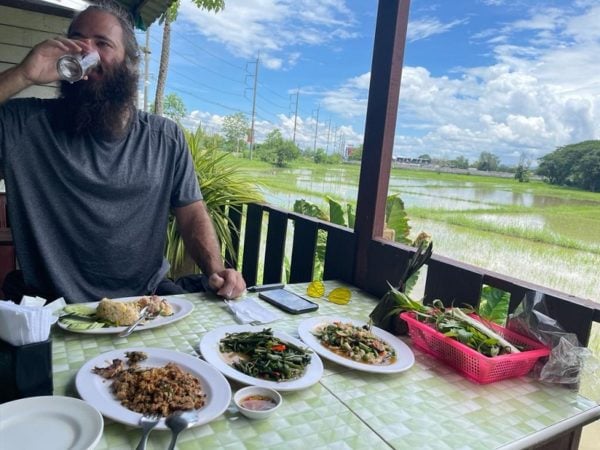 Every so often, I do grow tired of Thai food, so about once a week I indulge in Western dining, which costs anywhere from US$3 to US$10 a meal.
If I am budget savvy and avoid additional costs, such as soft drinks and other beverages with my meals, my food budget will typically be around US$135 to US$175 per month.
However, If I splurge and indulge, my food costs can be as high as US$300 per month. Ultimately, your food budget will depend on your priorities and personal taste.
Other Essentials
Of course, the cost of other essentials does add up, such as gas for your motorbike or car, phone bill, entertainment, and unexpected expenses.
However, because my essential basics such as rent and food are affordable, I tend not to stress about other expenses that may occur.
Your monthly expenses for other essential needs will depend on your lifestyle and budgeting.
To sum up, your income is likely to be lower than it was when you lived in America. But, because of the lower cost of living, you'll have more money to put away for savings and enjoy your life.
Housing Quality
As I mentioned above, housing in Thailand is very affordable compared to most of the housing in the U.S.
However, aside from the lower costs, you may be wondering how the housing in Thailand compares in terms of quality, comfort, and luxuries.
I'll cover that in the following sections.
Building Materials
In my personal experience, I find housing in Thailand to be quite adequate in terms of quality.
Most Thai buildings are constructed from solid materials such as concrete, brick, and wood, unlike American apartments that I am familiar with that tend to be built from drywall and other less substantial materials.
Kitchens
Some Thai houses and apartments do not come with kitchen equipment. I adjust to that by using propane stove or electric hot plate for all my cooking needs.
Furniture
A majority of apartments in Thailand come fully furnished. As an American, you may find that the bed is a little too hard. Purchasing a thick bed topper is an excellent remedy to mitigate the discomfort of the hard bed.
Bathrooms
As an American, you may not find a Thai bathroom as large and comfortable as your bathroom back home. However, you'll find that it covers all your basic needs.
A typical apartment bathroom in Thailand doesn't have a shower divider like you are used to. And, in a few apartments I lived in, the shower was placed right over the toilet.
In Thailand, depending on the apartment or house, some plumbing systems are driven by an electric pump, while some are directly connected to the city's plumbing infrastructure.
Depending on the plumbing system, you may not find the water pressure as strong as you are accustomed to. Water pressure will ultimately depend on the age of the building and its plumbing system.
Unlike most American houses, which use gas water heaters to make hot water, Thailand uses electric wall-mounted heaters. These sometimes limit the amount of hot water you'll get, and that impacts those who enjoy long hot showers.
In any case, with the hot climate of Thailand, I find that I no longer need to stand in a hot shower for long periods of time.
Also, bathtubs are hard to find in most Thai accommodations. With the exception of some hotels, hi-end apartments, and the upper echelon of newer, more expensive houses, bathtubs are few and far between.
You Get What You Pay For
A rule of thumb in Thailand is that you usually get what you pay for. You should have no problem finding accommodations that meet your level of comfort and expectations if you have the allotted budget.
Quality of Food
From tasty street food to fresh produce, Thailand has an abundance of accessible food no matter where you are in the country. Furthermore, in major cities like Chiang Mai, Phuket, and Bangkok, you'll find an assortment of fine dining at reasonable prices.
I genuinely enjoy Thai food. However, in all fairness, I can grow tired of Thai food every so often.
If you live in a big city in Thailand, you'll have no problem finding different foods from all over the world, such as Mexican food, Italian food, Japanese food, Korean food, steak houses, and hamburger joints.
A typical Thai dish costs around US$1 to US$3 per person. However, foreign food and fine dining can range anywhere from US$5 to US$30 per person. Be forewarned — if you enjoy beverages such as beer or wine with your meal, you'll need to boost your budget.
In any case, I find my food budget to be very inexpensive. I mainly eat Thai food with the occasional more-expensive dining experience of foreign food to refresh my pallet.
Healthcare
Fortunately, in all my years in Thailand, I have yet to find myself needing to visit a hospital.
However, it is comforting to know that healthcare in Thailand is very affordable and accessible in big cities like Bangkok and Chiang Mai, to name a few.
The cost to see a doctor depend on whether you seek care in a government or private hospital. This can range anywhere from US$15 to US$20.
You can expect to pay at least US$100 for a complete physical, including blood work. Basic x-rays can range from US$10 to US$30, depending on the location the x-ray is needed.
If you're concerned about more severe health problems and surgeries, I recommend purchasing a reputable health insurance plan to help avoid out-of-pocket medical expenses.
From what I hear, private hospitals offer an exceptional quality of healthcare that compares to the states at a fraction of the cost.
Pharmacies
In most cases, Thai pharmacists are educated and trained to prescribe essential medications without the need to visit a doctor.
Unlike America, medicine is very affordable and won't cost you countless dollars for a prescription.
Most basic medicines, such as antibiotics, are typically under US$2 per prescription.
Veterinarians
For animal lovers, I would also like to talk about the cost of veterinarian services in Thailand.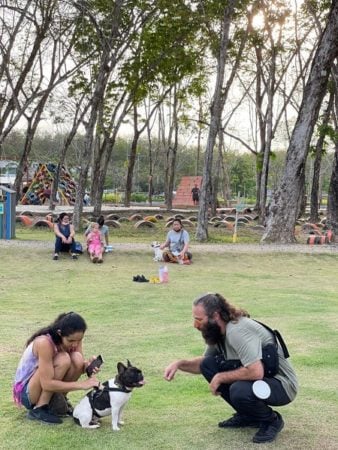 For those of you who have experience with vets in America, you know the cost can add up. It typically cost me anywhere from US$100 to US$150 for my puppy to see a vet in the U.S., not including the cost of medications.
The typical cost of a vet in Thailand is about US$20 per visit, and about US$3 to US$5 for any necessary medications.
Affordable vet care makes owning and taking care of your beloved pet's health much more reasonable in Thailand.
Job Opportunities
Commonly, many expats here in Thailand are teachers. However, not everyone is qualified to or interested in teaching.
Countless digital nomads use their skills and expertise to make a very comfortable living here in Thailand. From IT work and video editing to freelance writing, if you possess the skills and attributes, you can thrive financially as an expat in Thailand.
However, no matter your source of income, be aware of the requirements to legally work in Thailand, such as work permits and tax obligations.
Taxes
Whether you operate a business or work under a Thai work permit, you'll be responsible for paying your taxes in the Kingdom of Thailand.
Taxation in Thailand can be complicated to say the least. Much like in America, it's recommended to consult a professional to avoid any mistakes and penalties and to ensure all your taxes are processed correctly.
Regardless of whether you make your money in Thailand or America, as a U.S. citizen, you're still obligated to pay your taxes to the IRS. So, talk to a tax professional in Thailand and the U.S. to ensure all your taxes are up to code.
Banking
As a non-immigrant-O visa holder, I was required to open a Thai bank account to secure my visa. The banking system in Thailand is straightforward, with no discernible difference from banks in the U.S.
Thai banking does offer a rather new service, though. In the past few years, Thai banks have integrated a free transfer system that allows you to pay businesses and people directly via an app transfer function.
I believe this was their answer to convenience, as debit transactions via a card reading machine are not as prevalent as in America. I find this to be a convenient way to make everyday purchases, and I don't find the need to carry too much cash.
Transportation
Thailand has many ways to get around the country, and in the following sections I'll cover most of the more popular methods.
Motorbikes
Motorbikes are the main means of transportation here in Thailand. They are by far the most accessible and most affordable way to get around.
BTS Sky Train and MRT Subway
In Bangkok, you have access to the BTS Sky Train and MRT Subway. Both systems are efficient and affordable, and you should have no problem navigating your way through Bangkok with ease and convenience.
Grab
In recent years, Thailand has adopted services such as Grab. This is Thailand's answer to successful platforms such as Uber and Lyft in America.
Grab is an affordable way to get around Thailand. However, I don't find them to be as reliable and convenient as compared to services like Uber. I've found myself waiting longer than I would like for a Grab driver to arrive.
Buses
For domestic travel from province to province, you'll find bus routes connecting virtually every city in Thailand.
These buses are affordable and surprisingly comfortable. If you don't mind the slower rate of travel, you can get virtually everywhere in Thailand by bus.
Trains
Trains are available as well, but you are limited to traveling only where the train tracks go.
Flights
If you want to travel around Thailand fast, domestic flights are affordable and convenient for the most part. However, you'll only find airports in major provinces such as Chiang Mai, Bangkok, and Phuket, to name a few.
Taxis, Tuk-Tuks, and Songthaews
For cities that don't have public transit systems, you'll find an abundance of taxis, songthaews (pick-up trucks with two bench seats in the rear bed), tuk-tuks, and motorbike taxis. These services have been transporting people in Thailand for decades.
Safety
Statistically speaking, America has a higher crime rate than Thailand. As for safety, America ranks at number 56 and Thailand ranks at 95.
In all fairness, I am unaware of the specific crime statistics here in Thailand. However, I can speak from personal experience and confidently say that I feel very safe in Thailand.
Thai culture is steeped in Buddhist morals and principles. My personal observation is that most Thais believe in karma and treat each other with the utmost respect toward one another and their property.
That being said, it's not that crime doesn't exist in Thailand. It's just not as prevalent and debilitating as you may find in American cities.
I have heard stories of petty crimes such as pick-pocketing, scams, and robbery. I believe these actions come from people in desperate situations rather than bad intentions to do harm.
In Thailand, use common sense to keep yourself out of danger. Also, be respectful to others and stay aware. I assure you that you'll avoid most dire and dangerous situations.
People
It bears repeating that Thai people show the utmost respect toward others and always greet each other with a smile.
In my personal experience, Thai people are always willing to help someone in need. Even if there is a language barrier, they'll still do their best to help you.
Whether you need directions, help with a vehicle problem, or are in any distress, it's not uncommon for a Thai person to stop and take the time to assist you.
In contrast to many American cities, where people typically walk right by others in distress without a second thought, I find Thai culture to be very compassionate and endearing.
Weather
If you plan to stay in Thailand year-round, you'll have to learn to acclimate to the weather. From scorching hot summers to the wet rain and flooding monsoon seasons, the weather is bound to play a part in your daily activities and lifestyle.
There are three official seasons in Thailand:
Let's look at each one more closely.
Hot Season
The hot season runs from March to June, with April and May being the hottest months of the year.
Depending on what part of Thailand you're in, the hot season in Thailand can reach temperatures in the triple digits. Hot days make perfect opportunities to enjoy the beautiful beaches of Southern Thailand or the peaceful rivers and waterfalls of Northern Thailand.
No matter what part of Thailand you're in, staying cool during the hot season is essential.
Cool Season
From November to mid-February, it tends to get cooler in Thailand. It's still hot compared to other parts of the world that have a real winter, though.
However, don't be surprised to see people wearing long-sleeve shirts and jackets during this time of the year.
Rainy Season
The rainy season starts in May and ends in October. You can expect heavy rainfall sporadically throughout the days and weeks, but it won't rain 24/7 unless there's a depression.
That said, you'll still get moments of clear skies and sunshine. However, you should always be prepared for the rain during monsoon season.
I have learned from observing the Thais that it is always wise to keep a disposable rain poncho on you in case of unexpected rainfall.
Also, Thailand is prone to flooding during rainy season. It's important to take precautions if travel is necessary during monsoons.
Now, on to You
There is no such thing as a perfect country. Everywhere you go, there are bound to be people, governments, and customs you disagree with.
That being said, I am very happy in Thailand. Friends and family often ask me why I'm so happy here. It isn't so easy to articulate, other than that it is a feeling from within.
Perhaps it's the lack of financial stress in contrast to what I incurred living in the states, or maybe it's the sunshine and abundance of vitamin D.
I have become enamored with the lifestyle Thailand offers, and I am very happy and grateful to call it my home.