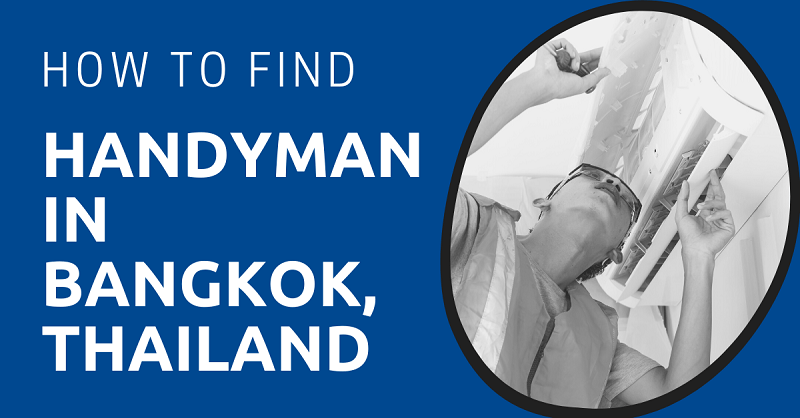 When living in Bangkok, sooner or later you're going to need a handyman. You might have a water leak, some electrical issue, or just need help putting together a piece of furniture. 
But finding a handyman in the city can be a challenge.
Most handymen don't have websites and they are found only through word of mouth. In addition, they can barely speak English.
That said, this guide will help you find a handyman in Bangkok and walk you through the process of hiring and paying them. 
"*" indicates required fields
Good to Know
In Bangkok, a handyman can be anyone who's good at fixing things and makes a living by doing it. 
This means handymen don't need certificates or qualifications. Instead, they mainly learn from on-the-job experience.
Therefore, the quality of work you get from each handyman varies from person to person. You may find one handyman that's skilled at fixing things and another who can barley fix anything.
Moreover, being a handyman is not a well-paid job in Thailand, and it can be challenging for you to find someone who speaks English well. Therefore, if it's a complicated job, it's a good idea to bring your Thai friend or a Thai translator.
If you live in a condo, you can ask the juristic person to help you translate.
Handymen in Bangkok usually work alone. But sometimes they will have one or two assistants with them. 
What Can Handymen Do?
Handymen are jacks of all trades who can do mostly anything. They can work on plumbing, fix roofs, change water pipes, fix drains, and also repair electronics.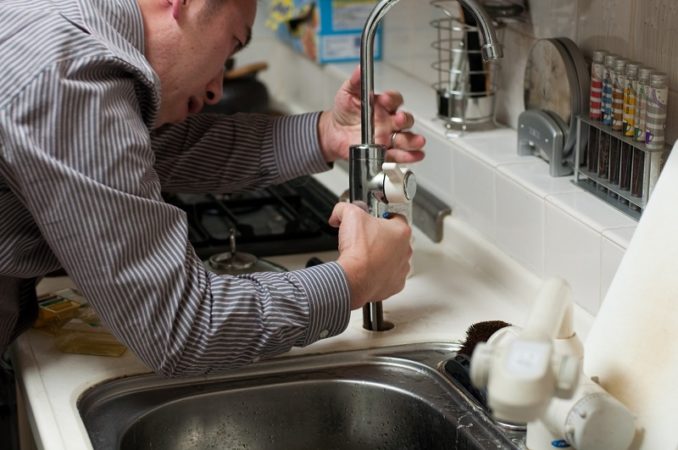 They can also paint your place and might even be able to act as mechanic when you buy a car in Thailand. When it comes to repairing anything related to your house, handymen can do it all.
But not all handymen will be skilled at doing everything. One may be good at plumbing and another one may be great at painting or fixing electronics.
The only exceptions are handymen who fix or maintain air conditioners. This kind of handyman specializes in everything related to air conditioners.
But you shouldn't expect the quality of handymen in Bangkok to be as good as handymen in your home country. Although they can get the job done, it might not be neat and they may leave a mess for you to have to clean up afterward. 
Costs
Unless you're using a professional company, there's no set price for handymen services. Prices are purely based on these three factors:
the distance between a handyman's house and your house
how many hours it will take to do the job
how difficult the job is to do
For example, if a handyman lives next to you, then you won't have to pay any transportation fees. It may only cost you a few hundred baht (or a bottle of beer) for him to fix a small plumbing or electric issue.
If a handyman has to change a water pump, it should cost you around THB1,000 if he doesn't live far from you. And the job should take around one to two hours.
If you need the roof or changing ceiling fixed, it takes a few days and could cost around THB5,000 to THB10,000, depending on how difficult of a job it is.
Please note that these are service fees that don't include cost of materials.
Getting the Material
You can get the material yourself or ask a handyman to get it for you.
If you want to make sure that you get all of the material you need and it's of sound quality, it's best to buy it yourself. You can shop around places like Ikea, HomePro, Thai Watsadu or any hardware stores near you.
If you'd rather the handyman get the material for you, you should be specific about what you need and ask for an estimated price in advance.
It's also common to pay for these materials in advance. However, you should not expect to get an official receipt. You will only get a piece of paper listing the materials and prices, written by the handyman.
Paying the Handyman
If it's a small job, you can pay after everything is done. For bigger jobs that take many days, you may need to pay a deposit of 20 percent to 50 percent. Again, this is based on negotiations.
You can pay by cash or a bank transfer. Credit cards are not accepted unless you use a professional service like the one from HomePro.
Where to Find Handymen in Bangkok
There are many ways to find a handyman in Thailand's capital. Below are a few of the more popular ways. 
Word of Mouth
Word of mouth is a great way to find a handyman. Handymen in Bangkok are not good marketers. They may not even advertise themselves. In fact, your neighbor might be a handyman and you don't even know it expect for all the tools laying around their house.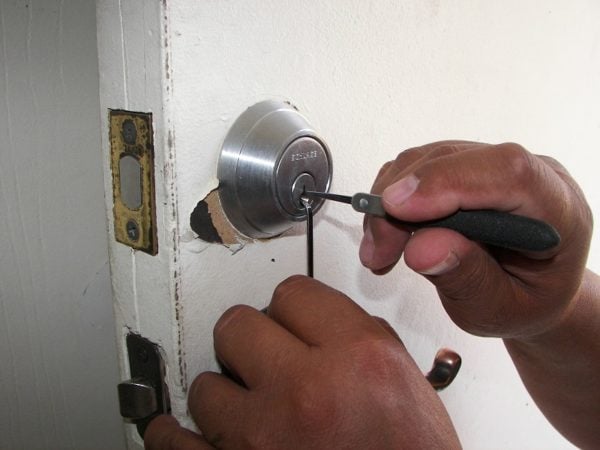 Maids and security guards are actually a good source of information, too. They have been in the area for a long time and know good handymen. Sometimes, security guards can also fix stuff.
But the main disadvantage of this method is that it's like tossing a coin. You may find a really good handyman, or a bad one.
Alternatively, you can ask an expat to recommend a handyman on reddit or in Facebook groups.
Google Maps
Alternatively, you can search Google Maps for a handyman. Google will show any results related to handymen in your area. It's not an accurate result though, since Google will show all search results related to repairs, including fixing bags, musical instruments, cars, and more.
Also, the search results might be in Thai. So, you'll need to check each results' pictures. If there are a lot of plumbing pictures, then you know that you can hire that handyman for plumbing issues.
A great thing about using Google Maps is that you can see reviews from other customers, which makes it easier to decide who you want to hire.
Professional Services
HomePro has a new service called Home Service by HomePro that provides many repair and installation services for your house.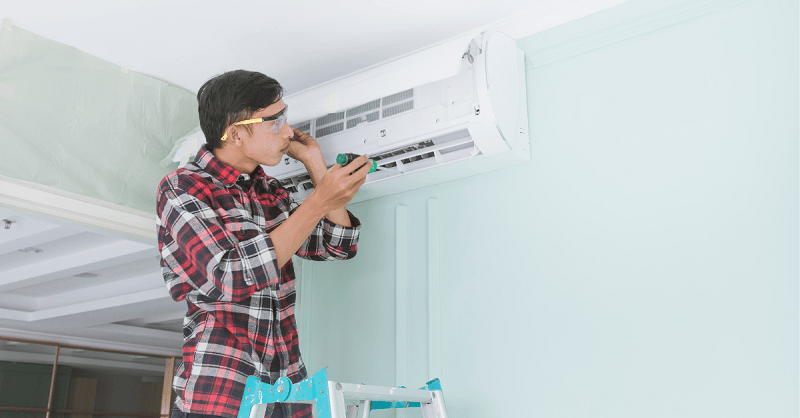 The service is done by HomePro's in-house handymen. You can also contact them in emergencies, such as for water leaks or power outages, and they will show up within 24 hours. You can reach them by calling 1284.
Overall, the quality of service is better than what you'd get from individual handymen. It's also more convenient but costs around twice as much, unless you purchase their package.
This service is currently only available in Bangkok and nearby provinces.
Alternatively you can contact SCG Helm by SCG. SCG is a big company in Thailand known for producing home materials. They also provide home repairs using their in-house team.
The quality is great but they only accept big renovation jobs. For small water leaks, they won't take the job unless your entire roof needs replacing.
The cost can also be much more expensive than using individual handymen. But SCG uses experienced handymen and quality materials.
What to Watch Out For
There are certain things you need to be aware of when hiring handymen in Bangkok.
Communication
It can be tricky to communicate with a handyman in the city, since most of them cannot speak English. If you cannot speak Thai, it's better to ask a Thai-speaking friend to contact them for you. 
It's also a good idea to ask for the Line ID and send them pictures of what needs to be done in advance. This can help them get a better idea of the job's scope and what tools they'll need.
Contracts
Unless you're using a professional service, everything will be done based on verbal agreements. There are no contracts.
If you need a contract, they may write one up in Thai and sign it. But the contract won't help if a handyman cancels your job without you realizing it.
And it might not be worthwhile to take a case like this to Thai courts.
Payment
Cancellations can cause headaches when using certain handymen in Bangkok, whether individuals or professional services. 
There are many cases when you pay in advance but the handyman doesn't arrive on time or keeps postponing your job.
So, it's better to pay after everything is done.
For bigger jobs like repairing roofs, ceilings, or renovating rooms, it's also common to pay a deposit in advance, so the handyman can use it to pay their assistants and buy materials.
But don't pay for everything at once. Instead, make it clear to the handyman about how many times you'll pay and how much each time.
Damages and On-the-Job-Insurance
Most handymen in Bangkok won't have on-the-job insurance to cover them if they damage your property or belongings while doing the work they were hired for.
So, it's best to ask about this ahead of time, because if a handyman breaks something, you could be left paying for the costs to repair or replace it.
If you hire a professional handyman service, you may not have to worry about this, but it's always good to ask ahead of time.
Show Respect
You shouldn't expect a handyman in Bangkok to be as professional as in your home country. While they are skillful, they may lack certain experience and safety standards that you're used to in your home country.
However, it's still a good idea to show them respect and not boss them around. If you don't like their work, don't use them again or recommend them to anyone else. For extreme cases, you can ask to cancel the work.
It's better than having the handyman leave the job unexpectedly with a big mess behind.
Now, on to You
We hope that this article has answered all your questions about finding a handyman in Bangkok.
After all, the cost is very affordable, and if you find a good one, you should stick with them. But remember, word of mouth is key to finding a great handyman in the city.