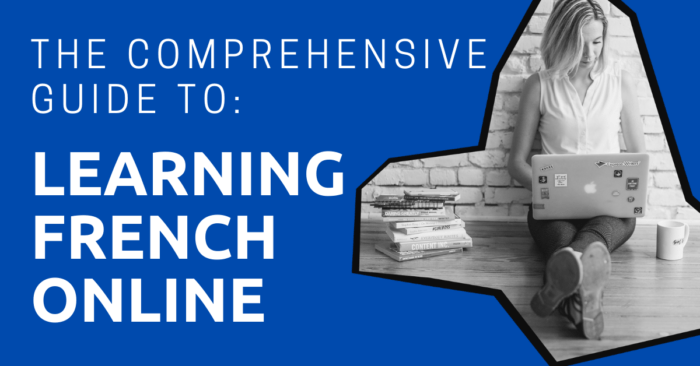 Over the past couple decades, learning a language has skyrocketed in accessibility. No longer does one need to rely upon the local school offerings, tutor availability, or the textbook selection at the nearby library. All one needs to become fluent in a language now is simply a device to access the internet!
In the following article, I will discuss the most beneficial methods and resources – both free and paid – to learn French quickly and efficiently, in a way that keeps you interested, and all online!
I will also give some tips which have personally helped me in my French learning journey.
In case you want to learn French online right away, learning with a private tutor is a great way to do it. A tutor can personalize a course that can effectively help you learn French fast. You can use Live Lingua to find an experienced French tutor online.
This article will take approximately 27 minutes to read. Don't have the time right now? No worries. You can email the ad-free version of the article to yourself and read it later!
Pros and Cons of Online Learning
Every learner knows themselves best. The best method for one person may be a terrible method for another person.
For example, an introverted learner may prefer a quieter and more passive approach with more focus on reading and writing; on the other hand an extroverted learner may prefer an environment where he or she can spend more time actively engaging by speaking and listening.
Whichever methods suit you best, the internet can provide you with the opportunity to learn effectively. Compared to in-person learning, there are several pros and cons to consider.
Please note, however, that learning does not have to be limited to online; in-person options still exist for a reason, and you could easily integrate both online and in-person learning into your French learning plan.
Pros
Let's take a look at some pros of learning French online.
Accessibility
Wherever in the world you are, the internet makes learning French possible. You could be watching YouTube lessons on the Mexico City Metro, or taking an online class in your flat in Tokyo.
Scheduling
Learning online makes finding time to take a class simple. Classes or tutor sessions are offered 24/7, so regardless of your time zone and your social/work schedule, classes are available when you need them. Moreover, because you don't have to commute to a language school or tutor's house, you'll save transportation time and costs as well. If you need to reschedule, you're only a few mouse clicks away.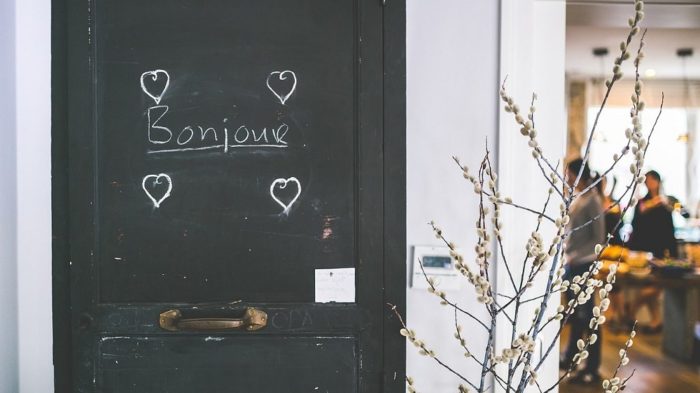 Price
In addition to the plethora of free resources which can guide you all the way to fluency, paid resources are available for every price range. Learning French online isn't restricted by budget.
Amount of Resources
The internet is colossal, and likewise is the amount of resources for French learning. Any type of resource you need is instantly available on your laptop or phone, and isn't limited to local availability and offering like in-person learning is.
Cons
Learning online isn't for everyone. It comes with three main disadvantages.
Discipline
In order to learn online, you have to be self-disciplined and driven. As opposed to sitting in an in-person French class, no one is there to stop you from getting distracted on your phone, or skipping grammar exercises because you don't feel like putting in the effort.
Learning French online is a task that requires discipline and self-motivation.
Lack of "Real-World" Interaction
Unfortunately, online learning deprives you of the opportunity to develop relationships with other learners or native speakers in the real world. For some, having webcam conversations is enough. For others, in-person interaction is an essential part of their learning experience.
Difficult to Fine-Tune Pronunciation
Depending on your audio quality (both input and output) and the audio quality of the person you're speaking with, fine-tuning pronunciation or working on your accent online might be harder than in-person learning.
Now that you understand the pros and cons of online learning, let's discuss how to go about actually doing it.
Learning Method
To learn French as immersively as possible, you need to diversify your learning by employing resources from many different categories which target the various skills required to master a language: speaking, listening, reading, writing, and cultural understanding.
While it is important to acknowledge your learning strengths (how you learn best), it is crucial to distinguish this from your skills (what you like best or can do best in French). For example, if you seem to learn new grammar concepts and vocabulary best through reading, this is a learning strength. However, if you purposely avoid speaking – and instead focus on reading – because you're nervous or inexperienced in speaking, this is a big mistake.
In the following pages, I will discuss learning resources which will target all the skills needed to become fluent in French!
Best French Online Courses
Many people prefer to have a more classroom-style structured approach to French learning. If you're one of those people, you're in luck! There are many different options to choose from, in a variety of price ranges. Many websites also offer tutoring, which often allows for a more personalized, flexible, and need-based learning experience.
I will highlight a few free and paid options below.
Paid
Paid courses are a good way to start if you want to seriously learn French online. They usually provide more content and have more in-depth explanations, grammar notes, and other features than their free counterparts.
FrenchPod101
FrenchPod101 is an interesting resource and is recommended for anyone who want to learn French online. As the name suggests, it is a podcast-based method. The podcasts are in both audio and video format, the former being extremely beneficial for busy on-the-go lives.
They also offer study tools in the form of word lists, slideshows, and flashcards, which correspond to the podcasts and lessons. FrenchPod101 has resources and plans for all levels from beginner to advanced.

Interaction with native French speakers is possible in two ways: voice-recording tools allow you to work on your pronunciation, comparing yours with that of native speakers; and with the Premium+ subscription you will have a 1-on-1 French teacher who will prepare a weekly lesson plan with homework, a good option if you prefer a more structured approach.
FrenchPod101 offers various prices, depending on which subscription level you choose and how many months you pay for at once. For the most immersive plan, Premium+, 24 months will cost you $549 USD.
The Premium plan is more affordable. It's going to cost you $240 USD over two years and comes with all learning resources from FrenchPod101 except the 1-on-1 learning programs.
Find out more on our FrenchPod101 in-depth review.
Lingoda
Lingoda prides itself on having native teachers, extensive downloadable course material, and 24/7 class availability. Classes can be attended with webcam (recommended) or just audio. They offer individual classes and group classes (limited to 6 people).

Language levels range from complete beginner all the way to fluency, and immersion is possible through the entire journey, as the teachers are instructed to stick to French as much as possible, even for the beginner classes.
One possible disadvantage to Lingoda is how structured it is. In a group class, there is little flexibility to deviate from the course material. Individual classes are, however, much more flexible, seeing that you're the only student.
Lingoda offers different price ranges depending on how often you'd like to study. For one class a week, it's €59/month; for 2-3 classes a week, it's €139/month; for a class every day, €239/month. All plans include a 7-day free trial.
iTalki
iTalki is a fantastic resource if you wish to personalize your learning environment. It is an online platform with (at the time of writing this article) 785 French professional teachers and tutors, with hourly prices starting at $6 USD.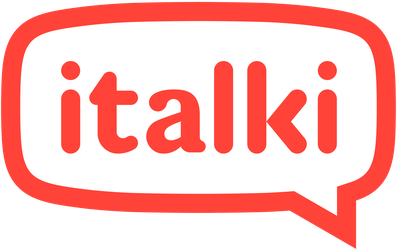 The advanced search feature allows you to sort by the teacher's country, other languages spoken, price, and more. After you narrow down the search based on the above criteria, you can view short introduction videos, browse student reviews, and schedule a trial lesson.
Because every iTalki teacher and tutor has a unique method of teaching, it is important to express what you're looking for in a teacher in the first lesson. Want a structured textbook-based approach? Seek a professional teacher who bases the lessons on a textbook. Simply want to improve your conversation skills and require a native to speak with? Seek a tutor.
Free
There are various free online resources for learning French. The main limitation of these resources is how much you can learn. They are good for a complete beginner but might not be suitable for intermediate learners and above.
Duolingo
For years Rosetta Stone seemed to be the market leader in accessible picture-based learning. In 2012 Duolingo entered the public market and provided an easy-to-use and attractive interface for learning languages. Both a website and a mobile application, Duolingo offers a free and a paid version. While the paid version doesn't unlock any higher levels per se, it allows offline functionality, which might be a selling point for subway commuters.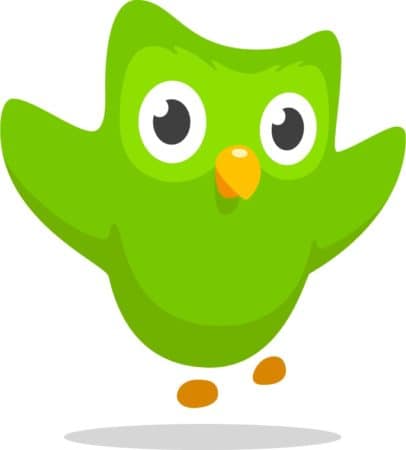 Duolingo is a fun starting point for an introduction to French. However, I must strongly emphasize that Duolingo will not suffice as a sole source to achieve a high level in French. Duolingo will bring someone to an upper beginner level at best, and should only be used as a companion to other forms of study.
That being said, I recommend Duolingo due to its ease, fun and inviting interface, and important basic vocabulary divided into clear categories.
Clozemaster
It is perhaps inaccurate to place Clozemaster under the category of "Complete Courses and Tutoring", but Clozemaster is nevertheless a resource that can take someone from a beginner level to an advanced level due to its progression scheme.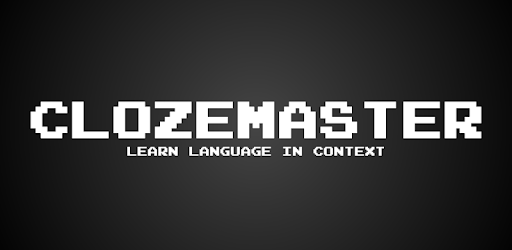 Clozemaster is based upon learning in context. You will confront sentence after sentence of text with translations in which a you must fill in blanks to move on to the next sentence. After an initial "placement test", the questions will start from your level and gradually increase in difficulty until an advanced level.
According to Clozemaster's website, the resource is intended "for all levels" and attempts to address the question of, "What should I do after Duolingo?".
Memrise
Memrise uses the highly important learning method called spaced repitition. Spaced repitition gradually spaces vocabulary/grammar reviews in accordance with how well you remember them. While certain words, for example, will repeat multiple times within a few days, over time, as you correctly remember the words, they will only repeat every few months.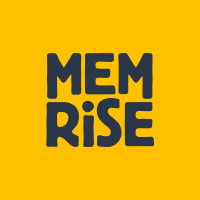 Memrise is a great introduction to this method. Not only are there reading and writing exercises, but also listening (videos) and speaking exercises. They offer free user-created courses and paid Memrise-created courses, all at varying levels.
Ironically most learners recommend using the free version only, claiming the user-submitted decks are actually better. If you like the program, however, and get lots of use out of it, it's always nice to support the developers.
Language Exchange Platforms
The number one most effective activity in my French learning experience has been language exchange. Building a relationship with a native French speaker is not only a dynamic learning environment where you can practice your listening, speaking, reading, and writing skills, but it also allows you to connect on a deeper level with the culture and customs of the different Francophone countries. In today's digital age, many different websites and mobile apps help connect tandem partners for free. Once you achieve a basic conversational level, this is an essential step in advancing your French skills.
iTalki
Not only does iTalki offer professional teaching and tutoring, but it also has a massive user-base which you can easily sort through to find an ideal language-exchange partner. For example, if my native language is English and I want to learn French, I will search for a native French speaker who is learning English. You can contact any user on the platform, exchange contact details (Skype, Zoom, Whatsapp, etc.), and organize conversations or pen-pal written exchanges.
Tandem & HelloTalk
Tandem and HelloTalk essentially offer the same service. After creating a short profile, you will see all online users with whom you can immediately start a text exchange, audio call, or video call. The strong point of the two apps is the ability to immediately interact.
Reddit
Several subreddits on Reddit provide the opportunity to find exchange partners, with r/language_exchange having the largest user-base. Simply post about what language you can offer, what language you seek, and wait for replies.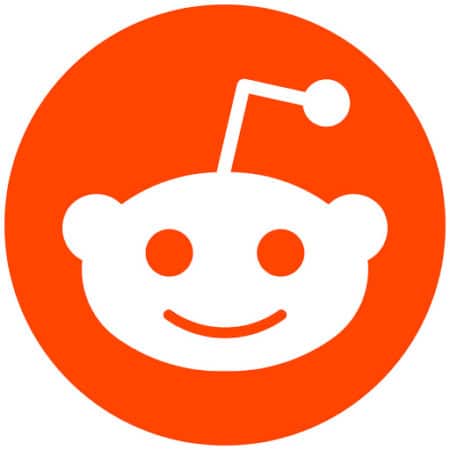 Audio
The advantage to audio resources is that you can multitask while still learning and enjoying French. For months, I enjoyed the luxury of listening to the Harry Potter audiobooks in French while driving, cooking, running, or even taking an evening stroll through the woods. Many podcasts and other listening media exist specifically for learning French. There is also, of course, a wide offering of Francophone podcasts, radio, and music readily available online.
Podcasts
Podcasts is a great way to listen to native speakers. They're free and there are a lot of choices available.
Coffee Break French
Coffee Break French podcast was my initial introduction to French, and thus will always hold a special place in my heart. Two Scots, a teacher and a brand-new learner who learns along with you, guide you through learning French starting from "Bonjour". There are four seasons of free podcasts, each with progressing difficulty, and a paid variant which includes show notes and bonus audio and video content.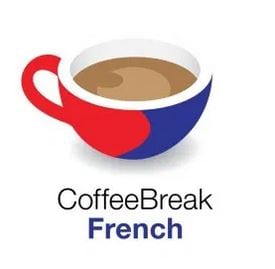 Frenchpod101
As already discussed, FrenchPod101 is in podcast format and has regularly published podcasts about many different subjects.
News in Slow French
As a beginner learner, News in Slow French is ideal to practice listening comprehension. Simply put, native speakers discuss the weekly news while speaking slowly.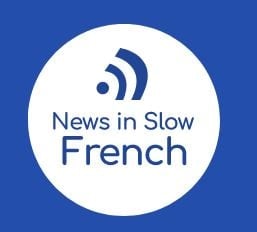 French Voices Podcast
French Voices podcast is published regularly by a French woman who leads interviews with native French speakers about various subjects, often job-related. She gives listeners an introduction before each interview with key words and phrases to look out for, and concludes each episode with a recap.

Native Speaker Content
There are of course plenty of French podcasts about anything imaginable. Simply search for key words (in French) in your favorite podcast app or on the internet. I recommend starting to listen to native content as soon as possible in order to learn more about the culture and how the French authentically speak.
Audiobooks
If you love to read books, you may want to listen them in French. Thousands of French books are available in these resources.
Audible & Audiobooks.com
Audible and Audiobooks.com offer a large catalogue of French audiobooks, both translated or original.
LitteratureAudio & LibriVox
LitteratureAudio and LibriVox offer a vast catalogue of public domain audiobooks which are completely free. Offerings range from Le Tour Du Monde En 80 Jours by Jules Verne to La Bible.
Music
Listening to music is also a great way to connect to the language. It's great practice to listen with the intention to comprehend the lyrics, and the cultural significance behind them. Additionally, France has their own version of The Voice.
Video
Watching video content in French helps strengthen visual and listening comprehension, and acts as a great medium to both learn and enjoy French.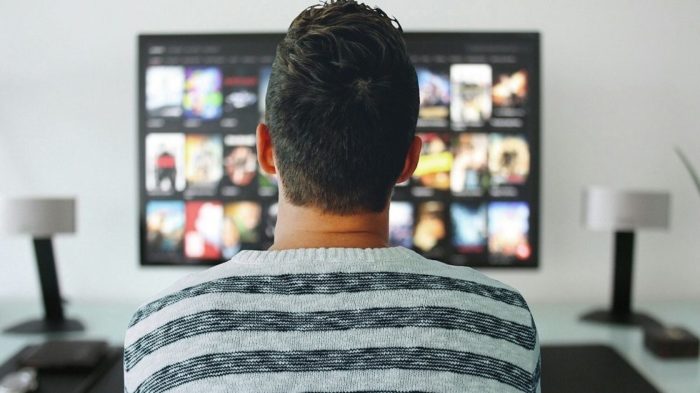 YouTube
Not only are there tens of thousands of French YouTubers publishing French language content every day on YouTube, but there are also hundreds of French YouTube teachers and tutors who regularly publish lessons and other learning content. Channels I recommend are Learn French with Vincent, Learn French with Alexa, and Learn French with FrenchPod101.com.
Netflix
Netflix has a few original French language series, as well as a few original French movies, but Netflix's real selling point is its vast catalogue of dubbed content. Pretty much every Netflix Original Series is also dubbed and subtitled in French. For beginners, watching with your native language's subtitles is acceptable, but as soon as possible you should watch with French subtitles, and then no subtitles at all. The goal is to understand approximately 60-70% of the dialogue of a given show.
Amazon Prime
While the selection isn't as large as Netflix's, Amazon Prime still offers a changing selection of native French content.
Filmfra
Filmfra offers an archive of around 150 francophone films with subtitles, a huge benefit if you aren't quite at the level to watch a film without subtitles.
Arte
While a VPN may be necessary to access this resource, Arte is a TV channel shared between France and Germany which publishes fantastic content. A live stream and replays are available on its website.
News
France24 and France Info news channels offer 24/7 live streams on YouTube, and also contain replays if you search through their channels.
France.tv (again, perhaps a VPN is necessary) contains live streams and replay archives of nine French public channels.
Learning Communities
Have questions? We all do. There are many online learning communities filled with both French learners and native speakers, where you can discuss complex grammatical concepts, ask simple vocabulary-oriented questions, or even engage in heated debates!
Learning communities are great to get involved in because, in addition to practicing your reading and writing skills, other learners often supply great ideas and/or inspiration that will help you in your own French learning journey.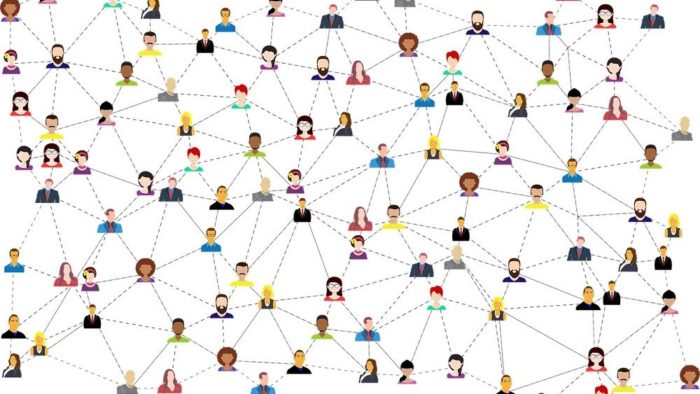 Reddit
r/France and r/LearnFrench are two French learning communities on Reddit with tens of thousands of active learners (as well as natives). There are also other French-speaking communities targeted towards natives such as r/france, r/rance, and r/montreal. See this article which highlights some of the most active francophone communities.
Wordreference
Wordreference also has a forum where you can discuss vocabulary and grammar questions related to French.
Duolingo
Because of its popularity, Duolingo's community is massive and thus discussions are always active. Duolingo is now starting to offer community meetups, where you can meet fellow Duolingo learners in your own area!
Text Resources
eBooks
It's no longer necessary to search the meager selection of French books in your local bookstore. Reading eBooks is a great opportunity to practice your reading comprehension, see proper grammar written, learn new vocabulary, and perhaps (depending on your book of choice) learn a lot about culture.
Whereas dubbed movies and series often are scrutinized for their unnatural feel, dubbed books don't have to be modified to fit lip movements and time restraints, and thus are an equally good resource as original francophone literature.
Grammar Exercises
Many websites offer a vast array of grammar exercises with drills, solutions, and explanations of concepts. Two of my favorites are Français Facile and Educaserve.
Flashcards and Reviewing
Reviewing is essential to learning and retaining a language. One of the best ways to go about this is to create and review flashcards on a daily basis. Making it a habit to review what you learn, while admittedly not as exciting as learning new things, is one of the most important things you can do to learn French faster. Flashcards are no longer restricted to a physical paper format; in fact, online options are now offering provenly more effective methods to learn and retain languages.
Anki
I truly can't say enough good things about Anki. This desktop program and mobile app offers an opportunity to review your vocabulary, grammar, and even listening comprehension, on a daily basis, driven by spaced-repitition. Users can create their own decks or download other decks publically shared by the community. I highly recommend creating your own decks, because the creation process (researching the correct definition and usage of the word in context) itself helps to retain the concept.
Quizlet
The Quizlet website and mobile application has a much larger user base than Anki, but doesn't offer the same spaced-repetition reviewing power as Anki. However, there are tutorials on how to import Quizlet decks into Anki if you find a great deck on Quizlet but prefer the Anki reviewing format.
Dictionaries and Translators
Robots cannot master the intricacies of a language. Google Translate and other popular input-output translators cannot by relied upon fully. Translation dictionaries also often give misleading information. The ultimate goal should be to only use French dictionaries to further clarify a new word's meaning. However, in the beginning there is often no reasonable way of escaping translating from your language into French, and there are great solutions out there which are more trustworthy than others.
Deepl
Deepl is the best of the machine translators. It has received many awards for its accuracy when compared side-by-side with other popular translators such as Google Translate and Microsoft Translator.
Reverso
Learning in context is key, and Reverso is the best translator dictionary for learning words in the context of complete sentences. You can search for a single word or a multi-word phrase, and the search result will display various example sentences and paragraphs with your search term highlighted within.
WordReference
WordReference is a hugely popular translator dictionary which also offers words in context, like Reverso. It is a bit easier to see all the various definitions of the words, but lacks the same quantity of example sentences.
LAROUSSE
Larousse francophone dictionary should be used as soon as your French is advanced enough to understand French-language definitions of French words.
Best Ways to Learn French
You won't need to limit yourself learning French online. There are any other learning methods you can use to help you improve your French.
Journaling
Write in a journal every day. Even if it's just 3 sentences, do it! It's essential to improving your vocabulary (when you don't know a word, search it), your grammar (if you're unsure of a conjugation or how to phrase something, look it up!) and your spelling.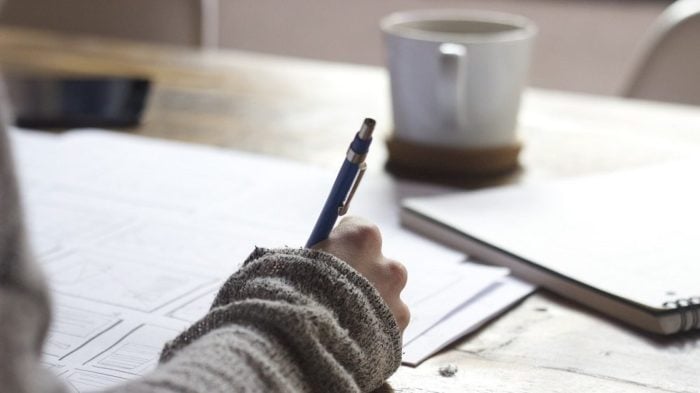 If you have a pen-pal with whom you can share your entries in exchange for correcting theirs, that's a huge advantage! You can't correct your own errors to the same extent that a native speaker can. In addition to correcting grammar, vocabulary, and spelling, a native speaker can also detect if you write something that doesn't sound natural.
Audio
Consider making an audio journal where you speak out loud for a couple minutes and try to describe your current actions, your plans for the day, or how your day or week went. If you freeze up, it's a good thing! Continue speaking, and afterwards, listen to the recording and find out where you need to improve.
Think in French
This way, you'll be able to practice silently throughout the day and think about things you might want to or need to learn.
Translate Numbers
Practice your numbers by translating (out-loud if you're by yourself or not embarrassed) every number you see. Numbers are very hard to master, and are 100% necessary. Every time you see a number, pronounce it.
Research in French
Satisfy your information cravings in French. If you want to know more about Tom Cruise, look up his Wikipedia page (rather, Wikipédia) in French and try to find your information there, even if you need the help of a translator.
Your End Goal
Don't limit yourself to setting daily or weekly study goals; set end goals. Why are you learning French in the first place? Is it to travel to France and be able to communicate with the natives? Is it to better enjoy French food? Francophone literature? Francophone films? French art? What is the principal reason why you are learning French? Make this your goal.
Set intermediary goals after you set your end goals. Intermediary goals can be something as simple as "learn 10 new words each day" or "read Harry Potter 3 in French" (best book in the series, no doubt!). Thus, you'll feel accomplished all along the route to your end goal.
Most importantly, have fun! If you don't enjoy learning French (or the way in which you're doing it), you're going to lose your passion and commitment. If you only focus on the "most effective way" to learn French but it doesn't interest you, change your method!
Don't compare yourself to other learners. Everyone learns at their own rate. Everyone has different commitments in life that take away from their study time. You should only evaluate your learning success based on your ability to reach your own end goal.
Bon Courage !
I promise that with commitment, practice, and passion, you will fall in love with the language and the Francophone World. One day French may even be your strongest language. I wish you the best on your French learning journey. Bon voyage !