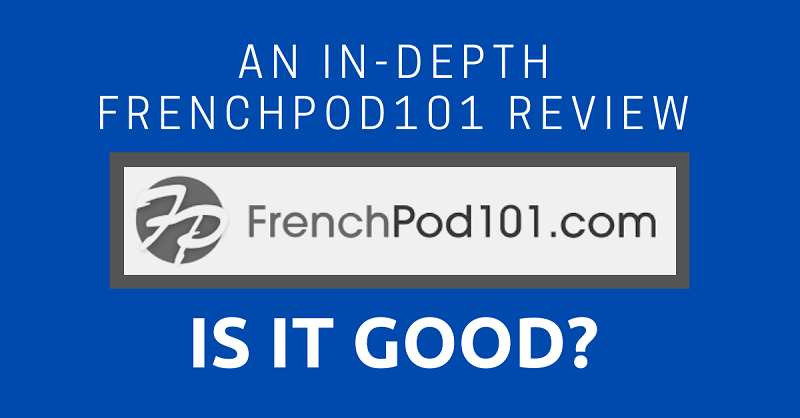 In my last article for ExpatDen (see The Comprehensive Guide to Learning French Online) I discussed the importance of finding a learning resource that suits your personal needs, strengths, and goals.
Every French learner is different. Whereas one learner prefers a traditional textbook and classroom approach, another may prefer a flexible on-the-go and at-your-own-pace approach. If the latter describes you, then FrenchPod101 is certainly a resource to consider.
In the following article, I will discuss the pros and cons of FrenchPod101 from the perspective of a French learner. My analysis of the program will begin from the level of an absolute beginner and will include an overview of the tools FrenchPod101 provides for all learning levels. Allons-y ! Let's get started!
This article will take approximately 19 minutes to read. Don't have the time right now? No worries. You can email the ad-free version of the article to yourself and read it later!
Quick Overview: What is FrenchPod101?
FrenchPod101 is an online French learning resource, containing audio, video, and written material, available in both website and mobile app formats. The website, established in 2005, is part of the larger organization Innovative Language Learning LLC, which offers similar resources for over 30 languages.
FrenchPod101 prides itself on showing the world "how enjoyable and easy learning French can be…" and emphasizes its flexible learning format for people with busy lives.
Structure
First things first, let's take a look at the course structure of FrenchPod101.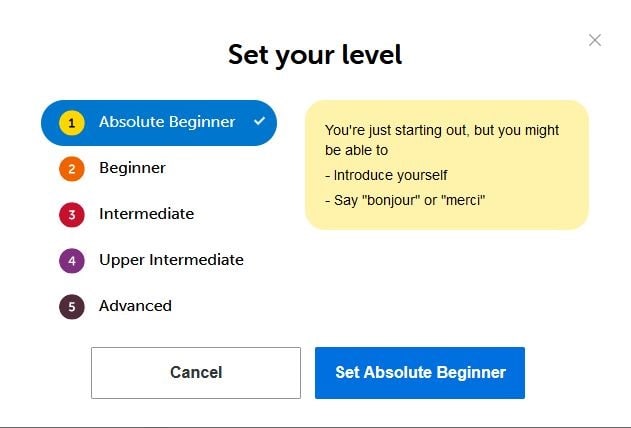 Learning Levels
FrenchPod101 is organized under 5 different learning levels, each offering a vast library of materials appropriate for the level and created and approved by French natives. The level can be modified at any time. I will highlight some of the notable learning outcomes of each level below.
Absolute Beginner
If you choose this level, you have either zero previous learning experience or you are familiar with a few expressions. If you fall into the latter category, you can take a level assessment or skip ahead of sections irrelevant to you until you reach new information. But of course, a little reviewing wouldn't do any harm!
Beginner
This is where you begin to conjugate verbs, learn irregularities, and learn plural forms. You're diving into French grammar!
Intermediate
Here you'll learn about daily vocabulary, past tense, shopping, eating in restaurants, and asking for help.
Upper Intermediate
Now you will learn to conjugate verbs in all temporal tenses (past, present, and future), give orders, and make more complex sentences.
Advanced
At this point you should be more confident in your ability to express yourself, your desires, and your needs. Thus, you can add some nuance to your use of the French language.
Learning Format
While there are two different options to access FrenchPod101 resources, the website and the mobile app, there is no difference in the two besides the obvious portability of the mobile app and the perhaps easier-to-navigate website.
Conveniently, the progress on either resource will automatically sync, so you never have to find where you left off if you often switch between the web version and the app. Below, I will discuss the overall format of FrenchPod101, identical between the website and the app.
Lessons
The lessons are categorized under "pathways". After choosing your learning level, only the pathways which have been approved as suitable for your level will be visible. The first pathways you'll see are the "curated pathways" which are aligned with a specific level of the CEFR. Below these are various pathways offered for diverse subjects, for example, "Top 10 French Cities" where you will learn new grammar and vocabulary while learning about different French cities.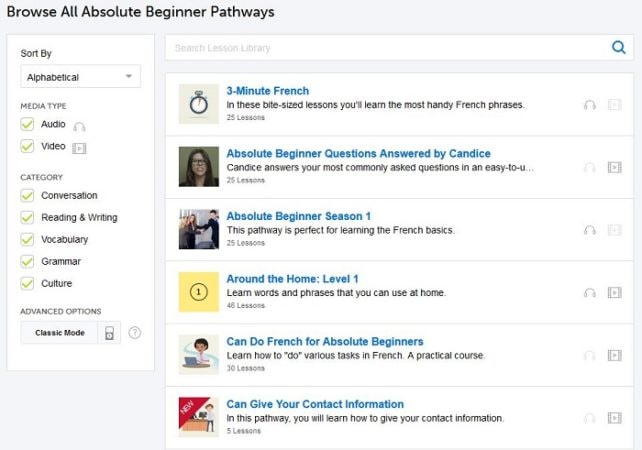 Each pathway contains a certain number of lessons. These lessons come in two media types: audio and video. Each audio and video lesson (a combination of French and English) is accompanied by a full written transcript of the audio/video, a vocabulary list of noteworthy words used in the lesson, lesson notes which highlight important grammatical or cultural aspects, and a comments section, where you can post your thoughts or questions about the episode.
Unfortunately, there is no option to directly respond to someone's comment, so it would be up to you to reload the comments section at a later time to see if someone replied. That said, the FrenchPod101.com team itself responds usually within a week to user-submitted comments.
In each pathway there are assessments to ensure that you won't move on to the next lessons unless you've mastered the ones before. These come in two forms: hand-graded and multiple-choice. The hand-graded assessments are short-answer, essay, and speaking assessments which will be personally hand-graded, hence the name, by a French teacher.
However, this feature is only offered for Premium PLUS subscribers. The multiple-choice assessments are accessible with a Premium subscription.
Transcript
This is one of the key advantages to FrenchPod101. Every lesson is accompanied a full word-for-word transcript of the audio dialogue found in the lesson. This is critical for training your listening comprehension.
Not only is the transcript available in paragraph form, but also in sentence-by-sentence form, labeled as "dialogue", where learners can replay the audio of any specific sentence by simply clicking on the speaker icon next to the written sentence.
Additionally, next to the audio icon is a microphone icon, which allows learners to record their own voice in conjunction with the replayed audio of the native speaker. The intention is to help you to compare your accent to the native speaker's.
It might help a small bit, but it is nothing compared to actual conversations with a native. Nonetheless, while this may not be the ideal way to practice your speaking, it is a phenomenal resource for practicing your listening comprehension.
Vocabulary and Word Bank
The vocabulary section is also something included in every lesson and, in combination with the transcript, proves that FrenchPod101's offering for listening comprehension is top-notch. The lesson creators select particularly notable or important vocabulary used in the lesson and list them out with audio recordings for each word by native speakers (in both normal and half-speed) and the possibility to record your own audio for comparison purposes.
Each word is also accompanied by at least one example sentence, in both written and audio form.
Below the list of vocabulary, there are options for a quiz to review the list's words, a slideshow (which plays the audio of the word and example sentence in French, followed by the English translation), and a file download containing all of the words listed.
The key feature in the vocabulary section is the possibility to save words into your own personalized word bank. This is an accumulation of all words you've saved from all lessons in one combined list which is easily accessible from the main menu.
From the word bank, you can select any or all words to add to your flashcard deck, which will allow you to review them with audio and text. Review is critical to learning a language, especially if you aren't actively using the words on a daily basis.
Luckily FrenchPod101 makes it easy to review anywhere you are, as this feature is also accessible via the mobile app, with all the features of the desktop website.
Pros of FrenchPod101
There are many benefits of learning French with FrenchPod101 as follows:
Set your own Schedule
The flexibility of scheduling is a major selling point for many learners, because in today's busy world, it is often difficult to commit to a set schedule. FrenchPod101 makes this easy by offering a format which is fully adaptable to any schedule.
Whether you have all the time in the world and want to take many lessons a day, or you have limited time and can only take a couple lessons a week, You can learn French online with FrenchPod101 with the flexibility you need.
Learn Anywhere
In addition to the flexibility of scheduling, the portability and easy accessibility of FrenchPod101 provides learners with even more flexibility to adapt their learning plan to their lifestyle.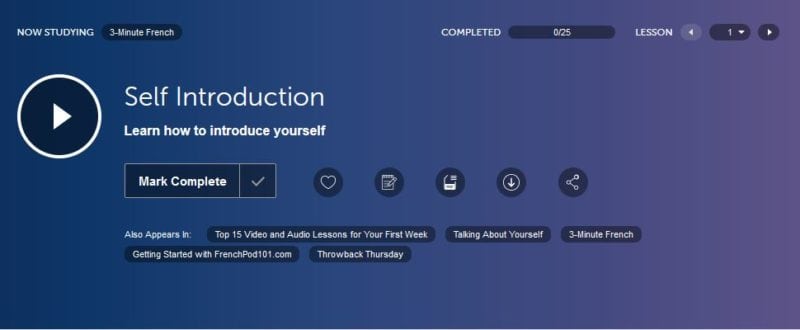 Ideal for commutes, work breaks, or study sessions in bed, the mobile app works as a fully equipped substitute to the web version, containing all the same features and full synchronization.
Choose your Path
FrenchPod101 doesn't force one set curriculum upon you. Rather, there is an expansive catalogue of courses from which you can select in order to satisfy both your learning goals and your curiosities.
Want to learn more about French food while improving your French language? There is an option for you! Want to follow a curated lesson plan to improve your French grammar and vocabulary along a traditional learning path? There is of course this option too.
Extensive Materials
The quantity of material itself, both audio and written, that FrenchPod101 offers is worth much more than the cost of subscription. But naturally, quantity means nothing if the quality is not there; luckily, every course is thoroughly examined before approval by the FrenchPod101 team and is assured to meet the standards of what you're paying for.
The audio is high quality and recorded by native speakers, and the text is comprehensive and the perfect companion to the audio.
In addition, all materials can be downloaded in multiple formats, which makes studying possible even without internet connection. Some may also prefer to download and print their materials because they get tired of looking at a computer screen.
Price
As I just mentioned, the price charged by the FrenchPod101 team is extremely generous considering the service they offer. The authenticity of the native speaker-produced material and the professionalism put into the design of the courses is evident, and the sheer size of the catalogue of material is far more than your money's worth.
There are three pricing plans, which will be discussed in a later section, Pricing and Subscriptions.
Cons of FrenchPod101
FrenchPod101 isn't perfect though. Here are the disadvantages:
Lack of Interaction
The number one downside to FrenchPod101 is the lack of interaction, which in turn impedes progress in spoken and written communication skills. While the Premium Plus version offers some interaction, it isn't nearly enough to truly advance your French to a fluent, or even intermediate, level, without an outside source of practice.
Thus, I would recommend any learner on FrenchPod101 to use this resource in conjunction with an outside source of real-time interaction, whether that be a paid tutor, a French friend or significant other, or at a local or online meetup.
Required Self-Discipline
Learning French requires an enormous amount of self-discipline, which many learners severely underestimate at the beginning of their studies, and are consequently ashamed or demotivated by their lack of progress.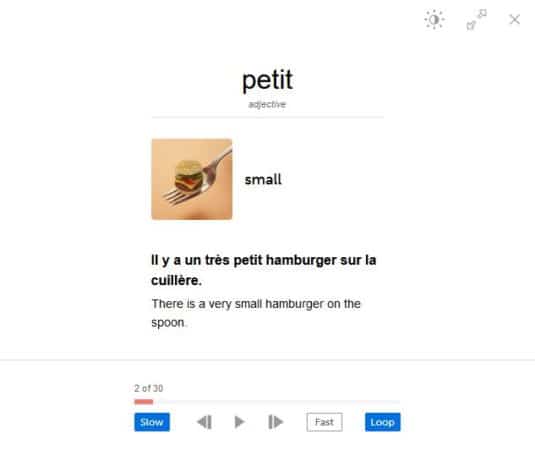 If you choose FrenchPod101 as a resource to learn French, you will need to be diligent about pushing yourself to learn on a consistent basis, as truly no one is forcing you to study except yourself. Consistency is key to learning a language, and even 15 minutes a day is better than nothing.
If self-discipline is something you struggle with, the Premium Plus option is somewhat more structured, offering a 1-on-1 teacher who will personalize your plan and assist in building a schedule if necessary.
Too Many Choices
Perhaps FrenchPod101's vast database is too overwhelming at the beginning for absolute beginners. Or it may be quite simply too distracting, and learners will opt to amuse their curiosity by watching videos about food or sports instead of practicing much needed grammar.
Keep this in mind if you are just beginning in French and follow both the curated lesson plan in addition to exploring their vast catalogue of courses.
Difficult to Practice Pronunciation
This comes hand-in-hand with the lack of interaction that FrenchPod101 suffers from. While they do attempt to get you to pronounce and speak by inserting pauses in the lesson dialogue, unless someone is actively correcting your pronunciation, it can be hard to recognize nuances yourself.
Pronunciation is a very important aspect in language learning, especially in French, and I highly recommend practicing your pronunciation with a native speaker outside of FrenchPod101's limited practice offering.
How does FrenchPod101 Compare to Other Options?
As a preface for the following section I would like to stress that FrenchPod101 is, in my opinion, the market leader in its niche of audio- and video-based French learning resources, distinguishing itself by its expansive catalogue, its native speaker audio recordings for everything from single words to full dialogues, and its ease of access (website or mobile app).
That being said, there are numerous ways to learn French, and this approach may not be the most efficient for every learner; in fact, I would recommend diversifying your learning experience by incorporating (but not using them as replacements) some of the following tools in your studies and learning routine.
Lingoda
Lingoda offers live lessons with native teachers with 24/7 class availability. Classes are attended via Zoom, and the usage of a webcam and audio provides for an immersive learning experience targeting listening comprehension, speaking, reading, and writing skills. They offer individual classes and group classes (limited to 6 people), the former being more expensive but more rewarding.

Just like FrenchPod101, Lingoda has classes for all levels, from absolute beginner to advanced. However, unlike FrenchPod101, it does not have an English transcript or translation. Yes, teachers do speak English and will switch to English to explain difficult concepts, especially in the early learning stages, but the intent is to remain in the French language for as long as possible.
Lingoda can act as a great accompaniment for FrenchPod101 in that it assists in advancing conversational skills, something which is certainly necessary due to the low amount of conversational practice learners will receive via FrenchPod101.
Memrise
Memrise uses the highly effective learning method called spaced repitition. Spaced repitition gradually spaces vocabulary/grammar reviews in accordance with how well you remember them. While certain words, for example, will repeat multiple times within a few days, over time, as you correctly remember the words, they will only repeat every few months.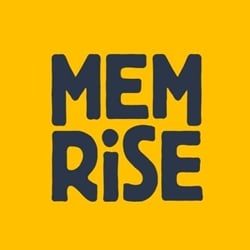 FrenchPod101 does include a fantastic vocabulary and flashcards section, but it lacks a spaced repetition algorithm. Just like FrenchPod101, Memrise incorporates listening and speaking exercises, but to a much lesser extent; where Memrise excels is in reading and writing exercises.
FrenchPod101 and Memrise can certainly be used in conjunction, the former acting as a better learning resource, the latter serving to help you memorize or reinforce what you learn through FrenchPod101's materials, and perhaps adding in new vocabulary as well.
Duolingo
Duolingo is a fun starting point for an introduction to French. However, I must strongly emphasize that Duolingo will not suffice as a sole source to achieve a high level in French. Duolingo will bring someone to an upper beginner level at best, and should only be used as a companion to other forms of study. Honestly, FrenchPod101 offers everything Duolingo does and much more; Duolingo's attractivity is mostly linked to its "cute" interface.

iTalki
iTalki is an online tutoring platform that is approaching one thousand professional French teachers and amateur (but passionate!) tutors. Like Lingoda, you can schedule 24/7, but with iTalki it doesn't have to be a structured course. Some teachers offer full courses, whereas others act simply as conversational partners, or help you target your problem areas. Each teacher is different and unaffiliated with the website; it is simply a site to connect students and teachers. iTalki is my favorite source of conversational practice.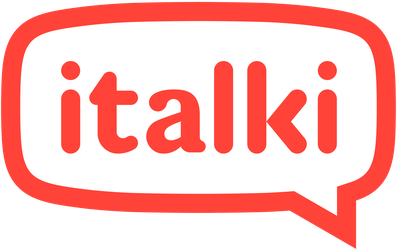 Pricing and Subscriptions
There are three subscription levels with FrenchPod101: Basic, Premium, and Premium Plus.
The Basic subscription is fairly limited in its capacity, lacking many of the features I previously mentioned such as the word bank, the line-by-line audio dialogue, the flashcards, and the grammar bank – it lacks essentially all the study tools which I consider of utmost importance in learning the language.
The Premium subscription is what I would personally recommend. The regular price is $180 USD for a year or $240 for two years, which is a 40% and 60% discount respectively as opposed to paying month-by-month.
Around the holidays they usually have better deals than this, such as $108 USD for two years of the Premium plan, 55% off the regular price. If you sign up for a free account, they will send you emails with price discounts throughout the year. Once you get a good deal you can then opt out of these promotional emails.
The Premium subscription contains all the features I've mentioned in this article with the exception of 1-on-1 learning. This, only included in the Premium Plus subscription, offers personalized learning programs, assignments, and assessments by a professional French teacher.
While this might be appealing to some with more disposable income and more free time, those who have less disposable income and/or prefer to learn without the pressure of a teacher may find it unnecessary.
If you're unsure of which option is best for you, every subscription includes a 7-day free trial period. FrenchPod101 also offers a 60-day money-back guarantee on all plans. Additionally, the aforementioned free account exists, although it is extremely limited – it just allows access to the first 3 lessons in every curated pathway.
The Verdict: Is it Worth the Time and Money?
Oui! FrenchPod101 is an affordably-priced, comprehensive, and extensive learning resource which will provide a beginner or an intermediate French student with all they need to begin or continue their French learning journey. Its ease of access and adaptability to personal interests puts students in charge of their own routine.
Despite some of the disadvantages previously mentioned, the pros overwhelmingly outweigh the cons, and all of the cons can be minimized or eliminated by supplementing FrenchPod101's offering with outside sources; all the cons that is, except for one: self-discipline!
At the end of the day, no one is forcing you to learn French. You decided to embark on this journey, and now you're the one steering yourself along your own path to fluency. It's up to you to stay committed, stay consistent, and achieve your goals. And to that, I say, bon courage !