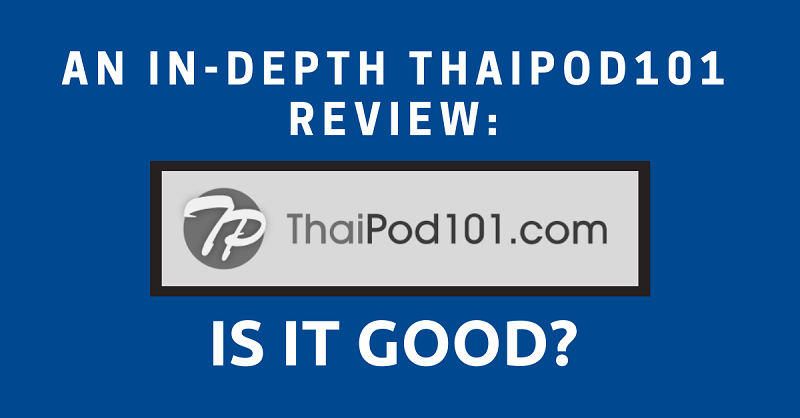 The Thai language is monosyllabic and tonal. For us foreigners this means that even if you think you pronounced a word correctly, if you didn't use the right tone, you're still likely to confuse the person you're talking to. Case in point the word kai (or khai) — depending on your pronunciation, it might sound like who (krai), sells (kǎai), chicken (gài), eggs (kài), or even near (glâi) or far (glai).
(Have you experienced ordering chicken in Thai and the waitress brought an egg instead? Now you know why.)
This is why taking the time to learn Thai language is worthwhile.
There are many ways to learn Thai — one-on-one classes, group classes, books, online learning, etc.
One of the most popular methods right now is online learning since you can do it at your own pace.
However, the dilemma in online learning is that you don't have the same level of accountability that a group class or one-on-one class offers, which can result in a decrease in motivation and eventually, slacking off and falling off the learning path. This is where ThaiPod101 can help.
Enter your email below to receive our FREE Thai Language Cheat Sheet. It includes a comprehensive list of downloadable PDFs to quickly get you started learning the Thai language. The Cheat Sheet covers everything, from the alphabet, tone marks, and consonant sounds to vocabulary and much more.
What is ThaiPod101?
ThaiPod101 is an online Thai language learning system that was created by Innovative Language Learning. The company has been around for more than a decade and has now expanded their online lessons to include 34 different languages — from Afrikaans to Vietnamese.

Teaching Method
ThaiPod101 is a video- and audio-style Thai language course.
You can listen to or watch lessons on a desktop, laptop, or download the mobile app and learn Thai anytime, anywhere. The courses are aimed at enhancing listening comprehension and, ultimately, speaking Thai sentences fluently.
The methodology revolves around real-world scenarios where there are either a farang conversing with a Thai person, or two Thai people talking. These day-to-day conversations are presented in short audio or video lessons, ranging in length from 2 to 15 minutes.
The clips are accompanied by vocabulary words, transcripts, and lesson notes that guide you through the Thai conversation that you just listened to or watched. You can download all of these, so you don't have to worry about missing out on lessons if you don't have an internet connection.
Lessons
ThaiPod101 has thousands of lessons that teach you the fundamentals of Thai language. From the alphabet to tone rules, and from grammar to vocabulary, ThaiPod101 has it all.
Once you complete a lesson, the course takes you step-by-step through real-life conversations that help you steadily build new vocabulary.
There are four levels, ranging from absolute beginner to advanced.
Let's take a look at each level more closely.
Absolute Beginner
The lowest level in the lessons is Absolute Beginner. It's most suitable for those who have zero Thai language knowledge and are only just starting out. The lessons consist of real-life scenarios with recordings of conversations that show how an exchange usually goes.
Examples of these include ordering food in Thai while at a restaurant (ensuring you get the right food), learning a couple of phrases that you can use when on a taxi ride, and so-called 'survival phrases' — hello, goodbye, thank you, you're welcome, riding a bus or train, restaurant table etiquette, and a lot more.
The lessons start with the introduction of a phrase, breaking the phrase into words, and what the words mean. There is a curated pathway of 50 lessons, each of which is 12 minutes long. The lessons start with polite greetings, asking for time, and using adjectives properly.
Each lesson  also includes a section called Cultural Insights: how being polite is a value in Thai, or what the Thai currency is called and that they come in denominations of one thousand, five hundred, one hundred, fifty, and twenty.
On the curated pathway there is an assessment every after 2-4 lessons. It requires you to get a grade of 70% or more. If you get less than that, you are still allowed to move forward. However, the course recommends you review the lessons, retake the assessment, and score at least 70% before you proceed.
If following the pathway is not your jam, you can also listen to audio lessons or watch video lessons on-demand. These are 1-minute lessons that you can freely get into any time you want. These can also supplement the curated pathway if you're going to get more in-depth at this level. An example of an on-demand lesson is greeting someone in perfect Thai, where you can get to listen to a farang and his Thai friend talking to Thai ticket staff at a bus station.
Beginner
The second level is Beginner, where there is more listening comprehension involved. This curated pathway is suitable for those who are at level A2 of the Common European Framework of Reference for Languages (CEFR)*.
The curated pathway consists of 50 lessons of 10-15 minutes each. Examples of lessons in this pathway are Thai words for parts of the body, learning how to express feelings, and using simple questions when travelling in Thailand during the holidays. Each lesson also comes with its own section of Cultural Insights. What makes it different from the Absolute Beginner level is that there is a quiz after every lesson in the form of true or false questions or sentence writing.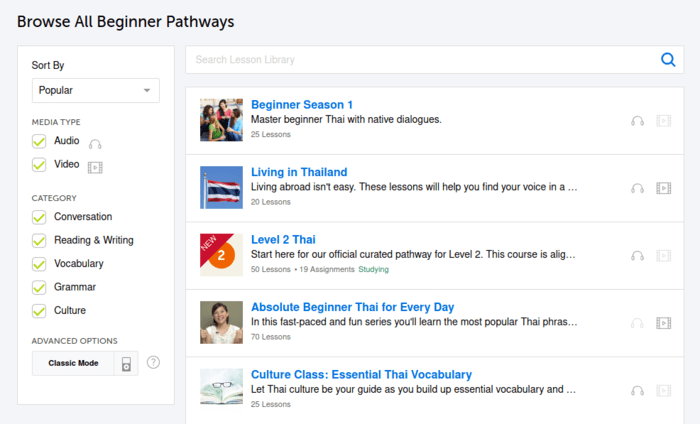 The on-demand lessons range from simple business Thai for beginners through to listening comprehension. The business Thai lessons will come in handy as they feature culturally-adept skills that you won't usually find in other Thai language lessons.
One example of this is knowing how to harness the power of formality levels, such as when discussing client feedback or complaints about the office Wi-Fi. The lessons start with listening to a conversation between a Thai boss and employee, and then breaking down the conversation into vocabulary words. Meanwhile, there are insights into business relationships in Thailand to provide even more context.
*Before you start the courses in Premium PLUS, there is an assessment that determines what CEFR level you are currently in. This initial assessment will be the foundation of the courses that you will take. Coupled with personalized recommendation from your teacher, it will save you a lot of time by skipping lessons that you don't need. With the assessment also comes a study recommendation that you receive by email so you know what steps to take next in the course.
Intermediate
The Intermediate level has some lessons that go along with the Thai book that you can download from the ThaiPod101 website. There are two curated pathways available at the Intermediate level — one corresponds with level B1 of the CEFR (referred to as Level 3), and the other is with Level B2 (Level 4).
The Level 3 Thai pathway has 50 lessons and consists of learning about common words and phrases in-depth. For example, in this course, you will learn about the word เกี่ยวกับ (about) or the preposition ถึง (to), or using the pattern verb + มา + time expression แล้ว to show present perfect continuous tense. It may sound like a typical Thai grammar class, but it's actually more than that. Each lesson comes with a true or false quiz or a writing exam. And like the other levels, each lesson also has a section for Cultural Insights.

Moving on, the Level 4 Thai pathway has 25 lessons and goes even deeper into more complex Thai vocabulary and phrases. Examples of lessons include using the word ประทับใจ (to be impressed), using special adverbs that you can pair with adjectives that would mean "very", using สัก with amounts to represent an estimate, and much more.
On-demand learning is also available at this level, and most of the lessons involve using the book alongside the audio and video lessons. There is a PDF version for extensive reading and also fun, miniature books that you can read for a few minutes.
There are 25 lessons of 5-7 minutes each that you can consume whenever you like. Examples of lessons include making a doctor's appointment, expressing negative emotions, and must-know Thai slang words and phrases. I especially liked the slang as it's something that you won't find in textbooks. It's the ultimate gateway to speaking like a true Thai person!
The on-demand lessons also involve letting you look at an image, listening to questions, listening to the dialogue, and answering the questions that come after that.
Advanced
The highest level in the Thai lessons will require that you have some sort of Thai writing, listening, and reading skills already. All the lessons are presented entirely in Thai, even the instructions that come with them. The audio and video transcripts are in Thai, and the Cultural Insights section is also in Thai.
Also known as Level 5 Thai, this level corresponds to level C1 of the CEFR. The curated pathway consists of 50 lessons of 3-5 minutes each. Every lesson concludes with a quiz that requires you to write (or type) a minimum of three correct answers per item.
Examples of lessons include learning about the Bangkok province, learning about historical Thai figures, and learning about important Thai temples. If you have been watching local television channels around 8pm, then you will find some of the words you'll hear in the lesson familiar — they are very formal and usually used when reporting the Royal News.
There are 8 on-demand lessons at this level of 4-5 minutes each. The conversation starters for advanced listeners present native-level (and speed) Thai conversations. There are also reading comprehension lessons consisting of ten 1-minute videos.
One of the most challenging lessons I took at this level was that of receiving a delivery notification. The scenario is that I will receive an email entirely in Thai and after that have to answer multiple-choice questions based on the instructions in the email.
Another lesson involves reading dosage instructions for medication entirely in Thai. Both of these lessons take Thai learning to a whole new level as these are two of the most common, sticky situations that someone who resides in Thailand will encounter at least a few times.
The highest proficiency level in the CEFR is level C2. If you want to reach that level, complete all the lessons in the Advanced course and pass the level assessment. To boost your proficiency, take the bonus materials that will be recommended to you by your teacher.
And since the majority of the skills that allow you to reach C2 level are writing, reading, speaking, and listening in practical applications in real life, you will do well to always practice. Watch the news and tv shows, read newspapers and books, speak to Thai people often, and practice writing as well. Here is an article that has tips on preparing for a Thai proficiency exam.
Extra Lessons
In addition to the fundamental lessons you get at each level, you also have access to extra lessons that help you learn Thai for specific situations.
For example, if you're flying to Thailand, you can take their "Lessons for Your Flight to Thailand." You'll learn common Thai words and phrases for introducing yourself, saying thank you, and much more.
There are also lessons on survival phrases for taking taxis and talking in business settings.
You can take any of these lessons at any time.
Bonus Materials
Aside from the curated pathway lessons and on-demand lessons at every level, there are also bonus materials that are included.
On the website, you also have access to monthly review videos where you receive the newest language learning strategies and study tools. These come at no additional cost with your paid subscription, and they change every month.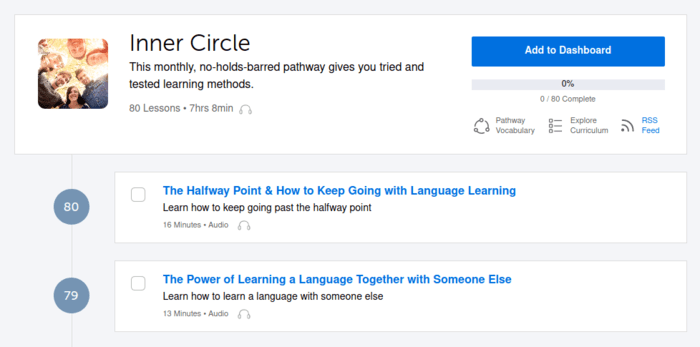 You also gain access to resources posted in the Inner Circle. These are reading materials, audio, and video that help to enhance your learning experience. An example is the Two Steps Forward, One Step Back resource. It tackles what happens when you lose learning progress and what you can do to bounce back. This is a frequent scenario when learners take a break and find it hard to get back into the routine later. I, for one, am guilty of this, and reading about what's going on with our brain when that happens was an eye-opener for me.
Another bonus tool that I like is the ThaiPod101 Word of the Day that you receive in your email inbox every morning. There is a new word to learn every day, and it also serves as a reminder to listen to or watch a lesson that day.
If strengthening Thai vocabulary is your ultimate goal, the paid subscription also comes with a special section for Vocabulary. There, you will find flashcard decks and a word bank that you have to build by yourself. You can also develop personalized vocabulary lists with their 100 most common words, 2,000 most common words, key Thai phrases, and much more.
Which Plan Should I Choose?
ThaiPod101 comes with a Free Lifetime Account. All you need is an email address — no need for a credit card or any pre-payment details.
The free account lets you access the 3-5 new lessons per week, the first 3 lessons of every series, Thai Word of the Day lessons, and the 100 Most Common Words List.
If you opt for a paid subscription, there are three options: Basic, Premium and Premium PLUS Plans.
The Premium Plan works best for me because it gives me all the features I need to learn Thai quickly. I specifically like the Line-by-Line Audio, Voice Recording Tool, and Word Bank features, which are not available with the Basic Plan.
Here's why I like the Premium Plan.
Line-by-Line Audio is a dissection of the dialogue that you hear in the audio or the video. It allows you to listen to each line and is great for improving listening comprehension. The lines are also cut up into vocabulary words so it's helpful in letting you know how a word is being used when constructing a sentence.
Another feature that is worth paying for is the Voice Recording Tool. It lets you compare your voice to native speakers to ensure that you are pronouncing the words correctly. Sometimes, we unconsciously say a word in the wrong tone or manner without knowing it. (Remember asking for chicken and being served an egg? This could be the culprit.) This hefty tool was key to me discovering the words that I often mispronounce. And those words I put into my….
Word Bank! This is a feature that lets you list all the words that you want in your personalized word database.
For serious learners, you will find that paying for Premium PLUS plans will be more than worth it.
One of the many features that I love is My Teacher Messenger. A chat box is made available to you at all times where you can talk to a teacher while you're taking the lessons.
Also, having a teacher addresses the issue of accountability when self-learning. Of course, you can set your own schedule. But the Premium PLUS plan also allows you to submit a self-study schedule to the teacher, and he/she helps you stay on track.
If you plan to include your Thai proficiency on your resume, the Premium PLUS plan comes with an ongoing CEFR assessment and a certification that you can proudly display your skillset.
The table below shows what you get at each level.
Items highlighted in red indicate the features that I found most helpful. Take note that these are only available to paid subscriptions.
Basic
$4/month
Premium
$10/month
Premium PLUS
$23/month
Audio & Video Lesson Library
Complete Lesson Access
Complete Lesson Access
Complete Lesson Access
In-Depth Lesson Notes
In-Depth Lesson Notes
In-Depth Lesson Notes
Basic Access on Android, iPhone or iPad
Premium Access on Android, iPhone or iPad
Premium PLUS Access on Android, iPhone or iPad
Line-by-Line Audio Dialogue
Line-by-Line Audio Dialogue
HD Video
HD Video
Comprehensive Study Tools
Thai Core Words & Phrases 100
Thai Core Words & Phrases 2,000
Thai Core Words & Phrases 2,000
Daily Dose of Thai Lessons
Daily Dose of Thai Lessons
Season Vocabulary
Season Vocabulary
Exclusive! Custom Word Lists
Exclusive! Custom Word Lists
Interactive Lesson Quizzes
Interactive Lesson Quizzes
Voice Recording Tools
Voice Recording Tools
Vocabulary Slideshow
Vocabulary Slideshow
Word Bank
Word Bank
Spaced Repetition Flashcards
Spaced Repetition Flashcards
Thai Audio Dictionary
Thai Audio Dictionary
Grammar Bank
Grammar Bank
1-on-1 Learning
1-on-1 Access to a Teacher
Personalized Learning Program
Ongoing Professional Assessment
Assignments
Refund Policy
Your ThaiPod101 paid subscription comes with a 100 percent money-back guarantee within 60 days of purchase, so you've got nothing to lose when you sign up for the paid subscription.
Disadvantages
While ThaiPod101 is a great online Thai course, it's not perfect. There are a few things that I don't like.
Here they are:
First, you need discipline. Unlike taking a Thai course at a language school or with a private tutor, you need to motivate yourself to learn Thai on your own. There were days when I was exhausted from work and didn't want to study, especially in the beginning.
So, I set time aside specifically for learning Thai with ThaiPod101 and forced myself to do it. Learning became easier overtime because I developed the habit of studying Thai every day.
Second, it uses a specific method of teaching Thai.
You need to follow the pathway laid out for you to get the most from it. And if you need a specific set of vocabulary to help with your work, ThaiPod101 isn't as effective as a private tutor. With a person, you can ask him or her to teach you all the words you need to know based on your situation.
Who Should Use ThaiPod101?
Thaipod101 is suitable for working people like me who don't have the time to dedicate to in-person classes or sit for hour-long online classes. I can easily listen to the lessons on my phone while taking the Skytrain, jogging, or during my lunch break.
And since the lessons are well-structured, I only need to follow the learning pathway already laid out for me — no more browsing around, wasting time looking for what to learn next.
Whether you can't speak Thai at all or are merely looking to brush up on your Thai speaking and listening skills, there is something for any skill level in ThaiPod101.
ThaiPod101 Versus Other Online Courses
ThaiPod101 isn't the only online course available. Actually, there are tons of them. Let's do a side-by-side comparison of a few of the popular ones.
ThaiPod101 Versus Learn Thai from a White Guy
While ThaiPod101 has lessons that teach you how to read the Thai alphabet, it's not as good as Learn Thai from a White Guy.
I'm very impressed by Brett's (the owner of Learn Thai from a White Guy) method of teaching you how to read and pronounce Thai accurately. He gives you visual cues to help you remember the Thai alphabet and pronounce the tones correctly.
He even explains how to form your mouth, lips, tongue, and how to blow out air in order to pronounce each consonant.
On the other hand, ThaiPod101 has many more lessons to help you not only get a grasp of Thai language, but become fluent.
So, I would say, if you want to speak Thai quickly, ThaiPod101 is better. And if you have a problem with reading and pronouncing, you can take a supplemental course from Learn Thai from a White Guy.
Ling
If you know some Thai, you know that Ling means "monkey." And this is why the application has monkeys everywhere.
I didn't test Ling while I was studying Thai because it wasn't out yet. But I did test it a few times after it came out.
Here's my take: it's a great application to learn Thai. But it can be boring because Ling uses repetition, showing you the same word and sentence until you remember it.
There are also interactive quizzes to help you build vocabulary.
While there are features to improve your pronunciation (you could speak the sentence into their audio analyzer), don't rely on it too much. This is because the feature isn't that good at the moment.
When I tested it, it said my pronunciation wasn't correct. So, I asked my Thai friend to test it for me. The application said that his pronunciation wasn't correct, either – and he's a native speaker.
So, I would say Ling is a good app to help you build Thai vocabulary quickly. But for anything else, ThaiPod101 is better.
DuoLingo
This is one of the popular questions that I am asked regularly: Is DuoLingo good at teaching you Thai?
The answer is no. This is because as of 2023, DuoLingo doesn't offer Thai courses. Hopefully, it will offer them in the future.
Is ThaiPod101 Worth It?
All in all, ThaiPod101 has made learning Thai fun and interactive for me. The returns I've gotten from investing in its paid subscription have been more than worth it.
If there are a couple of things I don't like about it, it's that Google Translate automatically translates the Thai lessons in Level 3-5. So make sure to turn off that before you get started.
Also, the lessons' introductory music is rather long at 20 seconds, and the advertisement or reminder at the end becomes annoying after a few times of listening to it. But apart from that, I recommend ThaiPod101 to anyone who wants to learn the language.
For someone who just wants to learn basic Thai and is not planning to speak, read, or write Thai professionally or at a high level, free resources are enough.
If you are okay with a smattering of Thai words and phrases here and there, signing up for ThaiPod101's free plan will do. It might take a long while to build a substantive vocabulary of words, but you can get there slowly but surely.
On the other hand, if you are serious about learning Thai, or want to be able to speak and understand Thai in the shortest time possible, then buying the paid subscription is the way to go. You can use this link and get a 25 percent discount code right away.
What to Read Next