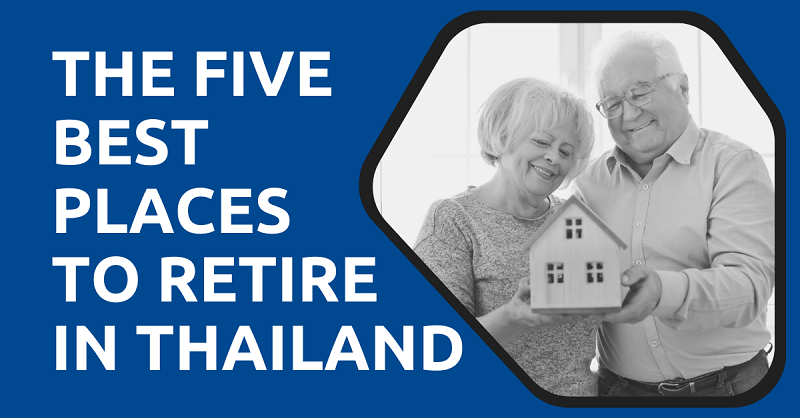 There are plenty of good reasons to consider retiring in Thailand: nice weather, low cost of living, inexpensive, high-quality medical care, and world-class beaches right on your doorstep being just a few of them. And compared to some countries, the process of acquiring a retirement visa here is relatively painless.
However, once you've got your papers in order and have committed to living out your days in the Land of Smiles, next comes the difficult part — where to live? Some retirees might prefer the amenities of a big city, while others might be put off by the smog and the seemingly ceaseless traffic. Others might be happy to settle in a small beach town, but would miss the hustle and bustle of city life.
There are a lot of other things to consider when it comes to choosing somewhere to retire to as well, such as how is the local medical care? How accessible are all those must-have creature comforts from home? Is there a friendly community of other expats?
In this article, we'll offer a breakdown of five popular retirement destinations in Thailand, and we'll assess each of them in terms of what they can offer retirees to help you make an informed decision when it comes to choosing your new home.
If you want to retire hassle-free in Thailand, check out ExpatDen Premium and gain access to hundreds of exclusive articles that cover everything you need to know about retiring in Thailand, including:
"*" indicates required fields
What To Consider
Thailand is a surprisingly diverse country for its size, which is one of the major factors in its appeal to tourists. Each of its regions has its own distinct character, from the misty, mountainous north, to the world-famous coasts of the south. When it comes to choosing a place to live, there's almost certainly going to be something in Thailand that appeals to you.
When it comes to assessing each location's suitability for retiring in Thailand, we've taken the following aspects into consideration:
Access to amenities and healthcare
Cost of living
Local attractions
Weather
We'll also break down some of the pros and cons of each place. While this will by no means be a thorough assessment, it should give you a good idea of what each place has to offer.
Where To Retire
Let's take a look at the quick rundown of the best places to retire in Thailand.
Bangkok
Thailand's capital city should be pretty far down the list for those hoping for a quiet retirement. However, as a major global city, Bangkok has its own vibrancy and energy, which will suit fun-loving retirees perfectly.
Living in Bangkok can — as with any big city — be stressful at times. Chronic traffic, smog, and having to wade through seemingly endless crowds of people can definitely take its toll. But on the positive side, you have access to all the amenities of a big city, including top-quality shopping, world-class restaurants, the best healthcare, and for far cheaper than many cities of a similar size in Europe or America.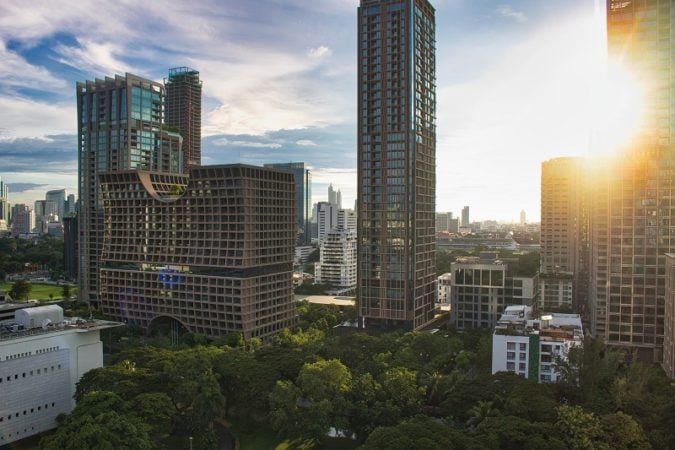 Plus, as a regional transport hub, it's easy to get from place to place. Healthcare in Bangkok is also exceptional, and hospitals such as Bumrungrad International Hospital are popular destinations for medical tourists.
The weather in Bangkok, as in most regions in Thailand, is infamously hot and humid, with things like smog and the Urban Heat Island effect compounding the problem. Temperatures range from around 26 °c in the 'cold' season of December to as high as 38 °c in April (the hot season).
For this reason, many Bangkokians love nothing more than sheltering from the heat in one of the city's many ultra-cooled malls.
The cost of living in Bangkok is higher than other cities in the country, but still affordable — it's almost half as cheap to live in Bangkok than it is to live in New York. Rents are exceptionally cheap, so it's pretty easy to snap up a brand new, centrally located one-bedroom condominium in a building with a pool, gym, and other amenities for as little as THB15,000 per month (around US$450).
Pros
Excellent and easily accessible healthcare
Top-quality amenities
Convenient for both national and international travel
Cons
Traffic, smog, crowds
High cost of living by Thailand standards
Chiang Mai
Chiang Mai is the largest city in the country's mountainous Northern region. It has a reputation as a rather laid-back resort town, although with rapid development throwing up ever more super-highways and shopping malls, it resembles Bangkok more and more with each passing day.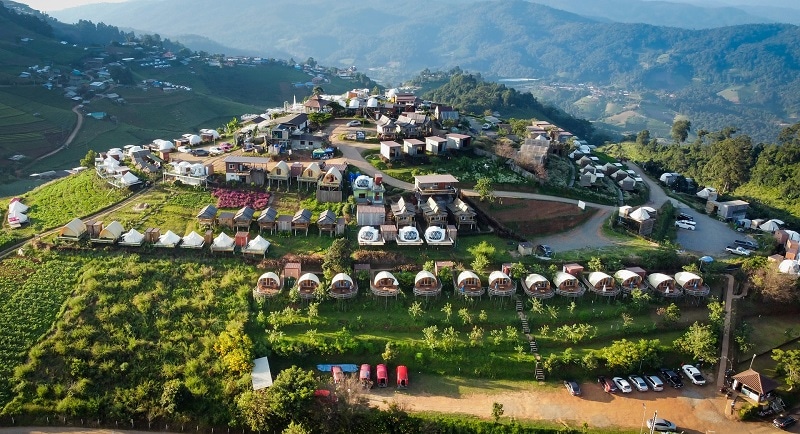 Still, Chiang Mai has plenty to offer that the capital does not. In Chiang Mai, national parks are a short drive out of town and much of the city's central districts still retain their distinct 'Lanna' charm.
Chiang Mai would best suit retirees of an outdoorsy persuasion; the surrounding mountains present plenty of scope for hiking, rafting and other nature-friendly activities.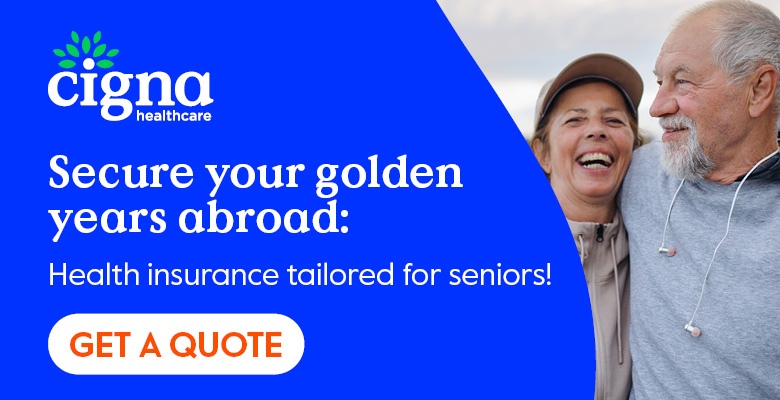 Advertisement
Despite this, there are plenty of things to keep city-dwellers occupied, with expansive malls like Central Chiang Mai almost rivalling Bangkok's in size. Healthcare is pretty good, with a few international-standard hospitals such as Chiang Mai Ram.
Chiang Mai's elevation means the weather tends to be cooler than that of Bangkok or the South, although Chiang Mai weather is still decidedly warm for retirees used to a temperate climate. The average annual temperature is around 25.1 °c, with a mild hot season and comparatively chilly winter (think light hoodie or sweater weather).
Smog is a serious annual problem in Chiang Mai, particularly during the cold season. As the city is nestled between mountains, pollutants accumulate quickly. Additionally, smoke produced by annual crop burning can make smog reach lethal levels. In previous years, Chiang Mai has ranked number one in the world at certain times for its smog. Retirees suffering serious health problems — particularly of the respiratory kind — should maybe look elsewhere.
The cost of living is low, even by Thailand standards. Living expenses are as little as 17% less than those in Bangkok, and rents can be up to 52% cheaper. You can expect to get a centrally located condo for much cheaper than you would in Bangkok.
Pros
Great for nature lovers
Low cost of living
Small-town vibe but with big-city amenities
Cons
Annual smog outbreaks can be disastrous
A little out the way, particularly for the beaches of the South
Phuket
Thailand has no shortage of world-renowned beaches, and for retirees keen to live out their days by the sea, there are few better options than Phuket. In addition to famous beaches such as Nai Harn and Kata, the island also boasts all the modern amenities any retiree might need.
Phuket's sheer size (it's the largest island in Thailand, and a province in and of itself) means you have no shortage of options when it comes to finding a place that suits you. Whether it's the quiet seaside villages, the charming colonial-era buildings of Phuket City or the bustling, high-energy nightlife of the infamous Patong, there's something there for everyone.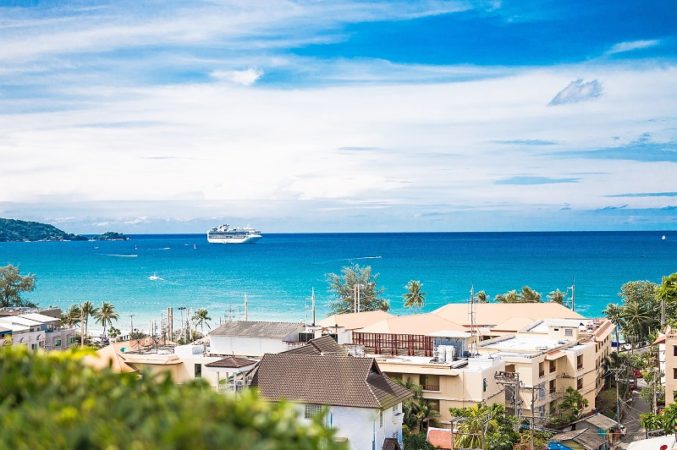 Unlike many of Thailand's islands, where a serious healthcare emergency normally necessitates a helicopter trip to the mainland, Phuket boasts a couple of quality hospitals right there on the island, including a branch of Bangkok Hospital. There are a couple of high-end malls and a very good selection of international restaurants, so you should always be able to pick up some treats for when you're feeling homesick.
Phuket's proximity to the Equator means you can expect temperatures to be a little higher there than they are in, say, the North of Thailand. The average annual temperature is a decidedly roasting 28.5°c, and temperatures rarely drop below 27°c even in the 'cool' season. Expect a dour and overcast rainy season, followed by an oppressively warm hot season. Thankfully there are plenty of places to take a nice, cooling swim.
Phuket is expensive by Thailand standards. Rents are among the highest outside of Bangkok, and you'll probably need a budget of at least THB40,000 per month to get by with some degree of comfort.
Pros
Big island with plenty to do
Good healthcare options and plenty of modern amenities
World-class beaches
Cons
High cost of living even by island standards
You'd better like the heat
Pattaya
Infamous for its racy nightlife, Pattaya is one of the nearest coastal resorts to Bangkok and is one of the country's most popular destinations for expat retirees. You needn't walk far in the town's central zones to find somewhere serving fish and chips or a plate of burger and fries.
And it's not hard to see why. Beachside walks, a comparatively low cost of living, and close proximity to the capital for international travel make it an ideal spot for many retirees.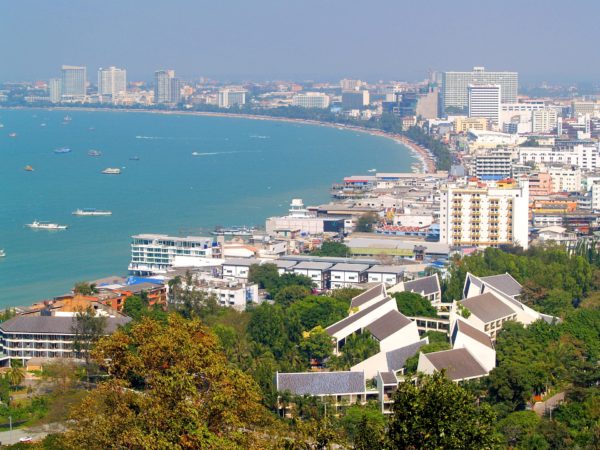 It's fair to say that Pattaya has a certain reputation (to put it mildly), and in recent years, those running the city have made a concerted effort to sell it as a supposedly more family-friendly destination. Your mileage may vary as to how successful this campaign has been, but it's fair to say that there are now plenty of other good reasons to move to Pattaya besides the raunchy nightlife.
There are plenty of local amenities, including big high-end malls such as Central Festival. Healthcare is also good, with quality hospitals including Bangkok Hospital and Pattaya Hospital present. Plus, as stated above, there's no shortage of international food.
With its proximity to Bangkok and its low-lying coastal location, Pattaya's weather is similar to that of the capital. The average annual temperature is around 27.1 °C, although this is mitigated somewhat by the cool sea breeze.
The cost of living in Pattaya is fairly low. You can expect to get by comfortably (although not extravagantly) on around THB30,000 a month. Expect rents to come to around half what they would be in central Bangkok.
Pros
A coastal town a short hop from Bangkok
Plenty of amenities to cater to the large expat retiree community
Comparatively low cost-of-living
Cons
Has a fairly infamous reputation
Not exactly the cleanest beach on the planet
Hua Hin
In some ways Hua Hin is the anti-Pattaya. Whereas Pattaya is brash, fun, and in-your-face, Hua Hin is quiet, reserved, and old-fashioned. If Pattaya is where you go for a raucous party trip, Hua Hin is where you go for a few rounds of golf and a spa weekend.
However, don't assume this means the citizens of Hua Hin are necessarily tucked up in bed by 7.30pm — it still boasts enough nightlife to keep you occupied, if that's your thing.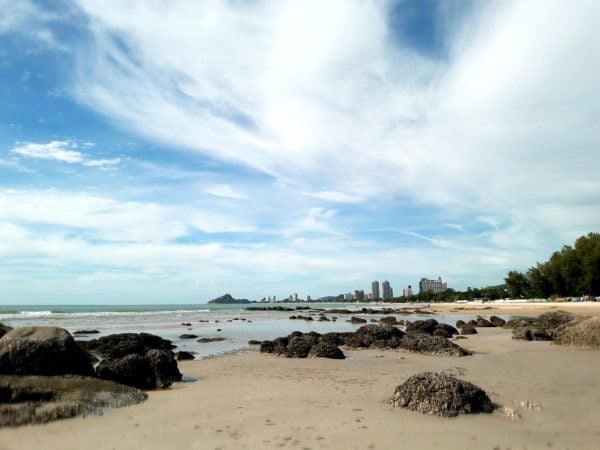 Hua Hin is located in the province of Prachuap Khiri Khan, across the Gulf of Thailand from Pattaya. Like Pattaya, it's just about near enough to the capital for day-trips and short weekends, but far enough away to escape the worst of the smog and the traffic.
Hua Hin already boasts a sizeable expat retiree population (albeit smaller than Pattaya's), so it's fairly well-covered when it comes to local amenities.
There are a couple of shopping malls, although they're fairly small-fry compared to their counterparts in Bangkok or Chiang Mai. However, their presence does mean getting hold of international food shouldn't be too much of a problem.
Once again, there's another branch of the always-reliable Bangkok Hospital present for all your healthcare needs.
Like Pattaya, Hua Hin's central location means that temperatures are pretty consistently high, with an average annual temperature of 27.1 °C. As usual, expect a sweltering hot summer, a wet monsoon season and an all-too-brief cool season, where the best you can say about the weather is that walking a short distance won't give you heat stroke. As with any coastal town, the gentle sea breeze helps a lot when it comes to keeping cool.
Whilst Hua Hin provides better value-for-money than, say, Phuket, your money won't stretch quite as far as it might in Pattaya. Expect to be able to get by comfortably on around THB35,000–THB45,000 per month. Rents are around 38% cheaper than they are in Bangkok, with prices rising the closer you get to the sea.
Pros
Another coastal town a short hop from Bangkok, although with a much nicer beach
Enough amenities for expat retirees, although not quite as many as the other towns on this list
Family-friendly
Cons
Maybe a little too small and sleepy for big-city types
Your money won't stretch as far as it will in Pattaya
Where Should I Retire in Thailand?
Whether you'd rather spend your retirement in the hustle and bustle of the big city, the serene quiet of the mountains or by the beach with a cocktail in hand, there should be a place in Thailand that has you covered. And although each of the locations on our list vary a little in terms of cost of living, amenities, weather, and so on, your pension will stretch further in any of them than it would in most Western countries.
Ultimately, however, we can only provide you with a guideline for what to expect. Make sure you do your research — check out local expat groups on social media, check apartment prices, and so on. And of course, when it comes to choosing a place to live, there's no real substitute for going out there and having a look round yourself.