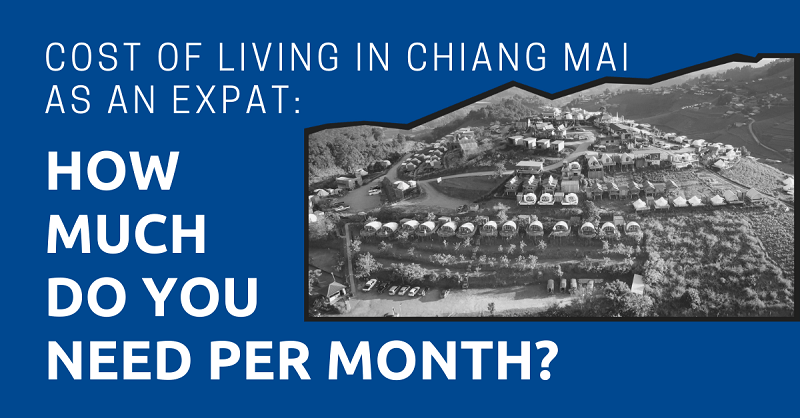 Chiang Mai is one of the cheaper cities in Thailand to call home, and you can experience a slower pace of life compared to Bangkok and the busy southern islands. It's a compact city, with easy access to the various facilities that you need, which helps to cut down on transportation costs.
In general, Thailand has low inflation and living costs are generally about 20% of that of a typical Western country.
Location also plays a part in how much you'll pay. In the center of Chiang Mai you can expect to pay 50 baht for a bowl of Pad Thai, but out in Hang Dong which lies to the south of Chiang Mai you can expect to pay 40 baht or so.
The only real disadvantage to living in Chiang Mai is the air quality becomes an issue during the months of February, March, and April. An air filter might be a good investment and this should cost approximately 6,000 baht. 
*This article uses an exchange rate of $1 USD = 30 baht
Rent
As a general rule of thumb you should set aside a maximum of 25% of your income for rent. You should make up your mind from the very start what kind of accommodation you want and how much you're prepared to pay for it. Of course everyone has their own tastes and budget, but the good news is that Chiang Mai has something for everyone. 
If you want to live in a 50 square meter studio condo in Chiang Mai, it might only cost you around 15,000 baht per month, even in the main city area. 
In Chiang Mai a normal sized house should cost around 20,000 baht and this will include a backyard, a garage, and a large lounge room combined with a kitchen and dining area. To get a better idea of what you can afford, check out this real estate agency.
However, if you live in a rural area of Chiang Mai province, you can expect to pay approximately 25% less. Of course you can always share a house or an apartment with someone to cut down on costs.
Electricity and Water
Electricity and water from taps is controlled by the government and therefore it's pretty cheap. Your water shouldn't be more than 100 baht per person per month if you use water sensibly.
A bottle of water will cost you only 14 baht per liter and you should drink at least one per day in order to prevent dehydration. Only drink water from a tap if it has been boiled.
To get an idea of how much you'll have to pay for electricity, check this post from reddit.
It might be a good idea to invest in a fan, which only costs 300 baht and it'll be a gamechanger for you if you want to live a comfortable life at a reasonable cost. If you insist on leaving the air conditioning on all night then you'll definitely pay more than 1,000 baht per month if you live in a condo. Expect to pay double that if you live in a house.
Internet and Phone
Conditions of usage for the internet and phones are uniform around Thailand. The old days of pay phones on the streets and in the internet cafes are just about over so you'll have to pick up your own sim card if you wish to be able to communicate in Chiang Mai.
For further details please click on this link.
Food
The cost of food in Chiang Mai of course varies but it is well known that you can eat well for very little.
On average, meals cost only 40-50 baht in local food stalls and food courts. At this price range, you get one dish — more commonly, a bowl of noodles or an order of rice with meat and/or vegetables — without any sides but you should have access to a cup of water!
If your diet is normal then you shouldn't have to pay more than 8,000-10,000 baht per month in Chiang Mai in food expenses. However, local street vendors and outdoor markets provide food at such a low cost that it shouldn't cost you more than 6,000 baht per month.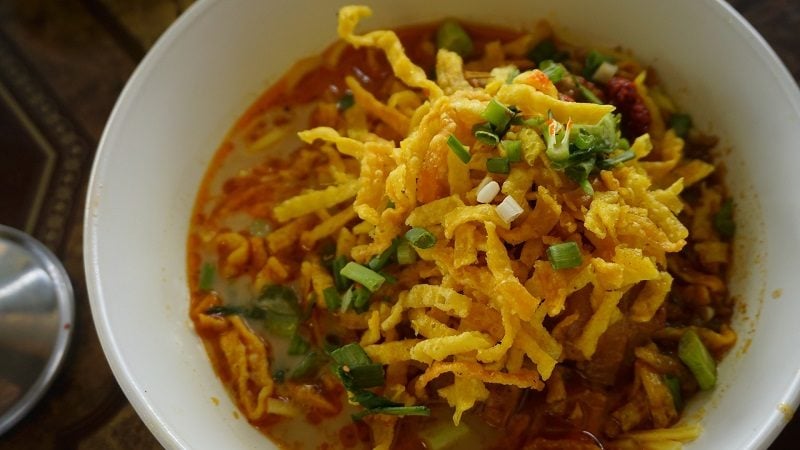 The price of a meal at a big name franchise take away restaurant should cost between 100-200 baht per meal.
For a sit-down meal at a Western restaurant the cost can vary between 150-300 baht. A good Sunday roast meal should cost about 250 baht.
The big hotels offer buffets on Sundays and these cost between 300-500 baht.
Coffee
 If you like to drink coffee then Chiang Mais is the perfect place for you, but you should know what your budget for this will be.
In the past 20 years the attitude towards coffee has completely changed and Chiang Mai is now famous for its range of cafes. Prices vary between 20-200 baht per cup with a wide variety of flavors available.
It's 20 baht per cup if you buy a coffee from a vendor on the street.
If you wish to sit in comfortable surroundings during the middle of the day then you can can use one of the many cafes, and the price of a cup starts at 40 baht. The advantage here is that you can use their internet and phone recharging facilities for free. There are hundreds of these cafes dotted around the city and they're even common in the suburban areas of Chiang Mai as well. 
At the high-end cafes, like Starbucks and other similar establishments, you can expect to pay 100 baht or more for a coffee and you should expect to be seated in plush surroundings in air conditioned comfort.
Of course you can brew your own coffee and a 250 ml bag of Arabica coffee will cost 140 baht. That's less than 5 baht per cup.
Alcohol
The price of alcohol varies in comparison to that found in other countries.
A bottle of local beer which is 620 ml costs only 49 baht but a bottle of wine will cost at least 600 baht due to the high importation taxes. Imported beer will normally cost 3-4 times local beer due to the same import tax. A number of lounge bars have opened up in recent years and drinks normally start at 200 baht.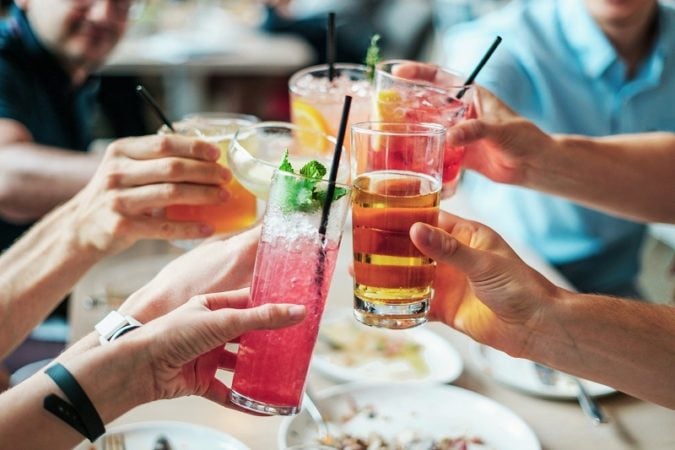 Alcohol can be bought from shops only before 2 PM and after 5PM until midnight. There are a number of religious holidays when the sale of alcohol is banned and it's also banned on election days.
Health
Chiang Mai has a good range of hospitals with highly professional medical staff, but the bottom line is that the cost of healthcare is unpredictable. For more information as to how you can pay a reasonable cost for your healthcare, please check this link.
Gym
Keeping fit is essential in Chiang Mai due to the high temperatures that are prevalent in the early part of the year. The average cost for a membership is 900 baht per month. A session is 50 baht per visit so it's advisable to get a package deal which reduces the cost considerably. You should end up saving 50% if you decide to do this. For more information check out how you can stay fit in Thailand at a reasonable cost.
Transportation Costs
If you live in Chiang Mai and don't have a car, the red songthaew is going to be your main option.
This will cost you 30 baht, but the downside is that you'll have to share the back of the truck with other people and that means it will take a while for you to arrive at your destination.
The tuk-tuk is a fabled icon of Chiang Mai and now there are electric versions which provide a much cleaner and quieter ride. The minimum you should expect to pay is 50 baht and it's best that you negotiate the fare before you step into the back seat.
Samlors are tricycles are three wheeled vehicles propelled by pedals and they've just about become extinct in Chiang Mai. They offer a cheap but slow ride and you shouldn't pay more than 20 baht to travel a few kilometers.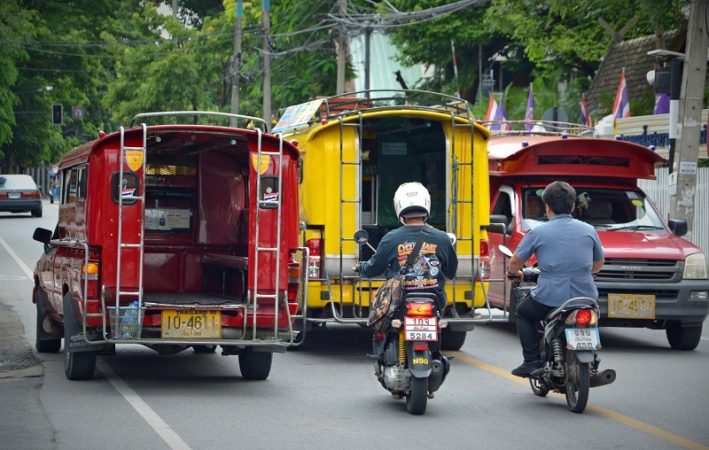 There are a few motorcycle taxis that you can take from the main bus station, but that's the only place you'll find them now. This mode of transportation shouldn't cost more than 50 baht per ride in Chiang Mai.
If you regularly take a taxi, then you might have to spend around 6,000 baht per month. There are regular taxis in Chiang Mai but they're quite rare. They start at 50 baht and they charge about 3 baht per kilometer. 
A service called Grab has in recent years taken much of their market away because they cost half as much and they can be booked via an online app. A variety of private cars are used by this service and you have to wait at a certain spot until you're picked up.
It is to your advantage to have your own private transportation. A motorcycle or a scooter should cost only 250 baht per day and you'll only pay around 2,500 baht per month or even less. You can rent a motorbike for 3,500 baht a month. And fuel should cost about 500 baht per month depending how far you ride each day.
A good late model car can be a good option to rent if you have a family to consider, and this will cost approximately 15,000 baht per month and the fuel costs will be around 2,000 baht per month.
Social Activities
It's important to have a good social life and the best way to do this is to have a hobby. Golf starts at 200 baht per round at the Gymkhana Club. They also play tennis, cricket, squash, disc golf, and petanque and memberships are open to all. 
Local music venues also serve as a highlight and most nights are free. However, some venues will charge an entry fee for special nights, but you shouldn't expect to pay more than 100 baht. 
There's usually some free entertainment at Thapae Gate every few months and this includes a Sepak Takraw tournament, a music event, or a special exhibition. The park at Buak Hat on the South-Western corner of the moat is the best and most popular park in the city and it's free, but if you wish to enter Doi Suthep-Pui National Park, it's 100 baht for adults and 50 baht for children. This park lies immediately outside of Chiang Mai and the natural splendor of the waterfalls and the jungle serve as a magnificent counterpoint to the city.
The Night Safari is the most famous tourist attraction in Chiang Mai and you'll be able to see a variety of wild animals from the safety and comfort of a secure vehicle. It's a great day or night out for the whole family and it's reasonably priced at 800 baht for adults on the Safari pram and 400 baht for children.
The Elephant Nature Park is another highlight of Chiang Mai and the good news is that it's free to enter. It's forbidden to ride the elephants and a contribution of 1,000 baht is expected from all the guests who visit these beautiful animals. You can bathe the elephants and walk with them on their daily sojourn to the local pond.
The big event in Chiang Mai every Sunday is the walking street market, which is situated on Ratchadamnoen Street. Entry is free and the market stretches for hundreds of metres in various directions, and usually there are thousands of people in attendance. It's a great place to pick up some gifts for your family members and there's also a Saturday Night market which has a great variety of food available at the various market stalls. Again, entry is free.
These are the must-do highlights for anyone who lives in Chiang Mai, but there are plenty of other activities that you can take part in that will make living in the city worth your time.
Holidays
Chiang Mai attracts a lot of tourism because of its beauty and relaxed vibe. The costs of accommodation and transportation are extremely cheap, too. When you live in Chiang Mai, you can enjoy spending a few nights in different places in order to have a break that offers both serenity and solitude if the big city life is getting a bit hectic.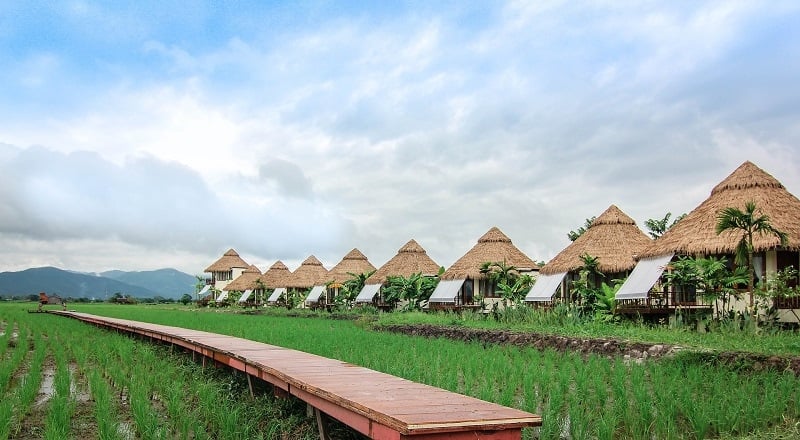 The average cost of renting a car in Chiang Mai is 800 baht per day and for eco cars the cost is around 500-700 baht per day. You should only be paying 2-3 baht per kilometer or ⅝ of a mile.
Accommodation costs vary wildly.  A hostel in Chiang Mai starts at 90 baht per night but you'll be expected to share a dorm with a group of other people. A 3-star hotel varies in cost between 400 baht up to 1,000 baht and if you fancy staying in a 5-star hotel then the starting price is approximately 5,000 baht per night. 
Most holidaymakers spend about 1,000 to 1,500 baht per day in Chiang Mai.
Movies and TV
There are four movie theaters operating in Chiang Mai and they're situated in shopping malls at Promenada, Maya, Central Festival, and Huay Kaew.  The theaters are spacious and clean, and the screens are huge and sharp. Theater seats are comfortable and there's usually a good selection of English, Thai, and foreign movies.
Movie tickets are reasonably priced at 100 baht, on average.
However, popcorn, snacks, and beverage prices are overpriced as in many cinemas around the world. In fact, a popcorn-and-soft drink set costs, on average, 180 baht, which is even more expensive than the price of a ticket.
On average, you should expect to pay around 350 baht for a movie, popcorn, and drink.
In past years a European Film Festival has been held at Maya Resort Shopping Mall.
There are a variety of options that apply to all of Thailand and they can be referenced here.
Maid Services
Maids can make life easier for you by doing a variety of household tasks including transporting your children and thus saving you lots of time. A full-time maid should cost around 15,000 baht per month and if you want a part-time maid then this should cost about 2,400 per month.
Laundry Services
The laundry service cost in Chiang Mai is cheaper than in other parts of Thailand and it is calculated either by piece or per kilogram. It costs 20 baht per piece or 40 baht per kilogram, on average. Laundry services will allow you to pick up your clothes after 24 hours. Your clothes will be clean, ironed, and wrapped in a plastic bag, but it's a good thing to double-check your clothes before leaving the shop.
There are many laundry shops located around Chiang Mai and you can expect to pay 10 or 15 baht per item. It takes 1 day for them to complete their services and they're often found in the side streets in the inner city.
Education
If you have children and the necessary finances then Chiang Mai offers a great place to get your child a high-class education. The most famous of these schools are Prem, Grace, and Lanna, which are all international schools. Expect to pay at least 50,000 baht per term. You should be aware that you can't enroll a foreign child into a Thai government school.
Haircuts and Haircare
A normal haircut for males costs 100 baht to 200 baht at a local barbershop. These are the older establishments that are a little bit run down, but the great thing is they remember your name and you can have a friendly conversation with them. 
A haircut from one of the newer barbers will cost between 200-400 baht. The costs for a female haircut tend to be about 25% more.
If you want your hair to be treated with care and attention then there are many beauty and hair care salons dotted around Chiang Mai. The starting price for these is 500 baht.
Visa
One big advantage that Chiang Mai has is that the Immigration office is close to the airport and is easily accessible. The staff are thoroughly professional and you'll have an easier time with your visa than in other parts of Thailand.
However, sometimes you might have to make a ''border run'' either in a bus or a van up to Mae Sai or Mae Sot and that will cost at least 600 baht. After you've made one land border run in a calendar year then you'll have to make a border run by air to a neighbouring country such as Laos, Vietnam, or Malaysia. This should cost about 2,500 baht under normal circumstances but during low season the cost can be half that. This will occur if you haven't acquired the appropriate visa by the time your original ''visa on arrival'' has expired.
Average Cost of Living in Chiang Mai
Different people have different lifestyles so it's challenging to come up with an exact average for the cost of living in Chiang Mai.
Let me give you my personal experience in this matter.
My daily expenses are around 300 baht excluding rent. Sometimes I spend around 200 baht in a day. The rent is the biggest factor and for me, that's 7,500 baht, but of course you can rent a room for less than that. Therefore it's quite possible to live on under 20,000 baht per month.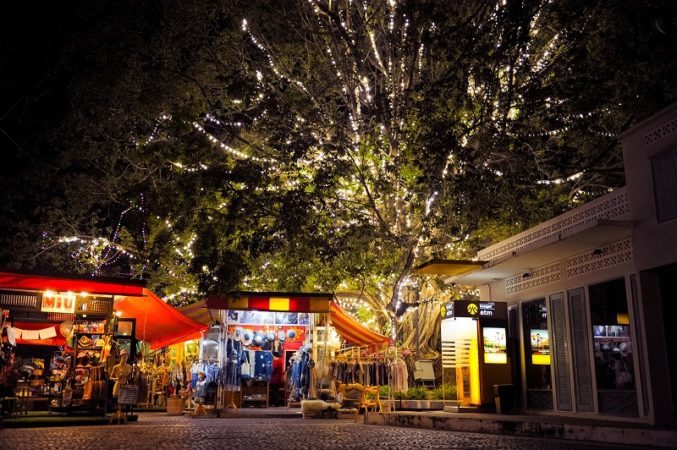 Most of the expats here who work for a living are either teachers or digital nomads. Teachers live on 40,000 baht per average but the teachers in international schools can make far more than that and some of them live accordingly.
People who work in the tech sector receive a higher salary which starts at about 60,000 baht per month. This enables them to save for their future, but of course some earn a great deal more than that.
And there is a large retirement community here who are living off fixed pensions and retirement funds from their working days in Western countries. That means their funds allow them to live on 75,000 baht per month, which enables a great lifestyle that also includes plenty of travel around Thailand and overseas.
What Part of Chiang Mai is the Cheapest?
If you are looking for the cheapest place to live in Chiang Mai you should look at living in areas such as Mae Rim, San Kamphaeng, and Hang Dong. There are still plenty of good cheap places in the city center near and around the moat area.
The cost of living in these cities can be very cheap, in some cases even less than 12,000 baht per month. You should know how to speak Thai, and you should accept the fact that you'll be living in an all-Thai environment which presents its own challenges if you're not able to make the required adjustments. 
How Much is Required?
In general you should be spending about 20-25% of what you would be if you were living in a Western country.
You can live comfortably in Chiang Mai for around 300 baht per day but this assumes that you don't smoke or drink and that you live in very cheap accommodations. Most people live in Chiang Mai live on 500 baht per day, and this should enable you to save up some money if you're careful.
A lot of expats who live in Chiang Mai live on approximately 40,000 per month and this allows them to drink socially, eat good meals in restaurants, and attend movies and concerts.
Of course the people who decide to live in the countryside just outside the city can live on 10,000 baht or less quite comfortably.  However, you'll be paying a lot more for fuel because of the distances that need to be traveled.
Please use our cost of living calculator to find out approximately how much you can live on in Chiang Mai. And don't forget to subscribe to our premium service. We have new articles coming out all the time that can make living in Chiang Mai far more enjoyable.