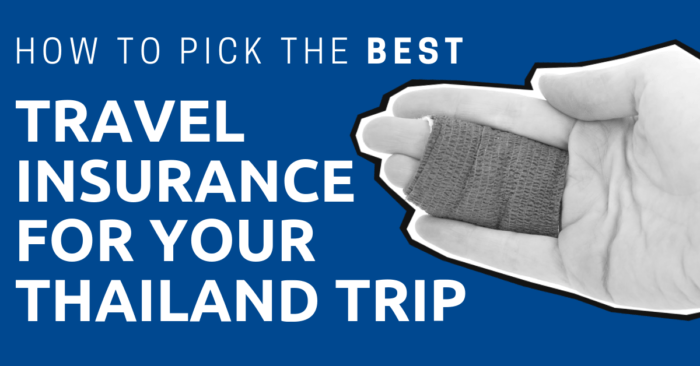 When you travel to Thailand, one of the things we usually think about while planning a trip is about whether to not should you get travel insurance.
While Thailand is known for medical tourism, you know that if something happens, your travel insurance may cover for those hefty hospital bills.
Without it, well, let's just say that your dream vacation can become a nightmare—I've seen it happen.
And if you think skipping out on the hospital bill is a slick choice, think again.
Some countries have reciprocal healthcare agreements with Thailand, meaning you must pay those hospital bills no matter where you go.
For a few extra dollars a day, invest in some peace of mind and buy travel insurance for your Thailand vacation.
In this article, let's take a look at key information to help you make an informed decision when buying travel insurance.
Travel Insurance with COVID-19 Coverage Requirement
Previously, if you want to come to Thailand, you need to have either health insurance or travel insurance with a minimum of $10,000 USD coverage for the duration of your stay in Thailand. It also needs to cover COVID-19.
While it isn't required anymore, it's still a good idea to find travel insurance that comes with COVID-19 coverage.
Travel insurance usually covers COVID-19 as a part of their emergency health coverage. This means that you won't be covered if you get COVID-19 before your trip.
To be safe, your insurance policy should also clearly state the COVID-19 coverage.
Depending on plans and providers, the coverage may also include the cost of a COVID-19 test as long as it is medically necessary and required by your doctors.
However, it doesn't cover the cost of a test that can be planned in advance.
Some might only pay for COVID-19 treatment if you visit a hospital. While some may suggest you to only stay at home and treat yourself since it's the government's regulations. .
In case you are looking for travel insurance that have good coverage, including COVID-19, you can check out Mister Prakan. They have affordable travel insurance plans for Thailand.
Travel Insurance Benefits
COVID-19 coverage shouldn't be the only factor in your consideration since travel insurance also gives you extra protection when traveling to Thailand.
Although Thailand is a safe place to travel in – physical attacks and other crimes are rare – you still need to keep your wits about you.
Here are some reasons that travel insurance can help you.
Traffic Accidents
In the cities, the streets can be a snarl of cars and motorbikes. When you add in high rates of drunk drivers, the road can be a dangerous place, especially at night.
As a pedestrian, you don't have the right of way. And when riding on motorbikes, you're increasing your chances of getting injured.
You should note that you need to have a Thai Driving License or International Driver's License while riding a motorcycle or driving a car. Otherwise, travel insurance might not pay you.
Outdoor Adventures
If you try risky activities like mountain biking, zip lining, scuba diving, or Muay Thai, accident can happen all the time. And safety is sometimes an afterthought.
Similar to Canada, if you are planning to do outdoor activities, it's better to get travel insurance. But it shouldn't be any insurance. You need to look for the one that cover risky activities or extreme sports. We will talk more about it later in the article.
Food Poisoning
Unhygienic street food or local restaurants, along with spicy and unfamiliar cuisine, can wreak havoc on your stomach. It's common for visitors to get food poisoning.
Jellyfish and Sharks
Jellyfish can be found at some beaches in Thailand and their sting can be painful or even fatal.
Although it's a rare occurrence, shark attacks do happen in Thailand. And sharks can be frequently seen on Thailand's beaches.
Infections
Rashes, fungal and bacterial infections, and other issues can develop in Thailand because it's so hot and humid and often unclean.
Do You Already Have Travel Insurance?
Before you buy travel insurance, check your health insurance plan and your credit card company to see if you're already covered.
Existing Health Insurance
Sometimes, your health insurance covers you for international travel. If you have health insurance, call them up and see if you're covered for travel.
They may exclude coverage for some travel scenarios. But then again, they might offer basic coverage.
Credit Card
What about your credit card? Will it offer you travel insurance while you're in Thailand? The answer depends on your credit card.
You might be able to get some coverage if you paid for the trip with your card.
For example, Standard Chartered Bank offers you Travel Accident Insurance Coverage when you pay in full for your airline tickets.
If your credit card offers travel insurance, call one month before your trip and give them the trip details. They may also cover you for flight delay and lost or stolen bags.
Sometimes your credit card covers you for medical expenses while on vacation. April International offers an upper limit for medical expenses of $12,800.
This can cover you for serious accidents or medical evacuations. But if you cancel your trip or if a thief steals your luggage, they'll refuse to cover you.
This insurance also lacks liability coverage, which covers you if you hurt someone or damage their property.
It's worth finding out what your specific credit card covers you for. But keep in mind that credit card coverage is a step-down from full travel insurance.
When Should You Buy Travel Insurance?
Buy travel insurance before you get to Thailand. Only some travel insurance companies insure you after you start your journey. World Nomads is one of them.
Start researching travel insurance ahead of time and buy it at least two days minimum before you leave.
For most travel insurance policies, you can book up to a year from your trip. But you can hold off until you're close to leaving.
If you want your travel insurance that covers you for cancelled flights, you should take it out the same time you buy your tickets.
Travel Insurance Companies
If you're wondering what the best travel insurance for Thailand is, that depends on how long you'll be in Thailand and what you'll be doing.
When you plan to be away from home for more than a few weeks, you'll probably need to seek medical care for a minor illness or injury, a cold or flu, or an accident.
For long term travel it's an excellent idea to look for travel insurance that gives you more health care coverage for an extended period.
If you plan to travel for several months to a year, you should look for long term backpacker travel insurance designed for trips of this length.
Of course, it depends on your specific needs, but here are a few good policies.
Keep in mind the prices below come from sample dates I entered for a traveler from America.
You may get different prices depending on your travel dates, age, and your home country. Or you can use Mister Prakan, an insurance brokerage company in Thailand, to compare different travel insurance plans in Thailand at once.
World Nomads
World Nomads is a personal favorite travel insurance of the ExpatDen's founder. They are designed for travelers and covers over 150 adventure sports.
When I checked the website, one month of coverage was $131.76 for the Standard Plan and $190.41 for the Explorer Plan.
The main difference between these two choices is that the Explorer Plan gives you more coverage.
To give you an idea, the Standard Plan include $5,000,000 for emergency medical expenses coverage while the Explorer Plan offers unlimited coverage.
Please note that price varies between each person. You can get your personal quotes and find out more about their coverage directly on their website.
ACS
ACS Globe Traveller by ACS offers three options of coverage limits: 150,000 EUR, 300,000 EUR, and 500,000 EUR.
All of their plans come with worldwide coverage, including Thailand. You also get emergency coverage when you go back to your home country on holidays.
The lowest coverage amount comes with 150,000 EUR (~$180,000) in medical coverage, which should be sufficient for Thailand. They also offer 300 EUR ($362) in emergency dental treatment and 4,500,000 EUR ($5,500,000) in personal injury cased to someone else.
ACS also covers your luggage and personal belongings if they are damaged, lost, or stolen. You get 2,000 EUR ($2,500) coverage in this case.
Trip cancellation, extreme sports, and sports equipment coverage are available as add-on.
Since Thailand is one of the main targeted countries of ACS, they always keep their plan up-to-date with the Thai government's latest regulations. This means you can use it to travel to Thailand and will be covered for COVID-19.
SafetyWing
SafetyWing is a budget choice for travel insurance in Thailand.
Their plan starts at $42 every 4 weeks for those who are younger than 39 years old, and it comes with a $250,000 overall limit.
If you are between 65 to 69 years old, then you need to pay $144.76 for a four-week coverage period.
In addition, you are covered for every country, not just Thailand, except your originating country and the United States.
If you want to be covered for the United States, then it's going to cost you two times their standard price.
However, it is important to note that all of their plans come with a $250 deductible for medical expenses per certificate period.
They also have a lifetime maximum on emergency medical evacuation ($100,000). Overall, SafetyWing is a budget choice if you are okay with paying a deductible and haven't made a claim for the emergency medical evacuation with them yet.
Allianz Travel Insurance
Allianz Travel's One Trip Prime Plan gets you $1,000 in coverage for lost or damaged bags, $50,000 for medical emergencies, and $500,000 for medical evacuation.
One good thing about Allianz is that they offer add-ons for pre-existing conditions. Unfortunately, a US resident cannot have it.
So if you have a chronic injury or disease, you can get coverage for it in case something happens in Thailand.
Also, Allianz covers kids under 17 for free if they travel with a parent or grandparent.
AXA
AXA has a SmartTraveller insurance plan that offers a lot of the same coverage as the insurance companies already mentioned.
But AXA doesn't specifically say how much coverage you get on their website or the PDF version of their policy.
So if you're interested in getting coverage through AXA, you have to call one of their reps.
Navigator
Navigator is a desirable choice for a year-long trip to Thailand if you travel from Europe and the UK.
They have a Navigator Backpacker policy for £193.75.
This offers basic coverage for emergency medical expenses up to £1,000,000, and they protect your personal things for up to £300.
The Navigator Longstay is £254.42 for the year and covers you for £5,000,000 of emergency medical expenses.
Seven Corners
If you take a three month-trip to Thailand, check out Seven Corners' Roundtrip Elite Plan.
You can get it for trips of 90 days or less.
You get 100% coverage for cancelled trips, trip delay for $1,500, emergency accident and medical expense for $250,000, and medical evacuation for $1,000,000.
Plus, they cover you for $2,500 for lost, stolen, or damaged bags.
Tick Travel Insurance
If you're an Australian, Tick Travel Insurance is another great choice if you travel to Thailand for 30 days.
They offer a Basic Plan for $48.99, which includes unlimited medical expenses, but lacks coverage for electronics, valuables, baggage delay, or cancelled trips.
As far as cheap travel insurance for Thailand, this was the cheapest I found.
If you pay $80.41 for the Standard Plan, you get unlimited medical expenses.
You get $5,000 in coverage for cancelled trips, $10,000 in emergency expenses, $300 in baggage delay, and $2,000 in electronics coverage.
AIG
AIG offers two travel insurance plans for Thailand: Domestic Plan A and Domestic Plan B.
Plan A covers accidental death and dismemberment and medical expenses. Plan B covers the same but adds emergency evacuation to your coverage.
With Plan A and B you get $3,200 in coverage for medical expenses. With Plan B you get $1,500 in coverage for emergency evacuation.
The downside to AIG travel insurance is that they won't cover you if you get food poisoning in Thailand and have to go to the hospital.
I'd worry about this since there's a good chance, you'll get food poisoning in Thailand if you stay here long term.
Travel Insured International
The Worldwide Trip Protector Plus from Travel Insured International came up as $831.23 for a six-month trip.
It's the right choice if you travel as a family since it covers children at no added cost.
This policy offers $12,000 for cancelled trips, $100,000 in medical coverage, $1,000,000 in medical evacuation coverage, and 24-hour emergency help.
Travel Insurance Plans Explained
When you buy travel insurance there a few things you must consider, such as:
Restrictions
Coverage
Exclusions
Conditions
Add-ons
Let's look at each one a bit closer.
Restrictions
The requirements for travel insurance are usually based on age and location. You can get travel insurance from most companies if you're 70 years or younger.
If you come from a certain country, travel insurance companies may deny you coverage.
When buying travel insurance, it's best to check with the insurance company about their age and location requirements.
Coverage
The most important part of the policy is the medical coverage. But you should consider coverage for other things as well.
For example, if you have valuables or you plan to take part in adventurous sports, you need to buy insurance that covers those things.
Let's look at what a typical travel insurance policy covers you for.
Delayed Flights
When your flight gets delayed, it can become a huge pain and can add up to some unexpected costs, such as having to stay more nights in a hotel.
So, make sure your Thailand travel insurance covers you for flight delays because your airline may deny responsibility.
Usually, single-trip insurance protects you on your way back from your trip to Thailand.
Multi-trip insurance protects you from delays occurring within any of the trips you take while covered by that policy.
Before you can get reimbursed, your flight must be delayed for a minimum number of hours.
The fine print of your travel policy tells the length of time. But it's around six to 12 hours, sometimes shorter.
When you make a delayed flight claim, make sure you gather all flight details and ask the airline for a report that confirms the fight delay and the cause.
You can then contact your travel insurance company to start filing your claim.
Property Damage
It's important to also choose a travel policy that covers you in the event of any damage that occurs to your property while you're in Thailand.
Airlines can mishandle your bags and break something, or a tour guide can drop your backpack and crack your camera lens.
Most travel insurance covers your personal effects up to a limit such as $375.
This is enough to cover your small camera or phone. But it may be insufficient to cover the loss of your laptop or more expensive electronics.
Some plans may come with loss of travel documents coverage. This could come in handy if you lose your passport and must pay to get an emergency passport at your embassy in Thailand.
Stolen Bags
If someone steals your bags during your travels in Thailand, travel insurance usually protects you.
But if you leave your bag unattended at a bus station while you go to the toilet and someone steals it, your insurer might deny you coverage.
When it comes to making a claim, you need to hand in the paperwork for proof of purchase and a police report if someone steals your phone or wallet.
You should notify Thai police and get a written report within 24 hours of the theft.
Make sure you ask how the travel insurance company reimburses you for your lost or stolen bags.
Will they cover the depreciated value of the personal items? The full value of your things? or will they replace your stolen or lost items?
Many travel insurance companies put a limit on the payout for valuable items like laptops and cameras.
For example, you might get a $660 single item limit and a $660 valuables limit.
For most people this is adequate coverage. But if you're carrying something of high value in your luggage this may be inadequate.
If you have an item of high value, you need to insure it by adding an extra to your policy.
Lastly, think about what your things are worth before getting insurance add-ons.
If you travel with a high-end camera that would be expensive to replace, it's worth paying extra for theft coverage.
But if you're a minimalist backpacker carrying a few clothes, you may find the cost of replacing your things cheaper than the cost of the insurance.
Injuries
Travel insurance should cover medical emergencies and injuries. In the larger cities of Thailand, especially in Bangkok, medical care is on par with Western cities.
Once you travel out to the rural areas of Thailand and find yourself in small villages, these changes and hospitals can be lacking.
A decent travel insurance company offers at least $100,000 in medical coverage care.
If you have a more upscale policy, you'll be covered for more, although it might be overkill.
Find out whether your travel insurance policy covers you for an airlift if you hurt yourself in a remote location. They should cover you for at least $300,000.
Also, check how they evacuate you from the hospital in Thailand back to your home country. It should at least cover you for up to $300,000 for emergency medical evacuation.
Sickness
Your travel insurance covers you for unexpected illnesses or injuries that are life threatening or that need to be treated at once.
Exclusions
Insurance companies won't cover you for everything during your trip in Thailand. It works the same as private health insurance in Thailand.
Here are some of the things they exclude:
COVID-19
Many insurance companies will not pay for COVID-19 treatment if you get COVID-19 fourteen days before your trip to Thailand.
They also might not cover COVID-19 if an organization such as the Centers for Disease Control and Prevention or FCDO do not recommend travel to Thailand because of COVID-19.
Motorcycles, Motorbikes, and Scooters
Some travel insurance companies may refuse to cover you if you get injured while driving a motorcycle, motorbike, or scooter.
Even if you get a motorcycle license in Thailand you may not be covered since it may also depend on motorcycle engine size, what license you need to have, and do you follow traffic rules or not.
With most travel insurance plans, if you get into an accident on your motorbike while you're drunk or does not wear a helmet, you must pay for hospital bills yourself.
Drugs and Alcohol
On the party islands of Thailand, you can buy cheap buckets of mixed alcohol and energy drinks and dance on the beach until the sun comes up.
But if you drink a lot of alcohol you increase the chances of getting hurt or making poor decisions about your safety.
Many travel insurance companies deny you coverage if you hurt yourself while drunk.
Also, drugs are easy to find in Thailand. But buying drugs in Thailand can get you into trouble with the police and the Thai legal system.
If anything happens while you're under the influence of drugs, your travel insurance is void.
Plus, Thai authorities have strict laws for people they catch having or selling illegal drugs. You could face the death penalty.
Have fun while in Thailand but be smart about it. Avoid heavy drinking and drugs—your safety comes first.
Sports
If you plan to take part in risky activities in Thailand, like scuba diving, Muay Thai, bungee jumping, and jet skiing, you might find it hard to get coverage.
Usually the underwriter sees them as dangerous activities. But in some policies, you can add these activities on as extras. u get a stainless-steel dog tag with your name and policy number, so you can leave your paperwork in your room.
Decide which activities you want to take part in while you're in Thailand and then search for a policy that covers them.
Sexually Transmitted Diseases
Many travel insurance companies refuse to cover you if you get a sexually transmitted disease in Thailand.
So have fun. But make sure you always bring condoms with you—and use them.
But travel insurance does cover damages to you and your things if you are a victim of a crime. So, if someone rapes you and you get an STD, you're covered.
For the insurance company to consider this claim valid, you must report the crime to the Thai police.
In some cases, your travel insurance plan may cover you for any legal fees you incur as the victim too.
Terrorism
Many travel insurance companies exclude terrorism.
But after the August 2015 Bangkok bombings some travel insurance companies covered their clients if they were injured from the bombing.
They also covered them if they had to cancel their trip at the last minute and failed to get a refund from airlines and hotels.
But this can vary depending on the travel insurance plan.
So, make sure you read the fine print, contact your insurer, and listen to government warnings.
If you travel to Thailand when official government warnings urge against it, insurance companies may refuse to cover you if you get sick or injured.
Conditions
When it comes to buying travel insurance, scrutinize the conditions on the policy. Below are three of the most common conditions you might come across.
Cancellations and Non-Extensions
Your travel insurance may reimburse 100% of your prepaid travel costs if you cancel your trip due to unforeseen events.
This could include weather issues, natural disasters, injury or illness, court summonses, traffic accidents, property damage, terrorism, and more.
But travel insurance companies may refuse to cover you in some cases.
For example, they won't cover you if you cancel because your trip gets too expensive or because you think the weather is uncomfortable.
Some policies may let you cancel your trip for any reason though.
Pre-Existing Conditions
Travel insurance companies generally refuse to cover pre-existing conditions.
This means if you need medical treatment while in Thailand for a pre-existing condition, you'll have to pay out of pocket.
If you suffer a heart attack because a tuk-tuk hits you, you're covered because the tuk-tuk caused the heart attack.
But if you have a history of heart disease and have a heart attack and fall in the path of the oncoming tuk-tuk and get injured, you have to pay out of pocket.
Some travel insurance covers your medical costs related to pre-existing conditions by offering a waiver to the exclusion.
Also, you can get special travel insurance plans designed for people with pre-existing medical conditions.
Medical Evacuation
If you get injured or sick in Thailand and you need to be evacuated, it can be expensive, which can be over $100,000.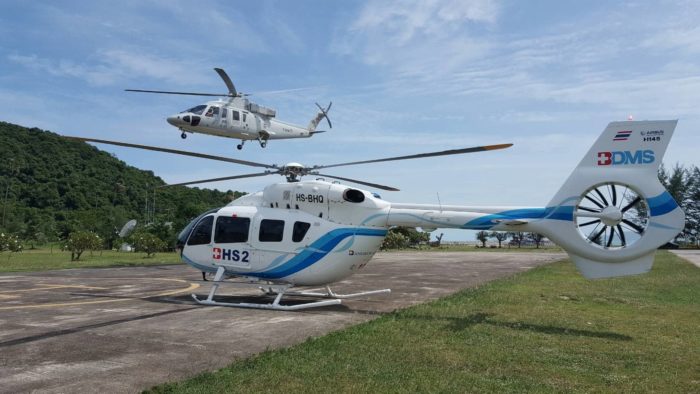 You want to make sure you're covered for airlifts to a hospital in Thailand for emergency treatment.
And you want coverage for transportation back to your home country when the hospital in Thailand clears you.
Some insurance plans may even cover the cost of bringing a friend or family member to your hospital or returning your kids home.
Add-ons
A typical travel insurance plan covers most of the basics. But there are certain add-ons you might want to get within your plan.
For example, if you plan on driving in Thailand you may want to buy an add-on which covers any damages that may occur to the rental car.
You can also add on third-party liability insurance which would cover the other people involved if you got into an accident.
How to Make a Claim
What happens when something goes wrong and you need to make a claim on your travel insurance?
You need to visit the website of the travel insurance company and download the necessary forms.
You also need to send over evidence of your expenses, such as receipts, and medical forms.
If you file a claim for theft, you need to send in a copy of the police report from when you reported your stolen things.
When it comes to baggage delays, you must get a letter from the airline that confirms the flight number, the reason for the delay, and the delay period.
Read Fine Print
It's important to read the fine print on your travel insurance policy to make sure you're covered for what you think you're covered for.
If you just skim through your policy, you could have an unwanted surprise when it comes to making your claim.
Save Important Info
Make sure you save all paperwork for any medical treatment you receive in Thailand.
This includes receipts from the pharmacy for any prescriptions and printouts of medical results.
You need to show the insurance company what you were treated for you and how much you paid.
It's better to gather more evidence than may be necessary than to have enough insufficient paperwork.
So ask the hospital to print any information, receipts, and other details about your visit.
Get Prior Authorization
What does it mean when your travel insurance policy says you need prior authorization?
This means your insurance company must agree to cover medical procedures or prescribed medications.
This is to prevent any unnecessary procedures or expensive prescriptions when generic ones are available.
If your travel insurance company must authorize medical treatment before you get it, and you forget to ask them, they may consider your claim void.
So, make sure you know if you need prior authorization. And always call the travel insurance company before you see a doctor in Thailand.
Collect Reimbursement
It may take quite some time for travel insurance companies to reimburse you because they need to process the claim and see if it's valid.
Once they've approved everything and have decided to reimburse you, they mail you a check. But they can also reimburse you through direct deposit.
Emergency Contact List
| | |
| --- | --- |
| Emergency Contact | Phone Number |
| Tourist Police | 1155 |
| Police | 191 |
| Ambulance and Rescue | 1554 |
| Fire | 199 |
| Crime | 1195 |
| Australian Embassy in Bangkok | +66 2 344 6300 |
| Canadian Embassy in Bangkok | +66 2 646 4300 |
| American Embassy in Bangkok | +66 2 205 4000 |
Watch Out for Fake Travel Insurance
Whenever or wherever you buy travel insurance, know that travel insurance scams exist.
While on a scuba diving vacation in the south of Thailand, Karsten was offered insurance by the dive trip operator.
Karsten asked to look over the insurance policy, and while thumbing through the fine print, found out the policy excluded diving-related accidents or expenses.
Upon further reading, he discovered the travel insurance was downloaded from the internet.
While on another trip to Chiang Mai, Karsten rented a motorbike and took out a 100-baht-a-day insurance.
The motorbike he rented wound up breaking down, and when he called for help, a one-man team showed up to pick up the bike.
But when the man tried and failed to load the bike onto the back of the truck himself, Karsten had to help him.
Travel insurance packages offered by dive shops and motorbike rental shops can be handy for breakdowns of their own equipment.
But when it comes to medical and emergency care, nothing replaces real travel insurance bought from a real insurance company.
Now, on to You
There are many travel insurance plans available. You should read carefully on their fine prints and coverage to make sure that you get the right plan on the right price.
If you are still not sure which one to choose, just check out Mister Prakan.