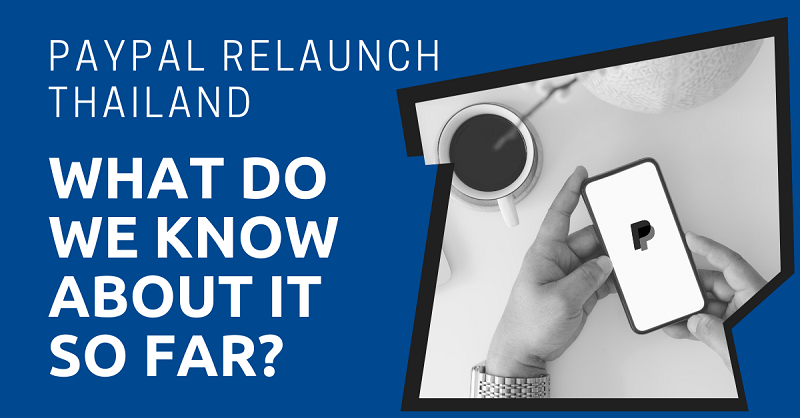 If you have a PayPal account in Thailand, you may have already received an email regarding its upcoming relaunch in Thailand.
If you haven't read it, the email said that all PayPal accounts in Thailand will be transferred to PayPal Thailand later this year.
And that if you want to keep using PayPal in Thailand, you need to register with your Thai National ID (NDID). Otherwise, you won't be able to use the account anymore.
Having said that, let's look more into PayPal's relaunch in Thailand and what it means for you and your account.
Why PayPal Relaunch?
One of the main reasons PayPal is relaunching in Thailand is because the Thai government wants to tax Thai freelancers.
Previously, a majority of Thai freelancers who worked for international clients, including freelancer platforms such as UpWork and Fiverr, didn't have to report or pay income tax from the money made on these platforms in Thailand.
Therefore, the Thai government came up with the NDID in order to increase cyber security as well as monitor income from freelancers and tax them correctly.
The PayPal relaunch mainly impacts PayPal personal accounts.
To apply for a business account, you still need company registration, proof of address, and identity verification.
When Does this Go into Effect?
PayPal has been gradually implementing these new regulations since 2021.
Right now, if you don't have a PayPal account, unless you use a VPN, you cannot sign up for a new personal PayPal account if you're in Thailand.
It's expected that you will be able to sign up for a Thailand account again later in 2022.
If you already have a PayPal account, then you need to enroll with the NDID before October 2022.
Can I Apply for a NDID?
Unfortunately, the NDID is only available to Thai citizens at the moment.
Can I Still Use My PayPal Account After the Relaunch?
Since foreigners cannot get an NDID at the moment, you might not be able to use PayPal in Thailand after October 2022. We will update this section when PayPal confirms this.
However, you should still be able to use PayPal account in other countries.
What Should I Do Then?
If you already have a PayPal account and use it to pay for services in Thailand, it's recommended to withdraw all of your Thai baht and use another service provider instead.
Are There Any Alternative Services?
You can check out Wise Multi-Currency Account.
It's basically a virtual bank account that lets you receive over 10 currencies including USD, EUR, CAD, AUD, and so on.
Then, you can convert these currencies into Thai baht and send them to your Thai bank account.
The only limitation is that there's a cap of THB50,000 per transaction, unless you use Kasikorn Bank, Bangkok Bank, or SCB.
You only pay a currency conversion fee of around 0.5 percent from the mid-market rates as well, and another THB35 fixed fee for transferring money into your Thai bank account.
Depending on your nationality, you can get a Wise debit card as an alternative card payment as well.
You can read our review of Wise's Multi-Currency account for more info.