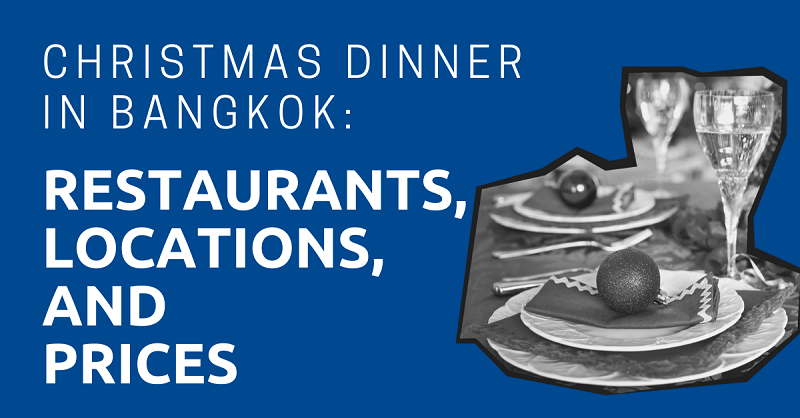 It was around seven thirty. The staff came out and lined up on the floor. I took a bite of my chicken, watching closely, then put my fork down, grabbed my daughter, and balanced her on my knee. We both peeked over the balcony of the second level, where we had been eating our dinner. The music came on and the staff below us began to sing and dance. They slid their feet and circled their hands. My daughter, enjoying the theatrics, tilted her head left and right to the rhythm of the music.
From the inside, it would've been hard to tell that we where in the middle of Bangkok, celebrating what would normally be a cold and snowy night in New Jersey. But if you looked past the decorations and the giant tree, toward the front door, just through the stained-glass window, you could make out the colorful taxis and speeding motorbikes and fish ball peddlers. All of which give Bangkok it's unique character.
And there's nothing wrong with that. But every Christmas, I feel the need to do the day differently. And that means taking the family to one of our favorite restaurants for a Christmas dinner. Below are three of my favorite spots. I've included them, not just for the food, but for their ambiance and service.
Bei Otto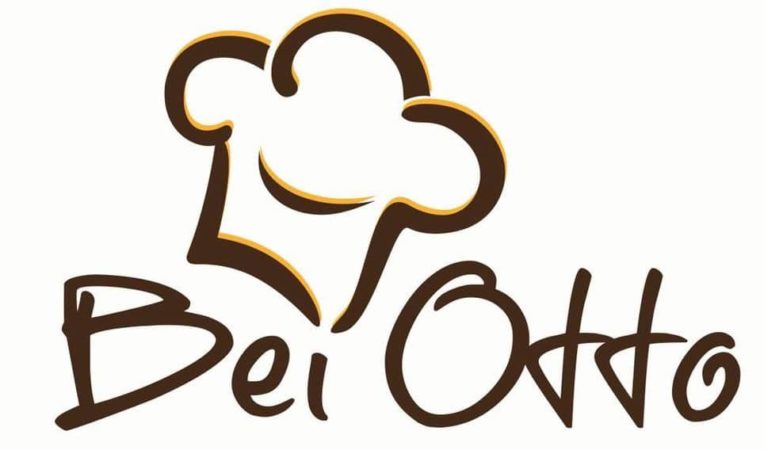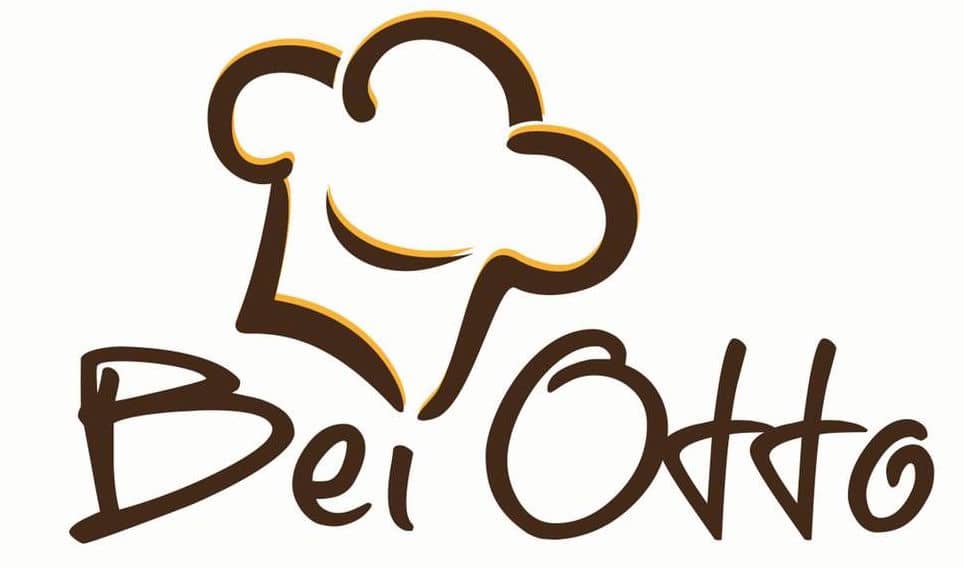 Otto Duffner opened Bei Otto in 1984. The restaurant was small and simple. But over the last 30 years the German eatery has developed into a one-of-a-kind restaurant. Aside from the eating area, they have a wine bar, a deli, a bakery, a butchering facility, and an eat-in diner.
Whenever I take my family out to eat, Bei Otto is always on top of my list. The restaurant holds a special place in my heart. So I might be biased by including this restaurant on my list. But then again, maybe not. It looks like I'm not the only one who feels this way.
It's not so much the food that gets me—although it's up there with my Oma's home-cooked German meals. It's the ambiance. Looking at Bei Otto while standing on Sukhumvit 20, you'd never guess you had your back to Bangkok. I don't know how they did it, but the owners managed to redesign the existing structure to make it look like a German cottage, or what they call a "schwarzwaldstube."
Every time I eat at Bei Otto I forget, if just for a few hours, that I'm in the heart of Bangkok. The motorcycles and tuk-tuks and street vendors are silenced on the inside of the cottage, where the family-style seating and pictures on the wall and wood trimmings and smells of sauerbraten and goulash, and the taste of potato balls and cucumber salad, all remind me of Christmas dinners at my Oma and Opa's house.
Location
Bei Otto is located in Bangkok on Sukhumvit 20, between BTS Asok and BTS Phrom Phong.
Food
Bei Otto serves mostly German food. Their menu consists of kartoffel-lauchsuppe, a potato leek soup topped with crispy bacon and served in a bread bowl, as well as German classics like sauerbraten, rinderroulade, and rindergulasch. They also have a selection of vegetarian dishes and sandwiches.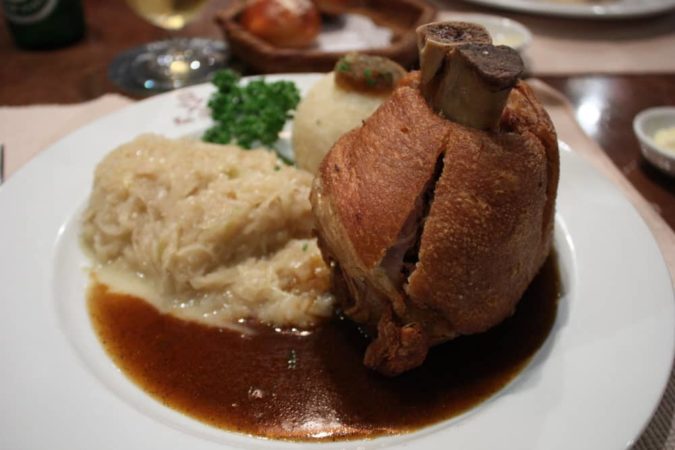 Service
I've never had any issues with the service at Bei Otto. The staff are attentive and often come by the table to check how you're doing. And they all dress in traditional German outfits. Except on Christmas, where they dress in another traditional outfit: Santa's.
Prices
Just because you're in Thailand don't expect to get Thai prices at Bei Otto. Your food bill will run you the same as it would had you eaten at a German restaurant back home. On average, appetizers and salads cost about 200 baht, soups about 185 baht, dinner about 400 baht. Finally, desserts will run you about 200 baht.
Bourbon St. Restaurant and Oyster Bar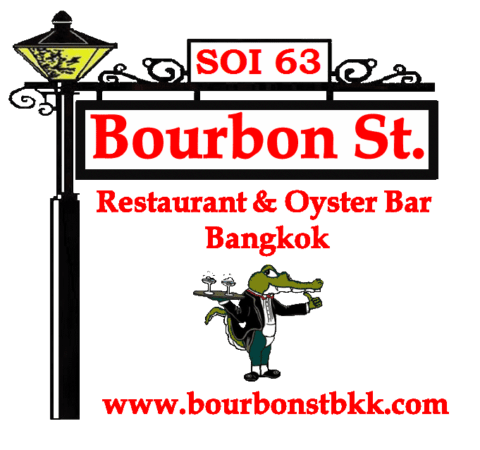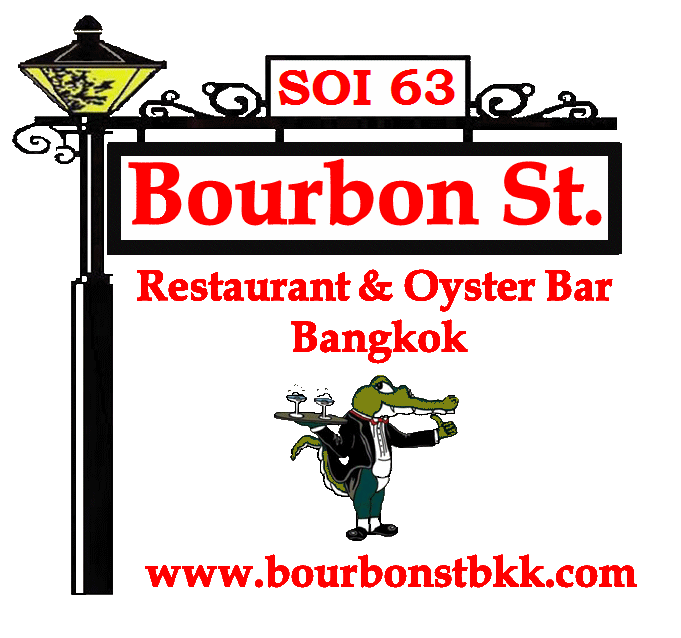 Doug Harrison opened Bourbon St. Restaurant and Oyster Bar back when the New York Mets won their second ever World Championship in unforgettable fashion. And although the Mets have never won a championship since, Bourbon St. has continued to win. Bourbon St. has been transformed from a small restaurant to a entire building, complete with New Orleans-style apartments.
I've never been to Bourbon Street in New Orleans. But I have been to Bourbon St. in Bangkok a handful of times—once on Christmas. And if you ask a Yankee like me, they've nailed what I expect to be the Southern experience.
The owner makes his rounds to each table, introducing himself to new patrons while catching up with old friends. The staff are cheerful and take pride in their work.
For the restaurant, it does give off a Southern feel. The outside of Bourbon St. looks like it belongs on, well, Bourbon Street. On the inside, a bar spans the first floor dining area. And the second floor seating overlooks the entire restaurant.
Location
Bourbon St. Restaurant and Oyster Bar is located on Ekkamai Road, down the block from BTS Ekkamai.
Food
Bourbon St.'s Christmas buffet is perfect for families. If you plan on having lunch or an early dinner, you'll have to make reservations from 12:00pm to 4:00pm. After 5:00pm, it's first come first serve. Their buffet has over forty items, including salads, pastas, seafood dishes, a variety of meats, and desserts.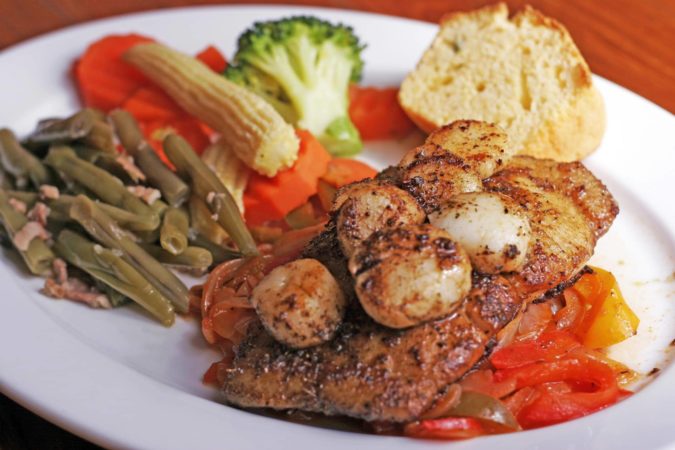 Service
The staff at Bourbon St. are always within arms reach. And if you decide to order something other than the buffet, you won't have to wait long for your food. If you're a veteran Bangkok foodie, then you're used to getting appetizers after or during your main course. But at Bourbon St., everything comes out in the expected sequence.
Prices
The Christmas buffet at Bourbon St. costs adults 999 baht. Kids under five eat free. Five to ten years old and ladies over seventy pay 500 baht.
The Stockroom


There's not much info floating around the internet about The Stockroom. In fact, they don't even have a website. But with pizza as good as theirs, they don't need one.
The first time I went to The Stockroom they had me for life. But from the outside the place doesn't look like much. One time, I went there with some friends and the restaurant was closed. One of my friends thought it was abandoned.
But don't be mistaken. On the inside the restaurant is everything you'd expect from a place that specializes in pizza. The eating area is set up like a pizzeria. Long benches and tables circle the inside walls of the restaurant. A lounge with some couches and a pool table make up the deep interior. And of course, TVs. Lots of TVs hang on the walls.
Location
The Stockroom is located near BTS Bearring. From the station, you take a five-minute taxi trip down Sukhumvit 105 or 107. The restaurant is on Soi Bearring, between Sukhumvit 105 and 107.
Food
The Stockroom has a variety of dinners on their menu. But what separates them from most other restaurants is their pizza. If you've ever ordered pizza from Pizza Co. or Domino's, then you're familiar with their crabbed-topped oversized-crust pizzas with canned sauce. The Stockroom, on the other hand, is the closest thing I've had to real New York City style pizza in Thailand.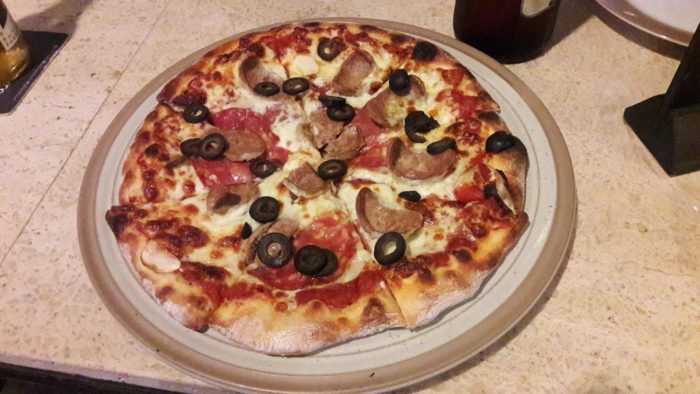 Service
Staff usually don't make their rounds at The Stockroom. But the place is small enough that if you garner the attention of your waiter or waitress, they'll notice you. They're also friendly and don't mind chatting it up with patrons.
Prices
The Stockroom's Christmas three course meal is only 795 baht per person. The dinner includes a soup or salad, turkey breast and ham, and pudding and pie.
Final Thoughts
Whether you're looking for a small eatery or a large restaurant to eat Christmas dinner at in Bangkok this year, I hope these three less-talked about options will help. And how about you? Where's your favorite place to eat Christmas dinner in Bangkok? Let me know in the comments section below.
Photos courtesy of Krista, Bourbon St, and The Stockroom.