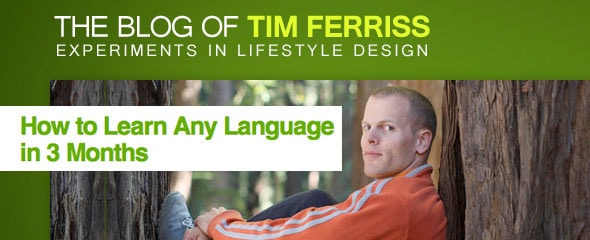 Can you learn a language in three months?…
When revamping WLT I discovered several timestamped posts the never saw the light of day (WP gremlins working overtime). This is one.
Gotta love this guy. Tim Ferris' post, How to Learn Any Language in Three Months gets into wonky theories for learning languages. If you remember, back a few years I wrote about his previous advice in Thai Sentence Deconstruction. It received mixed comments.
Just my opinion… In learning Thai, if you work hard, three months is barely enough time to attain a smattering of a vocabulary, start using simple sentences, and get your ears used to Thai tones (but your mouth might take longer to catch up).
Btw: If you want to see what real motivation looks like, read Paul Garrigan's series: My Quest to Speak Fluent Thai in Six Months
Anyway, to help out Tim's theory I've matched available Thai resources with his advice.
Tim's three months promise boiled down to a few key points…
1) Choose learning methods and study materials that interest you.
As Nils mentioned in Learning Styles and Language Learning, mixing and matching learning styles just might suit you best. And for Thai study materials, the huge amount of Thai resources I compiled to go along with tips from David Mansaray and Robert Bigler in How to Learn a Language in a Foreign Country should be enough to get your whistle wet.
2) Start out with the most common 100 words (spoken and written).
This is an idea I stand behind, which is why I created a Top 100 Thai Vocabulary series: Compiling a Top 100 Thai Vocabulary List and A Top 100 Thai Word List Created from Phrases and UPDATED: Top 100 Thai Vocabulary List. Choosing the top 100 Thai words is not an exact science but I had fun trying (and I'm not done yet).
3) Once you are comfortable with sentence structure, start adding more words.
This is yet another subject covered on WLT in the post Thai Frequency Lists with English Definitions. That's a lot of words.
So here's a question for you. What do you think of Tim's claim that you can learn a language in three months? How about six months even? Or two years? Which reminds me, there's a post on learning Thai in two years waiting to be set free…
Of course, there are many variables to learning a language – available time, motivation, brain space, prior experience with learning languages, decent study materials even.
And if everything was on your side, how much could you realistically accomplish?