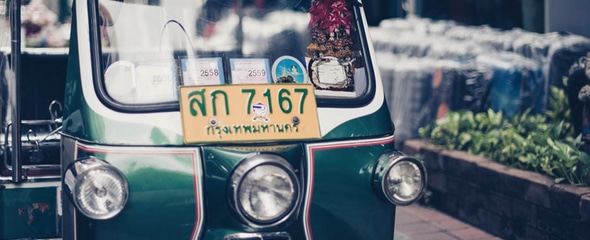 So, there I was: sitting in the same old café, listening to my cheerful old friend talking about all the fun she had while teaching English in Thailand, when suddenly I felt very old. I'm still what they call young, but at that moment I swear I was ancient. Something was missing from my life. And then I realized I had been listening about it for the last hour, in between sips of coffee.
I needed to go live abroad for a while! I needed to learn a new language, become friends with a new culture. The country I chose was Thailand. I had visited it before as a tourist, and fell in love with it, but this time I was going to get a teaching job there and finally learn Thai.
And that's exactly what I did. I got a teaching job there. Now I was faced with the second part of my wish: learning the language. I had tried learning Thai, spent a lot on courses, but made no major progress. My pronunciation was terrible and my vocabulary limited. That got me worried. What if I wasn't gifted enough to learn Thai? What if I get really disappointed? Perhaps it was just too difficult?
I'm sure many people feel like that when they're about to embark on an adventure quite different than any before. The adventure in question here wasn't just living in Thailand, but learning Thai too!
However, as I soon realized, there are ways of successfully learning a language no matter where you live! It is, of course, extremely valuable to communicate with native speakers on a daily basis if you wish to learn it quickly, but there are a few more things you can do. This is what I did in order to learn Thai fast:
1) I moved to Thailand…
Okay, yes, I know – easier said than done. You might not be in a position to move to Thailand, but I had already signed my contract, so for me it wasn't an issue.
As it turned out, this proved to be the crucial step for my knowledge of Thai. It gave me the chance to figure out what I had been doing wrong and to focus on what needed to be fixed.
First thing I did, however, was this: I swore to myself that I was not going to be timid in my attempts to communicate with the locals. No way. I was going to immerse myself in the language and in the culture. I was going to surround myself with Thai and not resort to speaking English every time it got a little difficult to communicate. And it worked!
It was frustrating at times, but I powered through it. I used my free time for trips, I explored, experienced the everyday life of the locals. Thai people are very nice and interested in foreigners. The benefits of being surrounded by native speakers are numerous and extremely helpful for learning!
2) I learned the Thai alphabet before I arrived in the country…
Don't panic – at first glance this seems extremely difficult if you're used to the English alphabet and 26 letters. The Thai alphabet has a completely different script and consists of 44 consonants and 15 vowel symbols that comprise 32 vowels. A little overwhelming, I know.
Here's what you can do, though, to make the learning easier: put two posters on your wall, next to your bed if you can – one with consonants and one with vowels. At this stage, everything will probably seem very strange to you, but that's ok. Set aside a certain amount of time every single day to look at these symbols and make the sound with your mouth that they're associated with.
Also, I found Easy Thai Alphabet very helpful and I highly recommend these learning methods. And, as a big fan of flashcards, I loved Thai FlashCards.
3) I started with the basics on my own…
In this day and age, technology allows us access to great amounts of material for learning. You can google the basics of any language and practice with various audio and video guides. That's what I did.
First, I practiced the tones of Thai. This is a tonal language and a word in Thai can mean different things when a different tone is applied. Take 'mai' for example. 'Mai' can mean 'no', 'new' or 'microphone' depending on the tone applied.
When you read a Thai word, you will often see one of the four tone markers which are named 'mai eak', 'mai toh', 'mai tree' and 'mai juttawa'. There is no tone marker in a syllable with a normal (mid) tone.
A good way of practicing the tones is through videos on YouTube. There are some very good ones, featuring native speakers. This lesson from Learn Thai With Mod was one of my favourites. Find the ones that suit you most and repeat the exercises as many times as you need!
Next, I learnt the most frequent groups of words. I focused on topics such as:
Greetings
Numbers
Places
Foods
Jobs
I made flashcards and practiced. You can do this too. Set mini-goals for yourself. Don't try to take giant steps.
What kind of flashcards do you prefer? For me, a combination of physical cards and the Thai Flashcards app did the job.
Traditional, physical cards offer beginners the best focus possible. That rectangular space confines the word(s) and makes you really pay attention. You can add photos, drawings or colored letters to your flashcards. This will help you remember the words even better as more sensory nerves will be employed.
The digitized flashcards offer everything that your senses need: audio pronunciation, relevant images, dynamic games…
Whatever you choose, practice with your flashcards as often as you can! Repeating makes you burn the words into your long-term memory.
Finally, I moved on to basic conversations. These too can be found within some excellent channels on YouTube.
6) I used technology to the max…
We live in a world where technology can help us in many ways. There are language exchange programs that let you communicate with native speakers and numerous apps you can download easily.
I, for example, always carry the Talking Thai <> English Dictionary with me. On my phone, that is. It's simple to use and comes in very handy. Apps like these are easy to find on Google Play or iTunes. Just choose the right dictionary or phrasebook for yourself and practice away!
If you can't be in contact with native speakers every day, you can always use the advantages of learning via Skype lessons or through language exchange sites. I've heard only good things about Learn Thai with Mod.
Italki is a great example of language exchange program benefits. Teach your native language to a Thai native and learn at the same time. It's the perfect exchange!
5) I watched Thai movies…
I know, sounds too simple, right? You shouldn't underestimate this type of audio-visual learning! If you just relax, your brain will pick up things and you'll be surprised!
There are a number of frequent words and phrases that get repeated throughout any movie, so these will quickly become familiar to you.
Repeat these words after the actors. Stop the movie if necessary. Listen carefully to the pronunciation. Your brain will connect the words to the context. And your vocabulary will expand with every movie.
No matter what genre you prefer, you can find a lot of Thai movies online. Try Filmdoo, for example.
Oh, a tip: Don't watch the movies with English subtitles. Use the Thai ones instead. This way, your brain will connect the spoken words with the written ones in the subtitles and help you learn more.
6) I did not let myself give up!…
So, there I was: surrounded by the beautiful Thai people, eating fantastic Thai food, enjoying this different, fascinating culture, when suddenly I felt very tired. Learning Thai demanded a lot of effort. However, I considered myself quite lucky to have felt this sort of tiredness. It was a sign that I was doing something very important to me, something fulfilling, and that I was doing it right!
Learning Thai quickly is a challenge indeed, but a very rewarding one!