At last! A Thai typing tutor for the Mac…
After years of touch typing, I finally taught myself how to type. It happened while I was in Scotland on an extended holiday in '92, which is now so long ago that I don't remember which one it was, only that it included progressive games and was fairly easy.
When I started learning Thai, I wasn't sure where to start. The Thai typing tutor I found was for the PC and didn't work on my PC emulator, Parallels. Frustrated, I lost interest.
Then along came aTypeTrainer4Mac.
ALERT: –>> aTypeTrainer4Mac has just updated to 4.4.
About aTypeTrainer4Mac…
Thanks to Valentin Vassilevski, aTypeTrainer4Mac (an advanced version of TypeTrainer4Mac) supports Thai keyboards.
Is a (truly) multilingual typing tutor for Mac OS X
Comes with a prepared lesson set
Has the ability to create customized lesson sets
Imports from RTF files, email, and web browsers
Remembers the last files imported
From Valentin: You can import texts from TextEdit in the same way as from a web browser or Mail using import from TextEdit. You can import files in all formats, accepted from TextEdit (i.e. RTF, DOCx, TXT, RTFD etc.). Additionally, you can import PDF and TXT files by opening them first in your web browser.
How to type in Thai on a Mac OSX…
First off, you'll need to turn on your Thai keyboard.
Go to Apple Menu >> System Preferences >> International >> Input Menu.
Scroll down the list to select 'Thai'.
On the bottom left corner of the prefs window, select 'Show input menu in menu bar'.
Close the window (command W, or click the red button).
In the menu bar (top right corner of your screen) there's a country flag.
Click on the flag and drag down, releasing your mouse on the Thai flag.
Advice from Valentin: The best way to learn to type blindly is NOT to have the appropriate keyboard.
I agree with Valentin, but I'm not that brave!
How to use aTypeTrainer4Mac…
The instructions for aTypeTrainer4Mac are fairly easy, even for those not computer savvy.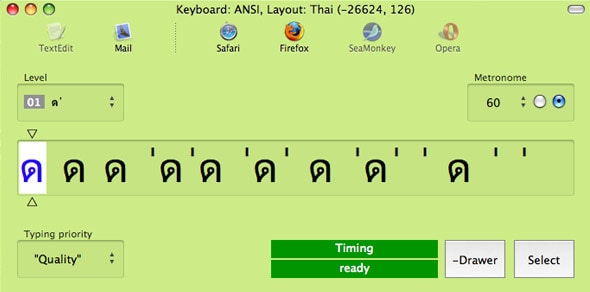 For 'typing priority', I've set mine at 'quality'. In the preferences you'll also find various settings (most you might not use). There, you can set the metronome speed or turn it off. Or, do like I do and turn the sound off at the computer level.
To use the aTypeTrainer4Mac lessons:
Switch to Thai keyboard on your Mac.
Start aTypeTrainer4Mac.
Choose your level from the dropdown menu.
Start typing.
The power of aTypeTrainer4Mac is the ability to customise to match your Thai lessons.
For instance, if you are learning the Thai alphabet, you can create RTF files of each lesson with your word-processing software of choice.
And as each lesson Thai Reading for Speaking consists of small blocks, it's easy to say each letter out loud as you hit the keys. If you want to get fancy, you can always set iTunes to play the lesson before and after you try out your typing skills.
To use your own lessons:
Create RTF (rich text format) files.
Switch to Thai keyboard on your Mac.
Start aTypeTrainer4Mac.
Click the 'select' button.
Drag and drop your RTF file where it instructs.
Start typing.
From Valentin: Alternatively, you can drag-n-drop your RTF file over aTypeTrainer icon in dock.
Note: The process is slightly different if your Thai keyboard is not selected before opening aTypeTrainer4Mac. To switch to Thai inside aTypeTrainer4Mac just change to the Thai keyboard and then click the 'switch' button.
One more thing… if you edit the set lessons by mistake (like I did), in aTypeTrainer4Mac's menu bar, go to preferences >> general >> restore all defaults.
Typing Resources
All The Touch Typing Tutors
Typing tutor resource for both Mac and PC (for all languages).
Virtual Thai Keyboard
Freeware virtual keyboard (Windows).
Thai/English alphabet stickers
Stickers for your keyboard.
To suggest improvements or ask questions, please contact Valentin.
What to Read Next