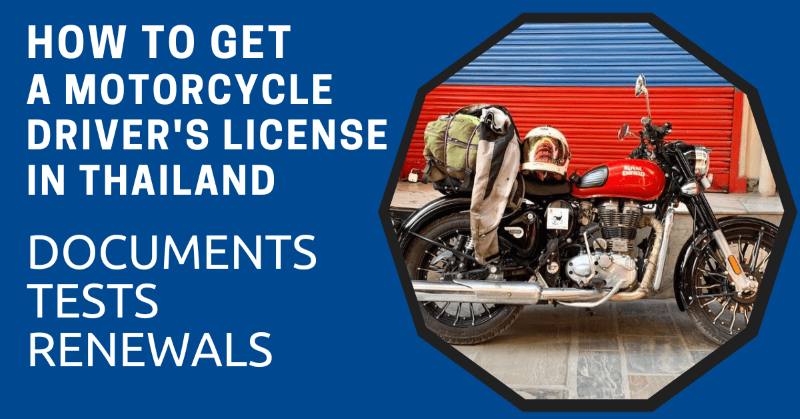 Few experiences can match the thrill of exploring on a motorcycle.
Whether you're a seasoned rider or new to the world of two-wheeled exploration, acquiring a motorcycle driver's license is your key to experiencing the diversity of this country safely and legally in Thailand.
Having recently completed the requirements for a motorcycle driver's license, I've walked the path you're about to embark on.
My personal journey has left me not only well-versed in the intricacies of the process but also filled with the desire to make your own experience as accessible and rewarding as possible.
In the following article, we'll dive into the process of securing a motorcycle driver's license in Thailand, from the initial preparations to the moment you proudly hold the license card in your hand.
"*" indicates required fields
What You Need to Prepare
Embarking on this journey begins with gathering a set of essential documents and items. It's exactly the same as getting a driving license.
Each item on this checklist plays a vital role in the process, so ensure you have them ready to make your motorcycle license acquisition as smooth as possible.
To help you prepare, here's a comprehensive checklist:
Copies of Passport Pages
Ensure you have a copy of your passport picture page and a valid, unexpired visa.
These two documents serve as proof of your identity and legal residency in Thailand.
Both documents should also be signed, with your name written just below the signature.
Medical Certificate
Pay a visit to a local clinic or a hospital, and request a medical certificate for your motorcycle driver's license.
Simply inform them of your purpose, and they will provide the documentation. It costs only a few hundred baht.
Receipt of Notification
Make a copy of the receipt of notification for your house or accommodation in Thailand. This receipt is crucial for confirming your Thai address.
Passport-Sized Picture
Obtain a recent 1×1.25-inch photograph of yourself, ensuring the background of the picture is either white or blue.
Please note that not all driving schools or the Department of Land Transport require this picture, but it's best to prepare in advance.
Residence Certificate
To obtain a residence certificate, start by visiting your local immigration office with all the aforementioned documents. Then, simply inform them that you want to get a motorcycle driver's license.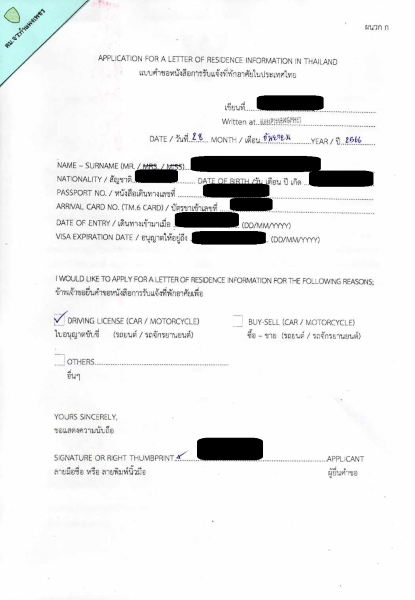 You'll need to provide some additional information, such as your rental contract, and pay a 500-baht fee, which is handled at the immigration office without needing any additional documents.
The residence certificate will include your name, photograph, the signature of the deputy inspector general of immigration, an official stamp, and information about your confirmed residence in Thailand.
Find out more: How to Get a Residence Certificate in Thailand
Where to Get the Motorcycle Driver's License
Now that you've gathered all the essential documents, it's time to take the next steps.
You can obtain it at either a driving school or the Department of Land Transport.
Driving School
With all the required documents secured, it's time to bring all your paperwork to your chosen local driving school.
Here, you can enroll in seminars, classes, and tests essential for obtaining your motorcycle driver's license.
If you prefer a streamlined process, you also have the option to pay 1,000 baht for an agency that acts as an officially recognized independent driving school to handle all the necessary tasks over two days, as I did.
These two days are usually scheduled for a Friday and Saturday, so you may need to take a business leave day off from your workplace to accommodate the Friday.
Department of Land Transport
Alternatively, you can also register directly at your nearest Provincial Land Transport Office.
To do so, just search for "Provincial Land Transport Office" followed by the name of your province on Google and follow the specified guidelines.
However, at the moment, they do not accept walk-ins.
Therefore, you need to make an appointment in advance by calling the call center at 1584 or visiting your local Land Transport Office. They will then provide you with the date for your license application.
The waiting time can vary from a few days to a few months, depending on how busy they are at that time.
License Test
Earning your motorcycle driving license in Thailand is a comprehensive two-day process, running from 8 a.m. to 5 p.m.
Sight and Reaction Tests
Day 1 starts with a series of sight and reaction tests, which take approximately 10 minutes: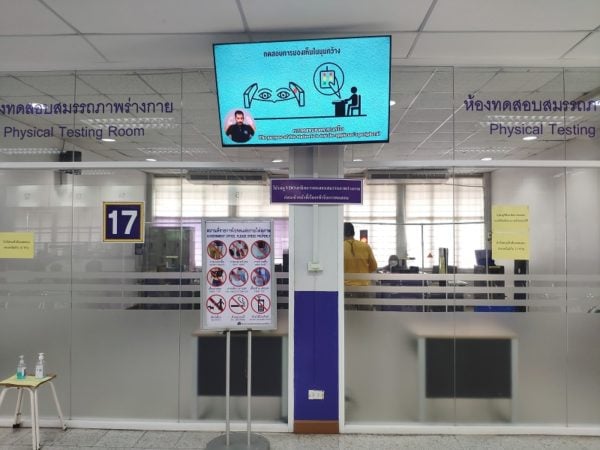 Eye Chart Test
During this test, you'll stand in front of a chart with colorful circles of varying sizes. The examiner will point to a circle, and you will promptly name the color: red, yellow, or green.
The chart includes other colors, but they are merely distractions that you can easily ignore as long as you focus on the examiner's cues.
Peripheral Vision Test
In this test, you'll place your head inside a device that resembles blackout goggles.
A colored circle will appear on either side of your vision, and your task is to call out the color without moving your head.
Even with a weaker right eye, I experienced no difficulties with this test.
Brake Reaction Test
This test involves an accelerator pedal, a brake pedal, and two vertical rows of lights that begin to rise as soon as the first bottom green light appears.
Your job is to lift your foot off the accelerator and press the brake when the green lights appear. Failing involves braking when the lights are red, which are only present near the top of the rows.
However, don't worry! The pedals are based on an automatic car system, so there's no need to fret about clutch control, which makes it easier.
Alignment Test
The final sight test requires you to sit at a distance from a box containing two sticks.
You'll be provided with a remote control to bring the rear stick forward and stop it when they both align, which is relatively straightforward.
These tests are generally manageable, as I was able to pass each on the first attempt in my experience.
Seminars
After you pass the sight and reaction tests, you'll also embark on seminar training, which continues into day 2. This training covers various topics:
Road Traffic Law and Car Laws (1.5 hours): Including traffic rules, vehicle check-ups, and the repercussions of violating laws in Thailand.
Safe Driving Lessons (2 hours): Focusing on teaching safe riding practices.
Consciousness and Driving Etiquette (1 hour): Covering right of way, road awareness, and the meanings of road signs.
How to Act in Emergencies and Provide First Aid (30 minutes): Equipping you with knowledge of emergency procedures and first aid.
Basic Knowledge About Cars and Motorcycle Basics (5 hours): Going into the physical and mechanical features of vehicles.
This process equips you with the knowledge and skills needed to obtain your motorcycle driving license in Thailand, ensuring your safety and confidence on the road.
Practical Experience and Test
You'll also have the opportunity to gain practical experience during a 5-hour training session that covers various riding scenarios within your driving school's test-driving area.
You can bring your own motorcycle, or you can rent it from a driving school.
Here's how this practical training is structured:
Practice (3 hours)
In the first part of your practical training, you'll be guided through the route you will need to drive for your upcoming practical exam.
This route includes various elements like turns, using turn signals, navigating roundabouts, and interacting with fellow riders who are also working toward getting their licenses.
During this session, you'll have a chance to practice the specific test items that will be assessed during your 2-hour practical exam on day 2.
On day 2, the practical exam assesses the following:
Braking Ability
This test involves riding at 30 km/h along a straight path until you approach a row of cones. Your task is to apply both brakes to bring your motorcycle to a stop before your front wheel crosses a second row of cones.
Driving Ability
You will navigate the same route as in your 3-hour practice session.
During this test, assessors will evaluate your ability to approach and stop at junctions, follow road signs, safely enter roundabouts, and adhere to general traffic rules while driving alongside other road users.
Balance Test
In this challenge, you need to ride your motorcycle onto a narrow metal platform that's only slightly wider than your wheels.
The goal is to traverse this platform without touching the ground or putting your feet down. The catch is that you must maintain your balance on the platform for 10 seconds.
The balance test can be tricky. It took me two attempts to pass, and the second attempt is your last chance to succeed.
Based on my experience, I recommend maintaining a constant low speed during this test.
Tucking your legs into the frame of the motorcycle also helps maintain a stable center of gravity, allowing you to rely solely on your arm movements for balance. Extending my legs during the first test led to the balance issues that caused my initial failure.
Control Test
In the final assessment, you'll need to ride over a series of speed bumps placed at different angles. Your objective is to navigate these bumps without losing control of your motorcycle.
These tests are generally manageable. However,
Theory Test
On day 2 of your license journey, you'll face the ultimate test: the theory test.
This is the last step before obtaining your license.
Here's what you need to know about this exam:
Multiple Choice Questions
In the theory test, you'll encounter a total of 500 multiple-choice questions, each with four possible answers.
However, don't worry; you'll be given a random set of 50 questions to answer. To pass, you must achieve a score of 45 out of 50.
Study Material
The good news is that the information from the seminars you attended will be included in this test. Plus, you'll have a 30-minute period to practice before the actual test.
Some of the questions relate to driving practices around the world, with only a few focusing on specific Thai laws and penalties.
To help you prepare, you can access practice tests online.
Practicing at Home
In my opinion, practicing this test at home is essential for success. While the English translations of the questions may not always be 100% accurate, with enough practice, you can gradually understand the intended meaning of some of the more vague or incorrectly worded questions.
To make the most of the practice website, I recommend the following procedure:
Practice each of the four categories: traffic signs and markings, traffic law, driving and maintenance, and accident prediction, until you've seen all possible questions.
Clicking on these categories will give you a random set of 50 questions.
Aim to score at least 45 out of 50 in each category three times in a row.
After achieving this consistency, practice the random test of 50 questions until you can comfortably get 45 out of 50 each time.
By doing this, I was able to achieve a perfect score of 50 out of 50 on my real test.
So, with dedication and strategic preparation, you can conquer this last hurdle on your path to securing your motorcycle license.
Getting the License
After successfully completing the seminars and passing the required tests, the driving school will provide you with a document certifying your successful completion.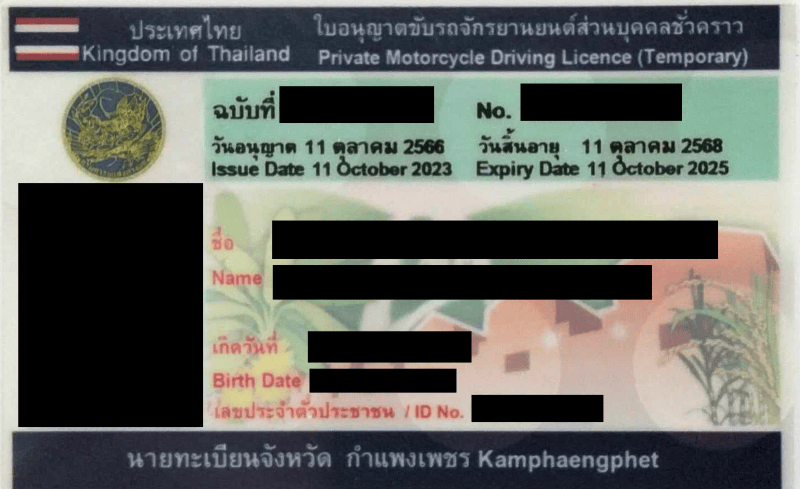 They will also return all the original documents you initially provided them, bringing you to the final steps of obtaining your license.
The remaining steps involve a visit to the Department of Land Transport Office.
Here's how to proceed:
Document Submission
Gather all the necessary documents, including those you submitted to the driving school, along with the new document confirming your completion of all requirements.
Payment of Fees
You'll then be required to pay a fee of 205 baht.
Photo Processing
After submitting the essential paperwork and settling the fee, you'll have your photo taken for the license card.
Obtaining Your Motorcycle License
Following the processing of your photo and verification of your information, the Department of Transport will issue your official motorcycle driving license the same day.
With this, you'll have successfully navigated the process and secured your license to explore Thailand by motorcycle.
Renewal
Initially, your motorcycle driving license will be valid for two years. You can renew it 90 days before it expires.
Here's what you need to do:
2-year license to 5-year license
You need to prepare the same set of documents as when you apply for a motorcycle driving license.
However, this time, you can simply visit the Department of Land Transport, pay a 505 baht fee, and get the 5-year driving license right away without having to take any tests.
Renewing a 5-year license
Renewing a 5-year license can be more complicated. In addition to preparing the same set of documents, this time you need to take a series of sight and reaction tests again.
Then, you need to create an account at the DLT e-learning and watch a video to remind you about driving regulations in Thailand.
Once that's done, visit the Department of Land Transport to renew your license.
Can I Obtain a Motorcycle Driving License with a Tourist Visa?
In fact, it is possible to obtain a motorcycle driving license with a tourist visa.
However, the main issue is the residence certificate, which requires a long-term visa in order to be obtained from an immigration office.
In short, if you can manage to secure a residence certificate, you should be able to obtain a motorcycle driving license, even with a tourist visa.
How Much Does It Cost to Obtain a Motorcycle License in Thailand?
Here's a quick breakdown of the costs for obtaining a motorcycle license in Thailand:
Medical certificate: 200 baht
Residence certificate: 500 baht
Government fee: 205 baht (for a 2-year license) and 505 baht (for a 5-year license)
So, in total, the cost to obtain a motorcycle driving license here should be around 1,000 baht.
If you opt for a driving school, expect to pay an additional 1,000 to 2,000 baht.
What Happens When My Motorcycle License Expires?
The response depends on the length of time since expiration.
If it has expired within a year, you can simply renew it right away, following the same requirements as a standard renewal.
If it has expired for 1 to 3 years, you need to retake the theory test.
If it has expired for more than 3 years, you will need to start the entire process over again.
Now, on to You
Acquiring a motorcycle driving license in Thailand is a legal requirement. After you get it, you should ride carefully and ensure your safety while exploring the country via motorcycle.
One of our writers just recently had a motorcycle accident. You can read here on how he dealt with it.
While the process may seem daunting at first, with proper preparation and commitment, you can successfully obtain your license and enjoy the freedom of riding in this beautiful and diverse country.