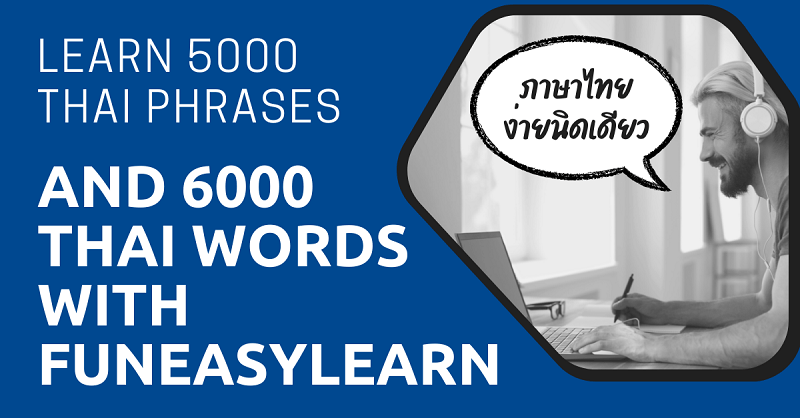 If your motivation to study Thai is wavering, you really should try FunEasyLearn – it's a seriously addictive app! It's free (except for removing ads – up to you) so all you have to lose is your time.
But before you start wading through this lengthy review … if Thai-English vrs English-Thai vocabulary lists matters to you, go no further. The vocabulary in this app comes from an English database so there's a chunk of Thai specific vocabulary missing.
So sure, you won't come across vocabulary for coke in a bag, sticky rice with mango, tuk-tuks, sanuk, etc.
BUT! There is a LOT of vocabulary! If I could learn how to spell a chunk of the 6000 words and 5000 phrases in this app I'd be chuffed to bits. Seriously. My spelling is sucky.
Tutorial
They do have a video (below) plus an animated walk-through inside the app but I wanted more so contacted the gang at FunEasyLearn for tips:
Our apps help you to learn most common words and phrases. These words and phrases are useful when travelling, meeting new people, developing life-long friendships or simply in any daily conversation.

Easy Steps to Use our App:

When you run the app you can find three rows: Topic, Subtopic and Game.
Just choose the Topic you want to learn first (for example Topic: Shopping).
Then choose Subtopic (for example Subtopic: supermarket).
After this choose the game you want to play (we recommend to start with Vocabulary game).
Tap "Play" button and that's it!

Besides the fact that you learn many useful words and phrases, these games help you to improve your writing, reading and pronunciation.

Tips for you:

Spin Categories – allows the app to choose a random topic, subtopic and game for you.
Review Manager – helps you to review your wrong answers, right answers, or even all the phrases.
Favourite words or phrases – permits you to choose your difficult words/phrases, set as favourite and revise them later. After you selected your favorite words/phrases just go to Main Menu, choose Review words/phrases and tap Review Words/Favorite Phrases button.

TIP: When going to the next level (say, from beginner to intermediate), to see the new vocabulary, under 'Level' in xxx, make sure 'Learn words from previous level' is turned off.
Now that you've read the quick explanation and watched the video, I have two suggestions: Either 1) Go have fun with the app, or 2) keep reading for a detailed overview.
Walk-through of the Beginner level
This is quite a big app so I mapped it out with only the Beginner's level turned on. There are three levels (Beginner, Intermediate, and Advanced) and they all suck into the Topics shown here – keeping to one level to start helped to make it manageable.
On the main screen there are three icons across the top: 1) Manage App, 2) Search bar, and 3) to the far right, a Flower.
Manage App (circle icon):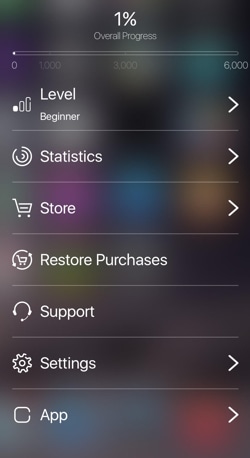 Level: Select level (beginner-intermediate-advanced), turn on/off learn words from previous levels, turn on/off Thai script.
Statistics: Scores, overall stats, current streak, streak targets, levels completed, words reviewed, your skills, learned word target.
Store: This is where you can get more levels by paying to get rid of ads. Beginner is £2.99 and Intermediate £8.99. Via the mysterious Flowers section I received 60% off the Advanced level (£6.99).
Restore purchases: Just as it says.
Support: FAQs and making contact (plus reporting any mistakes you find).
Settings: Native language, sounds, reset tutorials (the animated walk through), one word a day notification (haven't figured it out yet), review word notification (haven't figured it out yet).
App: Rate the app, more apps, about this app. Icons across the bottom go to Facebook, twitter, Google+, and YouTube.
Search (search bar):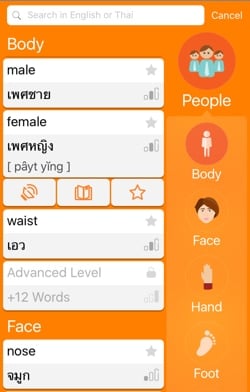 I love this search. It's beautifully designed (as is the entire app). When you click on the search bar (without typing in anything) the vocabulary for the Topic you are studying appears. Scroll up and down to see all of the vocabulary for the different Subtopics under Topic. At the end of each Subtopic you'll see how many words for that Subtopic are in other levels.
Each word first shows the English and the Thai script, with a Favourites star on the right (to put the word into a Favourites list). The three bars denote which level the word comes from (Beginner, Intermediate, Advanced).
Click inside a box and it expands while saying the word using a real Thai voice, not machine generated (T2S). The transliteration now appears below the Thai.
At the bottom of the expanded box are three icons: 1) audio (repeats the word), 2) book (takes you to the word's dedicated Vocabulary page – clicking the left arrow takes you back), and 3) the Favourites star again.
Flowers (flower icon): As you play the game, you earn flowers that you can then redeem inside the app. Flowers are what makes the app free. Earn flowers, get new levels for free. I was only on the app a short while when I was offered 60% off the Advanced course so it's worth paying attention to.
The main guts of the app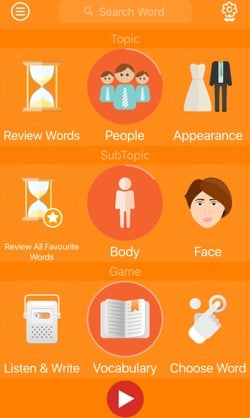 As mentioned in FunEasyLearn's tutorial above, the app operates around three main nav sections: 1) Topic, 2) Subtopic, and 3) Games.
In the graphic to the right the selected Topic is People, the Subtopic is Body, and the Game is Vocabulary.
To work the app you slide each nav section to the left or right to line up different choices. When working your way through a section, reaching the end automatically moves you to the next one.
Tip 1: As you go through the app don't think of it as linear. Think of it as peeling an apple all in one go. You start at the top (People), with each section leading you into the next, and the next, and the next, until you reach the bottom, the end of the course. But that's only if you follow a set route – you can also wiz around willy-nilly. I started by bouncing all over the place but got dizzy so went in search of a logical way to attack the app.
Tip 2:Also important to know is that clicking on a Topic/Subtopic/Game running down the middle either selects or deselects that item. Just remember that you need to have one from each section selected (Topic/Subtopic/Game) before the bottom arrow allows you to play a game. If three are not selected and you double click on the arrow, it will select for you. Surprise!
What you can learn
As per my confession, when I first started playing with the app I was twirling all over the place so I backed off, started from the beginning, and then worked my way to the end, taking notes as I went. And that's what you'll read below.
1) Topic (top nav slider): People, Appearance, Health, Home, Services, Shopping, Food, Eating out, Study, Work, Transport, Sport, Leisure, Environment, Reference, Review words.
2) Subtopic (middle nav slider): Each of the top nav subjects (shown above) break down into mini-subjects (Subtopics) within the middle nav. Tip: The course starts with People but when you open the app most any Topic could be in place.
Subtopic – People: Body, Face, Hand, Foot, Muscles, Skeleton, Internal organs, Family, Relationships, Emotions, Life events, People review favourites, People review wrong, Review. Then >> Children's clothing, and the Subtopic bounces to the next in line, Appearance…
Subtopic – Appearance: Children's clothing, Men's clothing, Women's clothing, Accessories, Hair, Beauty, Appearance Review Favourite, Appearance Review Wrong, Review appearance. Then it goes into >> Illness…
Subtopic – Health: Illness, Doctor, Injury, First aid, Hospital, Dentist, Optician, Alternative therapy, Health Review Favourite, Health Review Wrong, Review Health, and then >> House…
Subtopic – Home: House, Internal systems, Living room, Dining room, Kitchen, Kitchenware, Bedroom, Bathroom, Nursery, Utility room, Workshop, Toolbox, Decorating, Garden, Garden plants, Garden tools, Gardening, House Review Favourite, House Review Wrong, Review Home >> Emergency services…
Subtopic – Services: Emergency services, Communications, Hotel, Services Review Favourite, Service Review Wrong, Review Services >> Shopping centre…
Subtopic – Shopping: Shopping centre, Supermarket, Chemist, Florist, Newsagent, Confectioner, Other shops, Shopping Review Favourite, Shopping Review Wrong, Review Shopping >> Meat…
Subtopic – Food: Meat, Fish, Vegetables, Fruit, Grains and pulses, Herbs and spices, Bottled foods, Dairy products, Breads and flours, Cakes and desserts, Delicacies, Drinks, Food Review Favourite, Food Review Wrong, Review Food >> Cafe…
Subtopic – Eating out: Cafe, Bar, Restaurant, Fast food, Breakfast, Dinner, Eating out Review Favourite, Eating out Review Wrong, Review Eating out >> School…
Subtopic – Study: School, Maths, Science, College, Study Review Favourite, Study Review Wrong, Review Study >> Office…
Subtopic – Work: Office, Computer, Media, Law, Farm, Construction, Professions, Work Review Favourite, Work Review Wrong, Review Work >> Roads…
Subtopic – Transport: Roads, Bus, Car, Motorbike, Bicycle, Train, Aircraft, Airport, Ship, Port, Transport Review Favourite, Transport Review Wrong, Review Transport >> American football…
Subtopic – Sport: American football, Rugby, Soccer, Hockey, Cricket, Basketball, Baseball, Tennis, Golf, Athletics, Combat sports, Swimming, Sailing, Horse riding, Fishing, Skiing, Other sports, Fitness, Sport Review Favourite, Sport Review Wrong, Review Sport >> Theatre…
Subtopic – Leisure: Theatre, Orchestra, Concert, Sightseeing, Outdoor activities, Beach, Camping, Home entertainment, Photography, Games, Arts and crafts, Leisure Review Favourite, Leisure Review Wrong, Review Leisure >> Space…
Subtopic – Environment: Space, Earth, Landscape, Weather, Rocks, Minerals, Animals, Plants, Town, Architecture, Environment Review Favourite, Environment Review Wrong, Review Environment >> Time…
Subtopic – Reference: Time, Calendar, Numbers, Weights and measures, World map, North and central America, South America, Europe, Africa, Asia and Oceania >> Reference Review Favourite, Reference Review Wrong, Review Reference >> Review All Wrong Answers…
Subtopic – Review words: Review All Wrong Answers, Review All words, Review All Right Answers, Review All Favourite Words >> Body… (where it goes back to the beginning which is People). Tip: If you only have a few words to review it will pull from the general list (words you might not have seen).
3) Games (bottom slider nav): Vocabulary, Choose word, Find image, Match words, Listen and choose, Write word, Listen and write.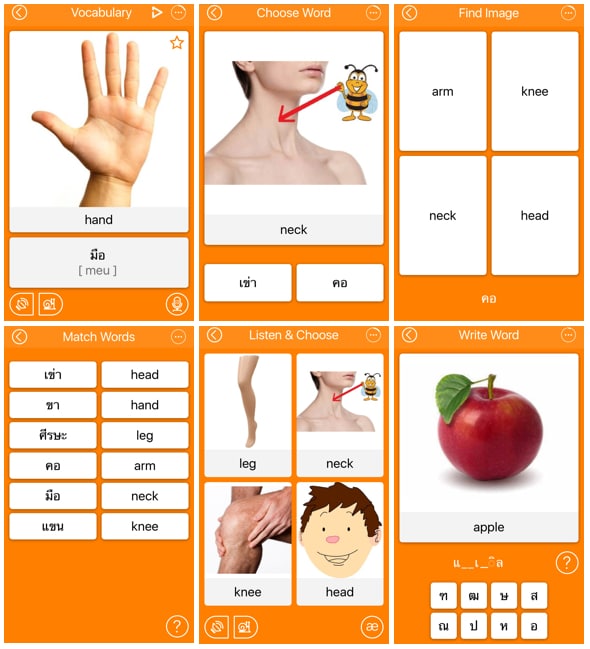 Games – Vocabulary (book icon): This section introduces each word with Thai script, transliteration, a graphic, and audio recorded by real people. Here you study the information, record your voice to see how close you can get to the Thai (it's great – the app converts your voice into Thai script), create favourites, then move onto the next word.
There's no way to turn off transliteration but it doesn't last for long (unless you've selected the 'transliteration only' option via the settings). Vocabulary is the only game where you can click the star icon on the top right to make the word a favourite (otherwise use the dictionary search). The arrow on the top left takes you back to the main screen. The thick arrow on the right auto scrolls the screens. Turn off auto scrolling by clicking on the || icon that replaces the right arrow. Across the bottom left of the screen there are two audio controls. One repeats at a normal speed and the other at a slower speed. The icon to the right records your voice (you first need to let the app access your microphone). Speak into your phone and a Thai translation in Thai script appears. It's pretty nifty for getting your pronunciation right, as well as enforcing spelling.

Games – Choose word (finger icon): This is a Thai script reading exercise with audio. There's a single graphic across the top with the English word below. The two boxes across the bottom each have a word in Thai (default setting is script, no transliteration). If you select the correct Thai word the box turns green, the word is spoken, and you advance to the next selection. Select the wrong word and the box turns red with an X on it. You must select the right word to advance. There are no cheats (more about those below).

Games – Find Image (magnifying glass icon): This is a Thai script reading exercise with audio. There are four boxes, each with a word in English. Along the bottom there's a Thai word in Thai script (no transliteration unless you've changed it in the settings). You need to select the correct word in English. If you select the right word, it's spoken, the square goes green and then it flips to the correct graphic. If you get it wrong you get a box with a red X inside. You must get a correct answer before moving on.

Games – Match words (scale icon): This is a Thai script reading exercise but sans audio. There are two rows of boxes: the row on the left has Thai script (unless you're studying with transliteration) and the row on the right has English. Click one of each to match the boxes. Get it correct and the two boxes go green and disappear. Get it wrong and the two boxes turn red and then back to white. There is a cheat: Click the ? symbol in the lower right corner and it'll match boxes for you.

Games – Listen and choose (earphones icon): This is a listening exercise. On the screen are four squares with graphics inside. You have to match a graphic with the audio that you hear as soon as four boxes appear. Get it right and the box goes green and you advance to the next screen. Get it wrong and the box goes red with an X in the middle. There are two sound icons on the bottom left. One replays the audio at a normal rate and the other at a slower rate. The icon to the right is cheat for those in a Thai script setting; clicking the icon gives you Thai transliteration.

Games – Write word (paper/pencil icon): This is a spelling exercise. There's a single graphic with word under it in English. Under that is a partially filled in word (unless it's a two letter word), with dashes denoting missing letters. Below are boxes with a choice of letters in Thai script (unless you've chosen transliteration). You need to click the boxes to fill in what's missing. When you get it right you'll hear the word spoken and then move onto the next. There is a cheat: Clicking on the ? symbol fills in the missing items one by one.

Games – Listen and write (radio icon): This is a listening, spelling exercise. Similar to Write word, there's a single graphic but in this one there's no English. Instead of words, the audio plays automatically with dashes showing how many spaces you need to fill in. All of the letters are missing. Below are boxes with Thai script (unless of course, you are using transliteration). Click on boxes to fill in the spaces. To the left is an audio icon to hear the word once more. Again, the cheat is the ? symbol.
Basic navigation inside each game: When you start playing a game, across the top there's an arrow on the left that takes you back to the home screen (logical). There's also a round icon on the right that tells your game progress, game score, and what Topic and Subtopic you are in. Depending on the game, across the bottom the icons change.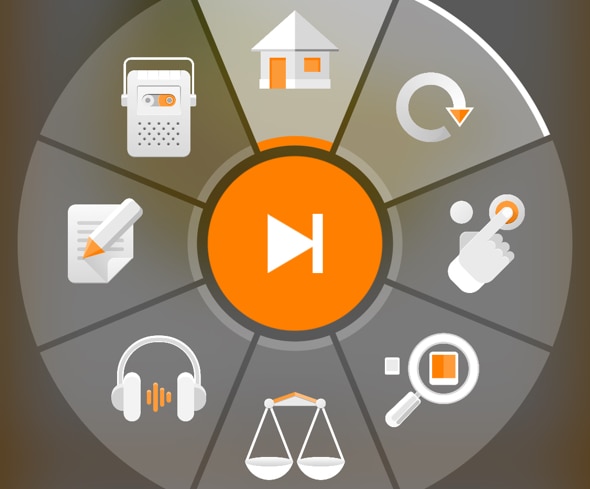 Game Wheel: You only get the screen that has all of the game icons (shown above) when you've completed a game. The circular icon with the arrow on the end replaces the icon of the game you just completed – click to repeat the game. The home icon takes you back to the main screen. The centre icon takes you to the next game on the list.
Here's a breakdown of the icons again: Vocabulary (book icon), Choose word (finger icon), Find image (magnifying glass icon), Match words (scale icon), Listen and choose (earphones icon), Write word (paper/pencil icon), Listen and write (radio icon).
You can report mistakes from inside the app (Manage App >> support >> contact us) or send them to [email protected]
Should I Learn Thai with FunEasyLearn?
This app has it all. Listening, reading, writing and spelling.
And if you haven't figured it out (and before I forget to mention) this app is brilliant for those who can read Thai or are learning how to read Thai and want improve their spelling using Thai script. I haven't seen anything like it.
If you are using transliteration (only) the spelling sections (Write word and Listen and write) might need a miss but the rest should keep you hopping.
There's still more I need to figure out but I can promise you that eventually, I'll get to the bottom of the app. But, instead of delving further, I'm going to get back to having fun getting my spelling up to speed. If I find anything new I'll add it to this review. If you find anything, please let me know either by leaving comments below or via my contact form.
Here's the app on iTunes and Google Play:
iOS: 6000 Words – Learn Thai Language for Free
Android: 6000 Words – Learn Thai Language for Free
iOS: 5000 Phrases – Learn Thai Language for Free
Android: 5000 Phrases – Learn Thai Language for Free