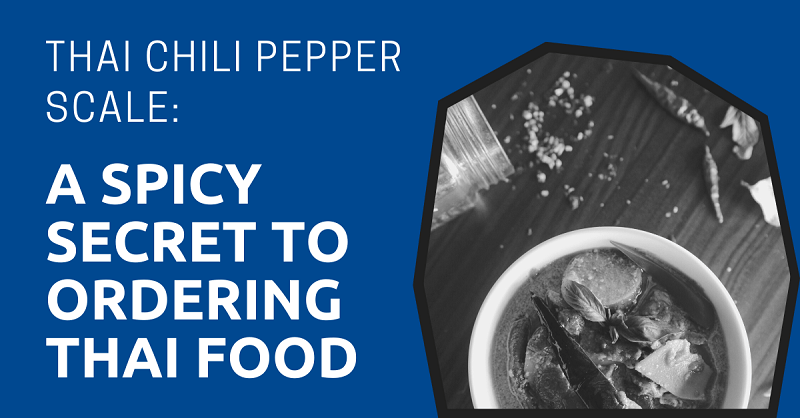 A spicy way to order Thai food…
I've been eating Thai food for like a gazillion years now and while I can order เผ็ดเผ็ด /pèt-pèt/ just fine, what arrives is almost never "up to me". Tom Stephan has the same difficulties, only in a slightly different direction.
Tom: I wish I knew how to say "I'd like to order the Pad Thai, but moderately spicy. Not bland, but not number 5 on the scale. Maybe a 3?"
Me: A new one on me… I have the opposite problem – getting Thais to believe me when I say I want super spicy (especially as I don't eat rice, used to cool down the mouth). I've settled on เผ็ดเผ็ด (and lots of praying to the pepper gods). Can't you just say spicy a little bit? But all in all, what you get often comes down to the cook's belief in what you can handle more than anything else.
Tom: Yeah, most of the time when you ask for spicy, the waitresses at the local Thai eateries (there are a dozen) kind of look at you like one regards a small child asking for his own glass of whiskey; adorable, but…no.
Thai chili ranges…
After chatting with Thai friends an easily understood chili range was agreed on. Number 1 being for (cough) (cough) wimps, with the chilis getting progressively hotter from there.
Western style spicy: เผ็ดแบบฝรั่ง /pèt bàep fà-ràng/ (or not spicy: ไม่เผ็ด /mâi pèt/)
A little spicy: เผ็ดนิดหน่อย /pèt nít-nòi/
Moderately spicy: เผ็ดปานกลาง /pèt bpaan-glaang/
Somewhat spicy: ค่อนข้างเผ็ด /kôn kâang pèt/
Very spicy: เผ็ดๆ /pèt-pèt/, เผ็ดมากๆ /pèt mâak mâak/
Thai style spicy: เผ็ดแบบไทย /pèt bàep tai/
Super spicy (the most spicy): เผ็ดสุดๆ /pèt sùt sùt/

So if you want to take a stab at getting your Thai food at a hotness suitable for your tastes, you'd say something like this:
น้องๆ ขอส้มตำไม่เผ็ดหนึ่งจาน
nóng nóng kŏr sôm-dtam mâi pèt nèung-jaan
Waitress, I want one plate of somtam, not spicy.
ขอลาบไก่เผ็ดนิดหน่อยหนึ่งจาน
kŏr lâap gài pèt nít-nòi nèung jaan
I want one plate of mixed chicken salad, a little spicy.
ขอผัดกระเพราไก่เผ็ดปานกลางหนึ่งจาน
kŏr pàt grà prao gài pèt bpaan-glaang nèung jaan
I want one plate of chicken with basal leaf, moderately spicy.
ขอแกงเขียวหวานไก่ค่อนข้างเผ็ดหนึ่งถ้วย
kŏr gaeng kĭeow wăan gài kôn kâang pèt nèung tûay
I want one bowl of green (sweet) chicken curry, somewhat spicy.
ขอต้มยำไก่เผ็ดๆหนึ่งชาม
kŏr dtôm yam gài pèt pèt nèung chaam
I want one bowl of Tom Yam Chicken, spicy.
small bowl: ถ้วย /tûay/
big bowl: ชาม /chaam/
ขอผัดเผ็ดขี้เมาทะเลเผ็ดสุดๆหนึ่งจาน
kŏr pàt pèt kêe-mao tá-lay pèt sùt sùt nèung jaan
I want one plate of stir fried drunken seafood, super spicy.
When your Thai food is not spicy hot enough…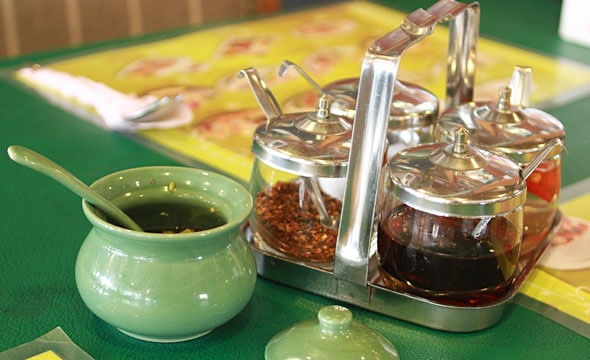 Often (for me) a dish will arrive and it's not spicy enough. It's a good thing that most Thai restaurants have a condiment selection on the table.
Condiments: เครื่องปรุง /krêuang bprung/
Dried crushed chili: พริกป่น /prík bpòn/
Shrimp paste with oil: น้ำพริกเผา /nám prík păo/
Vinegar with fresh chili: พริกน้ำส้ม /prík náam sôm/
White sugar: น้ำตาล /nám dtaan/
If you can't find what you like, you'll need to ask the waitress. What you ask for sometimes depends upon the dish. But, as they say in Thailand, up to you.
I'm not fussy (I just want hot), so if there isn't a chili pot on the table I ask for น้ำปลาพริกขี้หนู /nám bplaa prík kêe-nŏo/ (fresh mouse dropping chili and lime in fish sauce).
But if you want to be more traditional, here are a few dish/chili combos:
Papaya salad: ส้มตำ /sôm-dtam/
Ask for either พริกป่น /prík bpòn/ or พริกขี้หนู /prík kêe-nŏo/
Minced chicken salad: ลาบไก่ /lâap gài/
Ask for พริกป่น /prík bpòn/
Chicken with basal leaf: ผัดกระเพราไก่ /pàt grà prao gài/
Ask for น้ำปลาพริกขี้หนู /nám bplaa prík kêe-nŏo/
Green chicken curry: แกงเขียวหวานไก่ /gaeng kĭeow wăan gài/
Ask for น้ำปลาพริกขี้หนู /nám bplaa prík kêe-nŏo/
Tom Yam: ต้มยำ /dtôm-yam/
Ask for either น้ำพริกเผา /nám prík păo/, or พริกป่น /prík bpòn/, or พริกขี้หนู /prík kêe-nŏo/
To get what you want just say:
Waitress, I'd like… + your chili of choice
น้องๆ ขอ /nóng nóng kŏr…/
What to Read Next