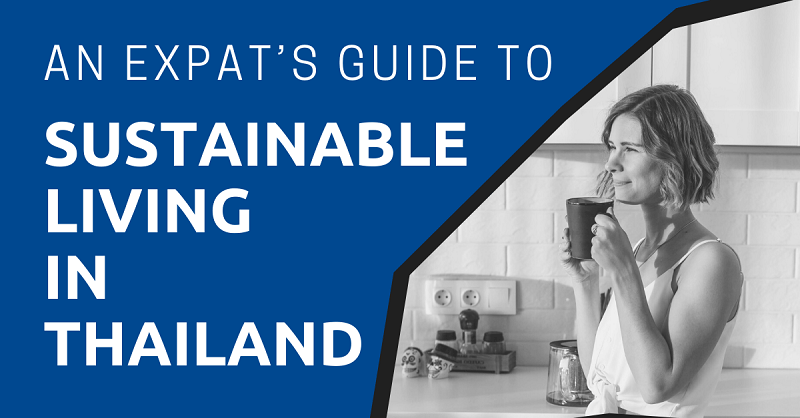 One of the greatest frustrations for expats living in Thailand is how to manage household waste and recycle effectively.
Although many Thais are passionate about sustainability and eco-friendly living, the recycling scene in Thailand is still nascent. Challenges include the lack of formalized recycling solutions and fragmentation of the local waste management industry.
Another prime challenge for foreigners is the lack of information in English. The majority of information on sustainability is shared in Thai, making it harder for foreigners to access peer-to-peer knowledge sharing about local eco-friendly initiatives.
So, how can you live sustainably in Thailand and prevent as much of your waste as possible from ending up in landfills? Read on. We've gathered all the best tips in one place.
Waste Management in Thailand
For many foreigners who move to Thailand, one of the first questions is whether there is a recycling system in place that they can tap into and why no one sorts their trash.
While there are individuals who pick through trash to find recyclable items to recycle for extra income, these people operate on a small scale.
The rule of thumb is that whatever goes into the governmental waste management system will enter landfills, get burned, or get buried in cheap plots of land in rural areas.

Therefore, it is more reliable to try to keep your waste out of the local waste management system.
How to Recycle in Thailand
Despite that there are no formalized governmental recycling programs, there are many different channels where you can divert recyclables and consumables in Thailand effectively. With these solutions, you can prevent most of your household waste from ending up in landfills.
Local Recyclers & Junkyards
Thailand has a local, informal network of local recyclers who comb through the garbage bins on every street daily looking for sellable waste. They earn their living by picking out plastic water bottles, aluminum cans, paper, and cardboard to sell.
Some local recyclers ride through local neighborhoods on motorcycles with sidecars known as "saleng" to find and purchase trash that they can sell to local junkyards or recycling factories for a small profit.
These laborers help to salvage a lot of recyclable waste.
If you live in a condominium, or if you have a local helper, the condominium staff or security guards will often collect sellable waste, which they can sell to the local recycling carts for pocket change.
You can help them by separating and setting aside your recyclables by the community waste bins, or offer your recyclables to them to be sold to the saleng.
You can even sell to the local saleng or local junk yards yourself. Input "junk yard" into Google Maps to find one near you. They can purchase waste from you by the kilo.
The waste that they take is limited, however. Here's a list of what can be diverted to the local recyclers & local junkyards.
Paper
The local recyclers take office paper, newspapers, magazines, and cardboard of all types.
Plastic
The local recyclers take only two types of plastic – plastic water bottles (PET #1), and milk bottles (HDPE#2).
There is no need to remove the bottle caps, as local recycling factories have their own equipment for separating bottle caps.

Our next section will discuss how to get the rest of your single-use plastics recycled.
Glass
The local recyclers take glass. You can save your glass jars and wine and liquor bottles for them.
They particularly prefer beer bottles and soda water bottles – these are worth more as they can often be resold to the beverage companies.
Metal
Metal is very valuable for local recyclers as they can get a good price for it.

This includes aluminum cans & bottle caps, tin cans and scrap metal such as old cooking pots or pans, or any other items with a lot of metal parts such as umbrellas.
Broken Electronics
Local recyclers and junkyards will purchase broken electronics like old printers, televisions or kitchen appliances by the kilo. They will salvage what parts they can for recycling.
Private Recycling Initiatives
Plastic waste import has not yet been banned in Thailand – therefore, plastic waste purchased cheaply from China is easily available. This has driven down the prices for which local entities can resell plastic waste.

This impacts local recyclers, who get less money for the waste that they collect, reducing the incentive for collecting and reselling waste so that more and more recyclable waste is flowing into Thai landfills.
Many private recycling companies and grassroots initiatives have sprung up to fill the gaps in the Thai recycling sector. These efforts are more formalized and include home recycling pickups, as well as efforts to recycle types of waste that the local recyclers and junkyards don't take.
Trash Lucky
Trash Lucky is a local startup that incentivizes home recycling with monthly lucky draws. Every bit of waste sent to them is converted into lucky draw points for the sender. Prizes include cash vouchers for local supermarkets, gold bars or even cars.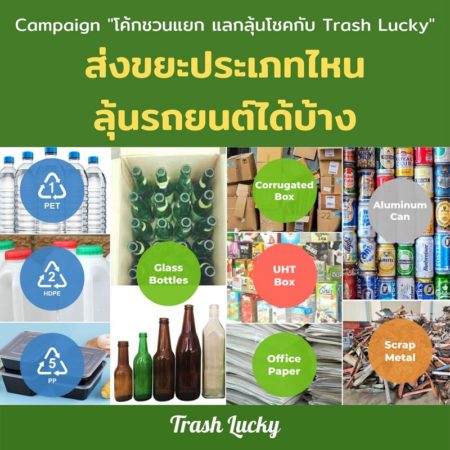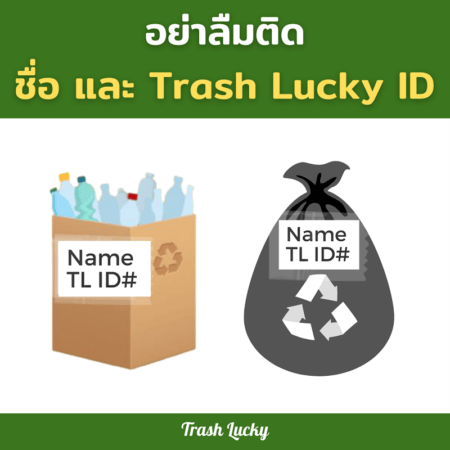 They provide monthly free home recycling pickups, and accept all the recyclables that local recyclers take – plus clear stretchy plastics, tetra paks & PP#5 plastic (most food containers).
Contact them on Line @trashlucky to get a member number. Sort by type of waste and label with your member number. They can also arrange pickups on demand for a low fee.
Trash Lucky also has a recycling program for schools, condominiums and neighborhoods. Simply put them in touch with your school administration or building's juristic to get the ball rolling.
They will set up a recycling station on the premises and offer workshops and education to residents on how to recycle.
Cirplas
Thailand has a problem with lack of legislation on labeling its plastic waste. That means a lot of companies do not label plastic waste by type making it harder for consumers to recycle.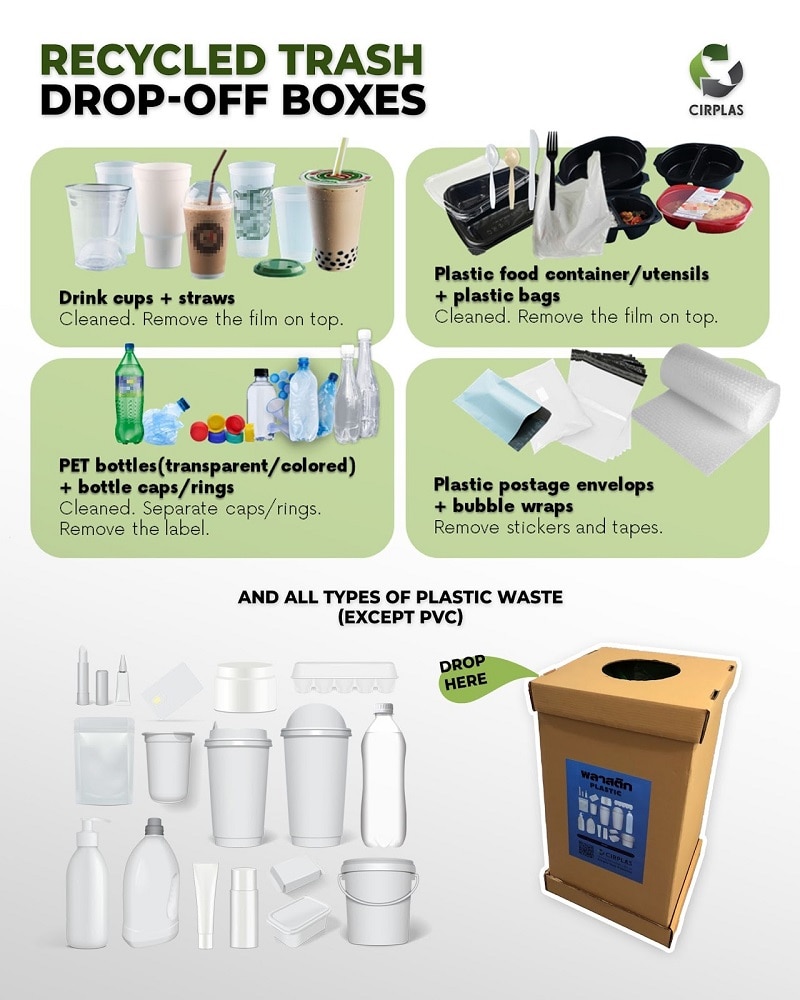 Cirplas provides a good solution here. They accept all plastic waste except for PVC#3 – including plastic bags & styrofoam – which they recycle into trendy home decor. Some of this appears in the local design store Qualy.

You can mail them waste or drop it off at their head office in Sathorn via messenger or in person.
Green Road Project
Another pesky source of waste is aluminum-coated or multi-layer plastics from snack bags, food packaging and pet food packaging.
A professor in Chiang Mai wanted to tackle this source of waste. Thus the Green Road project was born.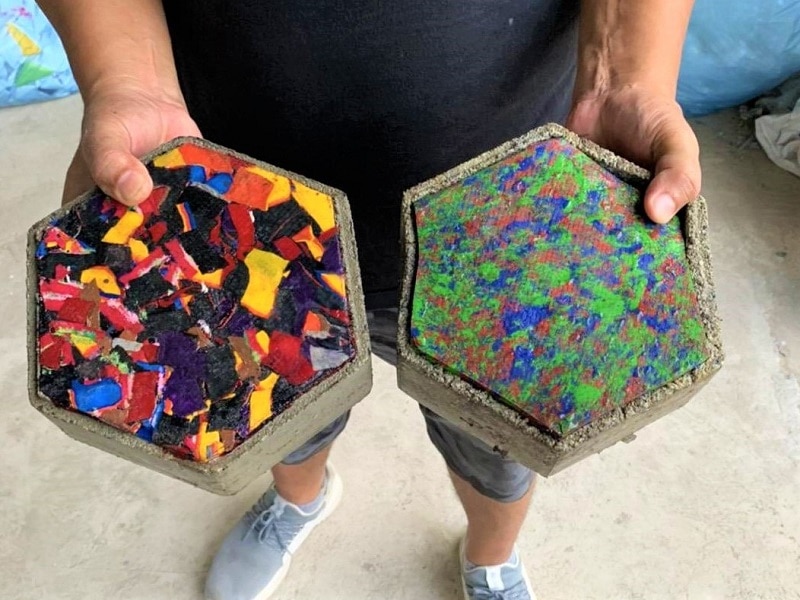 You can mail all multilayer plastics to Green Road Project 148/3 Village No. 19, Makhuea Chae Subdistrict, Mueang District, Lamphun, 51000 Tel. 0886843104. Green Road will recycle them into road pavement blocks for underprivileged communities & outdoor furniture.
Won Together
At the beginning of 2020, the Thai Retailers Association and over 70 other brands united to ban single-use plastic bags in department stores, malls, supermarkets and convenience stores.

Despite that, the use of plastic bags still abounds.

A good way to divert plastic bags from landfills is through local project Won, which has drop off points around the city for soft & stretchy plastics.
YouTurn
There are more drop points for plastic around the city. YouTurn, an initiative by the PTTGC Group, has over 70 drop off points around Bangkok for stretchy plastics and hard plastics.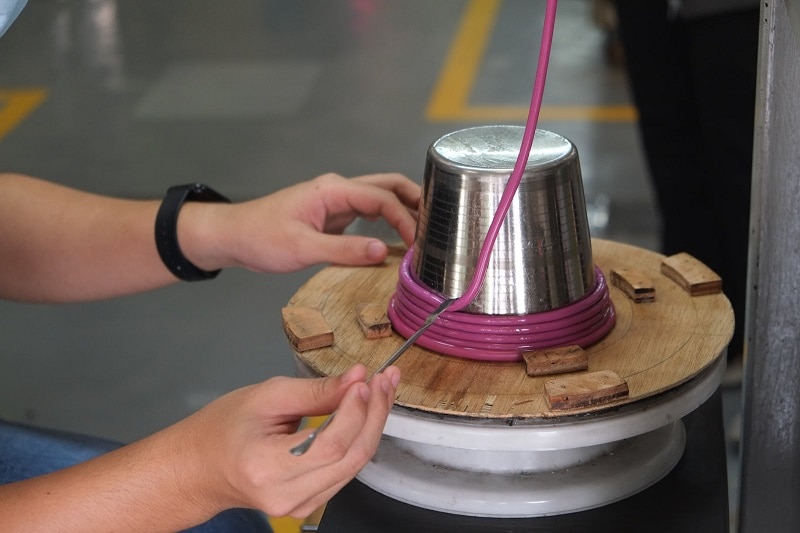 Precious Plastic
Precious Plastic is a local recycling company that accepts bottle caps and disassembled negative ATK test kits. These will be recycled into cute home decor. They do a great job of community awareness by involving schools and local businesses.
Non Recyclable Waste Disposal
There is not as much support for preventing non-recyclable waste from ending up in landfills. Terracycle, which is very active in some Western countries, has set up shop in Thailand but with only limited capability.
Enter N15 Technology – they collect non-recyclable waste around Bangkok and specialise in non-hazardous industrial waste sorting and disposal. These non-recyclables can also be mailed to their factory in Chonburi, including fabric waste, pens, and pencils, masks from people who aren't sick, air purifier filters, car tires, expired meds, and even coffee grounds & silica gel packets.
This is a last resort option when items are not able to be recycled.

There are some items that they don't take:
Covid-infected waste
Glass
Lightbulbs
Batteries
E-waste
Printer ink cartridges
Rubber hoses
PVC pipes
Artificial leather
Tiling
Zinc
Metal scraps or items containing metal parts
Sharp needles or razors
Electric wires or other wiring
Umbrellas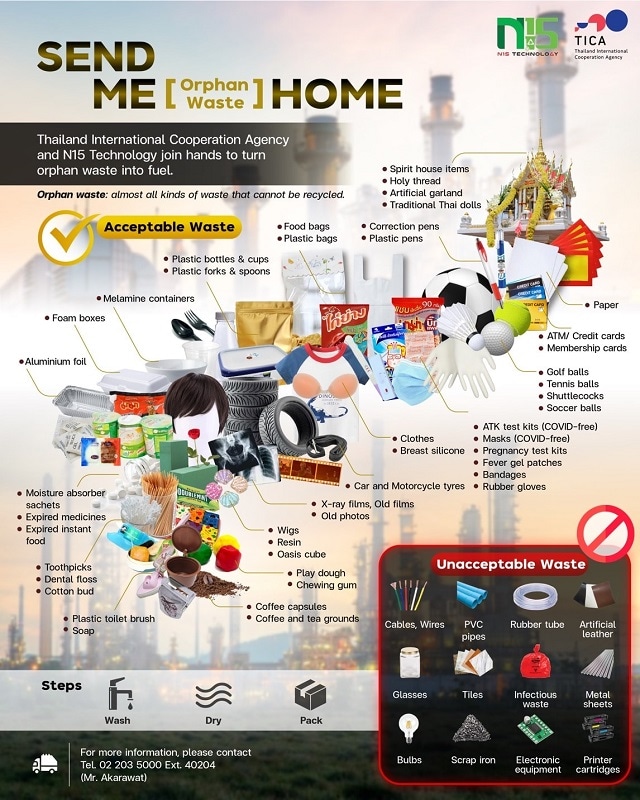 You can reach out to them to find out the details of their next waste collection drive.
Composting
You can further reduce your waste by composting kitchen scraps.
Local company Pakdone provides a clay composting tower in two sizes that can be suitable for either a condominium balcony or home garden.
A smart home electronic food waste composter is available from HASS Thailand.
Hazardous Waste
In Thailand, hazardous waste can be disposed of in the following ways:
Broken Glass
Broken glass can be sent to Trash Lucky listed above (separate it, pack it safely, and label it).
Aerosols
Aerosols can be dropped off at the Emporium mall's B1 parking lot drop-off point in Bangkok.
Batteries
In Bangkok, there are battery drop off points at the Emporium mall's B1 parking lot drop-off point, Park Ventures office building and IKEA.
Light Bulbs
IKEA has a drop point for used light bulbs.
Expired Medications
Expired medications should be sent to N15.
Reuse & Repurpose
Another pesky category that can pile up in our homes is consumables – from clean paper bags to plastic cutlery and sauce packets, moving boxes and bubble wrap. Luckily, there are numerous projects around the country to reuse or repurpose common household items.
Boxes & Bubble Wrap
This can be passed on to other expats and locals for reuse via the Bangkok Recycling Chain group on Facebook. The group is also a place where you can ask for boxes or packaging from other individuals if you are relocating.
There are also Recycling Chain groups for the other major cities in Thailand.
Related: Easy Packaging Tips to Keep Your Belongings Protected for International Shipping
Loose Parts
Anything that is clean & reusable or other bits and bobs can also be passed on in the Bangkok Recycling Chain group for other individuals such as local businesses or school teachers to reuse. Just make sure they are clean and organized.
Paper bags
Glass jars
Pump bottles
Egg cartons
Hotel toiletries & slippers
Newspaper & magazines
Food Delivery Waste
It can get frustrating when sauces and condiments, plastic cutlery and chopsticks are handed out locally even if you try to reject them. The Fatima Handicraft Shop in Bangkok accepts donations of clean food containers, sauce packets, plastic cutlery and chopsticks.
Cosmetics
Cosmetics & makeup packaging can be dropped off at Yves Rocher or The Body Shop branches around Thailand to be recycled appropriately.

Unexpired cosmetics and personal care items can be sent to Bangkok Soap Opera for donation to vulnerable groups on the border, whilst expired makeup can be sent to local hospital morgues for their use in preparing bodies for wakes and funerals.
Bras
Bras can be dropped off at Wacoal counters and shops around the country as part of Wacoal Thailand's "Bra Day" programme. The bras will be deconstructed and parts recycled appropriately.
CDs & DVDs
The APDI Foundation accepts CDs & DVDs and also any computer waste which they will sell to local recycling centers as recyclable material. The revenue from selling recyclable waste is used to fund their foundation for the disabled.
Old Electronics
Old or broken electronics may be donated to Wat Suan Kaew temple in Bangkok. They collect broken or second hand appliances, either to repair and resell them, or use them for spare parts.

Don Bosco Technical College on Petchaburi road in Bangkok will also accept broken electronics for students to have a go at fixing them as part of their studies.
Medication
Unexpired medications can be donated to Umphang Hospital in Tak province. Address it to: Director of Umphang Hospital (Medicine Donation) No. 159, Village No. 1, Umphang Sub-district, Umphang District, Tak, 63170 Tel. 055 561 270.
Charities Which Appreciate Donations
You can donate to specific groups of vulnerable people through the following charities.
Bangkok Community Help is grateful for donations of household items, especially bedding, mattresses, and furniture which they use to refurbish & rebuild homes in the local slums. Donations can be dropped off at any Sunrise Tacos branch in Bangkok or if it's a large donation you can call them for a home pickup.
Donate to local education via Pankan Society or the Mirror Foundation – they can also come to your home to pick up large donations.
Donate to refugees via Liferaft International or IRC Thailand.
You can donate to animal rescues via donations of books and games that will be resold to raise funds in the Squiggles Charity Shoppe, or send pet supplies and old bedding to PAWS Bangkok, The Adoptable Puppy Cafe, or Hin Lek Fai rescue in Hua Hin.
You can donate to pregnant women and children in need of shelter by sending baby & toddler items to be resold at the Home of Grace, Community Store.
You can make donations of surplus food or dry goods to the Scholars of Sustenance, who will distribute them to vulnerable groups in society, or as an F&B provider you can sell rescue meals via Yindii or Oho! Thailand to reduce food waste.
Tips for A Greener Life
A multi-pronged approach must be undertaken by all of us to use less and then dispose of the waste we do produce in the best way possible.
Strive to Produce Less Waste
There are so many ways we can reduce waste before it becomes a problem for Thailand's environment. Think about what reusable items you will need before you leave the house each day. Have a backpack ready with everything you need for the day or for a trip so you don't create unnecessary trash.
Our green friends over at Reusable Nation have a lot of great packing tips in this blog which you should keep bookmarked to remind you to create sustainable habits.
Recycle at Home
Because the recycling efforts are so scattered, it means different types of waste need to be sent to many different places and this can be frustrating and time-consuming for those who want to recycle in Thailand. Here are a few tips to streamline your recycling experience in Thailand and make it less overwhelming.
Set Up a Home Recycling Station
The Less Plastic Thailand blog offers some setup ideas for a home recycling station to unify your recyclables and make them more compact.
Waste which takes up less space can be slowly accumulated and mailed or taken to drop off points when you pass by them.
Self-Drop Off
Use local drop off points to reduce costs of sending, or bundle them with other trips to reduce your carbon footprint.
There are many local drop points for recyclable waste in malls throughout Thailand.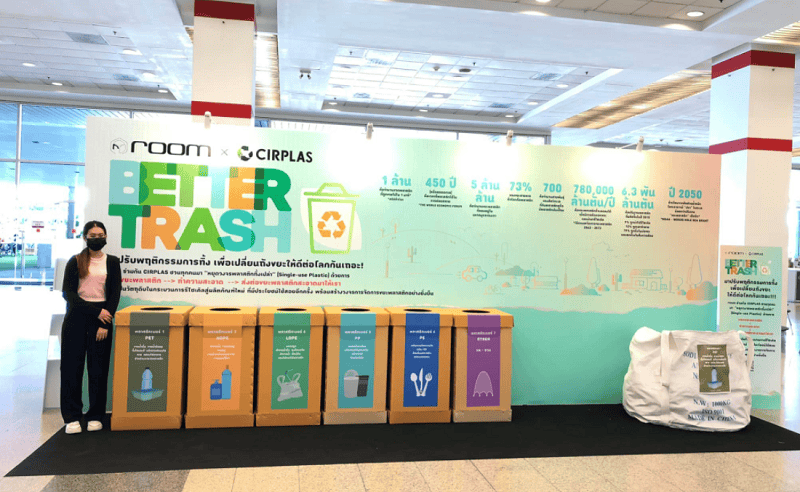 In Bangkok they can be found at local refill stations, IKEA, and malls such as Siam Paragon, Emporium, Habito Mall, or True Digital Park.
There are also numerous drop points for plastic bags by Won and soft plastics & hard plastics by YouTurn. 
To get an overview of drop-off locations, check out the Thailand Green Map.
Send by Mail or Messenger
When you don't have time to drop things off, you can save on costs by sending smaller items to local recycling programmes via mail. Larger volume items can be sent via messenger services like Grab or Lalamove or self-dropped off.
Zero-Waste & Refills
There are refill shops scattered throughout Bangkok and in all the major cities and islands in Thailand. You can easily find them on Google Maps.
In Bangkok there are refill stations in each of the major expat neighborhoods, such as The Yard in Ari and Better Moon Cafe in On Nut.
Bulk grocery purchases can be made at Sunshine Market or zero-waste produce at Happy Grocers.
Clothing Swaps
Clothes swapping has gained popularity in recent years, not only in the expat scene but the local scene as well.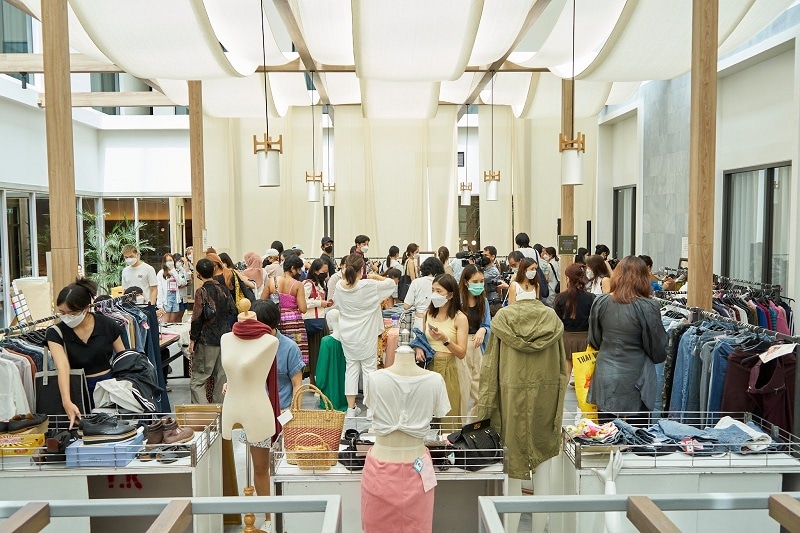 Your Neighbor Clotheswap at The Yard Bangkok, Seeds and Sunshine, Fashion Revolution or local platform SwoopBuddy organize regular clothing swaps in Bangkok.
Thrifting
Thailand does have a local culture of thrifting that can be found mostly at night markets.
In Bangkok, it can be found in the Train Market, certain sections of JJ market – especially JJ Mall building for antiques and vintage purchases – or at the quarterly Tae Flea Market.
You can also thrift at Japanese chain Treasure Factory, the Second Chance charity shop, Lucky Home in Samrong or the reConcept Store at Asiatique market for nice furniture.
Dasa Books Cafe in Bangkok is a charming secondhand book store that will also selectively accept your old books in exchange for in-store credit.
Repair Before Replacing
There are local street tailors that can help with clothing repairs or shoe repairs. Ask around your community for one.
Reviv Thailand provides online clothing repairs with fair-trade labor.
The Amorn electronics chain, located in all cities around Thailand, can fix your broken electronics that aren't too hard to mend.
Selling Second-Hand
If you are relocating, you might want to trade functional items that you can't take with you for cash.
It's easy to sell them on Facebook Marketplace or in numerous other secondhand or buy-and-sell groups on Facebook specific to each city in Thailand. Second Hand Thailand is just one example of hundreds of options.
Several of the expat women's communities also welcome posts selling women's clothing. Brand name items can be sold to the SOS – Sense of Style or Komehyo chains.
You can also sell clothes or household items to a local thrift chain like Treasure Factory, but keep in mind that you will get very little for the items.
Toddler and baby items can be sold in the Expat Mummy Sale group or more quickly and easily to Treasure Factory.
Electronic devices can be sold in the basement of Fortune Town in Bangkok or shops in other IT centers.
Additional Resources
There are many local communities that you can join or follow in order to keep updated on sustainable living, or as a source of knowledge.
Online Communities
If you just moved to Bangkok, join the Bangkok Recycling Chain group on Facebook — a gift economy where you can ask for anything you need to set up your new home.
Offline communities
In Bangkok, some offline communities that focus on sustainability are Ari Around, the Sansiri Backyard T77 Community ecological park, and Greenery Challenge which hosts a monthly sustainability fest titled Greenery Market.
Sustainability in Other Provinces
Many of the current recycling initiatives are centered in the capital city, but there are green efforts in other provinces and major cities as well.
A good place to start is to look up the Trash Hero event in your city if you're interested in cleaning up the environment and connecting with other like-minded individuals.
Pattaya
If you live in Pattaya, you can bring your recyclables and non recyclables directly to the N15 factory which is located in Chonburi. 
Hua Hin
Sang Foundation has many campaigns and initiatives to reduce plastic waste. They collaborate with many hotels to organize green events in Hua Hin.
Samui
The Samui Health Shop by Lamphu is a refill station and health shop on the island, whereas the Samui Green Market is a monthly event where you can plug into the sustainability scene.
Koh Phangan
The island of Phangan has a very eco-conscious population. There is a thriving Buy Nothing Phangan group on Facebook that supports a gift economy, a good place to connect with like-minded people.
Phuket
The Phuket Swapshop is a hub of knowledge on local recycling initiatives and local sustainable events such as swaps.
Chiang Mai
Free Bird Cafe in Chiang Mai is a cafe and a thrift store with a focus on sustainable initiatives. Their events are a great way to meet other sustainably-minded people.
Now, on to You
Thailand may not seem like the most sustainable environment to live in, but with the help of many grassroots efforts throughout the private sector to make recycling more accessible to the public, things are improving.
Find a way to plug in to some of the local sustainable communities and with tips and support from other people with a green mindset, you will be well on your way to reducing waste in Thailand.