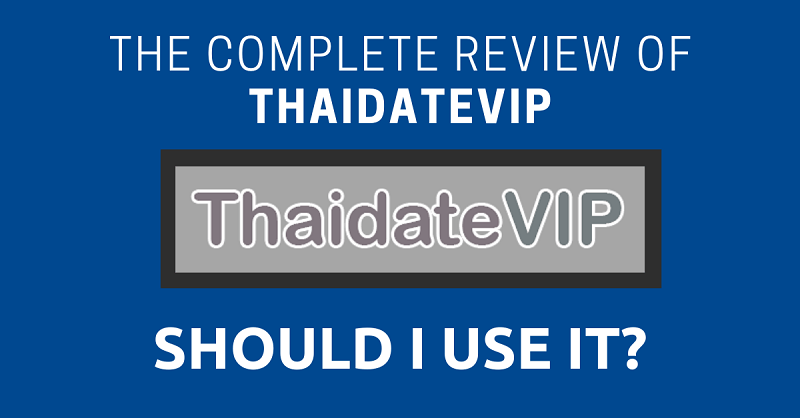 This review of ThaiDateVIP is intended to be a comprehensive guide of the online dating platform.
But before delving into this guide, in full disclosure I must say that I am indeed already a happily married man. However, what most people don't know is that I actually met my wife on an online dating platform.
It was over seven years ago when I entered the world of online dating. The fact is, I was considerably younger then, and the prospect of meeting my future wife was not exactly my expectation.
At that time, I wasn't sure what I was looking for. However, I proceeded with optimism and an open mind. And, long story short, I found my true love — and we are living happily ever after.
However, this review is not about my love story. It's about your story and the exciting new chapters to come.
Love can be elusive, and it would be presumptuous to promise any guarantee that you can also find the love of your life on a dating platform. However, if you're seeking meaningful connections, the first step is to put yourself out there.
That said, let's take a look at ThaiDateVIP.
What is ThaiDateVIP?
ThaiDateVIP is an online dating platform designed to connect foreigners with Thai women and vice versa. 
The website is operated by a French company with a dedicated team managing and moderating the platform.

The team aims to ensure a safe and enjoyable experience for both Thai women and foreign men, providing you with genuine opportunities to find your perfect match.
Here is a comprehensive look at ThaiDateVIP's features, profile quality, membership plans, and more.
What Can You Do with It?
It's human nature to seek meaningful connections, whether it's through friendship, long-term relationships, or true love. In this ever-growing digital age, finding genuine connections has never been more convenient.
While many dating platforms are available — many of which cater to different groups and preferences — finding the right one that suits your needs and expectations may be overwhelming.
As we all know, the prospect of dating can be exciting. However, it can also be daunting, especially when dating outside your culture. This presents inherent challenges such as language barriers and cultural differences.
This is where ThaiDateVIP shines.
Its mission is to help facilitate cross-cultural dating experiences by utilizing unique tools like built-in translation features, comprehensive search filters, and helpful informative blogs about Thai culture, dating, and relationship advice.
Whether you're already in Thailand, planning to visit, or perhaps relocating to the country, if you're interested in dating Thai women, ThaiDateVIP may be perfect for you.
Pros and Cons
Before we dive into the full review, let's take a quick look into the site's pros and cons.

Pros:
Specifically tailored to foreigners seeking Thai women for dating and relationships.
High-quality profiles with detailed information and photographs.
Rigorous moderation and verification process to ensure authenticity.
Communication tools such as a translation features helps facilitate smooth communication.
Informative blogs on Thai dating and culture.
Cons:
The website's full potential is only accessible with a premium membership, which may not be affordable for all users.
As with any dating site, there's always a risk of encountering scammers or fake profiles despite the rigorous verification process.
The language translation feature, although beneficial, may not always provide perfect translations due to the inherent complexities of language.
Doesn't have a mobile app.
What Kind of People Can You Find on the Site?
Because ThaiDateVIP is a platform that encourages multi-culture dating, you can find Thai women who are curious about different cultures and genuinely open to the idea of dating foreign men. 
My first impression is that most women on the platform are sincerely seeking meaningful connections, be it friendship, dating, or long-term relationships.
As a result, you can expect to find a diverse range of Thai women of varying ages, educational backgrounds, and interests.
Indeed, this helps to increase the likelihood of meeting a woman with similar interests and values.
Profile Quality
The profiles on ThaiDateVIP are generally adequate, with most Thai women providing basic details, a short introduction of themselves, and multiple photographs.
Example:
| | |
| --- | --- |
| Foreign spoken languages | Medium |
| Age | 33 years |
| Country | Thailand |
| State / Province | Bangkok |
| City | กรุงเทพ |
| My height (in cm) | 158 cm (5.2 ft) |
| My weight (in kg) | 41 kg (90 lbs) |
| My eye color | Black |
| My hair color | Brown |
| My occupation | Self-employed |
| Qualifications | Bachelor Degree |
| My religion | Buddhist |
| My hobbies | Chilling with friends |
| My personality traits | Optimistic |
| My favorite kind of music | Classical |
| I usually read | Magazines |
| My favorite food | Thai |
| My favorite sports: | Football/soccer |
| Marital status | Never married |
| Children | No children |
This is sufficient to help you narrow down your date. And once you find someone that you like, you can send a message to begin a conversation.
Features
ThaiDateVIP offers various tools and features to help you find and communicate with Thai women.
As a user, you can create a detailed profile with photographs and personal information to showcase your personality and preferences.
You can search for potential matches using multiple filters, such as age, location, height, weight, spoken languages, and other attributes and criteria, to help narrow your potential matches and specific preferences.
ThaiDateVIP features a messaging system with a built-in translation service that helps you overcome language barriers to ensure smooth communication, which is undoubtedly a valuable feature.
With these valuable tools and features available, all that is left is putting yourself out there.

Key features of ThaiDateVIP include:
Profile verification
Advanced search filters
Translation services
Favorites list
Blogs
Profile Verification
It's undeniable that there are scammers in the world of online dating.
To mitigate the risk of encountering them or other undesirable interactions, the ThaiDateVIP team moderates and verifies all new accounts to help prevent fake profiles and ensure authenticity.
The verification process requires the submission of a valid ID or passport. Verified user profiles are indicated and labeled as Certified Profiles.
This can help you make sure that all certified profiles you see on the website have been at least checked by the ThaiDateVIP team.
Search Filters
To help you search for a match quickly, ThaiDateVIP offers an array of filters to narrow down your search criteria:
Age
Country
Province (filter by the specific provinces)
Height (short, tall, and everything in between)
Weight
Spoken languages
Filter for matches that share your native language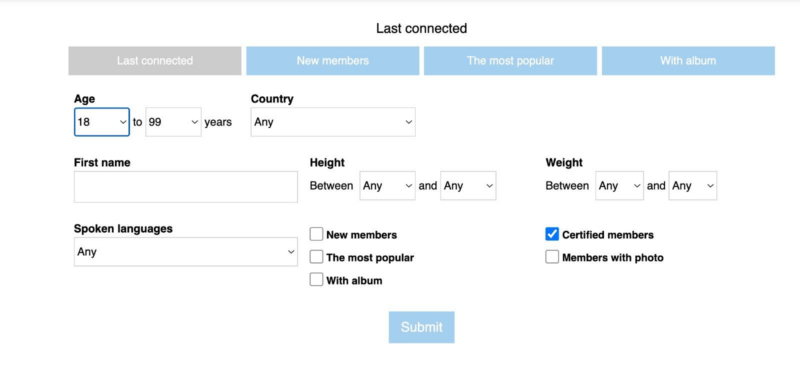 Furthermore, you can search by other criteria such as:
Last connected (recently online)
New members (most recently joined)
The most popular (most viewed)
With album (private album that showcases additional photos)
In my opinion, the most valuable filter is clicking the Certified Member box. This helps ensure that you only view users who have gone through the verification process.
Shuffle
Another fun and exciting aspect is ThaiDateVIP's Shuffle feature, which presents random potential matches that allow you to choose yes or no.
This feature works similarly to other dating platforms, resembling the swipe left-swipe right engagement.
By selecting yes, ThaiDateVIP sends that profile a Crush, which can lead to further communication and potential connections.
Private Albums
As a paid member, you get access to a cool feature called Private Albums, which lets you share more photos to other people of your choice.
It's a cool way to let others know more about your life without having to share publicly with people you don't know.
Translation Services
ThaiDateVIP has translation services for four languages including German, English, French, and Thai. It's a convenient tool to help you quickly understand the other person easier.
However, don't expect it to be perfect. Similar to other translation tools out there, there might be some mistakes, especially for complex sentences.
Favorites List
This feature allows you to add profiles that pique your interest to your favorites list. This feature notifies users they have been favored, which can help lead to more engaging connections.
Blogs
ThaiDateVIP provides helpful articles that give excellent insight into Thai dating, culture, and advice for cultivating successful relationships.
As an American man who is married to a Thai woman, I found these blogs to be quite insightful.
Is ThaiDateVIP Easy to Use?
For those who have used an online dating website before, you should be familiar with ThaiDateVIP's interface and can start using it without any issues.
It has a straightforward, user-friendly interface where you can see all options available in a single take.
If you aren't familiar with dating platforms, you only need a slight learning curve. As with any website, new users may need time to effectively navigate and fully utilize all the available features.
Spend a few minutes familiarizing yourself with the ThaiDateVIP platform before jumping in headfirst.
Do's and Don'ts
Here is some general advice when using ThaiDateVIP.
Do's:
For best results, complete your profile with accurate and detailed information.
Use clear, recent, and high-quality photographs.
Use advanced search filers with Certified Profiles to minimize the chances of encountering fake profiles.
Always be respectful and polite when communicating with other ThaiDateVIP members. As the saying goes, treat people how you want to be treated.
Like all good things in life, patience is a virtue. Take the time to get to know potential matches to cultivate a genuine connection.
If you encounter suspicious or abusive behavior, do not hesitate to report it to the ThaiDateVIP team. Reporting misconduct and other unwarranted misbehavior helps improve the platform's quality and authenticity.
Don'ts:
Never share sensitive personal information, such as your address, phone number, or financial details.
Never send money or gifts to someone you have not met in person.
Be respectful and avoid using offensive, discriminatory, or abusive language.
Be authentic; do not create a fake profile with the intentions to misrepresent yourself or mislead others.
Do not rush into a relationship without establishing trust and mutual understanding.
Do not ignore red flags or warning signs of scammers or malicious users.
Is it Free?
You can create a profile, browse other members, and access basic search filters with a free account.
This allows you to get an idea on what kind of people you should be able to connect with on the website.
However, to connect and start a conversation with them, similar to other dating sites, you need a paid account.
Without a paid membership, other users are notified that you sent them a message. However, they are unable to read it, and vice versa.
Membership Plans and Pricing
To unlock all the features and the platform's full potential, you need to pay for a membership.
Premium members can send unlimited messages, access advanced search filters, and enjoy priority customer support.
Keep in mind that this is a subscription system. The longer you subscribe, the cheaper it is.

ThaiDateVIP offers several premium membership subscription plans:
1-month subscription: €29.90
3-month subscription: €41.70 (€13.90 per month)
6-month subscription: €59.40 (€9.90 per month)
Should I Use It?
As someone who found the love of my life via an online dating platform, I would say ThaiDateVIP is a comprehensive dating platform created explicitly for foreigners and Thai women interested in meeting and dating.
What I like the most about this website is that it provides a safe and conducive environment for forming genuine connections and employs a dedicated team committed to quality and authenticity. It also boasts a strict verification process, with the mission to help facilitate cross-cultural dating experiences.
Of course, it isn't perfect. There might be fake profiles or scammers, which remains a common issue across all dating platforms.
Furthermore, price-wise it's very reasonable.
While this may not be within everyone's budget, the pricing structure is relatively competitive compared to other similar services.
After spending several weeks on the platform, in my opinion, ThaiDateVIP has the potential to be a reliable and valuable tool for those looking to establish meaningful relationships with Thai women.
It stands out for its dedication and efforts to providing a safe, genuine, and user-friendly platform that caters to the unique needs of its user base.
As always, you should remain cautious and respectful while navigating online dating platforms, and ThaiDateVIP is no exception.
However, all in all, ThaiDateVIP offers a worthwhile experience for those wanting to date in Thailand. You can use this link and start using ThaiDateVIP right away.
Now, on to You
When it comes to any online dating platform, it's important to remember that it can only be used as a tool and can't guarantee success on its own.
That being said, it's best to approach online dating with an open mind and a sincere desire to connect with others.
As we all know, building meaningful connections and relationships requires effort and investment from both parties. Ultimately, the success of any relationship depends on the effort and intention put forth by those involved.
Put the time and effort into creating a well-crafted authentic detailed profile. Maintain an optimistic outlook and be proactive by reaching out to potential matches that capture your interest.
Speaking from personal experience, dating platforms can be a viable resource for meeting others, finding fulfilling relationships, and, yes, even possibly, meeting your future wife.