After we published an article on how to become a volunteer in Thailand, we had a chance to interview Chrissie Miles. She has been working at Soi Dog Foundation as the Visitor and Volunteer Manager since September 2021.
Previously, Chrissie was a volunteer here for a month in October 2018.
Soi Dog Foundation was founded in 2003 and is one of the largest NGOs in Thailand. Its mission is to help stray dogs and cats throughout Thailand and the surrounding area.
But its mission goes beyond just that. Soi Dog Foundation shelters stray animals, provides education on animal welfare, offers mobile clinics, works toward ending the cat and dog meat trade, and much more.
What Inspired the Creation of Soi Dog Foundation? Could You Share a Bit of Its History?
Soi Dog began in 2003 with a couple from the UK, Gill and John Dalley, who moved to Phuket to retire. They realized the island was overpopulated with stray dogs and cats, causing a great deal of suffering. Many were starving or had severe skin conditions, old untreated injuries, or diseases.
They started catching dogs and cats and taking them to clinics to be sterilized and vaccinated to humanely reduce the population problem and stop the spread of diseases. At that time, there were an estimated 70,000 stray dogs in Phuket.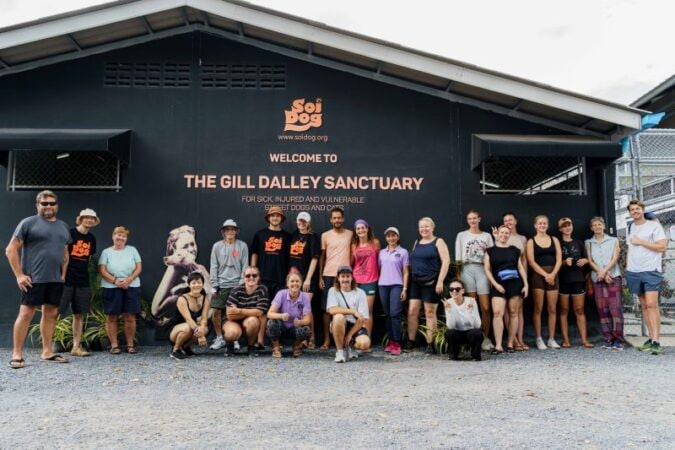 They teamed up with Margot Homburg, a Dutch lady who has been doing similar work in Bangkok, and moved to Phuket.
Now it is estimated there are only about 6,000 strays in Phuket due to the successful Catch Neuter Vaccinate Return (CNVR) program.
The shelter in Mai Khao started in 2008 when they had enough donations to buy some land to accommodate the dogs and cats too vulnerable to return to the community.
Soi Dog is growing every year, in terms of the number of sterilizations each month, the number of animals living at the shelter, and also the programs to help dogs and cats in other parts of Thailand and Asia.
What Specific Animal Welfare Issues Does Soi Dog Foundation Address?
Community Outreach Project (COP): We have teams out in the community every day responding to reports of dogs and cats in need. Although we have a dog hospital and a cat hospital, we have limited spaces, so we can accommodate emergency cases only.
Non emergency cases, such as skin problems, eye problems, and mild sickness can be treated in the community, sometimes with the help of locals giving medicine. Soi Dog also donates food to local feeders in different parts of Phuket, to make sure none of the community dogs and cats go hungry.
Adoptions: As we currently have about 1,400 dogs and 400 cats living at the shelter, it is very important that we re-home as many as possible. We cannot keep taking more vulnerable dogs and cats in without finding homes for the ones ready to leave. In 2022 alone, 528 dogs and cats were adopted from Soi Dog.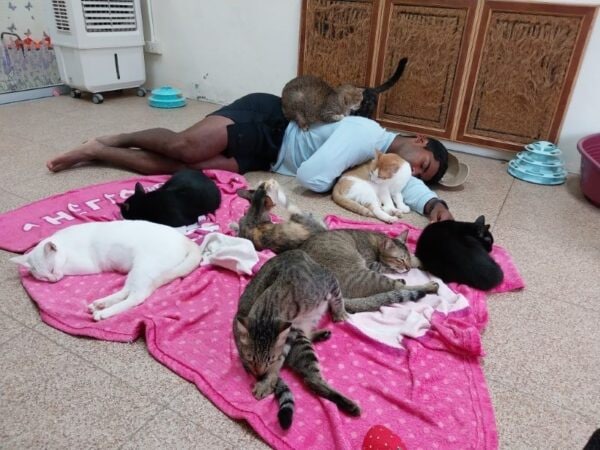 Humane Education: Our Humane Education team visit schools to teach children about animal welfare and the importance of sterilization. We also have local and international school children visiting Soi Dog. Educating children will hopefully mean less suffering for dogs and cats in Thailand in the future.
As stated on our website:
"At Soi Dog Foundation, we believe that people's attitudes towards animals are formed at an early age. If more people grow up with empathetic attitudes to dogs and cats, there will be fewer cases of cruelty and neglect."

Soi Dog Foundation
Mobile Clinics: We have a clinic in Bangkok which sends teams of vets to other parts of Thailand to help reduce the population problem all over the country. Soi Dog will hit a total of 1,000,000 sterilizations is September 2023. So lots to celebrate this year, with it being the 20-year anniversary.
Ending the Dog and Cat Meat Trade: Soi Dog successfully helped put an end to the dog meat trade in Thailand in 2014. It was illegal but was still happening. Dogs were being stolen from gardens, streets, and sent abroad to be killed and eaten. Soi Dog did undercover work to help the government catch and prosecute people. Soi Dog also helped the government change the penalties for animal abuse, which is now up to two years in prison, or up to a 40,000 Thai Baht fine. Soi Dog is currently working in Vietnam and the Philippines to end the dog and cat meat trade in those countries.
What are the Various Ways Individuals Can Support Soi Dog Foundation's Efforts?
There are many ways people can help Soi Dog.
Adopting: Every time someone adopts pets from Soi Dog, they are helping two animals – the one they take home, and the one they make space for here, as we are always full to capacity.
Volunteering: Volunteers are so valuable in helping walk and socialize with the dogs, and socializing with the cats. This not only enriches their lives while they live at the shelter (and some sadly may never be adopted) but also helps them learn to trust humans and increases their chances of adoption.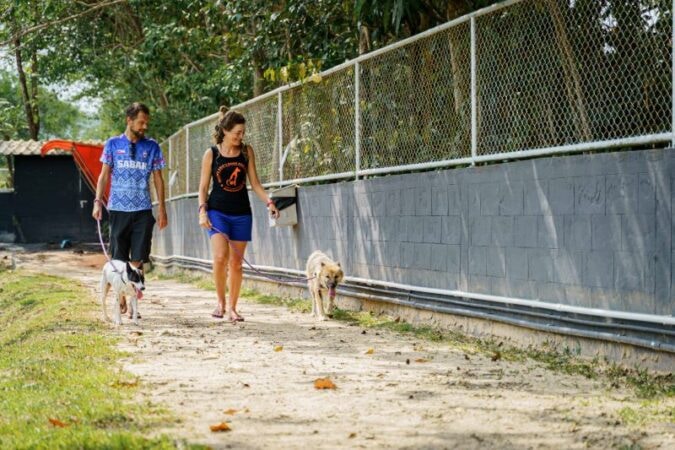 Sponsoring: We have a sponsorship program for the dogs and cats who cannot be adopted for health reasons. A monthly donation will go toward the extra medical care needed for them, and the sponsor receives regular updates about their sponsor dog or cat.
Spreading the Word: We ask all of our visitors and volunteers to leave a review on Google or Trip Advisor or share posts on social media, so more people know about Soi Dog and might also want to help.
Donating: As Soi Dog receives no help from the government, we rely solely on donations to continue to help so many dogs and cats in need.
Signing Petitions: To end the dog and cat meat trade in Vietnam you can visit our website. Please check our website for future petitions.
Could You Provide an Overview of Soi Dog Foundation's Volunteer Program?
We are in need of volunteers to help walk and socialize with the dogs, and socialize with the cats. This is to enrich their lives while they live at the shelter, as well as help them to learn to trust humans, as many were victims of cruelty or neglect or may not have interacted with humans before.
Time with volunteers increases their chances of being adopted, as dogs or cats that won't let humans near them are unlikely to be chosen for adoption.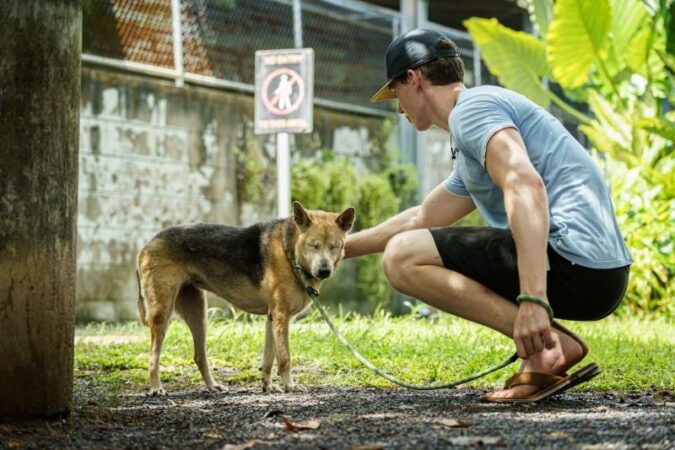 Dog-walking hours are Monday to Friday from 9 AM until 4 PM (with a long lunch break), and the shelter is currently covering 10 acres of land, so that is a lot of space to walk the dogs.
How Can Someone Apply to Become a Volunteer? Are There any Specific Requirements?
We need people who are dedicated and comfortable working in the heat (and sometimes rain), and of course who are animal lovers.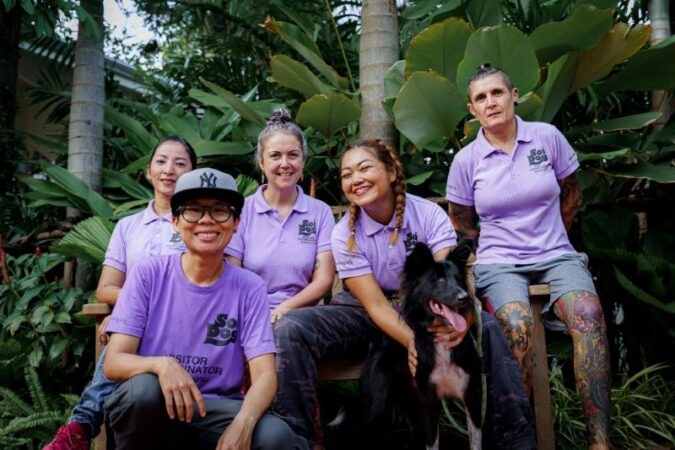 We require a minimum commitment of two days volunteering, and on the first day there is an induction at 9 AM.
To find out more information about volunteering or to make a booking please visit our website.
What are the Benefits of Becoming a Volunteer at Soi Dog Foundation?
Once you volunteer you will become part of a global community of dog and cat lovers. There are regular fundraising events and meetups for Soi Dog supporters and volunteers all over the world.
And many volunteers coordinate their dates so they can meet up with friends they have made on previous trips.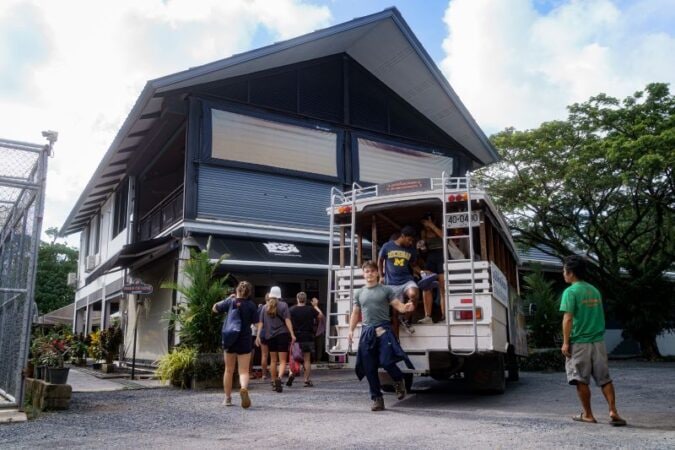 Many of the volunteers stay in an area called Nai Yang, where there are many restaurants on the beach, and they meet for evening dinner, drinks, and sunsets together.
The most magical outcome for everyone is when a volunteer falls in love with a dog or cat during their time volunteering and eventually adopts them.
Adopting to other parts of the world is easier than many people realize, and our amazing Adoptions Team do all of the paperwork.
Looking ahead, what are Soi Dog Foundation's future goals and aspirations? How do you envision the organization's impact growing over time?
Our CEO Louise Rose was recently asked, "What is your dream?" in an interview and gave this answer:
"To grow our sterilization program and make an impact on the number of dogs and cats born onto the streets. To encourage more people to see how rewarding it is adopt a stray animal and make them part of their family, or at the very least to care and take responsibility for the stray animals in their community. "To lobby for stronger animal welfare laws and use the full weight of those laws to bring more prosecutions. And to see an end to the barbaric dog and cat meat trade that exists in other countries across Asia."

Louise Rose, CEO of Soi Dog Foundation