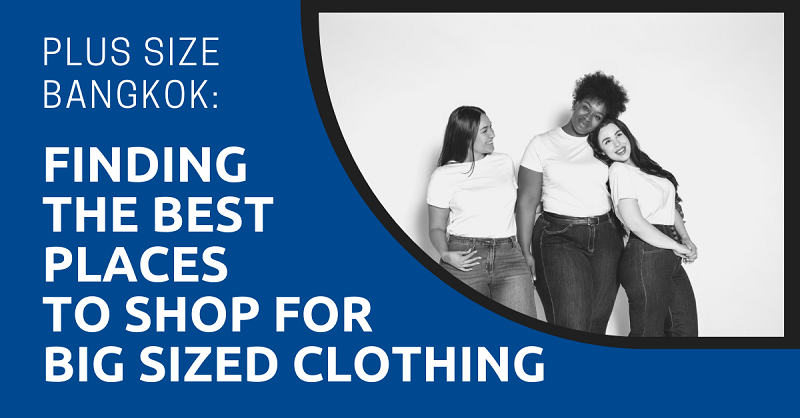 Of course it is a sweeping generalization that Thai people are small and foreigners are big. But there is truth in the statistics.
At present, the average height and weight for a Thai man is 171cm and 69.8kg, an average Thai woman is 159cm tall and 63.3kg. This is very low on the global averages scale.
So yeah, the majority of clothing, shoes, underwear, and sporting apparel will be made to fit the average population in Thailand, which has been historically petite.
But the times are changing and Thai people are getting bigger. Along with growing body sizes in Thailand, the country is also enthusiastic about catering to a global community.
More and more often, we are seeing bigger sizes in regular stores, and specialty stores both online and in-person catering to plus sized people.
Here is your guide to absolutely everything BIG in Bangkok. All the best shopping spots, specialty stores, and online outlets for plus size clothing, shoes, and other stuff for both men and women.
"*" indicates required fields
Acceptance and Inclusivity
Thai society is increasingly embracing diversity and recognizing that beauty comes in all shapes and sizes. This positive change can be attributed to the rise of body positivity movements, social media influencers advocating for self-love, and the fashion industry's growing commitment to inclusivity.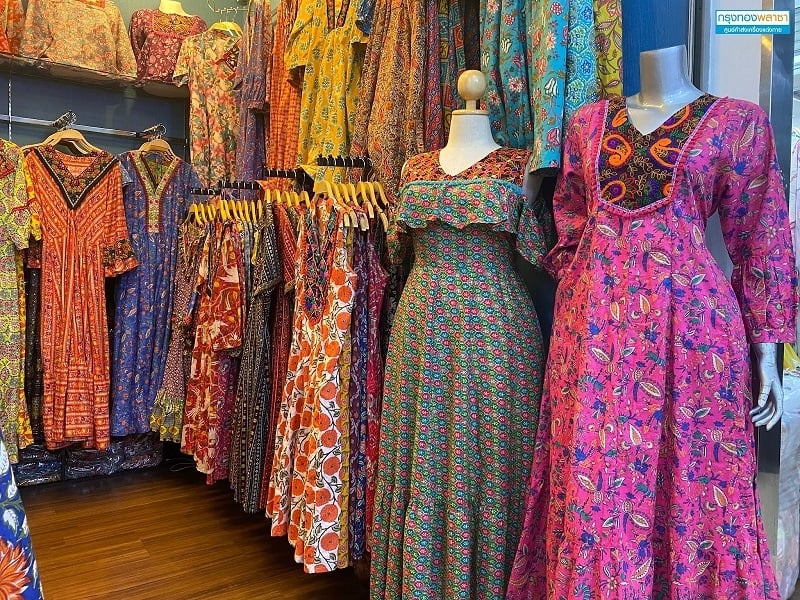 There are Thai plus sized stylists and image advisers, you can see modeling agencies embracing curvy Thai models, and even Pattaya beach clubs modeling their whole brand around plus sized models.
Is Plus Size More Expensive than Smaller Clothes?
You might be surprised to learn that in Thailand, while it is harder to find bigger clothing, specialty shopping for plus-sized items is not actually more expensive at all. As long as you understand that quality is usually directly influenced by price.
All of the places I have listed below – with just a couple of exceptions – offer very cheap shopping for big people.
At Krungthong Plaza you can spend hours pouring over racks of big clothing starting at just 100 THB or US$3!
Shopping at Discount Outlet will give you everything you need in a range from 50 THB to 400 THB. I have never seen anything there priced much higher than that.
Of course quality is important and when you spend more, you usually get better items. If you buy a 100 THB top from Shein, you will often get a scratchy, artificial item that will fall apart in less than a year. But if you buy something from ASOS from a reputable brand, you can expect the higher price tag to come with a better quality item.
In-Person Specialty Stores and Boutiques
Krungthong Plaza
Apparel Types: Mostly women's casual clothing, some men's clothing, some underwear, some swimsuits.
This is the spot, the epicenter for all things plus in Bangkok. The mall comprises four floors of over 400 indoor market stalls, all selling plus-size apparel. But before you run to this famous shopping center, you have to be prepared for one thing…
The stores are all named in a surprising manner which could offend or amuse you depending on your perspective and attitude. Get ready to shop in places called "Fatty-Fatgirl", "Love Calories", "Moo Moo", "Big Boom", "Fat Witch", and just plain old "Fatty".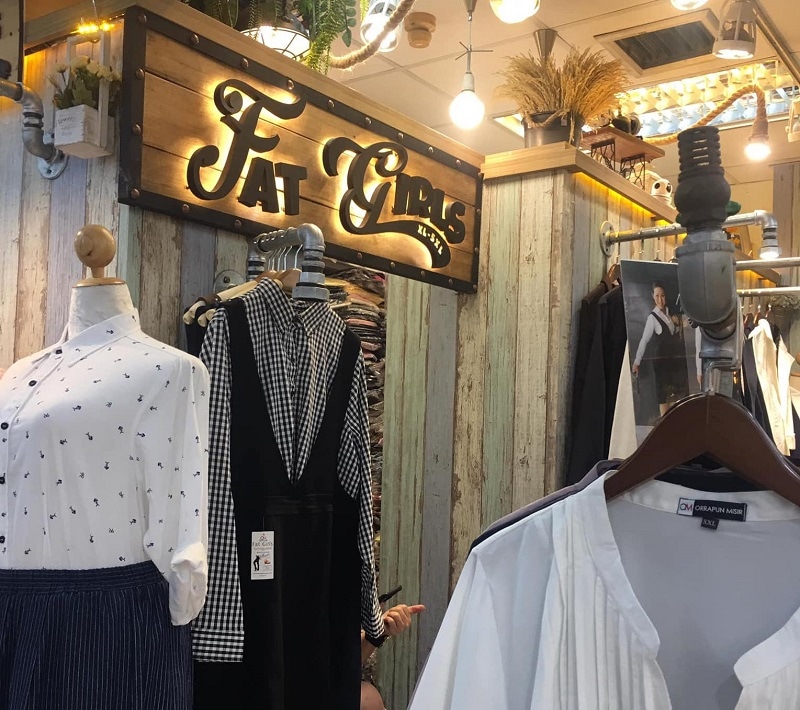 It is definitely best to go with a thick skin, a laid-back attitude, and the understanding that in Thailand, fat is just another adjective like tall, pretty, or brunette. In general, Asian cultures are way more blunt about describing themselves and others without using euphemisms.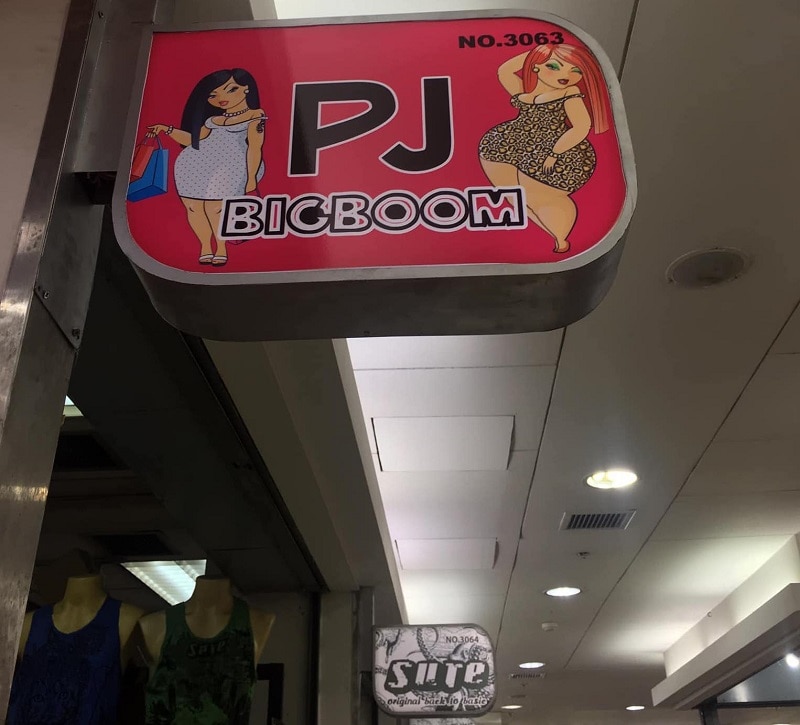 There is no offence intended, Thai people have a great sense of humor, and if you are feeling self conscious, half an hour in Krungthong Plaza surrounded by gorgeous and confident curvy Thai women (and clothing that is sure to fit you) will surely lift your spirits.
The Platinum Fashion Mall
Apparel Types: Women's, men's, and children's casual staples.
Platinum is a sprawling, 7-storey clothing mall that takes up a whole block of Phetchaburi Road behind Central World and the new Pathumwananurak Park. It is right across the street from Krungthong Plaza, so while it is not the best place for plus sized options, it does have a few stores and is worth checking out while you are in the area.
Unfortunately, I cannot guide you to a certain floor or specific area. You just have to wander and keep an eye out. Floors B, 1, 2, and 3 are all dedicated to women's fashion. The 4th floor is for Men's fashion and there you will find several big and tall stalls with pants and shirts for guys going up to 5XL.
Discount Outlet / Forwards
Apparel Types: Women's casual, men's casual, men's underwear, athletic, and children's.
They have big stores around Thailand, and stumbling upon one of their mall pop-ups will bring a spark of joy to any bigger man or woman in Bangkok. Incredible for activewear, jeans, pants, and button-down shirts.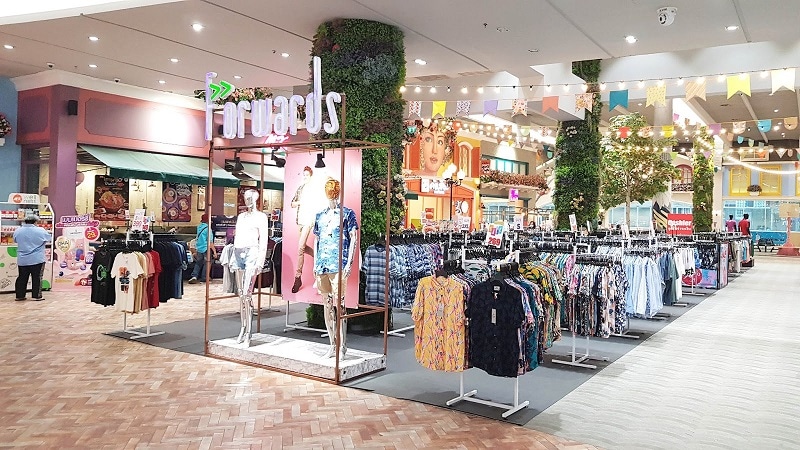 The company is Smartwear Limited and they import bulk reject/overstock clothing from factories in Vietnam, Bangladesh, and South Korea. So you will find real brands in western sizes, sometimes with small flaws, but often not.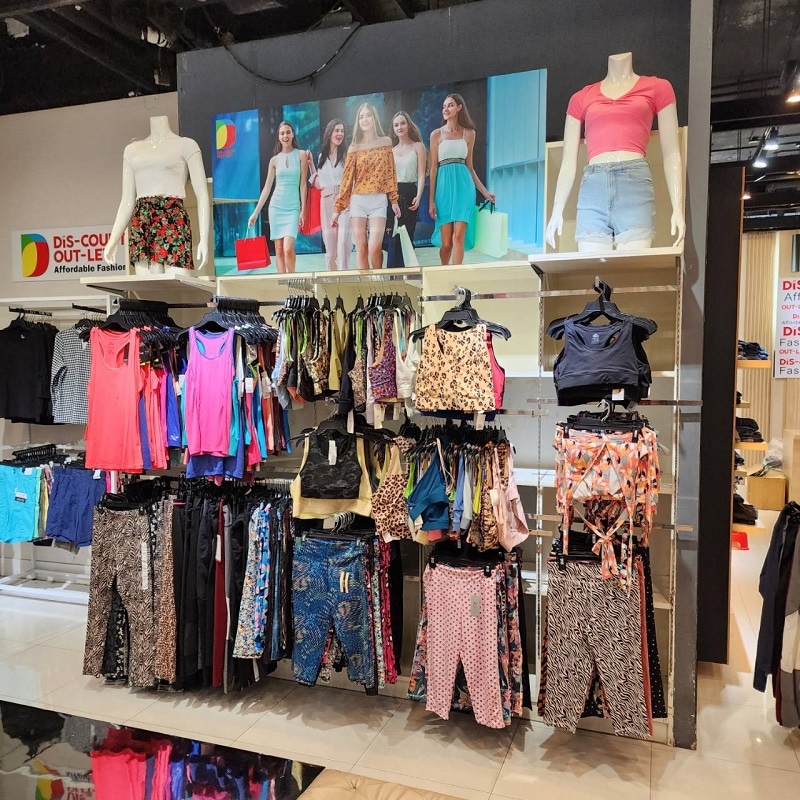 They have H&M, Gap, J. Crew, Tommy Bahama, Ben Sherman, and more. Things start around 50 baht! The tags are usually cut out, leaving us with the impression that the parent companies probably wouldn't appreciate their stuff being sold off cheap in Thailand.
PlusSize by TATA
Apparel Types: Women's, men's, and children's formal wear.
This is Bangkok's best selection of formalwear for big bodies. Explore a vast collection of evening dresses in sizes XL to 10XL, including bridal and Thai dresses. With over 1,000 designs, find your perfect look, complete with accessories, shoes, and bags. They even have menswear and they do rentals. They also offer comprehensive pre-wedding photography services.
KPStudio 777
Apparel Types: Women's casual.
This adorable small boutique is owned by a fashion forward woman who styles her shop and mannequins in cohesive, colour-coordinated outfits that feel youthful, sporty, preppy and cute. She stocks items with a cohesive colour theme and uses lots of neutrals and staple pieces to give plus-sized girls an idea of how they can work their curves rather than simply covering them in as much fabric as possible.
X-Sizes Outlets
Apparel Types: Women's, men's, and children's underwear, sleepwear, swimwear, and athletic wear.
Lingerie lovers unite! This chain has a branch on the 3rd floor of MBK with pop-ups in malls every now and then. Their main location is actually outside of Chiang Mai where they have a massive underwear factory outlet and also a farm (appropriately but strangely growing melons).
They offer a diverse range of lingerie, pajamas, men's underwear, t-shirts, and swimwear. And prices are budget-friendly. Things start at 99 baht and there are always buy-1-get-1 deals. Knowledgeable staff ensure a pleasant shopping experience, and most of their stuff is export-branded and going up to huge sizes.
Marks & Spencer
Apparel Types: Women's, men's, and children's underwear, sleepwear, and business casual staples.
The British retailer which specializes in clothing, beauty, home products, and food products has a few small outlets in Bangkok malls. They work with the Central Group and can be found in several Central department stores and malls around town.
They are most popular for men's business shirts and women's underwear. Their sizes don't go too big; Men's clothing goes up to a 2XL and women's to a UK14.
For some larger people they are a great option for more high-end, great quality pieces. Their prices are a little higher than Bangkok shoppers might be used to but they are known to last.
The Big 4 Online Clothing Retailers
When it comes to plus-size online shopping, H&M, Shein, Cider, and Asos usually come up first.
I have concerns about promoting fast fashion companies due to their association with unethical manufacturing practices, particularly in China. Unfortunately there is limited availability of ethical and sustainable plus-size clothing options.
Fast fashion is often criticized for its environmental impact, labor exploitation, and poor working conditions in factories. However, it's important to acknowledge that plus-sized individuals face unique challenges when it comes to finding clothing that fits and suits their style, especially us here in Thailand.
H&M, Shein, Cider, and ASOS have become popular among plus-sized consumers because they offer a wide range of trendy and affordable options in larger sizes. In some ways, they are a necessary evil.
H&M
Apparel Types: Everything for women, men, and kids.
While H&M stores in Bangkok rarely stock anything bigger than a women's large (EU44/US12), their Thailand online shopping has way better options for bigger men and women, with items sometimes available up to a 3XL. Their online conversion size charts are very handy and it is easy to search by size.
Shein
Apparel Types: Everything for women, men, and kids.
The explosion of Shein (pronounced "she-in") has been quite the all-encompassing phenomenon. Hours can be lost scrolling through the endless pages of plus-size options in their "Curve", "Romwe", "Emery Rose", "MOTF" and "Luvette" brands which all cater to bigger people up to a size 4XL.
ASOS
Apparel Types: Everything for women and men.
ASOS is a popular online fashion retailer with a diverse selection of clothing, including trendy plus-size options in their "ASOS Curve" collection which goes up to a women's UK size 30. Their plus men's range goes to a 6XL or 48 inch waist.
Known for affordability and variety, ASOS caters to different tastes with their own collection but also representing reputable brands like Adidas, North Face, and more.
Cider
Apparel Types: Full range for women and some unisex clothing.
Cider is relatively new and out of Hong Kong, they tout themselves as more sustainable and ethical, but in-depth research has found that they are no better than their competitors as far as sustainability goes.
Still, they have a broad selection of trendy plus-size clothing up to a 4XL for reasonable prices (a bit pricier than Shein) and they give bigger women another shopping option.
Other Online Plus Size Shops
In Thailand the two dominant online shopping platforms are Lazada and Shopee. These operate like Amazon in the US with independent sellers hosting their shops on the platforms. Amongst the hundreds of thousands of sellers, you can find specialty plus-size clothing stores.
Another online shopping option is boutiques found on Facebook or Instagram who sell using Line shops.
One of the biggest issues with online shopping is that it's kind of risky. It's not like shopping for groceries online where you know exactly what to get.
Thai plus size shops, strangely enough, often don't have different sized clothing.
They regularly just have one size of things which are big and stretchy, assuming all big people are a similar size, claiming that the item fits everyone from a size 34 to a 50.
Here are a few examples of Thai plus-size online specialty shops for you to check out. You can find more with keyword searches.
100kg Plus Size
Apparel Types: Women's casual, underwear, athletic, and swimwear.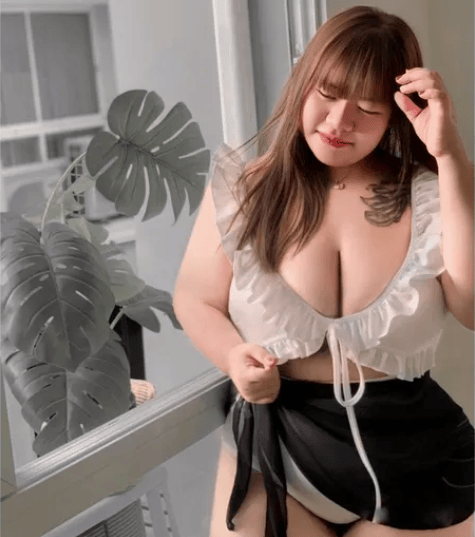 This Thai shop has lots of fresh, youthful clothing for bigger women. It has a good selection of swimwear and the photos are clear and the models are beautiful and real. Most of their stuff is one-size-fits-all-plus, so test an item or two before filling your cart.
Fashion Killer
Apparel Types: Women's casual
Founder Kewalin "Golf" Kowhakul is a Thai celebrity entrepreneur, famous for pushing the boundaries of fashion in Thailand into plus sizes since 2011. Her Facebook store is massively successful and you can buy directly on the platform or within their group. They source pieces from famous brands including H&M, Torrid, and Gap along with locally made items to style whole outfits.
Fat Cartel Men's Clothing
Apparel Types: Men's casual and sporty
This shop is their own brand, so some guys might not want to walk around with the words "Fat Cartel" emblazoned across their chest, but I think the clothes are pretty fly nevertheless. Not all of the clothes have large brand names on them. They go from an XL to a whopping 7XL and they have a cool hip hop vibe. The prices are also reasonable for high-quality fashionable items, with shirts in the 700 THB range.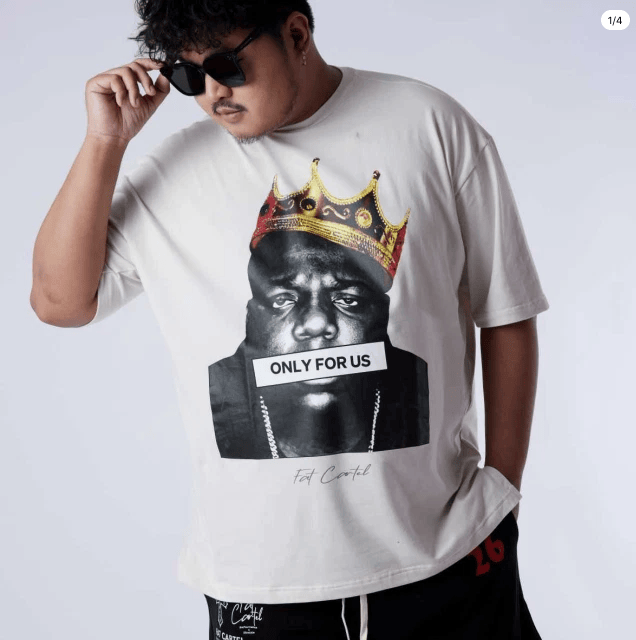 Big Shoes
Note, in Thailand we use the China system for shoe sizes. So when you are converting your US, European, or other country shoe size online, look for the Chinese conversion charts.
These online conversion charts often vary and are not always accurate. But generally this is what I find: My feet are 26 – 27 cm long, I am a US women's size 10, a European 42, but in Asian shoes, I usually need to go to a 43 or 44.
ZAAB Shoes
For women : Large sizes on their website, but they also do custom-made shoes. Up to women's size 45.
Pinwa Shoes
For women: Beautiful leather sandals made to order up to size 44. They also have a shop in Terminal 21 Asok.
Siam Premium Outlet Mall
For women and especially great for men
At this outlet mall, you will find Adidas, Nike, and mixed brand shops like Grand Motorsport where they have men's athletic shoes up to a huge US size 14 or EU 49. Bonus that they are often heavily discounted!
Swimwear & Activewear
Dock Town
Apparel Types: Custom wetsuits for anyone.
This custom wetsuit specialist in Phuket is a dream come true for divers with less than standard body sizes. They will schedule times to do in-person exact measurements with you to create the perfect skin-tight wetsuit fit. They travel frequently and will be able to meet you in Bangkok if you can't get to Phuket.
Decathlon
Apparel Types: Women's, men's, kids' activewear, swimwear, and sporting equipment.
For everything sports and fitness, you can't skip a trip to Decathlon. They also have online shipping, but a visit to one of their big shops is our suggestion to get the right stuff. Workout gere can be pretty unforgiving if the fit is off. Men's clothing goes up to a 44 or EU 3XL and women's goes to a UK 18.
Second Hand Shops
Home of Grace, Community Store
A fantastic secondhand store run by the Home of Grace charity which helps teen mums and abused women in Bangkok. They sell clothing and other stuff and they also have very high standards, they only accept quality donations that they are confident they can sell to keep doing the great charity work they do. You are certain to find some good pieces here.
Clothing Swap Events
Clothing swaps are a fantastic way for plus-sized individuals to refresh their wardrobes while fostering a sense of community and inclusivity. These events allow people to exchange gently used clothing items with others, offering a sustainable and budget-friendly approach to fashion.
Thailand Recycling Chain
Follow their Facebook page to see their regular clothing swap events which they host at restaurants and spaces around Bangkok including Habito Mall, The Home BKK, and The Commons. You can also join their Facebook group to snap up free items and or trade.
Swoop Buddy
This new group is doing both online and in-person swap events. You can find their events and news as well as their future plans for an online shop of second-hand clothing on their website here. Keep up to date with all their news on their Facebook as well.
Other Occasional Swaps
You can keep an eye on the Facebook page for The Yard Bangkok as they host clothing swaps fairly often.
Follow Mindful Sparks on Facebook to see when their next swap shop is taking place at Training Ground Sukhumvit 69.
Unfortunately, Bangkok's biggest swap event, Swap 'Til You Drop is on pause right now while the founder looks for someone to take over the brand. But do keep them on your radar in case they come back to life.
Tailors
Tailors in Thailand are an excellent choice for plus-sized individuals seeking well-fitting and stylish clothing. Thailand's skilled tailors specialize in creating custom-made garments, ensuring a perfect fit.
But not all tailors are created equal. Most tailors here only want to work with men because they understand suits. Men's suits have fewer variables and are easy for them to make quickly and require fewer adjustments. Women's dresses are more complex, personal, finicky, and can face endless adjustments.
For men in Bangkok looking for a tailor, it is hard to go wrong. But ladies should be a bit more selective, make sure they have a lot of reviews on their Google maps page to prove their history with dresses.
Rachaya Tailored Plus Size Clothing
Rachaya is the epitome of custom-made elegance. Renowned for their exquisite craftsmanship and attention to detail, this tailor shop specializes in creating beautiful, flattering pieces for plus-size individuals. With a wide selection of fabrics and designs to choose from, they transform your vision into reality. Experience impeccable service and outfits that are always perfect. They are genuine specialists in bigger bodies.
Benjamas Tailor
While it is more difficult finding a tailor or seamstress who does womens clothing just as well as suits, in facebook groups for women in Bangkok, the overwhelmingly most recommended name in the tailor game is Benjamas. They have been around for many years and have a solid reputation. They are happy to work with your own fabric as well.
Final Tips for Online Plus Size Shopping
Of course there are hundreds of online shopping options for plus size clothing, but when you live in Bangkok, you have to think about a few things before you hit that checkout button.
Navigating the best sites and finding the right fit is going to be a bit of trial and error. Here are the most important tips.
Know Your Measurements: If you don't have one, go and buy a tape measure immediately. Different brands have varying size charts, the only way to guarantee a fit is to check the exact centimeters or inches by having your measurements on hand. Chest, waist, and hips are the bare minimum to know.


Check the Sizing Charts: Pay close attention to the sizing charts provided by the individual online stores. Thai sizing will differ from what you're used to. An XL at one store will have an 81cm waist and at another store it will be 107cm.


Read Reviews: Look for customer reviews and ratings for the product you're interested in. Reviews often contain real human untouched photos and information about the fit and quality.


Choose Reputable Retailers: There is a good reason Wish Dot Com is a meme. They are famously very unreliable. Stick to well-known online retailers. These are more likely to offer better refunds and customer service. Some popular options that ship to Thailand include Shein, Pomelo, and ASOS.

If you choose to go rogue on Lazada or Shopee, then you are dealing with independent sellers and no quality control. You might find some gems, but you might also have no luck.


Filter and Sort: Most online stores have filtering options to help you find your size quickly. Use these filters to narrow down your choices and save time.


Check the Return Policy: Make sure you understand the return and exchange policy of the online store you're shopping from. These days the process is usually super easy.


Check Fabric and Material: Some materials may have stretch, some will be scratchy, some will be see-through. Filter by fabric choosing cotton, wool, rayon, and other natural fiber blends. Avoid things that are 100% polyester, acrylic, acetate, or viscose.


Check Shipping Costs: Take note of shipping costs and delivery times. Remember that Thailand's import and customs departments are renowned for being whimsical with their taxes, making up new values and charging exorbitant amounts to get your goods released.

Companies that ship frequently to Thailand know how to separate packages and keep the value of goods low to avoid problems. When in doubt, place small orders only, don't try to get hundreds of dollars of stuff delivered at once.


Pay Securely: Use secure payment methods through reputable sites. If you are buying from an individual, ask for cash on delivery options. Never send large amounts of cash to random bank accounts.

Final Tips for Plus Size Shopping in Person
While online shopping offers convenience, there's nothing quite like the experience of in-person shopping when you're in Bangkok. However, when you're a plus-size shopper, there are specific things to keep in mind to make your shopping trip enjoyable and successful.
Research Plus Size-Friendly Stores: Before heading out, use this list of stores in Bangkok that are known for carrying plus-size clothing so as not to be disappointed.
Dress Comfortably: Wear comfortable and easily removable clothing. You may need to try on multiple items, so choose an outfit that allows for quick changes in the fitting room. Comfortable shoes are a must, as you might be doing a fair amount of walking.
Know Your Measurements: Just as with online shopping above, knowing your measurements is crucial.
Ask for Assistance: Don't hesitate to ask store staff for assistance. They can guide you to the plus-size section and help you find specific styles or sizes. Many stores in Bangkok have staff who speak English, so don't be afraid to communicate your needs.
Try Before You Buy: In person, you have the advantage of trying on clothing so definitely take advantage of this by asking about a changing room, even in crowded markets, they often have a space for tying.
Be Open to Local Sizing: Thailand and Asia in general uses its own sizing system, please don't be discouraged if you need a larger size than usual. We have all felt the shock of seeing a 3XL on the tag. Remember, it's all about the fit, not the arbitrary size assigned to it.
Pay Attention to Fabric and Comfort: Consider the climate in Bangkok when selecting fabrics. Lightweight and breathable materials like cotton and linen are great choices for the city's hot and humid weather.
Shop During Off-Peak Hours: To avoid crowds and long lines at the fitting rooms, try to shop during off-peak hours. Early mornings and weekdays are typically quieter times to visit stores. Definitely avoid the Pratunam shopping district on a weekend afternoon!
Now, on to You
In the vibrant shopping landscape of Bangkok, the notion of size has evolved from a narrow stereotype to an expansive celebration of diversity. From bustling markets to specialized boutiques and the convenience of online shopping, the city is starting to cater to individuals of all sizes.