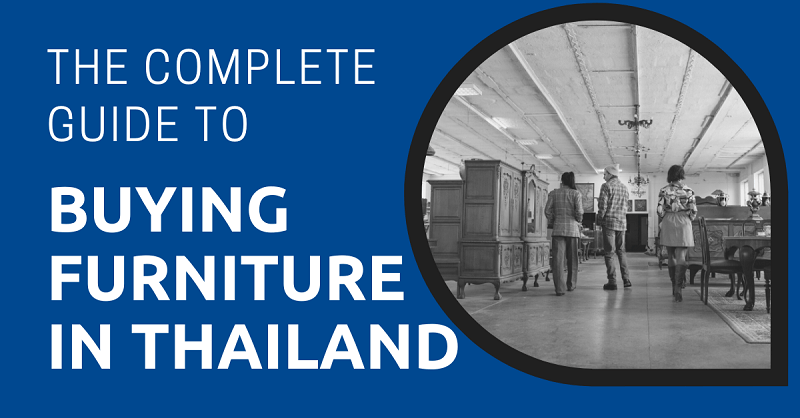 When it comes to furnishing your home, Thailand offers a treasure trove of options that cater to different tastes and budgets. Whether you're a local resident or an expat looking to furnish your new abode, the country's furniture market has something to suit every style, from contemporary designs to vintage classics.
We've put together this comprehensive guide to buying furniture in Thailand so you can learn more about the materials, types of furniture, where to shop, and which cities to visit to embark on your furniture hunting adventure.
Materials
You'll encounter a variety of materials when furniture shopping in Thailand. These materials reflect the country's rich craftsmanship and diverse design aesthetics.
Understanding the characteristics and advantages of these materials can help you make informed decisions and select furniture that suits your preferences and lifestyle.
Here are the popular materials you might come across when buying furniture in Thailand.
Teakwood
Teakwood holds a special place in the hearts of Thai craftsmen. Known for its durability and natural beauty, teak is highly prized for its rich color and unique grain patterns.
It's also very durable. In 2011, there was a big flood throughout Thailand. Many houses were underwater for months. All the furniture was ruined because of the flood except the pieces made out of teakwood. It remained in good condition and is still being used to this day.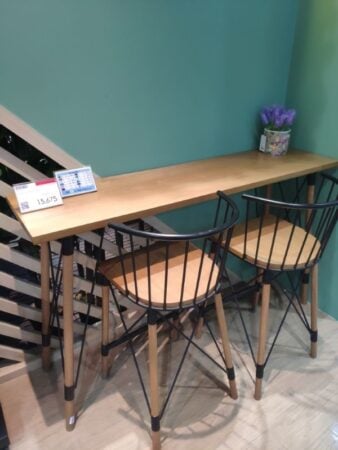 It's safe to say that teakwood furniture lasts a lifetime. In addition, antique teakwood furniture can be sold at higher prices if in good condition.
Teakwood is resistant to rot, decay, and insect damage. It's also easy to take care of teakwood because you can just wash it with water.
To get teakwood furniture, you have to go to local wood furniture stores instead of big brand outlets. If you are serious about getting quality teakwood furniture, you should visit these three provinces:
In addition to being more expensive, there are two other disadvantages of teakwood furniture. First, it's very heavy. And second, the designs usually revolve around classic styles, which might not suit everyone's tastes.
Wood
In addition to teakwood, wood furniture is also popular in Thailand. When you rent a house in Thailand, there's a good chance you'll find wood furniture in it.
Thailand is one of the largest rubber producers in the world, so rubber wood is becoming more popular as it's affordable. If you go to the south of Thailand, you will find hectares of rubber-tree farms everywhere.
But be careful on what kind of wood you use, especially if it's plywood, because it could swell during humid months.
Fabric
Fabric upholstery offers a versatile option that allows for a wide range of colors, patterns, and textures.
You'll find a diverse selection of fabrics in Thailand, including cotton, silk, and synthetic blends, with local, hand-produced options available.
Consider the environment you'll be using the upholstered furniture in before selecting a fabric, as certain materials are made for indoor use only.
The main advantage of fabric furniture is that it doesn't absorb a lot of heat, which is good because Thailand is a hot country. But it can be hard to clean fabric furniture, especially from dust.
Leather
Leather is a timeless and luxurious choice for upholstery and, in Thailand, you can find a range of leather furniture options that offer both style and comfort. Leather upholstery is known for its durability, and with proper care, it can last for many years.
In Thailand, there are two main types of leather furniture:
genuine leather furniture
artificial leather furniture
Genuine leather is much more expensive than artificial leather because it's much more durable and easier to clean. On the other hand, artificial leather can be damaged quickly if it's exposed to the sun every day.
It's easy to maintain genuine leather. You can clean it with soap water. However, it absorbs heat easily. So, be sure to keep it away from windows and glass doors. Otherwise, you may not want to sit on it unless you turn on the air conditioner.
Rattan and Bamboo
Thailand's tropical climate and abundance of natural resources make rattan and bamboo popular traditional materials for furniture. Both materials are lightweight, eco-friendly, and suitable for indoor and outdoor use.
However, it's essential to ensure proper maintenance and protection from humidity to prevent damage to rattan and bamboo furniture.
Also, the durability of rattan and bamboo furniture vary greatly based on the skill of the furniture maker.
Synthetic Materials
Like everywhere in the world, Thai furniture manufacturers use synthetic materials such as plastic, resin, and metal alloys. These materials offer durability, versatility, and a wide range of design options, They are also often used to make outdoor furniture due to their resistance to the elements.
Synthetic materials can be a more affordable alternative, but they may lack the charm and authenticity of natural materials.
Types of Furniture
Thailand offers an array of furniture types to cater to different needs and preferences.
Indoor
In Thailand, there are a wide range of options for indoor furniture. You can find everything from stylish living room sets, cozy bedroom suites, elegant dining sets, and functional kitchen furniture.
If you're looking to create a comfortable and inviting atmosphere inside your home, Thai furniture designers have you covered.
Outdoor
For those seeking to transform their outdoor spaces into serene retreats, Thai furniture manufacturers produce a variety of outdoor furniture pieces.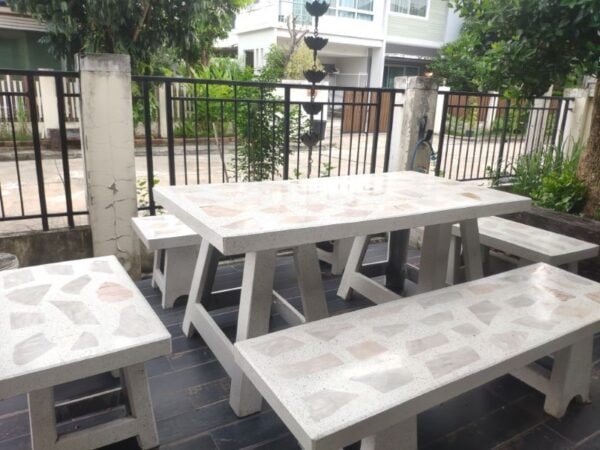 Ranging from loungers and patio sets to hammocks and garden benches, you'll find everything you need to create a tranquil oasis amidst Thailand's natural beauty.
Luxury
For those with a bigger budget, luxury furniture options are aplenty in Thailand. Designed to elevate your living spaces with opulence and refined aesthetics, you'll find intricately carved pieces to lavish materials and designer labels.
Antique and Vintage
Antique enthusiasts will also find a haven of shops specializing in vintage furniture and unique collectibles. These pieces hold a charm of their own, embodying nostalgia and history while adding to a space a functional piece full of character.
Popular Furniture Stores
Thailand is home to several popular furniture stores you've likely heard of before that offer a diverse range of styles and designs at a range of prices.
Here are a few of the popular names.
Ikea
IKEA, the Swedish furniture giant, has three locations in Thailand — two in Bangkok and one in Phuket. It sells trendy furniture in-store or online through home delivery. The uniqueness of IKEA furniture is that you need to assemble it yourself.
In Thailand, IKEA furniture is known for style. However, it isn't as affordable as what you used to back home. Prices aren't cheaper than furniture stores. It might even be more expensive when you compare the type of material you get.
In case you just bought a new condo or need an idea to improve your place, we recommended you visit IKEA stores. They are huge and have all types of furniture available in different styles.
SB Furniture
SB Furniture has a large selection of reasonably priced to high-end furniture and home goods. You can shop in person at one of their many locations throughout Thailand. You can find SB Furniture inside department stores all over Thailand. Its furniture can be more expensive than IKEA, but it offers better quality.
Index Living Mall
Index Living Mall is a popular furniture chain in Thailand. It offers a wide variety of home goods and furniture for order online or in one of its many locations throughout Thailand. There's not much of a difference between furniture from SB Furniture and Index Living Mall.
HomePro
HomePro is a popular home improvement and furniture store in Thailand that offers a wide range of furniture. It sells living room sets, dining tables, bedroom furniture, outdoor items, and home decor accessories.
Thai Watsadu
Thai Watsadu is another popular home improvement and furniture store in Thailand. They are basically the same as HomePro. However, staff are sometimes less professional. Their products, though, tend to be less expensive than HomePro.
Lazada and Shopee
Lazada and Shopee are popular online retail stores in Thailand that host numerous furniture sellers and brands. These platforms provide a wide selection of furniture options, allowing you to explore different styles and price ranges for home delivery.
Furniture from Lazada and Shopee are usually much cheaper than what you find from other popular stores. However, never buy expensive furniture from these websites because pictures can be deceiving. The quality of furniture you get from Lazada and Shopee tends to be lower than furniture stores.
Where to Shop for Furniture in Thailand
Thailand is a haven for furniture enthusiasts, with a plethora of retailers spread across the country. However, there are specific cities that stand out as prime destinations for furniture shopping.
You can explore the following cities in Thailand for an unforgettable furniture shopping experience.
Bangkok
As the capital city and largest shopping metropolis in Thailand, Bangkok offers a wide range of options for furniture shopping. Whether you're looking for contemporary designs, traditional craftsmanship, or unique vintage pieces, Bangkok has it all.
The city's diverse neighborhoods and shopping districts cater to different tastes and budgets. Let's look at a few popular places.
Chatuchak Weekend Market: This famous outdoor market is a must-visit for furniture enthusiasts. With over 15,000 stalls, you'll find everything from antique furniture to modern designs.
CentralWorld: As one of the largest shopping malls in Southeast Asia, CentralWorld houses a variety of furniture stores and home decor shops. You'll find both local and international brands offering a wide selection of furniture styles, from trendy and modern to classic and luxurious.
Other than that, you can find popular furniture stores throughout Bangkok. Another store that's worth checking out is Chic Republic, known for its luxury furniture.
Chiang Mai
Chiang Mai, located in the mountainous region of Northern Thailand, is renowned for its rich cultural heritage and traditional craftsmanship. The city is a treasure trove of unique furniture, particularly wooden pieces intricately carved by local artisans.
Here are two popular places you can visit:
Baan Tawai Village: This village is a haven for those seeking traditional Thai furniture and handicrafts. The shops in Baan Tawai offer a wide range of wooden furniture, including intricately carved teakwood pieces, antique reproductions, and rustic designs.
Nimman Road: A vibrant hub for furniture shopping, known for its trendy and modern offerings. This lively street is lined with boutique furniture stores, showcasing a wide range of contemporary designs and unique pieces.
Phuket
A popular tourist destination renowned for its stunning beaches and luxury resorts, Phuket also offers opportunities for furniture shopping.
The city features a mix of high-end furniture showrooms, local shops, and markets, including the option below.
Old Town Phuket: Phuket's Old Town area is home to charming boutique stores and antique shops. Here, you can explore unique vintage furniture pieces and decorative items with a touch of nostalgia.
These shops often carry antique teakwood furniture, ornate Chinese cabinets, and other vintage treasures that add character to your home.
Buying Used Furniture
Facebook is a great place to buy used furniture. Since Thailand is a popular expat destination, there are move-out sales all the time. You can find these sales on popular expat Facebook groups. There are even specific groups for this purpose, such as Moving Out Sale Bangkok.
If you're not in a rush, you can search for used furniture in the Facebook Marketplace. Make sure you search it a few times. Then, when someone sells new furniture, it will appear automatically on your feed.
Shipping
Once you have selected your desired furniture, it's important to consider the logistics of shipping, whether you need to ship it within Thailand or overseas.
Here's what you need to know about shipping furniture in both scenarios.
Shipping Furniture Within Thailand
Many furniture stores and online retailers offer local delivery services. They have dedicated teams or partnerships with shipping companies to ensure safe and reliable transportation of your furniture. The cost of delivery varies depending on the distance, size, and weight of the items.
It's advisable to inquire about delivery options and associated charges before you buy anything.
Shipping Furniture Overseas
When shipping furniture overseas, it's essential to work with reputable international freight forwarders.
These companies specialize in transporting goods internationally and can handle the logistics, documentation, and customs procedures involved.
They offer services such as packing, crating, and shipping to ensure the safe arrival of your beautiful Thai furniture.
Now, on to You
In summary, buying furniture in Thailand offers a rich experience of materials, styles, and flavors. Whether you're furnishing your home or adding unique pieces to your collection, your choices are endless.
So, immerse yourself in the vibrant furniture market of Thailand, explore the different cities, embrace the online options, and enjoy creating a beautiful and personalized space that reflects your individual style and enhances your living environment.