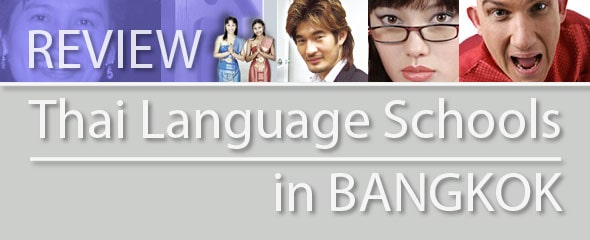 Thai Language Schools in Bangkok…
I often get emails requesting information about decent Thai language schools in Bangkok. And as I don't have any experience with the schools (yet), I started referring people to the long discussion on the Thaivisa.com Thai language forum. But the discussion grew to eleven pages (and was repeatedly disrupted), so I switched to cutting and pasting the detailed research shared by Todd Daniels.
During his continuing quest to improve his Thai language skills, Todd set out to compile a fair amount of data on the subject of Thai language schools in Bangkok. So far, out of the 25 plus schools he visited, he kept detailed notes of 14 of them. To help those wading through the many language schools in Bangkok, Todd retooled his information for the post below. Thanks Todd!
And now, over to Todd Daniels…
A review of Thai language schools in Bangkok…
Here is the list I compiled from the Thai language schools I've toured and/or taken free lessons from.
DISCLAIMER: The following is totally MY opinion of Thai language schools; their materials, their teachers and their perceived value – what I call, "bang for the baht" – as far as what you get for the money you pay. My experience will, in all likelihood, be different from yours. And my opinions MAY indeed run contrary to yours too.
PLEASE: By all means feel free to post about your experiences at any of the listed schools, or those I've missed. The more people post their experiences and observations, the better informed potential students of the Thai language will be in making a decision in attending a school of their choice.
Also, realize different people have different goals in learning the language. Some use it as a means to an end via the education visa route and take the language as a freebie, some want to speak, some read, some write and/or a combination of all of the above. What works for me might be a shite method for you, and vice versa.
I urge ANYONE interested in learning Thai to attend and sit the free lessons at as many schools as they have time for BEFORE paying the tuition. It is only your time and travel invested, and well worth trying on different methods before deciding on the one that works for you.
Thai language schools in Bangkok…
Andrew Biggs Academy (no longer online)
Info: The name says it all. He is probably the most recognizable foreigner in Thailand. And he's certainly marketed his trademark "shaved head and big ears" into one serious moneymaking machine in the English language market.
Material: Well thought out and presented. Very new. Developed (if I am not mistaken) by a professor from a well-known college. Side note: This is a set of textbooks I want, but don't have.
Teachers: Last year when I attended the evaluation (when the Thai language aspect of his school was just getting off the ground), there was only one teacher. She was very good and professional.
Value: Mid-range. And, for the money, very good.
Info: One of the oldest (if not the oldest), Thai language school catering to foreigners in Bangkok.
Material: None. They now use the ALG (Automatic Language Growth) Method to teach spoken Thai. You observe two teachers (actors) who talk about a wide variety of topics with various props. There is NO class interaction, no question/answer period, and it is observation ONLY. Their claim: After attending 600 hours you will suddenly being speaking in tongues, I mean in Thai.
Teachers: Interesting, amusing, and entertaining. However, as there is no interaction other Thai observation, I cannot comment further. But the teachers do seem dedicated to their methodology.
Value: This is one of the cheapest Thai language schools a person will ever attend, and buying time in blocks gets you a further discount. I believe AUA is a valuable school, but ONLY if you have a grasp of at least basic spoken Thai. At that level of Thai comprehension, even a few hours a week will increase your listening skills as it's only in Thai with no English spoken in class.
Baan Aksorn
Info: A good school that is somewhat expensive. However, they TEACH you speaking, reading writing, and are a no nonsense school. There is a TON of repetition in getting the tones correct and they hold you to a much higher standard than most native speakers in enunciation and clarity (which is not a bad thing). If your employer is footing the bill, go there.
Material: Extremely well put together.
Teachers: As I said before, they are no nonsense. You are not going to just coast by in this school's program.
Value: Expensive. But for the quality of education you receive, if you have an unlimited education budget, go there.
Info: An international language company that teaches far more languages than I care to list.
Material: GREAT textbook.
Teachers: Good, dedicated, followed the book. Side note: This is a set of textbooks I want, but don't have.
Value: Expensive as all get out, but a good corporate choice.
Info: Another lesser known, but high quality school. The owner (Jentana) caters more to corporate people who need intensive Thai in a limited time frame. Jentana will develop a personal program based on what a student wants, be it speaking, reading, or writing.
Material: Very diverse, as many courses are individually tailored to a customer's needs.
Teachers: Very well trained and professional.
Value: Another expensive school. But again, if you've got someone footing the bill, it is a good choice.
Info: A relatively newcomer in the Thai language niche, with a brand spanking new school in a very convenient location.
Material: When I was there, they were using Benjawan Poomsan Becker's books as their course material: Beginning, Intermediate & Advanced. This is not the detriment one might think. Believe me (despite what ANYONE may claim, there are NO new innovations in learning this language). Benjawan has probably done more single-handedly than any other Thai national to encourage foreigners to learn this language.
Teachers: Good, well spoken, and dedicated.
Value: Good.
Info: A recent (a year or so) addition to the Thai language market.
Material: A well-designed textbook with Thai on one side of the page and phonemic transcription and English on the other. If you can read Thai script, you will not be distracted by the English text or Thai transcription.
Teachers: Firmly dedicated to imparting the Thai language to foreigners.
Value: Good.
Info: Little used or known school. But with that being said, they offer a wide variety of courses.
Material: Some of the least dated material I have seen. Well thought out, nicely presented.
Teachers: Good, informative, and dedicated.
Value: Good.
Info: A little known school, trying to carve a slice of the Thai language pie for themselves.
Material: Good, somewhat dated, but still not the worst by a long shot. They are in the process of redesigning their textbooks.
Teachers: Again, this is a crapshoot. Some teachers are good; some are less so. If you're in a class with a bad teacher, ask for another.
Value: Good.
Pro-Language (Bangkok)
Info: I mention the Bangkok branch as this company seems to be a franchise.
Material: Well thought out, lessons build upon earlier ones, not as dated as Unity.
Teachers: Seem to be a crapshoot. If you start a class with a teacher that you don't like, don't be afraid to ask for a different one.
Value: Not as cheap as some, but it is still good value.
Info: Again, not so well-known (but still a contender). I've met many people who have attended SMIT in the past.
Materials: Well thought out, somewhat dated, but still good.
Teachers: Friendly, professional, and dedicated (for the most part).
Value: Good.
Info: A good language school catering predominantly to other Asian nationalities learning Thai, but they are expanding their market to attract more native English speakers. Group classes are offered as well.
Material: Good materials, well thought out, well presented, etc.
Teachers: They cater to Asians, so unless you are Asian, you will need to get into a class that is NOT taught in Japanese, Korean, or Chinese. They are now employing teachers who have experience teaching Thai to English speakers, and have come a long way in this regard.
Value: Good.
Info: One of the oldest and well-known Thai language school. TONS of people have studied at Unity Thai.
Material: Quite dated, yet still cohesive.
Teachers: Honestly seem dedicated to teaching people to speak and learn the Thai language.
Value: Their 'intensive' courses (21-24 days every day for 3 or 4 hours) are of good value. I know many people who have taken several levels and now speak quite clear Thai.
Here are other websites for the various schools I perused but have muddy memories of. After touring 25+ schools, some are less memorable than others, but in no way does that mean they are not quality schools (only that I am getting old and have a failing memory).
I am sure there are more, as there is NO shortage of Thai language schools in Bangkok. I wonder why, with the plethora of language schools here, foreigners don't speak better Thai or sometimes any Thai at all (especially long-stayers). Then again, I wonder the same about the plethora of English teachers I've met, and why the Thais don't speak better English too.
Todd Daniels
Thai Language Learner