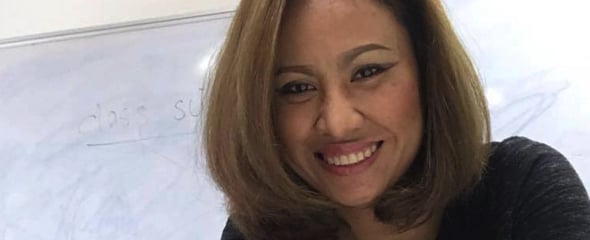 What Makes a Good Thai Teacher?…
Welcome to the sixth post in the Thai Teacher Interview series. If you missed it, Yuki Tachaya (PickUp Thai Podcasts) was the first Thai teacher interview, the second Kannaphat Saelee (Jan), the third Waan Waan (Learn Thai with Waan Waan), the forth was Kruu Cherry (Rian Thai Kruu Cherry) and the fifth was Jang (Learn Thai the Easy Way).
Note: At the end of each interview you can download the interview questions to ask Thai teachers of your own choosing.
Interviewing Thai Teacher: Aoy…
Name: Rujirat Pitsadee
Professional Name: Aoy
Age Range: 30-45
Location: Bangkok & Samutprakarn
Facebook: Pitsadee Thai Instruction
Line ID: rpitsadee
Skype: easythailanguage
How long have you been teaching Thai to foreigners?
I have been teaching Thai for 16 years – starting with students from the U.S. Embassy.
What made you want to teach Thai?
Meet people from different cultures and share Thai culture. I have had many jobs, but found my passion in teaching Thai. It is a labor of love, even when working long hours.
What motivates you to continue teaching Thai?
The love of sharing Thai culture and rewarding when my students can speak Thai, and I can keep friendships after they leave Thailand.
What qualifications do you have to teach the Thai language?
I'm a native speaker of the language and I have a liberal arts degree, with an English major from Ramkamhang University.
What student age brackets do you teach?
My students are adult learners 25-68 years old.
What are the types of courses that you offer?
Beginner, intermediate, and advanced Thai.
Speaking, reading and writing.
Customized Course Focusing on Business Language Priorities.
What nationalities have you taught?
American, French, English, Australian, Austrian, German, Japanese, Chinese, Brazilian, Spanish, Italian and Indian.
What percentage of your students are beginner, intermediate, and advanced?
Currently I have around 60% Beginner, 30% Intermediate and 10% Advanced.
Apart from Thai, what other languages do you use to teach Thai?
English.
What is your level of proficiency in those languages?
Very proficient at English and native at Thai.
Have you studied and/or lived abroad before?
Yes – for a time in the U.S.
Is your teaching approach more teacher centered or student centered?
Student centered: student determines what they want to learn.
Do you use course books in teaching Thai
I created my own textbooks tailored to the beginning and intermediate Thai language student. I believe that my copywrited materials are superior to anything I could use off the shelf.
In your opinion, how important is reading and writing Thai in helping foreigners learn the language?
To learn a foreign language we must become children again. This how we learned our native language, by imitating our parents. It is very important to hear the native language often to understand tone and word structure. You must learn to speak like a child also, unafraid of making errors and willing to speak. Reading and writing comes after that.
Ideally, when should foreigners start to learn how to read and write Thai?
Listening and speaking are the most important first steps. I don't advise students to study reading and writing in the beginning, if they don't have enough time. They should only start to learn how to read and write when they have reached the intermediate stage of learning.
Do you teach in a classroom, venue(s) determined by your student(s), or via Skype?
I teach where the client or student is most comfortable.
Which setting(s) do you prefer and why?
In a quiet setting where we can concentrate, but sometimes its better in social settings.
What do you believe is the hardest subject matter to teach in the Thai language?
Tones are by far the hardest for foreigners.
What are some of the issues unique to a particular nationality in learning Thai?
How Western cultures are too direct with how they talk to each other, this is not the way we talk to each other in Asian cultures.
What is your philosophy in respect of teaching vocabulary?
The words that are used most to start, again, like a child.
How do you get your students to use Thai?
By asking simple questions in Thai immediately, such as what is your name or how old are you. I also enjoy role play, using flash cards or training books to aid students with confidence in speaking. I encourage students to speak Thai as soon as we start by reading from training material or by mimicking what I say.
How strict are you in respect of tones and/or vowel length?
Strict at first so they learn the correct way in the beginning.
What have you found to be the most challenging aspects of teaching Thai?
Teaching culture with Thai – it's very important to understanding Thai and Thais.
Rujirat Pitsadee (Aoy),
Pitsadee Thai Instruction
Thai teacher interview questions…
The download has additional questions for you to pick and choose from – enough for everyone's liking.
Download: Questions for potential Thai teachers
Watch this space for more Thai teacher interviews.