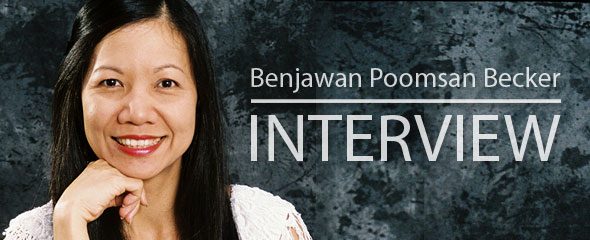 Learning Thai with Benjawan…
What do I think of when I hear the name Benjawan Poomsan Becker?
My mind immediately goes to her wide range of Thai learning products: Thai for Beginners, Thai for Intermediate Learners, Thai for Advanced Readers, Practical Thai Conversation 1&2, Speak Like a Thai 1-6, Thai for Lovers, Thai for Gay Tourists, Thai für Anfänger, Thai for Kids, Improving Your Thai Pronunciation, Thai for Travelers Phrase Book, and the Thai-English English-Thai Dictionary.
New out? Benjawan's Three-way Thai-English Dictionary with Chris Pirazzi, and her Thai Hit Songs Vol. 1 (released this month).
And those are just the products for the Thai language learning market.
I know. Wow.
And as you will soon read in the interview below, there is still more to come.
Benjawan Poomsan Becker Interview
On top of Thai, Lao and Issan, you also know English, Japanese and Spanish. At what age did you discover your talent for languages?
I started learning basic English in grade 5 when I was about 10 years old. Everyone in school was required to learn English at that age and although I excelled in my studies I did not think I had any particular talents in learning languages.

I had a hard time in school with math so I enrolled in the liberal arts curriculum and as a prerequisite I was required/forced to take French when I was 15 years old. I was able to learn French very quickly and it was then that I realized I had a special talent as far as learning and speaking foreign languages was concerned.
What was your path to the Thai language teaching profession?
I didn't begin teaching the Thai language until I was in college and then only just for fun. I was a student doing my master's degree in Kobe, Japan and taught part-time at the Japan Thailand Trade Association in Osaka. I liked the experience of inventing ways to help people learn Thai. Although I ended up teaching many Thai classes I found out that I enjoy the process of writing books to teach the Thai language more than the actual teaching in a classroom situation.
What are your favourite Thai language books?
Who are your Thai language heroes, and how did they influence the design of your courses?
Thai poet, Sunthornphu สุนทรภู่. I consider him my Thai literary hero and to me he is equal in talent to Shakespeare in his ability to craft the language. Plus he had the extra complication of a tonal language in his rhyming poems. But most foreigners will have a difficult time appreciating his work since it is highly developed Thai poetry.

I don't believe I was influenced by any language hero for the designs of my Thai language courses, up to now. The poetry of Sunthornphu has inspired me in my development of my latest Thai language learning product, Thai Hit Songs Vol. 1. Writing the lyrics to the songs and working on the melodies with the musicians I can definitely feel that influence from the greatest Thai poet.
What foreign language methods/courses did you study when designing your courses?
I was influenced by the book Basic Japanese (Nihongo No Kiso). I admired their structure, the step-by-step approach and how easy it was to follow. In designing my Thai language learning materials those were some of the main ideas that guided me to developing Thai for Beginners.
On the subject of language methods, what are you thoughts on: roll playing, SRS (flash cards), a crash course, and the natural approach?
Every person learns a language differently and whatever works for one person may not necessarily work for another. Personally I never used flashcards but I know it is a helpful device for many people. And roll playing works well if you have someone to practice with. For me the natural approach is the best.
Your three core books, Thai for Beginners, Thai for Intermediate Learners, and Thai for Advance Readers have different approaches, would you please briefly explain your thought process for each?
I spent a lot of time developing Thai for Beginners, thinking about the structure, what to include in each chapter and how to have each lesson build upon the preceding one.

For the intermediate level book, I was not as concerned about each chapter building on the previous one since the students already have a command of the Thai language. Therefore, each chapter can pretty much stand on its own. I felt that learning more about the Thai culture while learning new language material would be beneficial so I included information on Thai holidays and events.

Thai for Advanced Readers is a collection of essays I wrote about my life and family and is a completely different structure that the first two. I thought using personal essays of my life as a woman growing up in Thailand would make it more interesting to my readers. Consequently, I structured the essays to include more complex vocabulary related to Thai culture and family life, but tried to make them interesting and informative as a reflection of everyday life growing up in Thailand.
As I am struggling to compile a list of the top Thai vocabulary words a learner must know, I am especially interested in how you chose the vocabulary for your Beginners, Intermediate, and Advanced Learners courses.
To develop the vocabulary lists in my Thai language books, I imagined what types of interactions people would encounter on their daily excursions in Thailand. I tried to include words that would be useful but also inject some humorous words and words specific to the Thai culture into the list. I would visualize a conversation for each situation and then determine the sentences and words that someone would need to successfully interact in that context.

The advantage of designing Thai for Beginners from the ground up was that it was developed specifically for the Thai language market rather than having been written for one language and then simply translate the vocabulary list into Thai the way some language programs have been developed.
From what I am seeing, Thai For Beginners is especially popular with students and Thai teachers alike. What aspects of the book do you believe makes this so?
Thai for Beginners is uncomplicated, well structured and each chapter builds on the previous chapter. Both students and teachers like an organized, logical approach since it makes their tasks clear. Nothing discourages language learning more than a textbook that is inconsistent and provides confusing direction.

Also, the transliteration system I have developed, which we use in all of our Thai learning materials, is easy to understand, can be learned quickly and is extremely consistent. It doesn't have to be modified to cover many unusual cases and the students don't have to learn many "exceptions" to the rules.

I believe these are some of the contributing factors to the popularity of the book. I'm really looking forward to incorporating all the new language learning techniques I have gain since writing the first edition of Thai for Beginners into the second edition.
What gave you the idea to produce so many products for learning Thai? Did one lead to the other, or was a series planned from the beginning?
Everybody learns a language differently. That's why Paiboon Publishing has developed language books, audio CDs, DVDs, software and now with our new product, Thai Hit Songs Vol. 1, we include songs as a way to learn the Thai language. When I was learning Spanish I used over 20 different books, each provided new insight. No book can teach a student all the aspects of a new language so we provide a variety of ways to learn Thai.

As for the specific product development for our materials, when I wrote Thai for Beginners I had no idea that I would write the intermediate and advanced books. I may have organized them differently if I planned this from the beginning. They just developed organically when it became apparent to me that they were needed by my students.

But now we put more thought into looking at each new product as a potential new series. For our series Speak like a Thai I envisioned about 10 volumes with specific titles before we even started the series. The sequence in which they were eventually released changed and I modified some of the titles and content, but the basic format remains the same as the day we developed the original concept for the series.
What energized you to start your own publishing company, Paiboon Publishing?
My experience is probably similar to many first time writers. I wrote Thai for Beginners and then attempted to get it published. My manuscript was rejected by almost all of the publishing companies I approached. The ones that were interested in publishing my book offered me such low royalty rates I'd never make any money from my book sales.

So I decided to publish my own book and distribute it myself. Fortunately I had some friends that were very knowledgeable and experienced in the publishing business and they tutored and guided through the process. I'm grateful for those early book rejections; otherwise I never would have established Paiboon Publishing.
What can we expect in Paiboon Publishing's future?
Paiboon Publishing's future is extremely exciting. We will be coming out with a variety of new products and expanding the types of language learning materials we produce. Soon we will be releasing the digital version of our compact Thai-English dictionary designed for use on PC's and mobile phone with spoken Thai words. Our Thai Hit Songs Vol. 1 is available now and includes a 94 page explanation booklet along with the 10 song music CD. The DVD music video version of our first music will be out in early 2010.

We have more plans for digital downloads and podcasts of Thai language lessons that will be available from our website and iTunes. Interested students should check our website for announcements of future releases, or get on our mailing email list.
My Thai teacher mentioned that her overall objective for each student is to find what their main obstacles to learning Thai are. What obstacles do you address in your courses?
I have found that one of the biggest obstacles to successfully learning Thai is the ability to read and write the language. Many people learn enough phrases in Thai to communicate well enough to satisfy their basic needs. But to learn Thai effectively you really should be able to read and write it. That's why my Thai for Beginners includes writing exercises.

Although my transliteration system is well designed and extremely helpful for the beginning student it is only a crutch and should be discarded as soon as possible. If students put the effort to overcome the obstacle of reading and writing Thai, the rewards will be tremendous.
What are the typical mistakes made by students of the Thai language, and what advice can you give?
As you know most students have a problem with tones in the Thai language. Unfortunately, even with the correct word, the incorrect tone will make the word incomprehensible. Learning a little vocabulary with the proper tones is better than having a huge vocabulary pronounced incorrectly. Any method to be more cognoscente of and sensitive to the tone changes will be helpful.

Another common mistake is misplaced words in sentences in using Thai. The proper sequence in Thai for example would be the word "ให้." เขาไปให้ and เขาให้ไป are different and many Thai learners can't tell the difference or just make mistakes. For this condition memorization is the solution. A Thai grammar book might be a good future product for Paiboon Publishing.
In your experience, what are the biggest challenges facing students of the Thai language?
There are challenges in learning any new language but with enough time, energy and desire most students can overcome them. For Thai the writing is a great challenge, and of course the tones. Mastering the 5 tones also takes practice and determination.
What background do you find more successful for a student learning Thai: A student who has first absorbed the language via audio, tv, radio, living in Thailand; or a student coming in fresh?
I would say that living in Thailand and studying the language would achieve the most success in leaning Thai. Someone can live in Thailand for many years but without a serious effort to learn the language they will never expand beyond the basic conversation level.

Again, each person learns a language differently and listening to songs, the radio and watching TV may be helpful to some. Whatever the method a serious, determined approach to the task is required. One of my favorite online comments about Thai for Beginners is, "This book is totally useless unless you are serious about learning Thai." That seems to say it all; use whatever works but be consistent and dedicated in your process of learning Thai.
How often do you advise students to study Thai each week, and for how long each time?
I would recommend spending 10 hours a week studying Thai. One to two hours each session from 4 to 6 days a week and the student should definitely see progress. Review is the key to retention. What was learned one day should be reviewed the next day, weekly and monthly until it is firmly implanted in your memory. Also practice is most important. Speak Thai at every available opportunity. Most people are too shy to speak a new language and consequently never practice speaking to people. The most successful students are the fearless ones that speak Thai with all their improper tones and grammar.
What other advice do you give students of the Thai language?
My personal advice would be to learn Thai by learning songs. That's how I learned to speak English when I was a young girl growing up in Isaan. I probably know more words to songs in English and Spanish than many native speakers. But, music is in my blood and I love to sing and dance. Each person needs to find out what excites and inspires them and then follow that lead.
Benjawan Poomsan Becker
Paiboon Publishing
The legacy of Benjawan Poomsan Becker…
Thank you Benjawan, for your insightful interview, as well as your contribution to the Thai language learning community. When I glance through your long list of products, I am always impressed. When your youthful photo arrived, I was impressed even more as I was expecting someone of a much grander age. Fabulous. I am looking forward to many more successful products from Paiboon Publishing.
Resources mentioned in this post…
Benjawan's Thai learning products can be purchased at Paiboon Publishing, most large books stores in Bangkok, and online via amazon.com and .uk.
Be sure to subscribe to Paiboon Publishing's new and growing YouTube Channel.
Read all about the author of The Principle of Thai Grammar หลักภาษาไทย, กำชัย ทองหล่อ, at Rikker's blog, Thai 101.