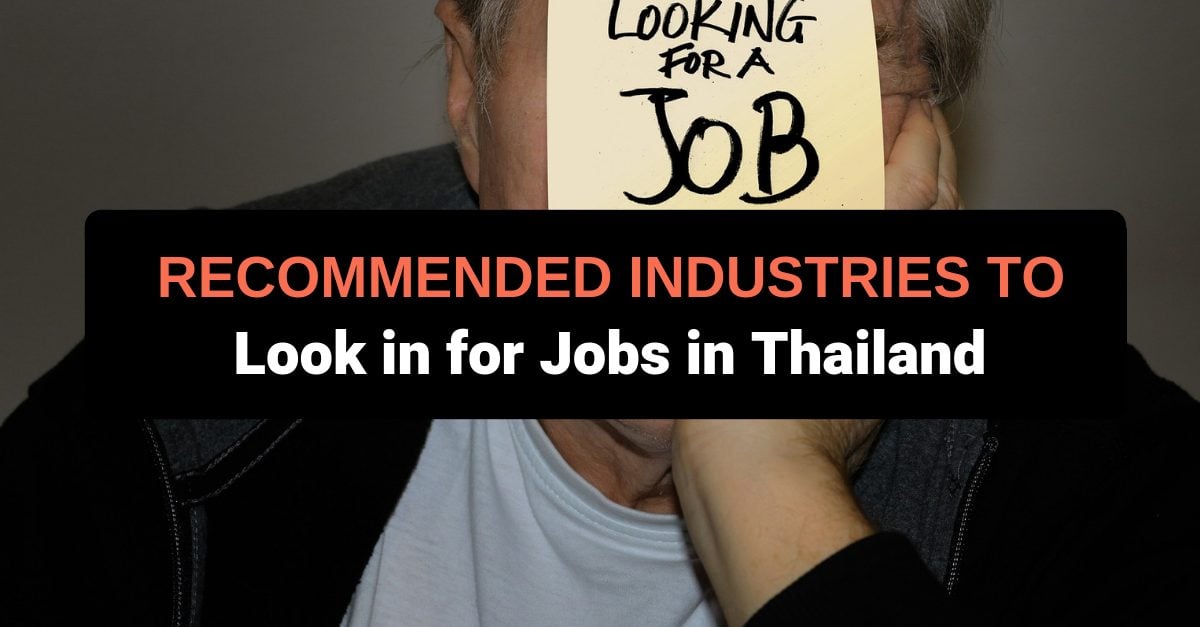 It's no doubt that many expats believe teaching English is the only available job in Thailand.
Teaching English can be the easiest way to get a job in Thailand. But there are many other industries where you can look as well.
You can't look in all industries, as it's illegal for expats to work in labor, agriculture, transportation, and even accounting, auditing, the tourist industry and more.
You can find the list of prohibited jobs on the Ministry of Labour's website.
The sections below list the interesting industries you can get a job in, and point out the companies that are regularly in need of professional expats.
When looking for jobs, you should only contact the company that already has an international workforce.
Local companies without expat employees probably won't hire you.
If you look for positions on the company's website instead of job search engines, you'll have a better chance of finding a job.
Education
Education is one of the most popular industries in Thailand for expats.
Education doesn't only mean teaching English, but also other subjects and managerial positions as well.
The demand for expats to fill educational jobs is rising because of the number of new international schools and international programs in schools and universities.
These educational institutes don't only regularly recruit teachers and lecturers but also marketers, media related personel, and more.
Because of the increasing demand for English teachers in Thailand, a majority of schools are already have foreign teachers.
You can use Google Maps to search for nearby schools and contact them asking for available positions for foreigners.
Below is a sample list of educational institutes in Thailand.
Ajarn.com is a decent place to find teaching jobs in Thailand. But a really good teaching job is hard to find there.
Many times you can find a better teaching job by contacting the school yourself.
Some teachers get jobs by showing up at schools without scheduling an interview in advance. They show up well dressed with a solid resume and smile a lot.
Wikipedia lists a good number of schools in Bangkok, schools outside of Bangkok, and universities in Thailand.
These schools are popular and always hire foreign English teachers.
Some schools on the list, especially international schools, show job openings on their sites. But you may have to call schools and ask if they have any openings.
IT
IT is the second biggest industry for expats next to education.
Thailand is looking to become the next Fintech Hub in Southeast Asia, which means IT jobs are increasing.
Entrepreneurs launch tech startups regularly in Thailand. And more tech related international corporations are investing in Thailand.
These companies are always in need of web developers, programmers, system administrators, and application developers.
Here is a list of IT or startup related websites in Thailand:
Hospitality/Traveling
Being a tourist-friendly country, Thailand has a huge hospitality industry.
Many positions are available for expat in hospitality. Nowadays, a number of expats have been working as managers in many chain hotels in Thailand.
Positions in hospitality are also available in the travel industry. Tour guides and sightseeing tour operators are off limits. But you can find hospitality positions Agoda.
Below is a sample list of hospitality and traveling companies in Thailand:
Publishing
There are many publishers in Thailand and they're always looking for native speakers to work as editors or writers.
And the publishing industry doesn't limit you to jobs writing books and newspaper articles, but online content as well.
In addition to this, you can find work as a web content editor for a number of digital marketing services in Thailand.
Legal
You can also find work in Thailand's legal industry. Thailand has many international law firms and each of them hire expats.
However, because of the strict labors law in Thailand, these expats work as legal consultants and not lawyers.
Positions aren't limited to legal consultants but also international cooperators and marketing executives.
Since targeted customers of these law firms are foreigners living in Thailand, law firms need expats to co-operate these customers or their own international partner law firms.
Below is a sample list of international law firms in Thailand:
Finance
Although financial positions for expats in Thailand are limited, you still have a chance to work in this industry.
If you are interested in working in finance industry, check at these companies for openings:
These Big Four accounting firms have branches in Thailand and hire expats as financial advisors and consultants.
NGOs
Many global NGOs have branches in Thailand. Many United Nations regional organizations are based in Bangkok.
There are more than 50 NGOs in Thailand, and these organizations work on an international level so they're always looking for foreigner workers.
Here are the sites you can use when finding NGO jobs in Thailand:
UNjobs – An official job recruitment website from United Nations.
Indevjobs.org – The job portal for NGOs
Other
You can find work in other industries as well, including:
logistics
real estates
community manager
recruitment
and much more
You can find these jobs on websites of companies in their respective industries.