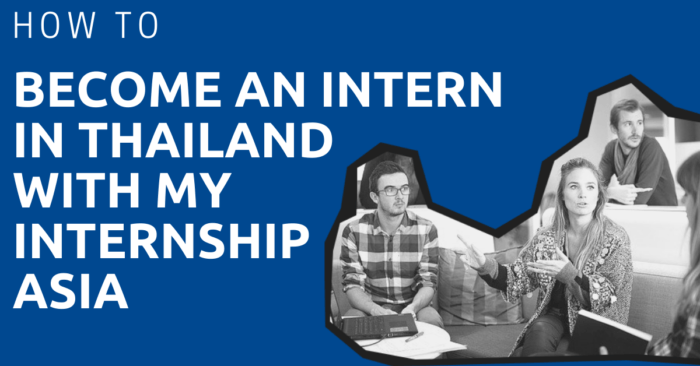 You should apply for an internship in Thailand because of the practical experience you get.
But aside from gaining practical skills, if you have international work experience your resume it could help when applying for future jobs.
You also get to experience Bangkok's captivating locals and vibrant culture.
However, you should also prepare for the inevitable challenges when applying for an internship in Thailand.
It's one thing to apply for an internship in the company you wish to work for.
But you could also apply for an internship program that helps with your airline tickets, accommodations, and visa.
This guide shows you how to apply for an internship, the requirements, and the packages available through My Internship Asia.
What is My Internship Asia?
You can use My Internship Asia if you're looking to intern in companies in Thailand, Indonesia, or Hong Kong.
MIA helps you land internships in a variety of industries, including:
international business management

all fields of engineering

information technology

computer science

NGO's (non-profit organizations)

media/advertising/marketing

agricultural management (Farming)

sports management

and more
Whether you want to intern for a startup or a multinational company, you can find the most suitable positions with My Internship Asia.
Requirements
MIA strives to create your desired internship program that suits the career goals you're hoping to achieve. To be accepted into the program, you are required to:
submit a complete application and resume
possess fair to good command of English
minimum age of 18
must be a university/college student.
Visas
You need a non-immigrant ED visa to work as an intern in Thailand, as interning essentially is for educational purposes.
Thai non-immigrant visas are typically valid for ninety-day. So if your internship takes longer than ninety days to finish, you have to re-apply.
You can read more about Thai non-immigrant ED visas.
Why Apply for an Internship with My Internship Asia?
One of the main challenges you face when applying for an internship is determining which companies and industries your personality and skills are suited for.
You're competing with hundreds or thousands of other applicants to get your foot in the door of your chosen industry or company.
Trying to land an internship on your own can also be quite frustrating.
You either get no replies to your email, or you get numerous ones bearing bad news.
When you use a service like My Internship Asia, you cut your time and effort in half.
Apart from helping you land your dream internship, MIA assigns you a registered advisor who helps you every step of the way.
Before your departure, MIA hosts a live Facebook webinar so you can meet the MIA team and other interns who are starting their internships.
MIA also holds workshops to help you improve your resume and give you tips on how to conduct yourself in an interview.
How to Apply
You can apply by filling out the application form on MIA's website.
Once you have submitted your application, an MIA representative reviews it and emails you within 48 hours to schedule an interview, either via WhatsApp or Skype.
MIA sets up this interview to find out if your eligible for an internship, and to give you a chance to ask questions.
Filling out the form takes somewhere between 15 to 20 minutes. You have to hand in the following details:
basic information

education history

first, second, and third internship preferences

when you would like to start the internship

a copy of your cv/ resume and TOEFL/IELTS scores
Lastly, you have to choose your prefered package and pay the 35% deposit of the package price with either Paypal, Visa, or MasterCard.
Once you apply and pay the deposit, MIA finds you the right company based on your needs.
Once MIA finds the right company for your, they set up an interview with the respective company.
At this stage you have to pay the full deposit before the interview takes place.

After the company accepts you as an intern, and if you agree to work with them, MIA starts looking for your accommodations and prepares your visa paperwork.
If MIA can't find you a company to interview with, you get 100% of your deposit back.
Internship Packages
MIA offers three packages:
You can apply for these packages at any time of the year.
MIA Prime
MIA Prime is perfect if you have been to Thailand. MIA Prime includes all the basic needs for every intern to be safe and succeed while living in Thailand, including:
internship placement

visa help

career development counselling

employee evaluation

help with accommodations

MIA certification upon completion

airport pick upon arrival
MIA Premium
MIA Premium is an excellent start if you've never been to Thailand and don't want to waste your time trying to figure everything out.
MIA Premium includes:
MIA Prime package features

shared accommodation

volunteer opportunities

1 day sightseeing tour of Bangkok

1-month BTS Card
Sim-Card Provided

necessary information to thrive in Thailand
MIA gives you the tools you need to thrive while enjoying the beauty of Thailand.
MIA Platinum
MIA Platinum is an all-inclusive package, combining the benefits of the Prime and Premium packages.
MIA Platinum includes:
MIA Premium package features

private, furnished accommodation

volunteer opportunities

exploration tour

necessary information to thrive in Thailand

access to networking events, which help you connect with Thailand's business world (3-Networking Events)
Things to Consider
Although MIA looks for companies that offer stipends, you're not guaranteed a paid internship.
But if you have experience in the industry you choose, it could help your chances of getting a stipend.
MIA may reject your resume if you didn't format it the right way or you left errors on the resume.
MIA may also reject your resume if companies in your preferred industry don't have internships. If this happens, you get 100% of your money back.
If you accept a company's offer but have to cancel your internship for medical or family emergencies, MIA can hold your deposit for up to six months, reserving your spot as an intern.
Final Thoughts
Thailand is one of the most sought-after destinations for internships, primarily because of the number of diverse opportunities across various industries.
It's also one of Southeast Asia's most popular tourist and expat destinations.
That said, if you want to experience what it's like to work and live in Thailand, get in touch with MIA.