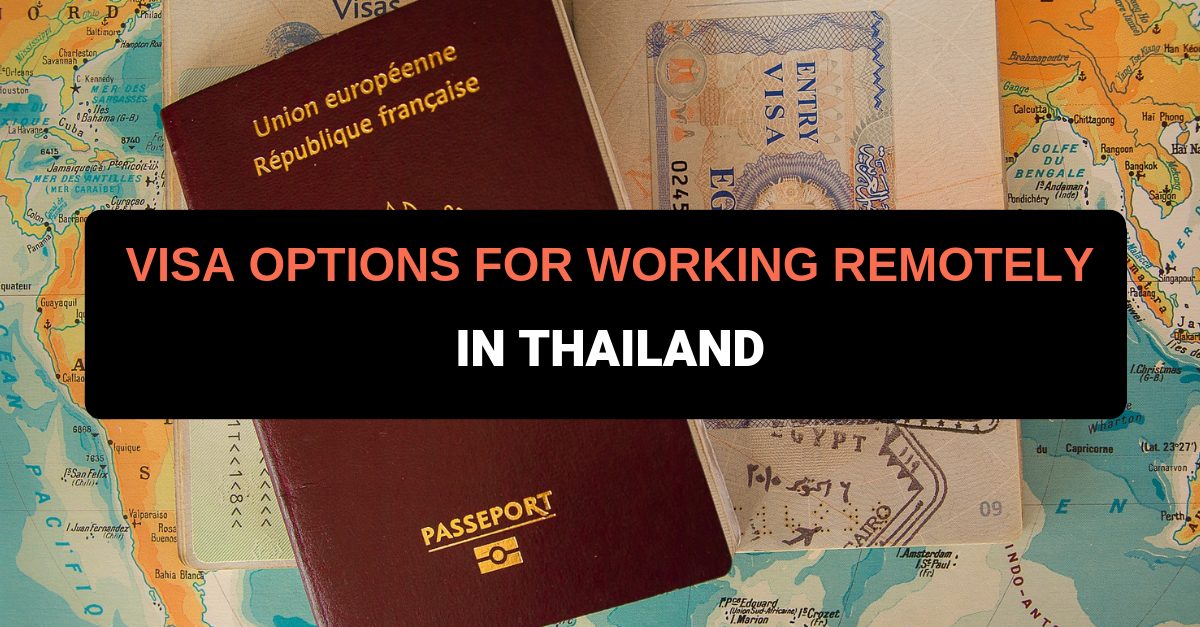 Getting a visa is the first and most important part of working remotely in Thailand.
As long as you're qualified, it's not difficult to do.
This guide will show you the five visa options that let you stay in Thailand longterm and work remotely.
First Things First
The visas listed here aren't all the visas available in Thailand. We've only chosen the visa everyone can apply for.
To explore other visa options, read this article.
As of 2018, Thailand still hasn't offered a freelance visa. It's been in the discussion for a while but laws haven't been set in place.
Therefore, the most suitable visa for working in Thailand remotely is a non-immigrant B visa. It's known as either a business visa or a working visa.
You can only get the visa with the help of a company in Thailand.
So, to get this visa, you need to follow one of these conditions:
create a Thai company and issue yourself a visa
get hired by company in Thailand
your company from abroad sends you to work in Thailand with the help of Thai companies
If you can't get the non-immigrant B visa, you can get a tourist visa or an education visa.
These visas let you to stay in Thailand for a period of time. But note that it's also not entirely legal to work on these visas.
Let's take a look at all the visa options available for working remotely in Thailand.
Your Company Sends You to Work in Thailand
You can get a non-immigrant B visa if your company sends you to work in Thailand.
The main condition is that you need to have a company in Thailand to give you supporting documents along with the documents your company gives you.
The main documents are listed on the Thai Embassy in Malaysia's website:
From your company:
a letter of your employment stating your name, position, purpose, and date of visit to Thailand
From a company in Thailand:
an invitation letter to you
a copy of the company registration
a copy of the shareholder list
a copy of the latest balance sheet
a copy of VAT registration
However, your business visa is going to be different than other business visas.
Your duration of stay mainly depends on the date you need to visit Thailand as stated on your letter of employment.
It can be weeks, months, or years.
Also, Thai embassies don't regularly deal with this visa type. You should contact the embassy you plan to get a visa with and ask them specific details, including required documents and how long will you be able to stay in Thailand.
Register a Company in Thailand
If you have one million baht to invest, you can create a company in Thailand and use it to issue yourself a visa.
It's the most complicated option. But if you go this route, you won't have any problem with the visa again in the future.
Doing so would also mean you can expand your business and generate more income for yourself.
This million baht doesn't need to be cash or money in your bank account. It can be expenses for running a company including company assets, rental fees, and machinery.
To register a company in Thailand, you should explore an option with Thailand's Board of Investment, or BOI.
Doing so lets you:
own 100% of your company—no Thai shareholders
get exemption from paying corporate taxes for up to eight years
easily issue a visa for you, your employees, and expat partners
To qualify for BOI promotion your company must do business in one of the 70+ BOI recognized industries.
And two of those industries are software and e-commerce.
To get promotion by the BOI, the very first thing you should do is call the BOI headquarters at (+66)2-553-8111 or send them an email to [email protected] and tell them that you want to get the investment promotion.
They can speak English, are supportive, and are willing to help expats open companies in Thailand.
As long as your company meets the requirements, the BOI tells you everything you need to get the BOI promotion.
It's entirely possible to get the promotion by yourself without the help of any legal services. But the whole process take at least a few months to complete.
Read our BOI article to find out more information if you want to go this route.
Iglu
Iglu is a company in Thailand that can provide a visa and a work permit to all freelance software developers or programmers, or freelancers in ecommerce fields.
Iglu hires you as their employee through their Thailand Board of Investment promotion.
To get hired by Iglu, you need to:
work in the software or ecommerce industry
have your own clients
After Iglu hires you, they charge you 30% of your salary. You have to make a minimum salary of 50,000 baht a month. In this case 30% of that would be 15,000 baht every month.
In return, Iglu gives you:
a business visa and work permit
24/7 access to work in their offices in Bangkok, Chiang Mai, and Phuket
help with setting up your life in Thailand
This option isn't only available for freelancer, but also for companies who want to relocate their employees to Thailand but don't want to deal with applying for Thai visas.
Iglu is an easy way get a business visa, work permit, and a place to work remotely in Thailand. The only drawback is the 30% you have to pay them every month.
Get a Job
If all things don't work, just get a job in Thailand. It guarantees you a work visa and a work permit.
The key part is that you need to find a job that doesn't regularly require you to be in an office all the time and take 40 hours a week.
This kind of job still exists. But you can't find it through the regular job marketplace.
Instead, you could find it posted by startups. Being a startup, they are much more flexible than other companies.
It's possible to negotiate with them not to work full-time or be in the office all the time.
These startups also regularly look for skillful programmers and software developers.
To find them, look on niche websites like Angel.co and Getlinks.
In addition, these startups tend to actively join networking events. There, you have a chance to meet the company owners directly and possibly land jobs over a handshake, not an interview.
A good place to look for networking events is on Eventbrite.com and meetup.com
However, it takes time to find a job like this. You may need to explore other visa options, such as multi-entry tourist visa or education visa first, to allow yourself to live in Thailand.
Then, you can start looking for a job when you're here.