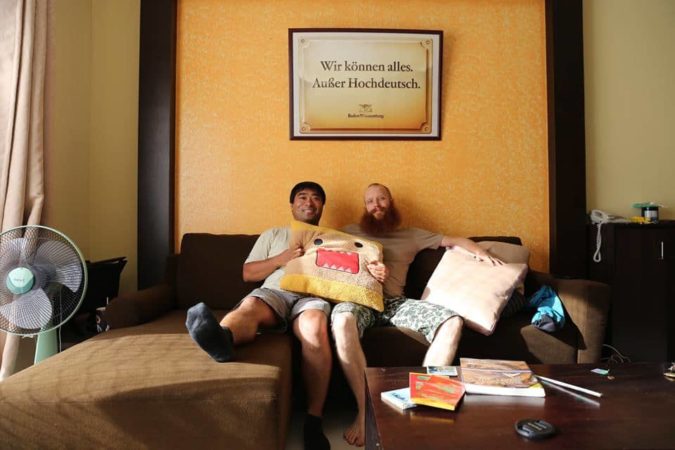 Looking for a more recent article? Check out my 2018 guide to the cost of living in Bangkok.
For the last six months I've logged and categorized all of my personal expenses. This post lists them out in detail, accompanied by additional explanations, thoughts and observations. I hope it gives people a basis for comparison, helps them research the cost of living as an expat in Bangkok and provides them with an insight into how someone else spends their money. It's not meant to be guideline or a representative sample as there are many ways you could spend less, more or smarter.
The original idea for this came from the /r/personalfinance community at reddit.com who advises people to keep a detailed record of their expenses. The day-to-day logging was done with an expense tracking app called Depoza.
Limitations
Please note that while I did my best to get things right, there's probably some margin of error in regards to some items being forgotten, erroneously listed, or estimated (e.g. due to being shared expenses, approximated foreign currency exchange rates). All in all though, it should provide an accurate picture of my lifestyle and the costs it entails.
Here's Me
I'm a 33-year old German entrepreneur living in Bangkok, Thailand who likes working, traveling, playing video games and having health insurance. In recent years I got more conscious about exercise and nutrition, which as a vegetarian can be especially challenging (read: expensive). I don't have kids and I don't own a car (driving in Thailand is a hassle) – both of which would otherwise significantly increase my expenses.
My Expectations
While I didn't really have a set budget and just wanted to see how much money I'm spending on what, I did expect to spend roughly ฿60,000. The actual figure ended up being nearly 25% higher than that, so that was already the first surprise.
The Big Picture
In total I've spent ฿444,190.98, which results in a monthly average of ฿74,031.83 ($2,191.86 / €1,971.93). Considering I'm living in a country that's usually considered 'very affordable', that amount is certainly high enough to warrant some scrutiny. How do I end up spending in Bangkok, Thailand what sounds like it would be a suitable budget for Frankfurt, Germany? Let's start with a break-down by category:
| | |
| --- | --- |
| Category | Monthly Expense |
| Rent & Utilities | ฿15,780.33 |
| Groceries | ฿7,896.67 |
| Health Insurance | ฿6,250.00 |
| Travel | ฿5,855.67 |
| Eating Out | ฿5,794.50 |
| Donations | ฿5,561.17 |
| Clothing | ฿5,415.17 |
| Alcohol | ฿3,693.13 |
| Gifts | ฿2,912.67 |
| Supplements & Over-The-Counter Stuff | ฿2,842.67 |
| Transportation | ฿2,510.67 |
| Maid | ฿2,433.33 |
| Entertainment | ฿1,869.50 |
| Insurance | ฿1,600.00 |
| Coffee | ฿1,096.38 |
| Grooming | ฿166.67 |
| Everything Else | ฿1,131.50 |
| Total | ฿74,031.83 |
Unsurprisingly, housing makes up the lion's share of my budget, followed by groceries and health. Maslow would have been proud. As you can see from my entertainment expenses, I'm not really a regular at the massage parlor. I do find other ways to rid myself of excess cash though. Let's have a closer look at that.
Individual Items
Below I've stated the average monthly expenses in each category. For easier comparison I've added how much that would be USD and EUR at the exchange rate at the time of writing.
Rent & Utilities
฿15,780.33 ($476.08 / €421.13)
Since it's not uncommon for landlords to bill tenants for utilities at an inflated rate, I'm combining all of these (electricity, water, internet) with the actual rent amount to offer a comparable figure. In my specific case the rent is comparatively low and internet is provided at no additional cost. This is partially offset by a particularly high rate for electricity. Given that it's a once a month expense, it's pretty easy to keep track off. In case you're looking to get a better picture on what accommodation costs in different parts of the city, you can take a look at my article on renting in Bangkok. While buying a condo as a foreigner is certainly possible and affordable, I opted against it in order to have more flexibility.
Groceries
฿7,896.67 ($233.76 / €210.76)
The figure presents a mix of cheaper local food and more expensive imported goods (e.g. a specific brand of soy milk, cheese, …), but doesn't include any alcohol (listed separately below). The majority of my groceries are purchased online from Tesco Lotus (though there are lots of other online grocery delivery services) and delivered to my house. Since Tesco Lotus doesn't stock 'fake meat' (made from soy or whey protein), I stock up with a 'supply run' to a Spa foods store&restaurant near Golden Place once every other month. 7-Eleven makes up for the rest and is mostly snacks (boiled eggs, tomatoes, apples, drinking yogurt) and water I buy on the go. My groceries expenses are a bit on the higher end, due to my diet being vegetarian while aiming for low carb and low fat at the same time (something I picked up during my weight loss phase).
Health Insurance
฿6,250.00 ($184.98 / €166.81)
I tend to err on the expensive side of things when it comes to health insurance. This is a plan that covers practically everything (including outpatient expenses – OPD) with no deductible. Considering the coverage, I consider my current premium with ACS a good deal. There are cheaper options available: Without OPD benefits this plan would cost about half. Since posting this article I've done an in-depth write up on medical insurance in Thailand which also includes details about my own plan. If you're older or female (there's a reason for that), expect to pay more for the same coverage.
Travel
฿5,855.67 ($173.29 / €156.21)
This figure includes hotels, flights and other travel-related expenses. I didn't include business trips as well as food and drinks (which I assume I would spend in a similar amount while in Bangkok). Specifically this included two vacations of a few days to Hong Kong and Laos. Compared to the year as a whole, it's probably on the low end, as most of my travel expenses tend to be in the second half of the year. In previous years I also traveled to some more exotic places (e.g. Armenia, Zimbabwe) – while those trips were longer, they are usually a lot cheaper on a per day basis.
And my go-to place to book the flights is Expedia. They're always running promotions in Thailand. For example, my recent round-trip from Bangkok to Germany only costed me $480. It was less than a half of the usual price, which is usually $900.

Eating Out
฿5,794.50 ($171.48 / €154.57)
Restaurants are a lot cheaper in Thailand than Germany. However, over the 10 years I've spent in the country, I've seen prices roughly double. Food courts (especially in Terminal 21 and The Street) can still offer some amazing value for money, but with more sophisticated food choices being made available, a lot of places have increased their prices accordingly. This, combined with a much higher frequency of eating out (and just a general tendency towards being a lazy chef) means I spend more on eating out here than I would back in Germany.
Donations
฿5,561.17 ($164.62 / €148.35)
This is mostly my regular donations to the outstanding GiveWell charity. Probably not relevant to most people, but I figured it's part of my personal expenses. The remaining amount consists of monetary support to an Indian-Thai inmate at the Bang Kwang prison who I tend to visit every few months. He usually asks me for soap, shampoo, coffee, creamer and sugar and I tend to deposit some cash into his 'account' so he can get anything else he needs. In case you are interested in helping someone in a similar situation, you can read up more about it here.

Clothing
฿5,415.17 ($160.30 / €144.46)
Definitely a lot more than I usually spend on clothes (c'mon, I'm in tech). These last few months I had to update my wardrobe a bit because due to weight loss a lot of stuff (especially suits, vests and pants) didn't really fit me anymore (and I might as well get some slim fit shirts while I'm at!). In general I'd say clothes aren't as cheap in Thailand as people appear to think. In parts because a lot of the 'cheap' stuff is of horrendously bad quality and needs a lot of replacing, in parts because a lot of products might be manufactured in the region, but actually have to be re-imported (e.g. Onitsuka Tiger shoes).
Alcohol
฿3,693.13 ($109.30 / €98.52)
I've combined expenses for drinks in clubs and bars (definitely the biggest contributor) with store-bought alcohol. In general beer prices are comparable to Germany (with supermarkets being comparatively more expensive, outside venues comparatively cheaper). Wine tends to be on the expensive side (starting from about ฿300 a bottle in a supermarket, with most offers being in the range of ฿499 to ฿799). The good deals when going out are usually the whiskey and scotch bottles (bars tend to make less money on bottles, but more on mixers and ice). Lots of locals tend to go for locally produced rum which is available at rock bottom prices.
Gifts
฿2,912.67 ($86.20 / €77.70)
Probably something most people aren't necessarily consciously aware of. This item includes anything from souvenirs, to birthday gifts to expenses I have when helping people out with something. Looking at the individual items in the category, I was pleasantly surprised how much I approve of everything spend that way. It seems to be true: Spending money for other people makes you happy.
Supplements & Over-The-Counter Stuff
฿2,842.67 ($84.16 / €75.76)
Finding reasonably priced supplements can be a hassle in Thailand. I'm not sure if it's due to regulations or just lack of competition, but prices are often twice of what you pay in Europe or the US. Luckily there's two exceptions that allow you to source everything at US prices: PhuketHealthShop (from where I tend to order protein powder) and iHerb (a US-based shop that ships vitamins and other supplements to Thailand for as little as 4 USD). In the case of over-the-counter drugs the situation is reversed: Those are ubiquitously available at seriously discounted prices.
Transportation
฿2,510.67 ($74.28 / €66.99)
A mix of taxi rides as well as money spent topping up my subway and Skytrain cards. I don't usually take motorcycle taxis (too dangerous for main roads in my opinion). I would assume that money and time spent on transportation is comparable to Germany. What Thailand lacks in public transport coverage and pricing it makes up in cheap taxis (which, due to traffic jams, end up taking you just as long as public transportation in Germany would).
Maid
฿2,433.33 ($72.00 / €64.90)
The price of having a home in which you don't need do laundry, dishes or any cleaning yourself. A nice side benefit: I don't need to plan my schedule around the delivery times of my groceries and can just tell them to drop it off when she's there. A convenience that makes a lot of sense from a financial point of view – as long as I use the time it buys me to work on my business and not for playing video games!
Entertainment
฿1,869.50 ($55.34 / €49.87)
Looking at the numbers, I seem to have a very convenient, but not a very entertaining life. This category mostly includes digital products and services: Kindle eBooks (a game changer when you live abroad), Spotify (which blocks sign-ups from Thailand, so you'll need to sign up from a foreign IP with a foreign payment source), and Steam (digital delivery of international video games that come at local (!) pricing). The only 'local' expenses are movies (cheap – and they have to be if they want to compete with the abundance of pirated DVDs that are readily available) and outfits for theme parties (you don't really want to know…).

Insurance
฿1,600.00 ($47.37 / €42.68)
There's only one item in this category and that's my occupational disability insurance called Berufsunfähigkeitsversicherung. It's a safeguard in case I'll be unable to work in my current job due to health reasons. I had it since I graduated and hopefully it'll remain a black hole into which I'll pour money without ever seeing a cent of it again.
Sports
฿1,221.83 ($36.17 / €32.57)
A 3-month gym membership at a 24 hour gym, followed by a purchase for some home weight-lifting equipment. I tend to work out about twice a week: Depending on what 'mode' I'm in it's either a no-equipment travel workout, a run in the park, a session of T25 with my girlfriend or a weight-lifting routine. I would probably see results faster if I become more focused again in my approach. Maybe a project for later on this year. Depending on where you live in Bangkok, this can be significantly lower: The cheapest gyms in Bangkok cost only 40 THB per year.
Coffee
฿1,096.38 ($32.46 / €29.20)
I could have combined that with 'Eating Out', but since there's a big difference between a 5 USD coffee (when talking about Starbucks) and 0.03 USD coffee (when talking about the 'actual' cost of a cup of coffee) I thought it would be interesting to see how much I actually spend on this. The answer: Not a life-changing amount. Probably due to one of my favorites being a coffee stall opposite my office buildings that sells bliss in a cup for only THB 35. Still, I kind of feel that there's ways to reduce this without compromising on coffee-drinking-pleasure. Since my girlfriend recently introduced me to Pacamara (amazing stuff, I could buy the beans by the bucket), I expect I'll switch to home-made coffee nearly entirely. Talk about being a perfectionist.

Grooming
฿166.67 ($4.93 / €4.44)
Unsurprisingly, my hair cuts don't really brake the bank. I should get them more often. Definitely cheaper than upgrading my wardrobe.
Everything Else
฿1,131.50 ($33.50 / €30.15)
This includes ATM card (re)issuing and withdrawal fees (in percentage savings probably the single biggest bargain in the entire country – using another bank's ATM costs you a grand total of ฿3 ($0.09 / €0.08) , kitchen and other home appliances as well as all other minor items I didn't have a better category for.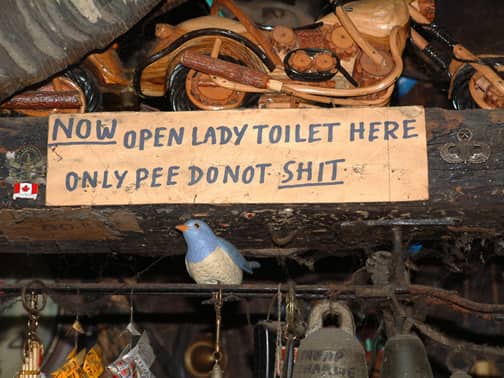 Thoughts
Peter Drucker (the 'founder of modern management') said 'what gets measured, gets managed' and I found that certainly holds true for personal expenses as well as for calorie counting. It really makes you realise what you spend your money on. The mere act of counting consciously made me associate positive or negative feelings with individual types (and amounts) of expenses, depending on whether you think it's worth it or not. It makes you a more mindful spender.
My own perception of my lifestyle can be described as 'moderate'. However, that's probably how most people would classify themselves ('middle of the road' or 'within a sensible range'). Most of my expenses beyond basic necessities I wouldn't perceive as 'luxuries', but more so being about convenience and freedom (though for others I understand this might very well be the essence of luxury). However, I also have to admit that there's a fair bit of share that goes towards vanity, pride and self-image (e.g. everything that goes into trying to look more toned and fashionable).
I don't really have a set goal I want to achieve with this. But I do have a personal drive towards optimizing myself, making me want to consciously change the way I spend money – if only to feel like I've changed myself for the better.