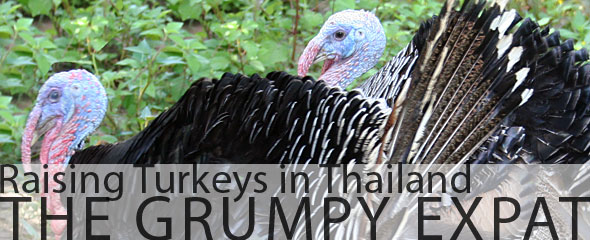 The Grumpy Expat: Raising Turkeys in Thailand…
A post I wrote, Thai Turkeys for Thanksgiving, came to the attention of another Thai blogger, Stu Alan. Stu hosts The Grumpy Expat (no longer online).
The Grumpy Expat: Welcome. I've retired, in a way, to live with my wife in Thailand. I like it here! After more than 40 years of working to business schedules and deadlines, I've had the task of adjusting both to the pace of retirement and the pace of Thailand. Retired 'in a way' only because I can't sit still doing nothing for the rest of my days. There's so much to do and every new day reminds me that now I must get on with it.
And Stu just happens to be a turkey farmer (hence finding my post on Thai turkeys). I looked around for turkey farmers last year to interview, but nothing panned out. So here we are at Thanksgiving again, and Stu has agreed to tell all about raising turkeys in Thailand.
Interviewing Stu Alan about Thai, Thailand, and raising turkeys…
Stu, how long have you lived in Thailand?
Four years full time.
What is the level of your Thai language skills?
Beginner. I struggle with new languages and people here often mix Thai with Lao. Intonation is difficult to learn from books and I don't want lessons. I have to make more of an effort.
Has your present Thai language skills in any way hindered your ability to raise turkeys in Thailand?
No. My wife translates when necessary and there are English speakers who are interested in turkeys to whom I talk.
What was the deciding factor of raising turkeys in Thailand?
We live in a village with some land and turkey keeping in a small way appealed to me as something else to do in retirement. You can nurture only so much pretty garden so some land was going to waste.
Have you run into any major snafus since you started raising turkeys?
The only real problem has been the loneliness of the learning curve. Local Thais who have turkeys take no more care of them than they do gai ban. Mosquito bites can kill poults so we had to learn the hard way that they can be protected against most ailments with a course of injections.

The standing water on some of our land, our own small flood, has isolated the turkey and chicken coops so we have to provide B&B near to the house. It's like taking care of a bunch of two year old children but, hopefully, a temporary issue.
Why do so many expats have problems raising turkeys in Thailand?
If they do its because they don't search for information and listen too much to local 'knowledge'. Turkeys behave differently from chickens and that must be taken into account. Things are inconvenient for us at the moment for the reason stated above but they aren't so difficult to care for. The main thing is to keep the newly hatched poults under mosquito netting until the course of inoculations is finished. That takes about seven weeks. After that, young poults need to be guarded from danger in the same way as human toddlers. We let the hens set on and hatch their eggs and then they stay under cover with the poults. After that, they care for their offspring for about three more months if they free-range. That all makes life for us easier than if we hatched in an incubator and then found ourselves appointed as parents. Nature's way is better unless you have a factory farm.
What kids of turkeys are the best to raise here?
I have heard of someone who sells breeds but Thailand generally isn't into that kind of fusiness. Ours seem to be mainly Bronze or close to it. The big white turkeys are Broad Breasted and developed for slaughter after six months. Kept longer than that and they are unable to walk and die young. They are intended for factory farms and I don't recommend them for small producers or as pets.
How are turkeys in Thailand different than turkeys in the west?
I haven't seen a difference yet but it's possible that the laying season here is virtually continuous. Turkeys don't lay as frequently as chickens. A hen will lay about twelve eggs and then incubate them. She may not lay again for some time but others will. It's too early to be sure but we might be getting eggs throughout the year. What that boils down to, I suppose, is that the turkeys are the same but the climate makes some difference to their habits.
How long have turkeys been in Thailand?
I don't know the answer to that. I suspect not long. I would guess that they were introduced within the last few decades by Westerners.
Do Thais have special recipes for turkeys?
As far as I can see they mince the meat and ruin the flavour with chili and garlic before adding hedgerow 'vegetables' and, of course, rice. I enjoy chili and spices but that's not the way to enjoy turkey. Many Thai homes lack an oven, of course, and Thai cuisine favours small pieces of meat rather than slices. I intend to educate our neighbours but rural Thais are not adventurous in a gastronomic way.
What advice do you give potential turkey farmers?
Research before you start and do not plan to treat them the same way as chickens. There are books and websites that offer information. The climate here makes a difference and for that there is no useful literature. We learned a lot quickly and I'm willing to help people who want to keep turkeys. We can also supply inoculated and well fed birds to start a new flock.
Book: Not Just For Christmas – Janice Houghton-Wallace – is good for starters and available from Amazon.

Web: Here's a great American based forum for all poultry keepers: Backyard Chickens
What was the most hilarious thing to happen to your turkey adventure?
Turkeys are fun to watch. Probably the funniest moments are when one finds a tasty piece of protein. At the moment we have a lot of snails and minute frogs on the land. The lucky winner has to place the morsel on the ground to turn it ready for knocking back into the crop. If he's spotted by the others before he can do that we are treated to a Benny Hill style single file run around the garden as they try to snatch it from him.
And if you can think of anything else…
What else? Well, I suppose the main issue is learning how to take care of them properly because few keepers do here and the mortality rate is high. We've had to learn from experience about medication (we are lucky in Thailand because many vets in the West won't treat turkeys and the fees here are minimal), coop design, perches, feed, safety and security.

As I mentioned above, I would be happy to help others get through all of that learning quicker than we were able to. Also, we prefer to sell our turkeys to breeders and keepers and can guarantee that they have had the best care possible.
Stu Alan
The Grumpy Expat