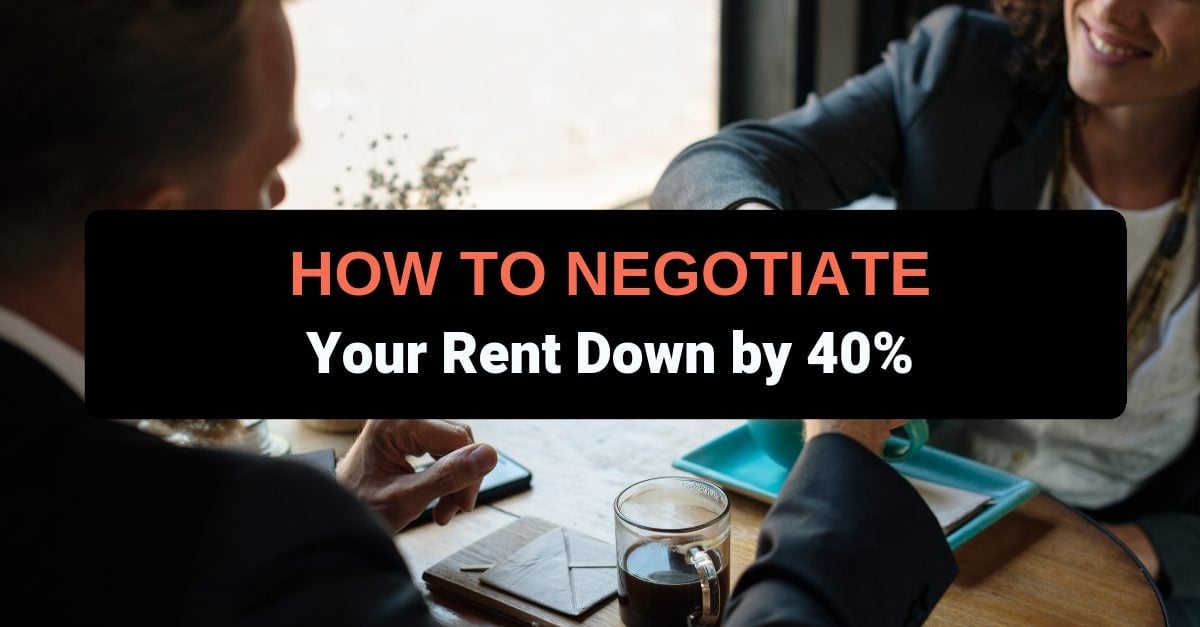 Negotiating can get you a discount of 8% to 40% from the quoted rental price or a free first month.
Agents might not be thrilled about giving in on that, given that also means their commission might be 20% lower.
It's best to negotiate when the owner is present, rather than trying to negotiate with the agent.
This is also another reason why you want to seek out a place that is offered by the owner.
If there's something missing that you'd like, like a flat-screen TV or a washing machine, this is also a good time to bring it up.
These negotiation strategies work well if the condo or house is located outside of the city.
The higher the rental price, the more you can bargain. You may get a 1,000 baht to 2,000 baht discount on a room cheaper than 10,000 baht.
But the discount can be greater than 5,000 baht a month with rent that's higher than 30,000 baht a month.
You need to know the average price of the property in that area. And this requires research. You'll find the same exact listings on many websites but with different prices.
And it's your job to find out the minimum price for that listing.
One way you can find the standard price of a property is by using Google.
Search in this format: site:website "property name" "price amount."
For example, if you want to know how much you can get for 20,000 baht at Ideo Q condo in Praya Thai, you can search: site:hipflat.co.th "ideo Q phayathai" "20000".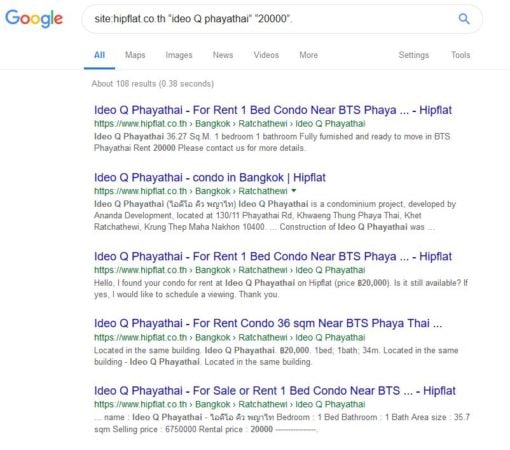 A Case Study on Negotiating Rent
Our editor, an American expat living in Thailand with his family, was able to get a 40% discount when negotiating his rent. Here's how they did it.
John and his wife lived with his wife's mom when they first got to Thailand.
The setup was okay, but not great. They only had one room that they had to share with their daughter who was six months old at the time.
They needed more space. And on top of that their lifestyle was conflicting with his wife's family's lifestyle.
After three months they decided the best thing to do was rent their own place. But they had no idea where to start.
John's wife got in touch with her friend, who lived at The Parkland Srinakarin, and she had nothing but good things to say about the condo.
So John's wife searched Prakard.com for available condos.
But everything they found was either out of their budget, too small, or already taken.
Then they found a two-bedroom unit in Building D of The Parkland. They went to look at the condo. It was perfect.
The owners wanted 16,000 baht a month for the condo. It was within their budget, but they wanted to see if they could get the price down.
So they began to negotiate. And after about an hour or so of them talking with the owners, they offered John and his wife the condo for 15,000 baht per month.
1,000 baht doesn't seem like much but it was a small victory in negotiating rent.
And the lessons they learned about negotiating helped them negotiate rent on two other occasions, each time giving them greater discounts.
After one year of living in the condo, they realized that section of the complex was too noisy.
There was a football field right next door and games would go on sometimes until well past midnight. But they loved The Parkland and wanted to stay.
They found a two-bedroom condo in another building away from the football field. The owner was asking 13,000 baht.
They wanted to negotiate the rent down, hopefully to 11,000 baht this time.
John's wife explained to the owner that they had (now) two kids and worked from home and would look after the place like it was their own.
In the end, they got the unit for 11,000 baht a month.
But the owner told them that they'd have to pay to have the area rugs cleaned at the end of their lease—another 800 baht for each rug.
John rolled them up and handed them over to the owner, opting to pocket the 800 baht instead.
They felt confident with their negotiating skills. But they'd have to use them one more time before they knew for sure that what they'd done was working.
And when they decided to move from a condo to a townhouse, it was the perfect chance to test their skills again.
They found a brand new development just outside of Bangkok. All the owners were asking at least 25,000 baht a month.
Then they came across a townhouse for 23,000 baht a month. That was still out of their budget of 15,000 baht.
And considering the neighborhood, no one in their right mind would lower the price down 8,000 baht for what was included:
a park
saltwater swimming pool
front and back yard
driveway
three bathrooms
two floors
and peace and quiet
When they met the owner of the townhouse, they had no intention on actually renting the place.
They just wanted to peak inside to see what 25,000 baht a month would get them.
But the owner, wanting to get his townhouses rented (he had a row of seven homes), kept offering them the house at 23,000 baht.
They explained to him that their budget was 15,000 baht a month and that they were just looking.
In the end, right before they left, John and his wife told the owner they liked the place but they could only afford 15,000.
They walked out, jumped in the car, and headed back to the condo.
A few hours later John's wife got a call. The owner offered them the townhouse for 16,000 baht a month.
But only under the condition—that they didn't tell anyone in the neighborhood, because everyone else was paying at least 23,000 baht.
Negotiating Rent
So, what exactly did John and his wife do to negotiate their rent and save more and more money each time? As simple as it sounds, here it is:
Dress Respectfully
In Thailand, appearance plays a big role in determining how people are going to treat you.
You'll be treated based on your looks before your character.
So dress casual smart when going to negotiate rent with an owner of a house or condo.
Although you can get away with showing up in shorts and a t-shirt in the West, it's better to put your best foot forward in Thailand.
Find Common Ground
When John and his wife negotiated rent on the first condo they rented, the deciding factor for getting 1,000 baht off the rent was a common interest in Muay Thai.
When John walked into the condo the day they went to look at it, the owner was watching Muay Thai on TV.
And when John commented about the Muay Thai fights, the owner's ears perked up and John and him were off to a good start.
From there, their conversation was laid back and negotiating with the owner became easy.
When they rented the townhouse, they sat with the owner and talked about kids and education.
They found common ground about the direction that education in today's world is taking.
By the time they offered their price, they had already broken the ice.
And having some connection with John and his wife, the owner warmed up to the idea of giving them a 7,000 baht discount.
Be Patient
Don't be quick to jump on an offer right away—even if you think you've found the place of your dreams.
John and his wife saved the most money by walking away and leaving the ball in the owner's court.
They gave off an air that they didn't need the condo or townhouse. They walked out without a worry, even if they felt excited on the inside.
Stay Out of Management Offices
You will not, under any circumstances, negotiate rent if you go through a management office.
If you want to have the upper hand, go to a website like Prakard.com and meet the owner directly.
This way you'll be able to negotiate more than rent, but also length of contract, terms, deposit amount, and even furniture.
Thailand Starter Kit readers, for example, have said they've had owners who told them to go to Index Living Mall and pick out any furniture they'd like.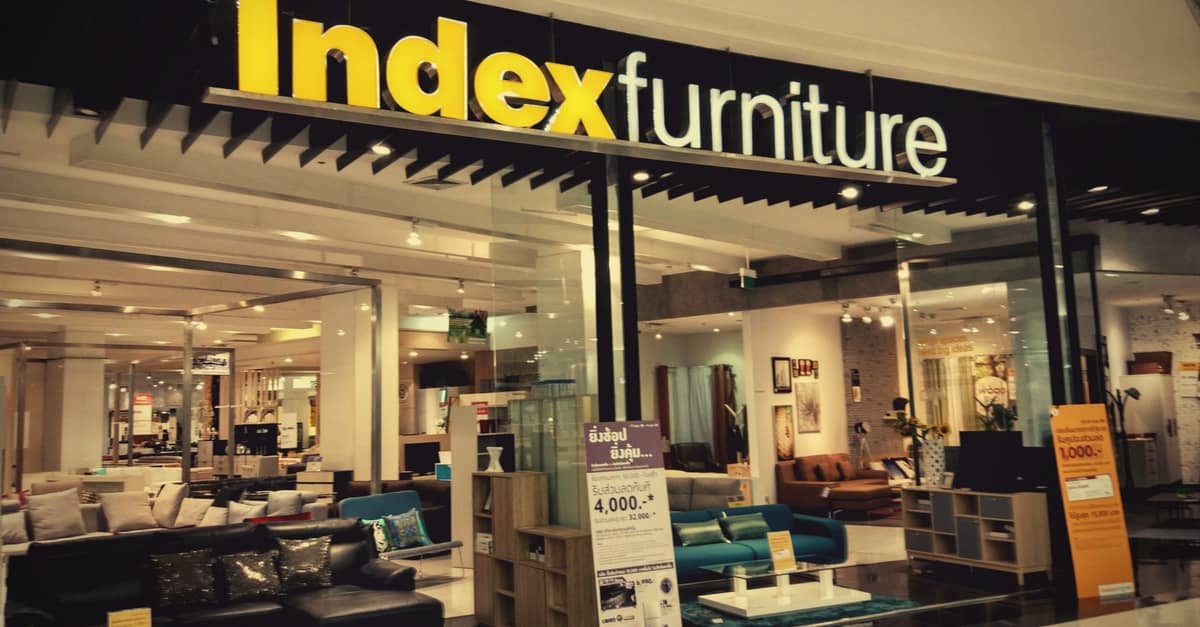 Have Kids? Bring 'Em
Back in the states, owners are weary about renting out to families. They're afraid the kids will destroy everything.
But in Thailand, having kids, especially for a Westerner, is beneficial in many areas of life.
Thais look at you as a serious member of society when you have kids.
They'll feel you're more responsible and stable with a family.
And they won't mind knocking off a few thousand baht in exchange for the peace of mind of having a long-term, responsible tenant.
Single? Bring a Thai Friend
It's an unfortunate reality, but some Thais think foreigners have unlimited money to burn.
So don't be surprised if you show up to look at a privately listed condo or house, only to be told by the owner a much higher price because you're a foreigner.
To avoid this, have a Thai friend or spouse negotiate on your behalf.
Bargain a Longer Contract
The real estate market in Thailand has more supply than demand. There are new condos in every part of Bangkok.
So, it's not about a tenant looking for a condo anymore. The condo owner also wants to find a good tenant who can stay there long-term.
Many times the owner is happy offering you a discount if you want to stay longer than a year.
It's a win-win situation. From an owner's perspective, they are guaranteed the income during your stay. And you can lower your rent.