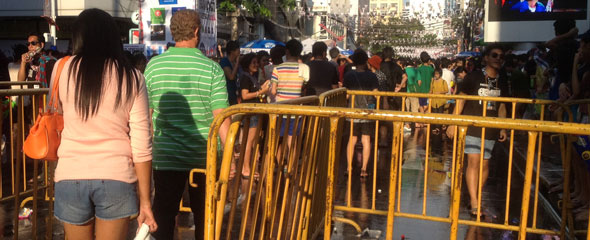 Songkran 2012: Siam Square: On Day Two…
Did you miss the first day of Songkran? Me too! The closer it got to 4pm on the first official day of the celebrations, the more I wanted to stay high and dry (so I never made it out of my PJs).
But seriously, getting drenched at Songkran is FABULOUS! And honestly? Between you and me? I should have done it sooner. Like, on day one of Songkran at least.
Mod's Wild, Wild WET: To state that the Thais celebrate Songkran with water is a huge understatement. If you long for the carefree days of childhood (or if you are still a kid), don't miss out on the Songkran 'water wars'. Bowls (ขัน), containers (ภาชนะ) and large buckets (ถัง) filled with water are hurled at anyone who happens to be around, and lively water fights take centre stage on the streets, which are awash with carnival-like atmosphere. Some Songkran enthusiasts even resort to using garden horses and powerful water guns. (ปืนฉีดน้ำ)

Your presence at the festival is seen as an invitation to participate, so if you don't want to get wet, stay clear!
And man oh man, did I ever get WET.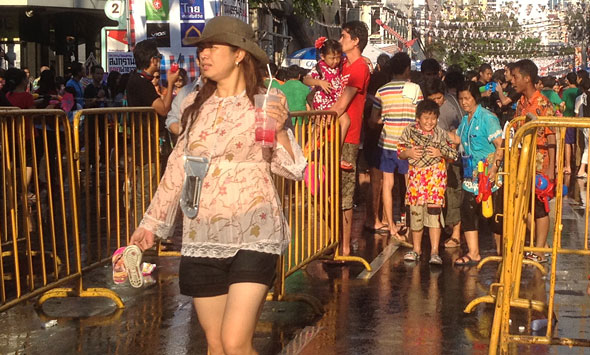 During the last two Songkrans I've focused on Khao San Road. Compared to Siam Square and other Songkran venues in Bangkok, Khao San Road is the easiest to get around via taxi. Incase you haven't experienced it, unprotected cameras and flying water don't mix. So hiding (mostly) behind glass was, to me, the safer, dryer bet.
This year I had the new iPhone with its snazzy camera and video capabilities so I opted for the Songkran party at Siam. On foot.
On Khao San Road there are a LOT of tourists and expats. I read that it's something like 80%? 90? But not at Siam. At Siam there were a few westerners but the rest were Thai. I like.
Running the gauntlet of water guns was great fun. With my hands full of iPhone and water bottle, I chose not to have a pistol to retaliate. But next year? Next year it'll be different… oh yeah.
Smothered behind a large crowd of onlookers was a live band. I couldn't see them, but they were cranked up LOUD so I could hear them just fine. And every so often the crowd would stop spraying water to throw up their arms in rhythm with the tune. Fun.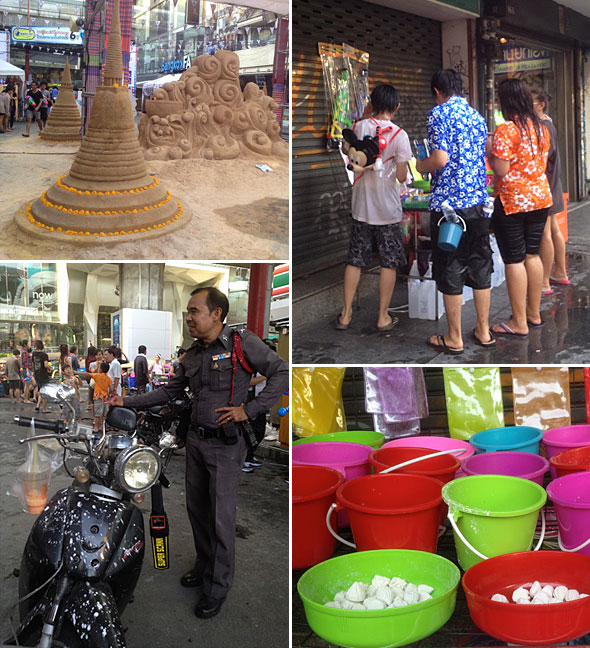 Right outside the party gates you could buy powder, buckets, bowls, and beer. But I never once saw anyone actually partake. At Siam very few people had faces smeared with white paste and no one was walking around drinking alcohol. I missed the paste especially. Except for the water, it was not like Khao San's Songkrans of the past at all.
I did take my Canon 7D but it never made it out of the backpack (too risky). Pity. Because while I love the ease of taking photos via iPhone, I felt no real connection with the scene around me. You can see it easily by comparing this year's photos (above) with the ones I took last year (here).
So NEXT year I'll be walking around with a waterproofed camera, a water pistol, and… and… what else?
Soaked from my head to my knickers, it was the coolest I'd felt all week. All during the ride back home I was grinning away, chatting excitedly about the wild and wet experience of Songkran at Silom.
"YEAH! That was fun! How long did I last?"
"Ten minutes"
"Oh"