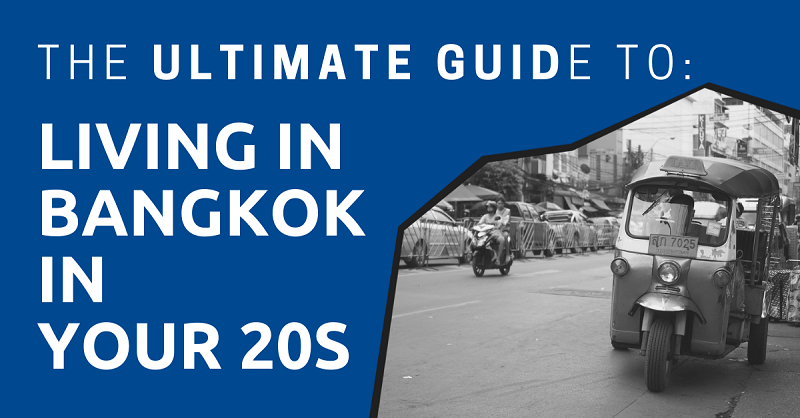 So you've vacationed in Bangkok and decided you want to move to here.
Or maybe you're fresh out of college and looking for some adventure before settling down.
It's easy to fall in love with Bangkok and its culture, hospitality, cuisine, and nightlife.
But what's it like living in Bangkok?
This guide shows you how to set up a life in Bangkok, from finding work and a place to stay to making friends and opening bank accounts.
Who am I?
I'm a 24-year-old Indian man who was born and raised in Thailand. I live in Bangkok and have studied here from kindergarten until college.
My interests include writing and arguing with my more well-traveled friends about why Bangkok is the best place on Earth.
I also consider myself a Thai food connoisseur, partly because I can handle the same amount of spice the locals do.
I've traveled in crowded skytrains and immovable traffic, bonded with tuk-tuk drivers over beers at 3:00 AM, and experienced the buzz in the air during Songkran.
Bangkok is my home.
Getting a Visa
I'd be lying if I said that understanding the myriad Thai visas was easy.
But, let's start with the easiest one: tourist visas.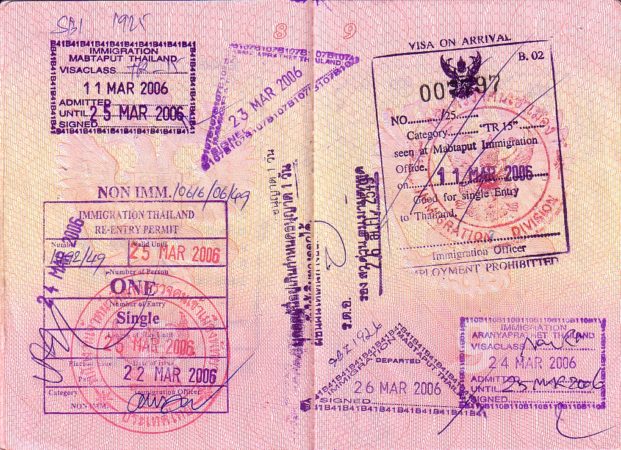 They're the conventional visa most visitors get and they give you 30 to 60 days in Thailand.
If you want to settle long-term, you might need to apply for a Thai business visa, which can be further segmented into:
non-immigrant B visas for working and teaching
non-Immigrant IB visas for investment and business
non-Immigrant BA for business approvals
There are other visas if you're coming here to study, retire, marry, or volunteer. But if you're in your 20s, then some of these visas may be out of your radar.
Fortunately, we have an in-depth article covering all the types of visas and how to apply for them.
Getting the right visa isn't too hard as long as you have the right paperwork, which is also covered in the aforementioned article.
Living in Bangkok
Good old Bangkok—glitzy, glamorous, constant. It's the first city people consider when moving to Thailand.
You can find the highest paying jobs, a variety of entertainment, and a plethora of international schools if you're looking to start a family—all in Bangkok.
Bangkok's infrastructure also means you can take a flight to anywhere in Thailand or cover every inch of the city on a budget with it's public transportation.
And we haven't even touched upon its main draw: the food, which you can find plenty of anywhere you look.
Finding a Place to Live
Your first order of business in Bangkok is finding a place to live, which is easy.
You can use websites like hipflat and DDproperty to find apartments, condos, and houses in a range of budgets.
Let's look at some prices and what you get for the money.
Apartments
Apartments in Bangkok go for a variety of prices, depending on how close you are to the BTS or MRT, and how high-end the facilities are.
Here's an overview of some general price ranges.
7,000 baht to 12,000 baht a month
You can get apartments cheaper than 7,000 baht a month, but they're usually too far away from the city to be worth it or too rundown to live in.
Apartments in the 7,000 baht to 12,000 baht range are in older buildings with minimal amenities.
But what they lack in facility they make up for in living space, making these units a great choice for couples or friends.
Electricity costs do run slightly higher because of the older air conditioning systems and lights.
Apartments in this price range are usually located about 10 to 20 minutes from a skytrain or subway station by foot.
13,000 baht to 20,000 baht a month
Apartments in this price range are in newer buildings that are chock-full of amenities like:
gyms
saunas
swimming pools
party rooms
theaters
key-card security systems
Most newer units are studio apartments that cap out at 50 square meters and give you the option of renting short-term.
Newer buildings are located only a few hundred meters from a skytrain or subway station.
25,000 baht to 100,000 baht a month
This budget gets you apartments that have between two to four bedrooms and are situated in a well-fitted, modern building close to public transportation.
Contracts in these buildings are usually long-term.
If you don't want to be tied to a contract, you could hunt for a room in a serviced apartment instead.
Serviced apartments in this price range come with daily breakfast, cleaning, and laundry services.
100,000 baht and up a month
Apartments for over 100,000 baht a month are the crème de la crème of Bangkok living and come with countless features.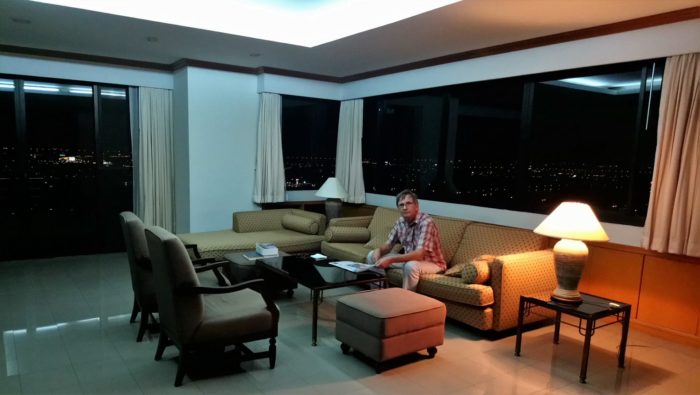 The latest example is 98 WIRELESS, which—apart from the amenities—includes:
dedicated butler services
chauffeured Bentley
valet parking
concierge service
Unit sizes vary but expect over 250 square meters of living space. Your building might also be connected via a walkway to a skytrain or subway station.
Houses
You may not want or need to rent a house in Bangkok. But if you do, houses in Bangkok are typically located further away from the city but rent is cheaper.
A basic house with just a front patio and parking space will cost between 15,000 baht and 30,000 baht a month.
If you want something higher-end, you can look into gated communities. Prices start from 75,000 baht a month.
Houses here come with parks, swimming pools, gyms, and other conveniences like free tuk-tuk services to the closest skytrain or subway station.
Areas
Good, central areas for expats include all locations between Siam and Ekkamai.
These locations host impressive office buildings, apartments, and entertainment options.
This is also a good place to raise a family and you can find many international schools within 20 minutes of each other.
For those looking for better value for money in terms of living costs, head to On Nut, Rama 9, Phrakhanong, or Ratchadaphisek.
You can also check out some of the more underrated neighborhoods in Bangkok.
Setting up and Paying for Utilities
If you have a work permit and visa, it's fairly easy to set up utilities in Thailand.
If you don't have a work permit or visa, you'll find it harder to open accounts with the companies listed below.
Internet
There are many internet providers in Thailand, and more so in Bangkok. But the three main players are:
Here's each in a nutshell:
True offers decent coverage at great speeds. They offer internet speeds between 6 Mbps to 150 Mbps.
To register for a True internet package, pick one of their packages and then call their service center.
TOT covers a lot of the city but is slightly unreliable. They offer Internet speeds between 50 Mbps and 200 Mbps.
To register for TOT internet, head over to their registration page and see if they cover your area.
3BB is lesser widespread than True but more reliable. They offer internet speeds between 10 Mbps and 200 Mbps.
To register for a 3BB internet account, head over to their registration page and fill out their form. They'll contact you by phone to set up your account.
The average cost for internet is between 600 baht and 1,200 baht per month. But these are the prices before the 7% tax.
If needed, each of these service providers offer fiber-optic internet and business packages.
One last thing: if you can't speak Thai, be sure to have a friend who could speak Thai on hand so they could talk to the call center for you.
TV Packages
If you want a Western TV package then you have a couple of options.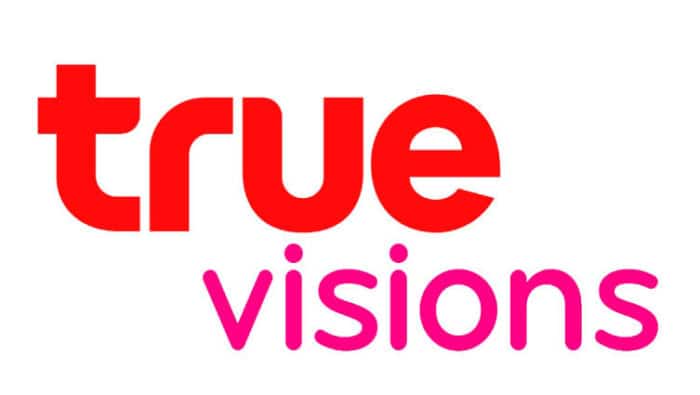 The first one is from True Visions. They offer many channels and packages at different price points that suit your needs.
Then there's Netflix Thailand. They offer a lot of the same movies and TV shows as Netflix in America.
But if you want access to American-only movies and TV you need a VPN, which isn't exactly legal. So get one at your own risk.
Cell Phones
You have a few different choices for cell phone service in Thailand. You can use your phone or buy a new one in Thailand.
Thailand has four major cell phone service providers:
You can read our guide to Thai SIM cards in Thailand to find out how to get cell phone service in Bangkok.
Electricity
Electricity in Bangkok is provided by the Metropolitan Electricity Authority. Electric accounts are usually set up by property managers or homeowners, not renters.
Electricity costs depend on the age of your air conditioners and how much you run them.
You can pay thousands of baht each month if you run older air conditioners all day and night.
You pay your electric bill monthly to property managers or the MEA. If you have to pay your electric bill to the MEA, you can pay at most Family Marts or 7–11s.
Water
The Metropolitan Waterworks Authority provides water in Bangkok. Water accounts are usually set up by property managers or homeowners, not renters.
In a condo, you pay about 50 baht to 100 baht per month for water. You pay your water bill every one-to-three months directly to the property managers.
In a house, you pay about 150 baht to 200 baht per month. And you can pay your water bill monthly to the MWA. You can pay at most Family Marts or 7–11s.
Working in Bangkok
Thailand is Southeast Asia's 4th largest economy with a GDP of 403 billion dollars.
It also has one of the lowest unemployment rates in the world, sitting at just 1.1% in 2018.
Jobs that open up invite a large number of applications, especially from qualified, local professionals and Thai graduates with English language skills.
You can land a job based on English language skills alone, mostly as an English teacher.
If you want the jobs that afford you a life in Bangkok you need to have experience.
But experience in what?
We have three different guides to finding work in Bangkok that help you figure that part out.
Karsten Aichholz and Patrick Taylor have also written a book on Working in Thailand, which shows you how to find a job when you get to Bangkok.
To work in Thailand, you also need a work permit and work visa—which you may or may not get help with from the company you work for.
So be sure to read up on those two guides to prepare yourself for the process.
Setting Up Bank Accounts
If you live in Bangkok, you need a bank account. You can do much more than store money in your account. You can also:
pay bills
send and receive money
pay for goods and services
If you have a work permit, you can go to any bank in Bangkok to open an account.
If you have a marriage visa, retirement visa, or tourist visa, you can open up a bank account at select bank branches.
You can read our guide to opening Thai bank accounts to find out more info.
Buying Food
Like I mentioned before, Bangkok's biggest draw is the food. Bangkok has cuisine from all corners of the world at various price points.
Let's take a look at the different tiers of eateries available in this city.
Street Food
Street food is cheap and easily accessible. And what you find depends on the time of day, meaning breakfast, lunch, and dinner are all different.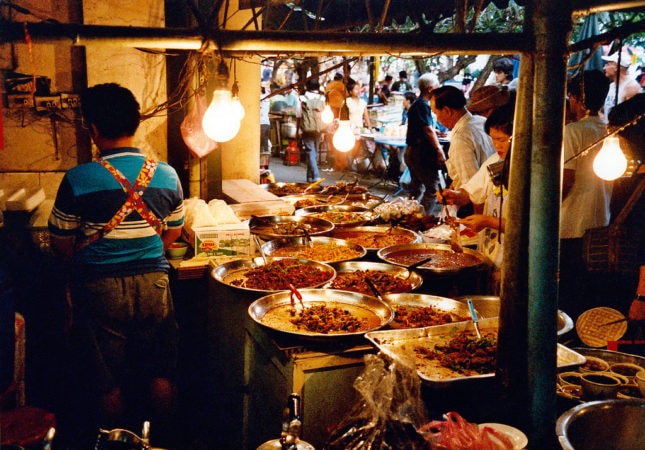 Grilled chicken is relatively cheap, between 20 baht to 50 baht a piece. And you can pick between a variety of cuts, including thigh or breast.
Papaya salad with sticky rice costs between 35 baht and 65 baht.
Grilled pork skewers cost between 7 baht and 20 baht a stick.
Food Stalls
Food stalls are the bread-and-butter option for locals and expats who've lived here for a while.
These stalls can cook up whatever Thai food your heart desires.
You can find these stalls scattered around Bangkok at all times of the day, so if you crave some soupy noodles at 3:00 AM, you can find a vendor.
Prices depend on the dish, but the average plate of rice is between 40 baht and 60 baht.
Fast Food
Because of how popular Thailand is with tourists, Bangkok has all the signature fast food chains.
You can pick from McDonald's, Carl's Jr., Burger King, and more.
Get your fried Chicken from KFC or Texas Chicken or grab a pizza from Pizza Hut or Domino's.
You also have Swensen's, Dairy Queen, and Dunkin' Donuts if you crave something sweet.
And fret not, there are plenty of Starbucks, too.
You'll find these chains strategically located in malls and on main roads.
Prices are the same as you pay back home.
Food in Malls
Bangkok's malls have a variety of food, with entire floors dedicated to just restaurants.
You can find all cuisines, from Italian to Korean to Indian to Japanese.
Some popular chains include:
Bonchon Chicken, which serves Korean fried chicken
MK Suki, which has perfected the hotpot
Coco Ichibanya, Japanese curry you can't miss
Prices vary but average bills range from 600 baht to 1,000 baht for two people, if you order appetizers, drinks, and a couple of main dishes.
If you want to get away from street food yet don't want to spend much, you should visit the food courts in malls.
Food courts bring together all of Bangkok's street food under one roof for around 70 baht per dish.
Restaurants
Bangkok isn't all about food on a budget and there's no shortage of places you can visit when you're feeling fancy.
Daniel Thaiger's rise to fame has been meteoric. What started off as a gourmet burger food truck has now developed into a chain.
Thaiger serves burgers lathered in sauces, topped with grilled onions, tomatoes, and sandwiched between buttery brioche buns.
Prices for burgers start from 260 baht up to 330 baht.
If you're craving a slab of meat then you can't go wrong with El Gaucho Argentinian Steakhouse.
This steakhouse lets you indulge in high-quality, chemical-free, grass fed beef from all over the world.
But this is one of the more expensive restaurants in the city, with prices starting from 1,800 baht a steak.
Akira Back is a Michelin Star, Japanese-Korean fusion restaurant. It has spectacular views of the Bangkok skyline through floor-to-ceiling windows.
Be sure to book weeks ahead. Dishes are priced between 300 baht and 2,000 baht.
Rang Mahal offers live music and flavorful North Indian cuisine. Be sure to order the rogan josh (kashmiri mutton dish) and daal makhani (black lentil curry).
Prices range from 250 baht up to 1,600 baht a dish.
For the last five years, Nahm has consistently ranked in the top 10 restaurants in Asia in the annual San Pellegrino and Acqua Panna list.
In 2017 they received the coveted Michelin stars.
Nahm emphasizes the strong, fresh flavors of traditional Thai cuisine, whether savory, sweet, or spicy.
Supermarkets
If you want to save some cash, your best bet is to buy food at supermarkets and cook your own meals.
Bangkok has many supermarkets that sell Western foods. Some of them include:
Some Tops offer home delivery for free as well.
At these supermarkets you can find the staples of the Western diet not available elsewhere.
Shopping at Malls
Malls add to the character of this vibrant city, with entire neighborhoods built around them.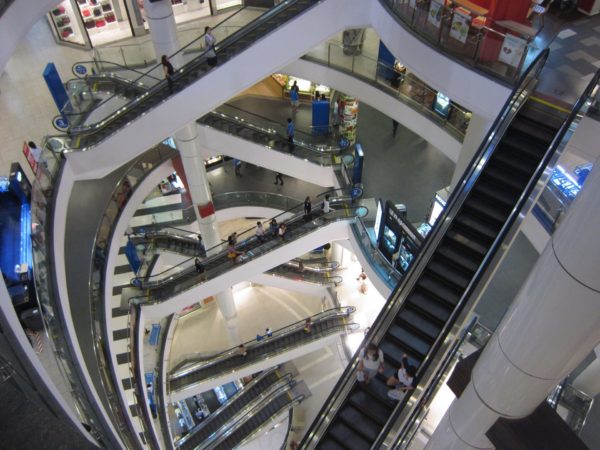 Though there are several malls for varied budgets, I'll give you the three places I frequent:
Siam Paragon
Siam Paragon is the second largest mall in Bangkok and is a good fit for people of all social standings.
In it, you'll find cheaper stores like H&M and elite class Gucci showrooms.
Paragon also has a lot of things to do besides shopping.
It has a theater, an underground ocean world (aquarium city), and a plethora of places to eat, from casual diners to high-end restaurants.
It also has a gourmet supermarket at the basement level so you can shop for your groceries.
This mall is connected to the Siam Skytrain station and is one station away from the popular MBK mall.
MBK
I know people who've visited Bangkok just for this mall. MBK is a shopaholic's dream come true.
You can find anything from mobile phones to belts, and watches to makeup for a cheaper prices than usual.
That's because most shops within the mall aren't brands, but independent vendors.
Because of how elaborate MBK is, you can find some great deals on unique items you won't see anywhere else in the city.
For entertainment, MBK has a theater, although it's not as refined as Siam Paragon's.
You can get to MBK through the National Stadium BTS station.
M District
M District was called Emporium until it bought another building right across from it and opened another mall, forming a district.
M District is the complete mall in my opinion.
The two buildings cover every store, restaurant, and entertainment option there is.
There's a park, a movie theater, a rooftop bar, a gym, a playground, and more.
M District is in the Phrom Phong area and also accessible by BTS.
You also have Central Mall and The Mall with locations all throughout Bangkok, where you can shop, learn, eat, and play.
Visiting Parks
Bangkok isn't just concrete jungle. It has three major parks in the city center.
The function of each park remains the same, but there's a difference in size and activities.
Lumpini Park
This is the largest park in Bangkok and sprawls hectares. It has a gym, a lake, and rental paddle boats for those who want to relax on water.
Benjakiti Park
Benjakiti Park is also known as Queen Park and is in the center of the city, in Asok.
It's smaller than Lumpini but also has a lake in the center. It offers rental paddle boats and bicycles, and a tiny roller skating rink.
Benjasiri Park
Benjasiri Park is connected to M District and is the smallest and simplest of the three parks. It doesn't have a lake or bicycle rental services.
Exercising
Bangkok has a growing fitness culture, which means after you're done with all the eating, you can hit a gym.
A word of warning, be sure to read the contract as some chains are notorious for inserting claims and fees in the terms and conditions sections, such as:
rolling-contracts
maintenance fees
trainer fees (even if you're not using them).
Also watch out for "flash sale" prices, which are designed to entice you into signing immediately.
But most of the flash sale prices are the same prices listed throughout the year.
Check out our guide to fitness in Bangkok for an in-depth look at exercise options through the city.
Other activities
Bangkok is home to some non-alcoholic recreational activities as well, those include:
escape rooms
laser tag
trampoline parks
Escape Rooms
There are three escape rooms in Bangkok:
All three have exciting scenarios for you to escape from and are located close to the center of the city.
You can select between bank robbery, prison break, relic rush, or a disease outbreak.
Prices vary depending on how many people you go with. The lesser the people, the costlier the price. Prices hover around 600 baht to 900 baht per person.
I've been to Escape Hunt, and though I was skeptical at first, solving the challenges was satisfying and I've visited several times since.
Laser Tag
The game made popular by How I Met Your Mother has spawned two branches in Bangkok:
I've been to both and would say they're quite similar.
Laser Tag is a good activity to get the heart pumping but each game lasts 15 minutes and costs 350 baht per person.
You can book both venues for corporate events and birthday parties, too.
It's a one-time experience in my book, but that's because of the price.
Trampoline Park
Remember the floor is lava game? Substitute lava for trampoline and you've got yourself a trampoline park.
These bouncy arenas are great fun for the family. They even have large foam pits for you to dive into.
Bangkok has ten trampoline parks, all with different features and price lists. Here's a list of all them.
Getting Around
I'll go so far as to say that how you often commute can make or break Bangkok for you.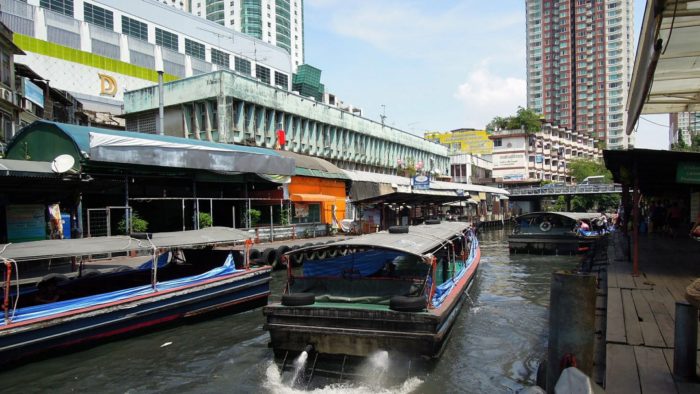 If you haven't noticed me harping on about skytrain and subway stations, then this is where I bring the topic to limelight.
It's always better to stay closer to public transportation, more so in Bangkok than anywhere. Traffic gets terrible, and if it rains, accessibility to transport gets difficult.
My advice would be to travel by subway or skytrain as they strike a great balance between cost and speed.
Ticket prices increase the further you go but start from 15 baht and top off at 60 baht a ticket.
Because of its expansiveness you might have to transfer between different train lines depending on your destination, but that's not an issue unless it's rush hour.
From 7:00 AM to 9:00 AM and from 5:00 PM to 8:30 PM queues get long and the wait for a vacant enough train gets longer.
Next up, taxis. The meter starts at 35 baht and you can always find one no matter the hour.
Taxi drivers may proposition a higher-costing, meter-less ride during peak hours, but don't take them up on the offer unless you're desperate.
I usually avoid taking taxis, not because they're bad, but for traffic reasons.
However, taxis prove to be lifesavers when you're returning home from a long night out and the roads are clear.
A third way to travel is by motorcycle taxis. You can find motorcycles at endings or beginnings of most alleys and spot a driver by their orange or yellow vest.
Do know that this is the costliest way to travel and you cannot bargain prices.
There are three more ways to travel:
public buses
tuk-tuks
canal boats
I'll give you the cliff notes for each to make it easier.
Public buses are cheap. Prices range from 2.5 baht to 25 baht. Routes cover Bangkok, end-to-end.
Disadvantages include traffic, bad drivers, and lack of seating.
Tuk-tuks are great fun but expensive. Prices are never worth it and you have to deal with the city's pollution because the vehicle is open.
Canal boats take you through the city via the Chao Phraya River, which gives you a different view of Bangkok.
Boats are cheap. Prices range from 10 baht to 35 baht. But you have to deal with the smell, the uncomfortable journey, and the incredible noise from the engine.
Socializing
Thais are some of the most accommodating people you'll meet, and the country truly lives up to its reputation with hospitality.
When it comes to character traits you'll find that most Thais are jovial and calm. However, when they do get angry it's pretty serious.
The concept of "saving face" is a real thing, so ensure you don't accidentally insult someone if you're not close to them.
Locals are also extremely into food and drink. And one of the easier ways to bond with your new Thai friends is over a beer and some fried food.
When it comes to interests, most Thai's like to hang out at malls, go to eat, or play sports.
The 18- to 25-year-old crowd is very fond of partying, further reinforcing the legend of Bangkok's nightlife.
Let's look at some places to socialize and make friends in Bangkok.
Bangkok has a lot of bars, clubs, and pubs, and it would take me days to cover them all.
What I can cover though are the areas you can find these places, the price ranges for drinks, and a few recommendations.
Soi 11
Soi 11 is right next to the Nana BTS station, which is in center of the city.
This alley has a wide variety of pubs and bars for all budgets, about 129 baht to 250 baht a pint.
Popular party and after-party clubs are called Levels and Sugar respectively.
Khao San
This is the famous party street of Bangkok. Drinks here are cheap, about 80 baht for a shot and 350 baht for a bucket full of alcohol.
If you want to go all out, try the Long Island Iced Tea bucket.
Some popular venues include: Bombay Blues, an Indian-themed lounge, and Charts, a popular place for buckets and cheap alcohol.
Thong Lor and Ekkamai
You can find only upscale clubs and lounges in these areas.
Expect to spend an upwards of 2,000 baht for a night of drinking at different clubs with varying entry fees.
Good places to visit would be Beam and Demo.
Learning Thai
For all the advantages and disadvantages there are to living in Bangkok, the biggest one might be the language barrier.
It's always baffled me that this tourist-friendly country has a lack of people who speak fluent English.
But don't worry—it's not terrible. You can more often than not get what you're after using English as most locals understand the basics.
If you stay in Thailand long-term though, you should learn Thai. Learning Thai makes life in Thailand much easier for you.
You have plenty of options for studying Thai, including taking classes, reading books, watching movies, or just getting out there and practicing.
At work, speaking Thai helps you understand your coworkers, employers, employees, or clients better.
In your personal life, you'll be able to communicate with your mechanic, doctors, and others in important situations.
Keep in mind that Thai is quite an intricate, contextual language, with many undertones, accents, and colloquialisms.
It's normal even for some locals to be unable to completely grasp the breadth and depth of the language.
Healthcare
Bangkok is a popular medical tourism hub thanks to the quality of healthcare and comparatively lower cost of treatment compared to Western countries.
Private Bangkok hospitals like Bumrungrad, Phayathai, and Bangkok Hospital set the standard when it comes to healthcare.
You can go to these hospitals for any and all treatments because they have expert doctors. They also have translators available in case you need them.
Government hospitals like Chulalongkorn Hospital are up to the snuff and inexpensive, however, expect two to three day queues.
If you're in Thailand long-term then visiting hospitals for every little ailment can result in bills for thousands of baht.
Because of this, you should consider getting Thai health insurance.
You can also go to clinics to save money on healthcare. Doctors at clinics can help you with common issues like colds, food poisoning, sprains, and fevers.
But keep in mind that small clinics are staffed by locals who don't speak much English.
Cost of Living
If you're a reader based in a developed country you've probably noticed that Bangkok's cost of living is not that high.
So far we've covered rent, entertainment, food, and transportation. But the smaller, everyday items are equally important.
Numbeo has an excellent breakdown of the cost of everyday items in Thailand and America.
If you want a more personal look at the cost of living, check out these two guides:
You can also use our free cost of living calculator to help you find out how much you'll spend each month in Bangkok.
Now, on to You
If you want to dive deeper into the subject of moving to Bangkok, pick up a copy of Thailand Starter Kit: Save Cash, Land a Job, Avoid Pitfalls, and More.
You'll get insider tips and tricks to setting up a life and thriving in Bangkok.
Photos in order of appearance courtesy of zhaffsky, maxruthrichard, oksidor, terrazzo, and dgmckelvey.