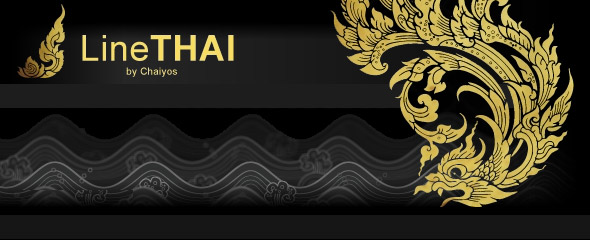 'Tis the season. Again…
So, what does one get for the budding Thai language learner this year? Or even for yourself, as a pat on the back for all those Thai lessons you've slogged through in 2008?
T-shirts with Thai script are not too shabby of a stocking stuffer. And if the gift matters, here's a tip – be careful when buying t-shirts at JJ Market. Some I've purchased are high quality, but others became a soggy pile of disconnected mush after the first wash (quite shabby, at that). And while it was funny as in 'ha ha', it was a waste of a gift giving moment.
If you head over to Line THAI under >> Catalogue >> Line THAI Graphic, you'll see a range of t-shirts, polo shirts and more. All made from quality materials (I grab a few every time I head off-station and haven't had any complaints yet).
Decked out in Thai script, there are shirts with Thai numbers, the full name of Bangkok (whooh), and even Thai script forming Thailand the country. Up to you, but my combo of choice has been gold lettering on a soft black back. Classy. Whatever you choose, it's a doable stocking stuffer for the budding Thai language fan in your life. Or you.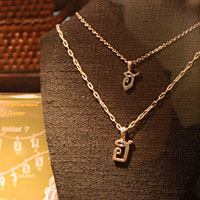 If t-shirts aren't on, then perhaps a Thai character pendant from Sistema would suit.
It's not a serious gift as in diamonds and such. It is what it is. A gift that says you appreciate their Thai language efforts.
I know I appreciate mine. And as my name starts with a C, I chose a large silver ค to hang from a short silver chain. Nice.
But when kids are learning the Thai alphabet, the ค is is taught by saying ค ควาย /kho khwai/. And ควาย is a buffalo. Innocent enough for westerners, but it can be an insult in Thai. When I proudly showed my necklace to a Thai friend she smirked but didn't say anything. Oh well …
If you are in the BKK area, both can be found at Paragon Siam (and most likely at Emporium too). At Paragon, head downstairs and swing a left (hugging the Gourmet Food section). You can't miss it.
Ok, I lied. It is possible to miss. So, if you wander around without any pleasure, just give me a holler and I'll walk you through.
Heart Talk by Christopher G Moore is another great gift for a loved one at Xmas (read my review of Heart Talk if you have the time).
Hey Chris! I'd LOVE one of your Heart Talk t's.
(You can keep the girl…)