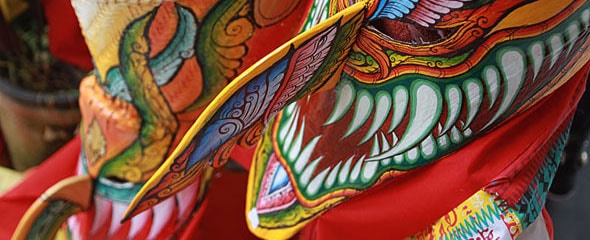 Phi Ta Khon (Thai Ghost Festival)…
After missing Phi Ta Khon last year I promised myself that THIS year I'd go. No matter what. I mean, come on, Loei's ghost festival is all about masks and fun, and masks, I love!
My Thai friends tell me that Phi Ta Khon is sort of like a Thai Halloween, only Thai style. And as the celebrations are mostly in the daytime, it's a photographers delight! Ah. A double like.
Wikipedia: Phi Ta Khon, also Pee Ta Khon (Thai: ผีตาโขน meaning Ghost Festival), is the most common name for a group of festivals held in Dan Sai, Loei province, Isan, Thailand.
After debating about possible transportation – car, plane, coach, or train – on Thursday morning we (meaning a friend and I) jumped on the express-my-batootie from Bangkok to Phitsanulok. The promise? About three hours from place to place. Or four (depending).
Over SIX hours later the train limped into Phitsanulok. What kind of train is two hours late? No matter. I've never been on a Thai train before but for me the seats were comfy, the rolling views out the slightly dirty windows spectacular, and keeping balance on the squat toilet challenging (but amusing fun).
Oh. And forget about smelly toilets. The breeze coming through the very open window whoooshes any nastiness up and away. But be warned, the clanking noises from the train tracks and the wind whirling around the small room and across your bare neither regions are a bit surreal.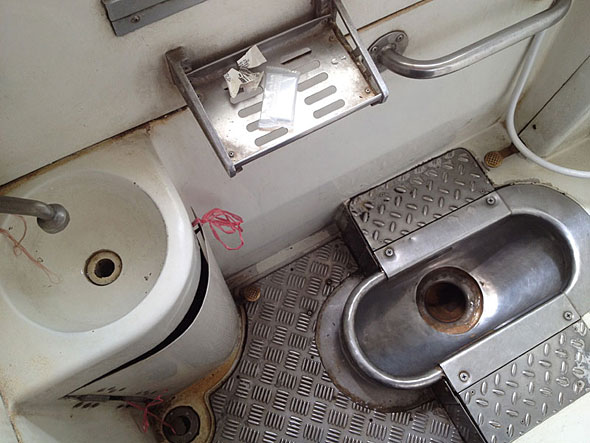 The driver waiting in Phitsanulok wasn't too put out (thank goodness) about our tardy arrival. A former school teacher, he admitted that being a driver has taught him plenty of patience. And teaching kids didn't? Heh (I forgot to ask).
Climbing into the van, off we went to Dan Sai for another three plus hours on the road.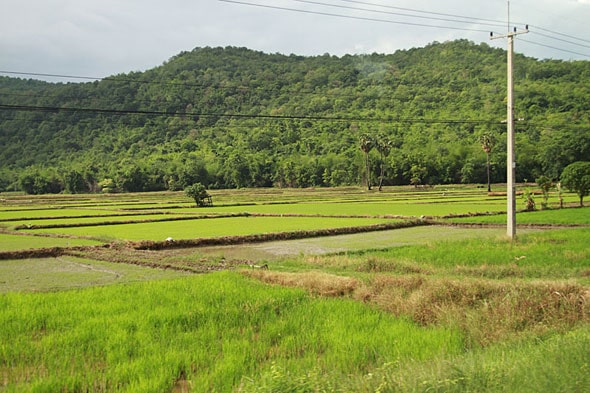 Looking back, this trip was all about the incredible views. The views seen from the train. The views from the drive between Phitsanulok and Dan Sai. And the view from the hotel room. And more. Read on.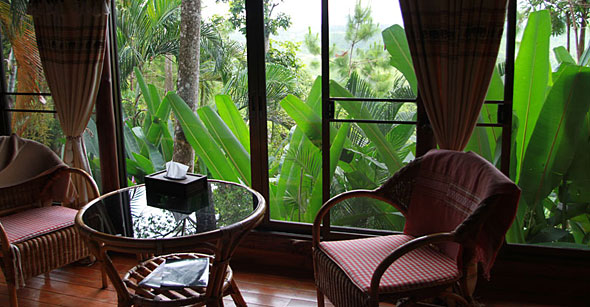 Views aside, both nights in Dan Sai were rough going sleep-wise. For one, the beds were hard. Really hard. For two, some sort of critter was chomping on the floorboards of our room. All night long (yes, I have recordings). For three, my roommate was terrified of moths. Peeing moths hanging from the ceiling. A treat, for sure. And four, there was no hot water.
Blurry-eyed but hopped up on a mix of Thai coffee and painkillers (yeah), on the first morning we attended the opening ceremony for the Ghost Festival. Turns out, it was a perfect introduction to Phi Ta Khon.
The opening ceremony featured schools, and as you'll see below, the children involved in the celebration were beautiful to snap. And while there were a few photographers around, it was still possible to get decent shots without other cameras invading. Barely.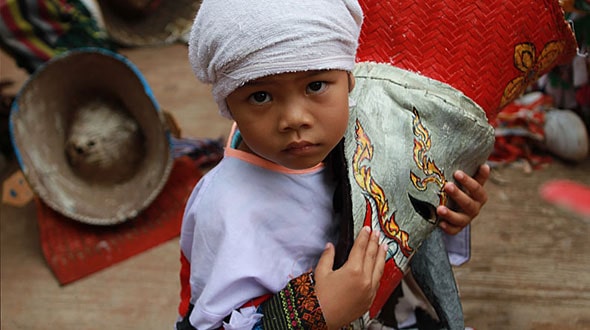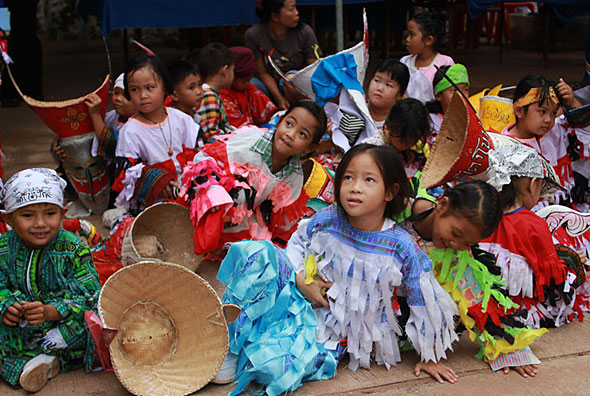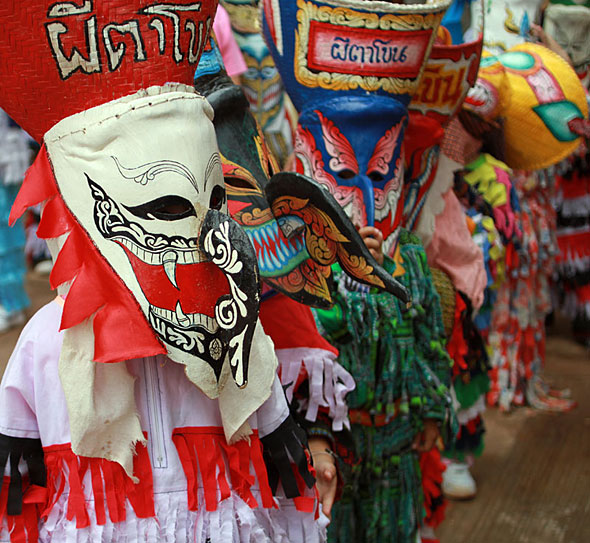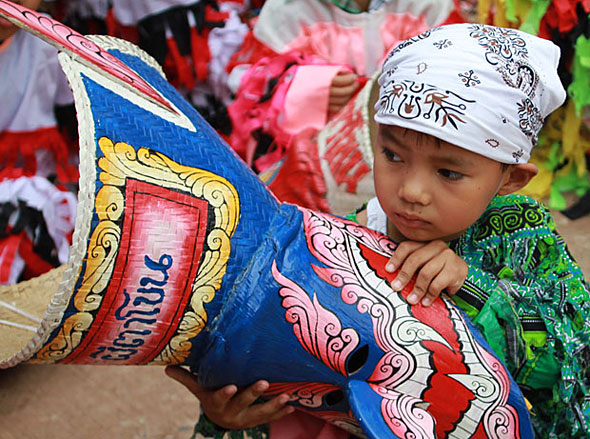 After the speeches (some in English) and performances were finished, the celebration headed for the streets.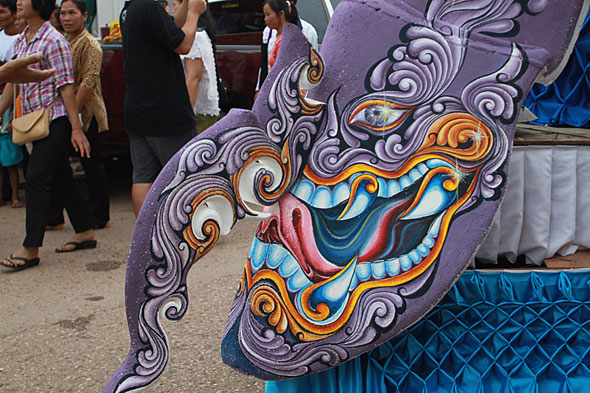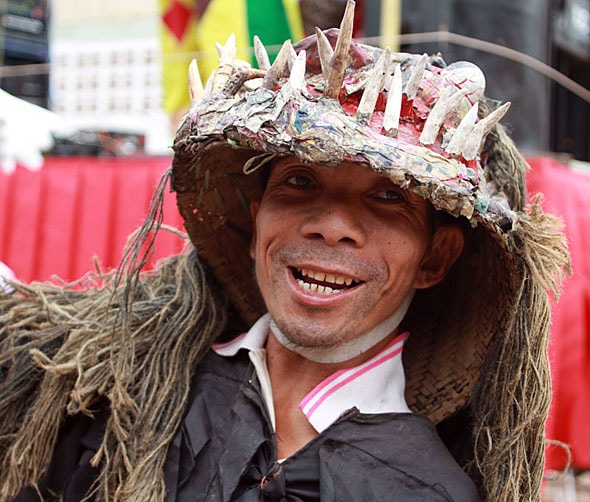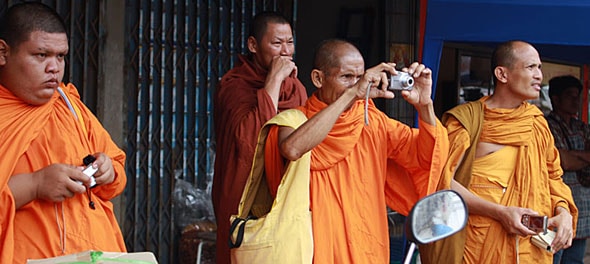 I swear this trio of monks were at other ceremonies I've attended around Thailand (I'll have to check and get back to you).
Getting our fill of the parade, we headed off to the National Park and Chateau De Loei (thanks for the heads-up about the vineyard Martyn).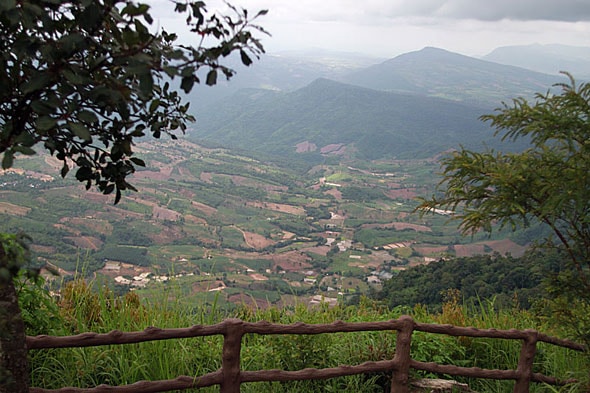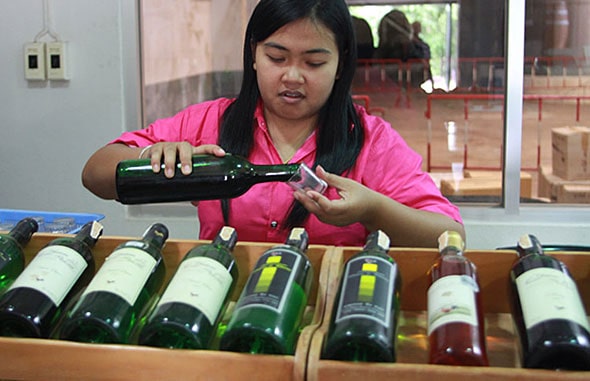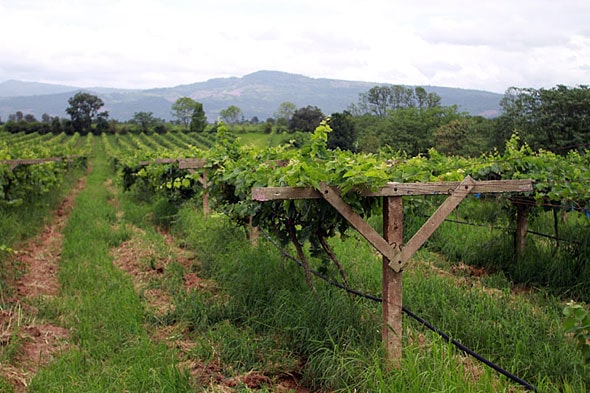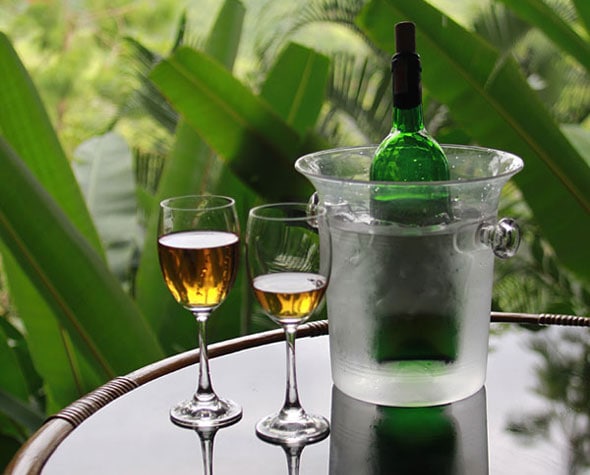 Working our way through a bottle of wine and even more hours of Thai massage – did I forget to mention the first night's massage? – the second day ended and the long night of painful beds and peeing moths began.
By day two we were not exactly staggering from a lack of sleep. More like hyperventilating from an overdose of caffeine (in a weak attempt to get through the day). Still fun? Sure.
All the way up to the day of arrival we still weren't 100% sure when everything was going to happen. On the morning of the official parade we were told the parade would start at 9am. After arriving and wandering around with nothing much happening, we asked the police who replied "maybe" it'd start at 9.30am. Maybe…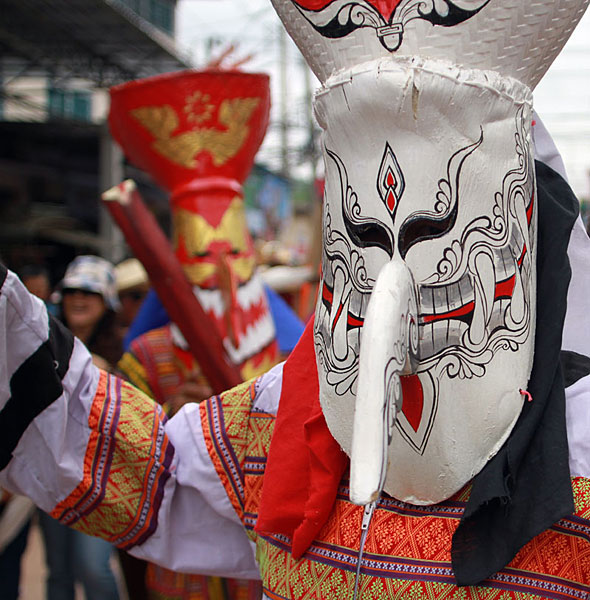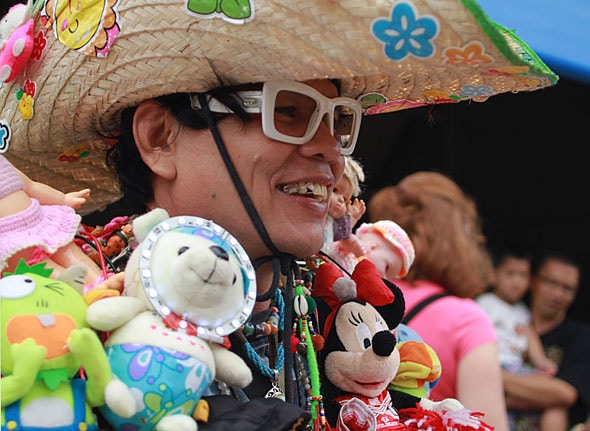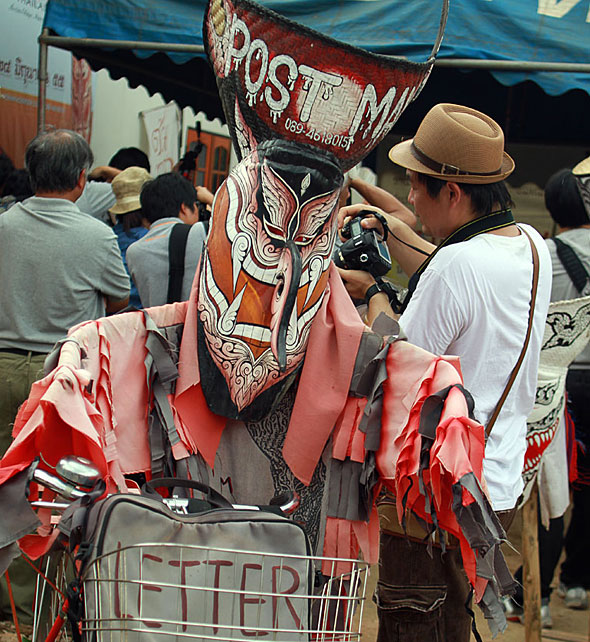 You know, I had a wonderful time on the first day of the celebrations. And I had a great time running around the countryside. But when photographers started showing up in groups of tens and twenties, it was time for this Cat to leave. And leave, we did. For more fun (just not in Dan Sai).
Will I be back next year? Or the year after? Sure. The Ghost Festival is an amazing experience and I'm not done yet.