Doing Rod in style…
Going to a concert in Bangkok under the care of the British Club Bangkok is going in style.
In 2007 I tagged along with the BC to the Eric Clapton concert at the Impact Arena. Having seats close to the front was brilliant, as was the sweet treatment received from the club.
For the Clapton concert, the evening started out on the British Club lawn, sipping drinks while rubbing shoulders with other members and deciding whether to have the buffet or not. Then when the time came, with our drink of choice in hand, we all climbed into air conditioned double-decker buses that were lined up along side the tennis courts, waiting to ferry us to the concert hall.
With sirens wailing and lights flashing, motorcycle police stopped traffic all the way from Silom soi 18 to the concert venue in North Bangkok (I always wondered who the annoying people were blocking the freeway; now I know). It was a class act, as was the Eric Clapton Live in Bangkok concert.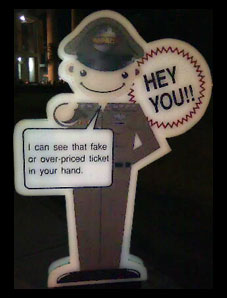 A sign of the financial times, the Rod Stewart party that signed up with the British Club filled one solitary double-decker bus, with a lone (but friendly) motorcycle escort showing the way.
And this time, instead of clear sailing all the way to the arena, only occasionally did the officer elbow the route ahead. The rest of the trip crawled along with the rush hour traffic (only, no one was rushing).
Barry Osborne, the General Manager of the British Club, made the slow trip an enjoyable treat by bouncing up and down the middle of the bus quipping about "Red? White? Beer?" Good 'ole Barry.
Once at the Impact Arena, we headed to our prospective ticket arrangements.
We laughed as we passed a sign in English stating, "Hey You! I can see that fake or over-priced ticket in your hand". Over-priced for Thai salaries, maybe. But my tickets were almost a third of what the US concert-goers had to pay for the same pleasure.
Those with gold tickets were herded towards a crowded enclosure and given free Rod Steward CDs and directed to stand in line for free HUGE Singha beers in plastic Rod Stewart glasses to go. And go we did, into the front rows of the concert hall, with beers in hand.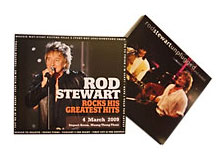 Once in the concert hall, an announcement came on. I only caught the tail end and it went something like this…
"If you are in possession of illegal drugs or firearms, please turn them in at the front desk to retrieve after the show".
… What? Did I hear that right? Did anyone else hear that too?

TIT (This Is Thailand)…